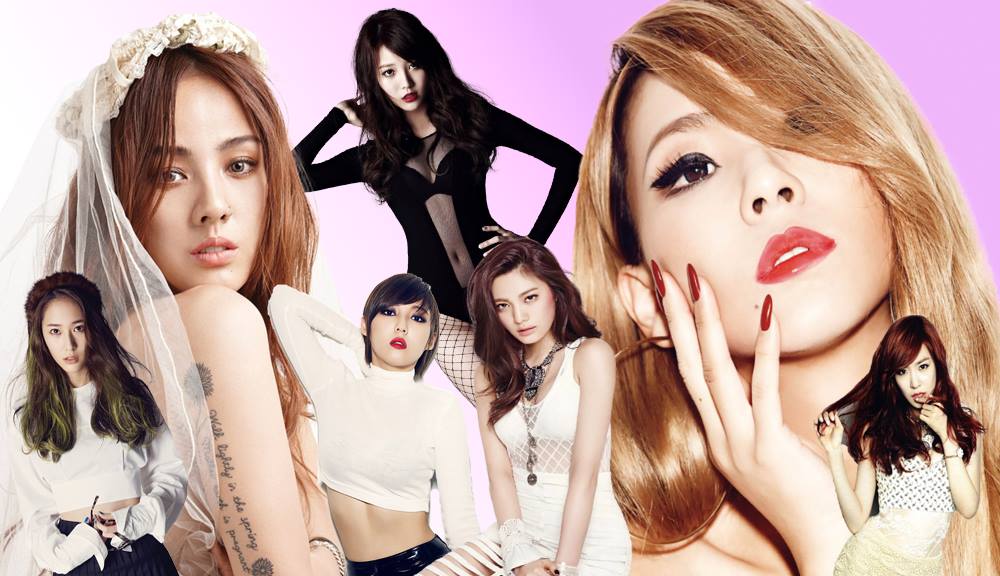 K-Pop's filled with love and break-up tracks that we enjoy, but what about girl power anthems that make you feel empowered for being a woman? Not all girl groups' songs revolve around boys all the time. Some female artists have great lyrics about being confident, sticking up for yourself, go about getting what you want, and friendship. Here's a list of eight songs that cover those subjects:

K-Pop's Queen of Sexy Pop begins the list with "Bad Girls," a song that teaches you what a bad girl is and how she acts. It's all about being confident as a woman and letting the world know why and just how bad you really are. You're sexy? That's great. You like to get your hair and makeup done? That's fine too. You're determined and strong? Yep, definitely a bad girl by Hyori's standards.
Check out these cool articles across the web

Following Hyori's mantra, CL reinforces the "being your fierce self" concept with her first solo song. Like her bad predecessor, 2NE1's leader sings about embracing your ability to be a strong woman. Yes, "Baddest Female" might seem like a vain manifesto to some, but if you look past the "I am," you'll see that she acknowledges her worth and is confident in herself enough to flaunt it. This is the perfect anthem for all the grown women, as Beyonce would put it, out there.

Miss A delivered a strong anthem for all the women who have been slut-shamed by a guy before with their debut song. The track calls out the ex-boyfriend for enjoying the girl's freeness, let's say, when they were together, but then talked ill of her when they broke up – the classic trope many of us go through after a break-up. "Bad Girl, Good Girl" says that there's nothing wrong with being confident, forward, and sexy, and that what's actually wrong is men's hypocrisy.

This song might not be a single, but it's definitely one of f(x)'s most meaningful songs. "Toy" talks about not letting men mistreat you, not needing a man in order to live, and being your bright self. The concept is definitely a more mature one than what we regularly see from this group; I hope they continue this path in the future.

Orange Caramel consistently delivers cutesy and weird style concepts, but "Lipstick" is a perfect example of being a go-getter. You know, a girl who doesn't feel the need to act shy and is confident enough to pursue any man she likes. The song is the boy crazy type, but since it talks about going up to a boy and kissing him and tells him to stop playing hard to get, it's inevitable to recognize the guts behind a woman who would do this. The girls seem coyer in the music video than what the lyrics say, but it makes the list nevertheless.

Similarly to "Lipstick," "Female President" is also a boy crazy song where the girl asks the guy what's wrong with them being forward, I mean, they do have a female president in South Korea, so what's the fuss? This song brings up the topic of it being modern times, and tries to normalize girls who seek out men and don't just wait around to be pursued. Furthermore, in contrast with Orange Caramel, Girl's Day did deliver a sexy music video, even if member Yura got in trouble with netizens for her nude colored dress.

"I Like That" is a breakup song, but that doesn't mean it's full of bitterness and spite. No, this track talks about being ok with and actually liking doing couple things by themselves. The girls sing about going to eat BBQ for two, singing karaoke, getting home when drunk, etc. all by themselves. It's a great song because it addresses a woman's ability to be independent without having to be rescued by men.

While this might be in Japanese, it doesn't minimize South Korea's most successful girl group's message of the fun and happiness of being a girl. Moreover, the music video is a big party with lots of fans and drag queens at an amusement park.
Do you know of another girl power anthem? Share it with us on the comments section!  Don't forget to subscribe to the site and follow us on Facebook, Twitter, Instagram, Tumblr, and Bloglovin' so you can keep up with all our posts.
https://kultscene.com/wp-content/uploads/2014/05/kpop-girl-power.jpg
576
1000
Alexis Hodoyan-Gastelum
http://kultscene.com/wp-content/uploads/2018/02/KULTSCENE-LOGO-2018-TRANSPARENT-RED.png
Alexis Hodoyan-Gastelum
2014-05-26 19:08:25
2014-07-03 02:38:29
8 K-Pop Girl Power Anthems