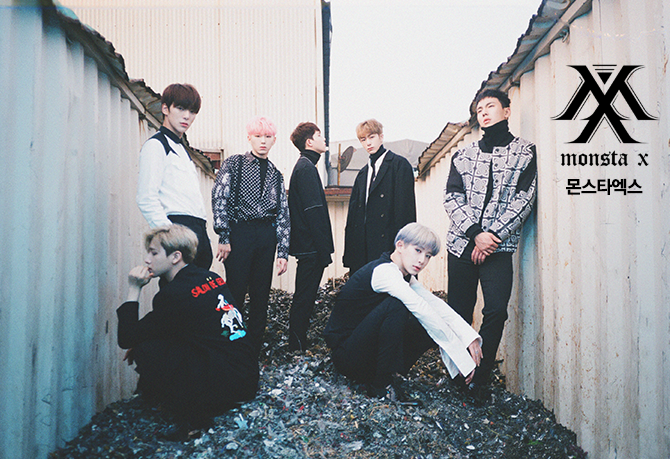 On March 21, Monsta X released their energetic and heartfelt song "Beautiful" and, paired with its equally beautiful music video, it might just earn them their very first music show win. Ever since this young group debuted in 2015, they've increasingly improved their talents and proven that they are not a group to be ignored.
Song
This is one of Monsta X's most musically cohesive and infectious songs yet. At times, the rap verses of K-pop songs can feel forced or too intense for the song they're featured in. Thankfully, that is not true in this situation. The falsetto-heavy chorus pairs very well with rappers Jooheon and I.M's hard-hitting lyrics. All of the members' talents were also nicely showcased in this song without any of members seemingly overshadowing the others. Main vocalist Kihyun shined as always, but we also got a nice look at the vocal abilities of members like Minhyuk and Hyungwon — whose talents may be overlooked at times.
This song was pretty heavy handed in its use of EDM and, while that can tend to be overwhelming if not done correctly, it works to its advantage. The electronic beats in the background allowed the members' choreography to really be the focus when they weren't busy singing. It's nice that Monsta X have seemingly gone back to their debut sound but with the maturity that has come with their growth as artists.
---
---
Music Video
Monsta X does an excellent job at producing exciting music videos that instantly catch the attention of viewers, and this one was no different. The video is reminiscent of those from "The Clan" series ("All In" and "Fighter"), but with more symbolism and less of a storyline. Each member got their own themed room that highlighted the strong visuals of this group.
"Beautiful" is a lot more aesthetically pleasing than some of their previous videos like "Rush," and it was nice to see a more subtle side to the group. The only criticism is that it would've been nice to have a stronger plot, or at least for it to not have been quite so difficult to figure out what was going on.
---
---
Overview
This is one of Monsta X's strongest comebacks yet and it will surely gain them the popularity and respect they deserve. "Beautiful" is a song that portrays the strengths of every member. Vocalists Shownu, Wonho, Kihyun, and Minhyuk's harmonizations and falsetto give the song an ethereal feeling that matches the dreamy music video, while the rapper line (Jooheon and I.M.) brings it all back to earth. And, of course, no review would be complete without applauding lead dancer Hyungwon's excellent execution of the music video's choreography.
This is a song that works in many aspects and has the ability to succeed in both radio stations as well as through live performances. Whether it's the choreography, the vocals, or the visuals, this release excels and inspires excitement in Monsta X's fans (Monbebes) about what they will do next.
What do you think of Monsta X's "Beautiful"? Tell us what you think in the comment section below and be sure to subscribe to the site and follow us on
Facebook
,
Twitter
,
Instagram
, and
Tumblr
to keep up with all of our posts.
https://kultscene.com/wp-content/uploads/2017/04/monstaxprofile.png
459
670
Veronica Traggiai
http://kultscene.com/wp-content/uploads/2018/02/KULTSCENE-LOGO-2018-TRANSPARENT-RED.png
Veronica Traggiai
2017-04-03 19:38:18
2017-04-03 19:38:19
Monsta X's 'Beautiful' song & music video review