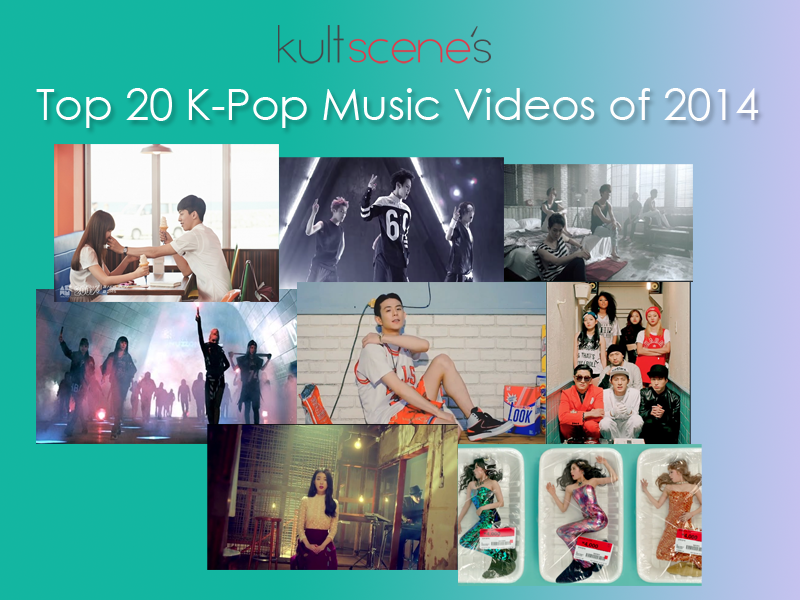 Following our stride of year-end list, we have arrived at the top K-Pop music videos of 2014. Similar to our top songs of the year, entertainment companies stepped their game up and dropped serious cash for the music videos. It seemed that everyone was competing for the best and most innovative video this year, as they seemed to get better and better as the year progressed. This, of course, is great news for K-Pop fans who have developed a taste for well-thought out and produced videos, rather than your average boxed one. But with that also comes the hard decision or picking our favorites and then ranking them. And yet, someone has to do it. Our picks are merely based on the KultScene staff's taste and preferences and shouldn't be taken as the absolute truth.
20. Eddy Kim Darling
Because Eddy Kim is not your average K-Pop idol, he took the liberty of coming up with a music video like Darling. On the surface, it's a cute, pastel colored video where he sings about being head over heels about his lover, with the unknown girl touching and pulling on him. However, on a closer look and listen, the song and video are filled with innocent sexual innuendos, such as the split screen with the girl's torso and the two oranges or the girl biting at a hot dog while Eddy is lounging in a bathtub. And while this might be shocking if an idol group did it, Eddy is free to put out age-appropriate videos that depict how the actual life of a 25-year-old might be like. The singer comes off as too sweet that you can't help but fall for him and wish he sang that song to you.
19. Crucial Star Three Things I Want to Give You
The video for Three Things I Want to Give You by Crucial Star is very innocent, yet mysterious and alluring at the same time, making it a real pleasure to watch. The fisheye lens connects the viewer to the video, in that we see what this person sees when they see it. The colors are pastel, light, and airy to create a warm and inviting atmosphere. The circle theme can be interpreted in many ways, allowing the viewer to develop their own perception of what is happening in the video. And the ending is quite adorable.
18. Block B HER
Block B came back with a funky song and video for HER. The video stood out for its amazing use of color and sets. There was an incredible amount of attention to detail in the boys' styling and every decoration in the background. They even wore amazing pieces by Juun J, Versus by Versace, and Vivienne Westwood, like true K-Pop superstars. The music video even has a very funny skit where Block B is being interviewed and they are just being their awesome dork selves. Who can forget about the random ostrich in the music video? And just when you think the video couldn't get any funnier, the members keep surprising the viewers with an array of crazy imagery paired with the crazy choreography that makes it an amazing video.
17. HA:TFELT Ain't Nobody
Former Wonder Girl Ye Eun's solo debut makes more of an impact than most because it is personally driven by Ye Eun herself. Ain't Nobody is about an ex boyfriend who cheated on her and the video parallels this. In it, Ye Eun herself walks around aimlessly and without emotion until the chorus kicks in and she dances passionately and like an animal. After her break up, music is what she turns to to regain feeling. A key part of the video is the butterfly that follows her around. In Asian culture, a butterfly symbolizes love, specifically young love. At the start of the video, Ye Eun lets out her own butterfly to fly free, she was ready to love. When she reaches her boyfriend's house at the end of the video however, hundreds of butterflies fly out as she opens the door. He apparently had no regard for love while for Ye Eun it was true. As she reaches his room, her butterfly returns to her. Her love was well and truly over.
16. WINNER Empty
YG Entertainment debuted WINNER this year in a very different way, without the characteristic swag that the companies artists have. In contrast, the members' styling became very polished fashion looks. Even their first album's name was based on the concept of a fashion show. With the music video for Empty, WINNER was able to convey the feelings of the song. A man longing for his lost lover and feeling completely empty after the break up. The video shows each members in different scenarios that are beautifully created sets that showcase each members feeling lonely, with flashbacks of the lost relationship shown in between. By the end of the music video, all the boys gather in one room to reminisce together. The cinematography for the music video is stunning, the lighting and the soft color palette add to the feeling of sadness in the song. WINNER surely raised the game for rookie groups with their debut music video.
15. AKMU 200%
First-time crushes are really memorable and beautiful, but in 200%, innocent love isn't all that it seems. While the music video starts off just cute and simple, there's a twist at the end that reveals AKMU's Suhyun is in love with a boy who is already in a relationship and she's merely imagining going on dates with him. Cute and heartbreaking all at once, the music video suits AKMU's debut song perfectly.
14. 2NE1 Come Back Home
2NE1 finally came back with their much anticipated album CRUSH, and their first single Come Back Home came with an amazing music video. The video shows the girls in a post-apocalyptic future where everybody is more interested in the virtual world than the real one. A couple portrayed by Dara and an actor showcase how the ambition for the virtual world is a problem in their relationship. You can see her being sad throughout the video while her partner just connects into the virtual world. 2NE1 decides that it's time to stop this craziness and create a revolution. They go into the virtual world and get rid off it. Not only does the video have a very interesting plot, but it's also a social commentary on how people are more emerged in their social media and their phones than the real world nowadays.
13. Hi Suhyun I'm Different (feat. Bobby)
Lee Hi and Akmu's Soohyun didn't take the top spot for best video, but they sure do for cutest. The music video follows a storyline of both girls being smitten by the same guy, Bobby. They follow him around give him presents like sasaeng fans until he arranges for them both to see him with his actual beau. The video shows the girls at their cutest, and even though they're kind of obsessed with Bobby, it's very funny and cute. Moreover, we saw a more age appropriate Bobby devoid of all the hip hop excess and swag. The video was so unlike YG Entertainment, but it only goes to show they can show diversity.
12. U-KISS Stop Playing
Step aside, girl groups and your sexy concepts. There were some shirtless Korean idols heating things up this year. U-KISS brought out the big guns for Stop Playing and definitely proved that they're not young anymore, but sex-loving, threesome-wanting men. Sensuality definitely sells this music video, but it's not just all about sex. It's about the dances, the lighting, and the rawness that the song portrays. Even if, at times, it feels like you might be watching a video on an adult website like collegeporn xxx. Done in a tasteful, sultry way, U-KISS makes this list for doing age appropriate sexy right.
11. TVXQ Spellbound
The music video for Spellbound is, in its most simple form, another signature video-in-a-box from SM Entertainment. However, the company found a way to spin their frequently used techniques in a way that felt different and new. TVXQ pulls off the use of the one-shot camera while incorporating their choreography perfectly. Not only does Spellbound showcase the duo's talents, but it also brings the backup dancers into the limelight where they show off their talents as well. Truth is, the combination of the choreography and the dancers is what drives the whole music video; the dance is absolutely delightful and seems a bit like sex on the dance floor. The on-point clothes and the black and white theme adds class and sophistication to the video, showing TVXQ's maturation as idols who debuted eleven years ago.
10. Clazziquai Project Still I'm By Your Side
Still I'm By Your Side uses the split screen beautifully throughout the video to create a piece of true artwork. From the opening scenes, it seems that the couple in the video are connected to each other. And throughout the video, they retrace each other's steps without knowing and then realize they are meant to be. It isn't until the end that the viewers realize that the story is about two different couples. Clazziquai Project's video shows, in a really inspiring way, that many people may be going through the same things you are; we're not always alone.
9. Ga-In Fxxk U
Between Bloom and Fxxk U, Gain has confronted sex in K-Pop better than any idol. The video is about a tumultuous relationship between Gain and her real life boyfriend Joo Ji Hoon. Directed by Hwang Soo Ah (the best music video director in K-Pop), the story of this video is about domestic violence and how unclear it might seem to outsiders. It is never explicitly shown, but the body language of the two and how they react to each other tell us everything we need to know. It is awkward and aggressive, but, in a sick and dysfunctional way, sexual and loving. There are some incredible images, like the sex scene behind the shower curtain and the bloody bathroom towards the end. Gain loves this man and can't leave him, even though he hurts her and the consequences of this are displaced but certain.
8. IU/Seo Taiji Sogyeokdong
The video for Sogyeokdong is a love story between two kids in 1980s South Korea. It was split into two versions, one sang by Seo Taiji from the young girl's perspective and one by IU from the young boy's perspective. It is an incredible piece of storytelling as the videos work well by themselves, but even better when put together. They perfectly evoke that turbulent time in Korea and achieve a vintage look by using a 4:3 aspect ratio and a classic filter. It is at the same time a damning indictment of the former government and a universal look at how love can blossom in any situation.
7. BEAST 12:30
12:30 takes the song's title and meaning and depicts it perfectly, with constant representations of clocks and the depiction of lovers having difficult, just as the song lyrics describe. The nostalgic, cinematic music video depicts a relationship falling apart in a heart wrenching way, with the plot that moves according to the hour hands on the clock. There are many K-pop songs that have music videos that have very little to do with the songs actual lyrics, but BEAST's 12:30 goes above and beyond the norm to create a dark, beautiful piece of artwork.
6. BEAST Good Luck
One of the groups that consistently delivered great comebacks this year was BEAST, with not only the beautiful music video for 12:30, but also with its predecessor Good Luck. If there's something that Junhyung excels at is writing heart wrenching break up songs, and Good Luck. The music video has dark and blue undertones that set the cold atmosphere for this tale of telling a lover goodbye after a tumultuous relationship, despite his feelings. You can really appreciate how each of the guys is at war with his emotions, and the music video shows the rawness of it with each of their individual scenes. If the overall cinematography wasn't enough, BEAST brought their A game with the powerful choreography and awesome fashion. Some K-Pop videos are good for their fashion, others for the plots, and others for their dance sequences, but BEAST combined everything and delivered one of their best videos to date.
5. AKMU Melted
The video for Melted takes a much more cinematic route than most of the other videos on the list and it is all the more better for it. In leaving out images of the group, the video can focus on its story, which is about a young boy who is hitchhiking through an unknown city. However, he has trouble with it, as the people he meets are more focused on themselves than to help him. This is what the video is really about, the selfishness and intolerance of people in a modern world. Each person he encounters on the way seems to want to help him, but once a part of their lives gets in the way, they forget about him. Melted was shot with lots of dark grey and blue colors to show this modern world as cold. While it ends on a happy note, you can't help but feel it is an ultimately cynical view, and this is what makes it stand out.
4. Beenzino How Do I Look?
Beenzino released his music video this year for How Do I Look? with the help of the Korea's Next Top Model models. The contestants appeared as models portraying different situations that could happen in a laundromat. From a teenage couple making out after a party, a gorgeous model washing her dress or a gay couple just flirting with each other. Beenzino becomes an expectator in the music video. What's more, the rapper's love for fashion comes through in the music video with it being beautifully styled, which go appropriately with the lyrics. A very interesting switch between camera angles and screen sizes plus the colorful set make the music video a very unique and interesting.
3. Epik High Born Hater
Epik High utilizes the seven deadly sins in their rap anthem dedicated to all of the haters, making a really cool music video, unlike most Korean music videos. The video was shot in a vertical 9:16 format, like a cell phone video, which is new look for K-pop. The entire setting is made up of bathroom stalls decorated according to a certain rapper and the deadly sin they represent, in a far-out-there kind of way. The symbolism throughout Born Hater matches well with the lyrics and creates a different and welcomed viewing experience.
2. Orange Caramel My Copycat
The music video for My Copycat may be one of the most fun Korean videos of 2014. With games like I Spy and Where's Waldo (Wally)? embedded into the film, My Copycat is more than just the average K-Pop music video. Colorful outfits and sweet but sexy dancing aside, the interactive nature of My Copycat makes it number two on KultScene's year end list.
1. Orange Caramel Catallena
This year was undoubtedly Orange Caramel's. From their multiple appearances in variety shows to rising popularity to some of the best songs and music videos of the year, the girls came on top in 2014. The trio doesn't only grab the number two spot on this list, but comes triumphantly at the first as well. So why is Catallena the best K-Pop video from 2014? Where do we even begin? The storyline is genius, from depicting the girls as mermaids in the sea, to packaged seafood at a market, to sushi pieces at a restaurant, the video is not void of comedy; we are talking about Orange Caramel after all. What's more, the styling also stayed true to their brand by bringing us over-the-top, colorful, and cheesy costumes that added to the theatricality of the video. Just like My Copycat, Catallena is beautifully shot in vivid colors that add to the fun-ness of it all. Orange Caramel have their brand and niche well defined within K-Pop, and as we've seen up until now, it's a sure winner.
What 2014 K-Pop songs are your favorites? Share your picks in the comment section below and be sure to subscribe to the site and follow us on
Facebook
,
Twitter
,
Instagram
, and
Tumblr
to keep up with all of our posts.
https://kultscene.com/wp-content/uploads/2014/12/Top20K-PopMusicVideosof2014featured.png
600
800
KultScene
http://kultscene.com/wp-content/uploads/2018/02/KULTSCENE-LOGO-2018-TRANSPARENT-RED.png
KultScene
2014-12-26 17:16:41
2014-12-29 03:19:08
Top 20 K-Pop Music Videos of 2014