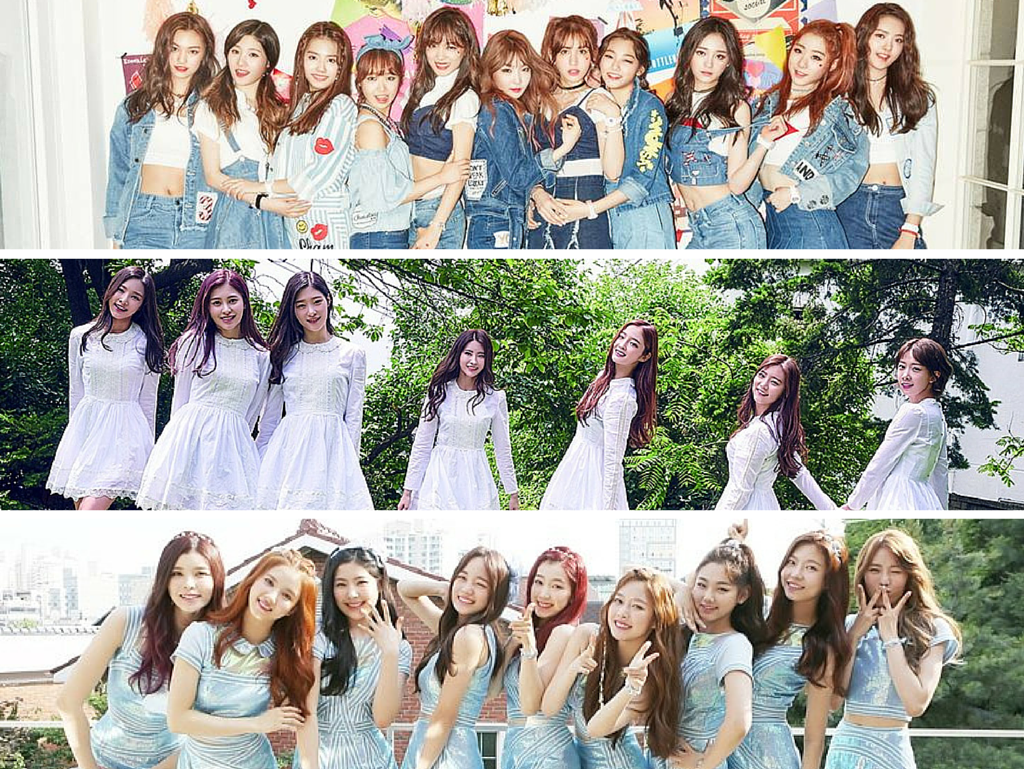 2016 has been a year of many changes for K-pop fans everywhere, particularly in the increasing size of groups. 12-member Cosmic Girls (WSJN), 42 quadrillion-member NCT, and most notably in the Korean spotlight, 11-member I.O.I from popular idol survival show "Produce 101," which aired from January to April of this year.
For those of you who never watched the show, I'll give you a quick summary [Spoiler alert!]. Mnet, one of the biggest entertainment networks in Korea, assembled a lineup of 101 female trainees from over 45 different companies to create the ultimate idol survival show. The girls were first ranked by skill level into levels A, B, C, D, or F classes. From there and on, the girls were organized into different units and tasked with performing with different songs, all while being subject to public vote.
In the end, the eleven trainees with the highest number of votes would debut as members of a temporary girl group under YMC Entertainment that would disband after one year of promotions. And this group was eventually called I.O.I, with members Somi (JYP), Nayoung (Pledis), Mina (Jellyfish), Sejeong (Jellyfish), Doyeon (Fantagio), Yoojung (Fantagio), Yeonjung (Starship), Chungha (M&H), Sohye (Redline), Chaeyeon (MBK), and Jieqiong (Pledis). Mnet made a few of the results very notable through editing and show structure — specifically, Somi placing first and being awarded the "center" position (as maknae, or youngest member, of the show's entire 101-girl lineup), Sohye's rise to fourth despite originally being an F trainee, and Yeonjung just making it by snagging 11th place.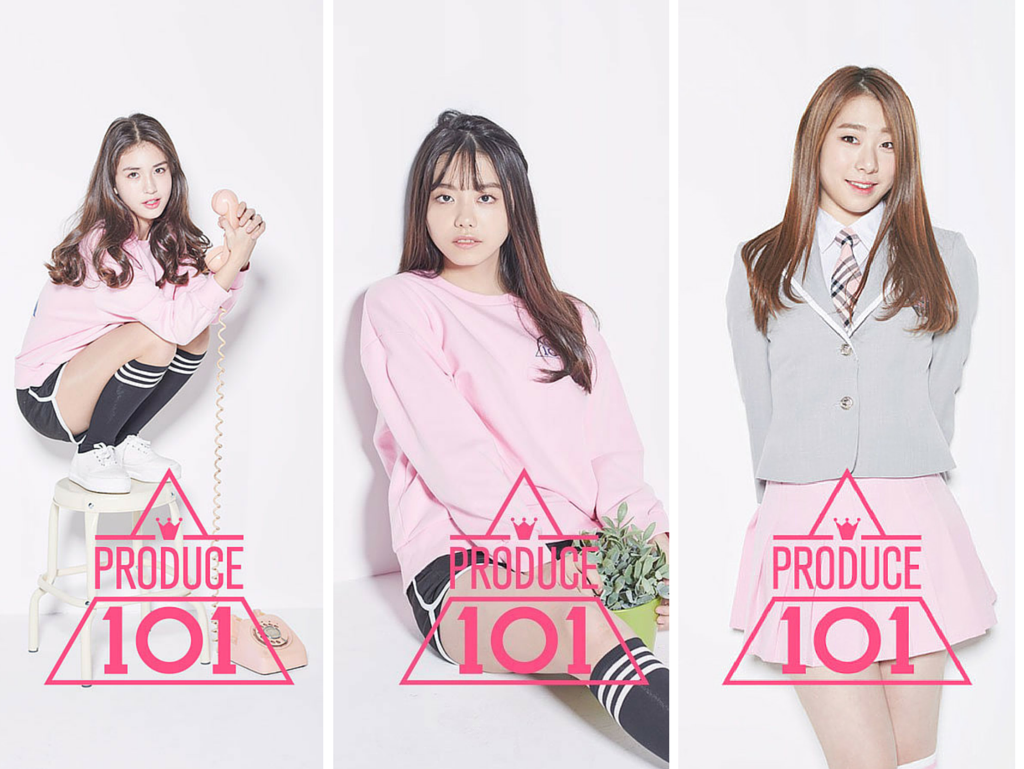 As a result, I.O.I started with incredible popularity, as all of the group's members got tons of exposure from the show. Their first mini album "Chrysalis" sold approximately 60,000 copies and counting, demonstrating their fandom power only a month or two into their existence. And they're not only notable in their number of fans — the group has also snagged many CFs and endorsement deals as well, showing that their popularity permeates the public itself. And while all of this is sweet and dandy, the group has also become incredibly controversial, opening up many ethical/philosophical/"is this even possible?"/"WTF?" K-pop questions for fans to ponder.
---
---
To begin, the group itself is entirely an experiment, because it was crafted exclusively by public vote. And considering how visual-oriented entertainment culture can be, this group has weaknesses when it comes to raw talent. Among the entire 11-member lineup, the only strong vocals are Sejeong and Yeonjung, forcing the group to pursue more rap-friendly, easy-singing songs instead of those that use stronger vocals to captivate the listener. And while all members definitely have their talents and charms as amazing and talented performers (some examples: Somi is a visual-singing-dance triple threat, Yoojung brings incredible stage presence, and Chungha is a truly gifted dancer), the group has essentially become about visuals and "pretty likeable qualities" instead of any sort of musical accomplishment. The question must be asked: is this the best way to form a girl group? Does opening up member selection to vote dilute the talent, and/or place excessive limits on the way the members use (or don't use) their talents?
With the way I.O.I looks, I would argue that it does. The group's image boasts talented performers, but doesn't let them show off raw singing or dancing talent for the members that do possess those abilities. It puts incredible limits on the group's musical abilities, and, depending on who you are, it can make the performance less exciting to watch. I don't know about you, but I watched Yeonjung's high notes in her "Into the New World" performance literally one hundred times before I.O.I's debut. I was hoping for more of that in I.O.I's repertoire, but Yeonjung's high note in "Dream Girls" is much less impactful. With the vocal caliber, song quality, and immense size of the group, that kind of stuff seems to be less of a priority for the producers.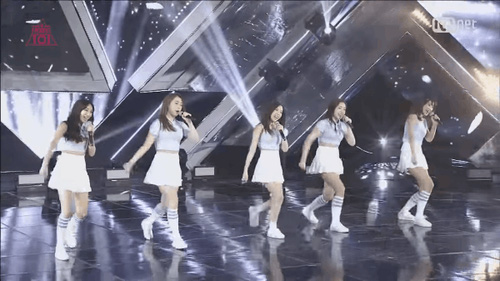 Going off of that, the next larger K-pop question comes to mind — does a group as big as 11 members really work? In the case of groups like Super Junior, EXO, Seventeen, and more, the answer seems to be yes. But for a girl group like I.O.I, it isn't. This group isn't an innovative performance-oriented group like Super Junior; they're not a dance-heavy pop group like EXO; they aren't a unit-centric, talent-based group like Seventeen. Instead, they're just a girl group with likeable and talented members that should all get a sizable amount of the spotlight. But instead, each member is left only one or two lines in the entire song, and barely anyone gets to shine at all. While I.O.I might be popularizing a larger group model for girl groups, they're demonstrating that it doesn't work well in terms of music and performance.
Music quality is another area where I.O.I suffers incredibly. And this is the fault of none other than their label, YMC Entertainment. The first song they released as a group, "Crush," wasn't entirely bad in the eyes of netizens and fans alike. The music video, however, created a lot of noise — why were they all in mismatched outfits, singing and dancing without coordination in a room that resembles the worst of K-pop's "box music video" era? Obviously, it seems that the "Crush" music video was a quick production for fans to enjoy. But the enjoyment was limited, especially when editing and/or other management problems led to Yeonjung's criticism for allegedly trying too hard to steal the spotlight from other members. The deletion and re-release of the video, consequently with less Yeonjung, demonstrated that the whole affair was sloppy and unprofessional from the start.
Their actual debut song "Dream Girls" was just as messy and controversial. The song combined many different styles, tempos, and rhythms, and in my honest opinion, not very well. While it is catchy, the song was very sloppy and fragmented, with main vocals getting very few lines, raps coming out of nowhere, and the center member's mysterious absence from the front-and-center region of the stage during important parts of the song. While the song was very different in sound, the music video showed many similarities to that of Girls' Generation's debut song "Into the New World." While a plagiarism suit never precipitated from the scandal, fans were left very angry. Why couldn't a better and more unique music video have been made to complement such unique girls? Many fans were also angry about Somi's position in the song, which, essentially wasn't center like she was voted to be. While many argue that Somi doesn't have to be center the whole time (and that is a legitimate argument), she was barely in the center at all. It seems like, in order for her to be the center, Chaeyeon's "We are the Dream Girls" line at the beginning of the chorus should have gone to Somi, and some other lines could have been switched around to find a place for Chaeyeon. After all, Chaeyeon's place at the front-and-center of the song's tagline is essentially what the center position is for. Fan's argued that Somi was voted to be center, so she should have been there and Chaeyeon should not have. This point actually kills two birds with one stone: demonstration of the group being mismanaged, and further evidence to show that groups probably shouldn't be decided by vote.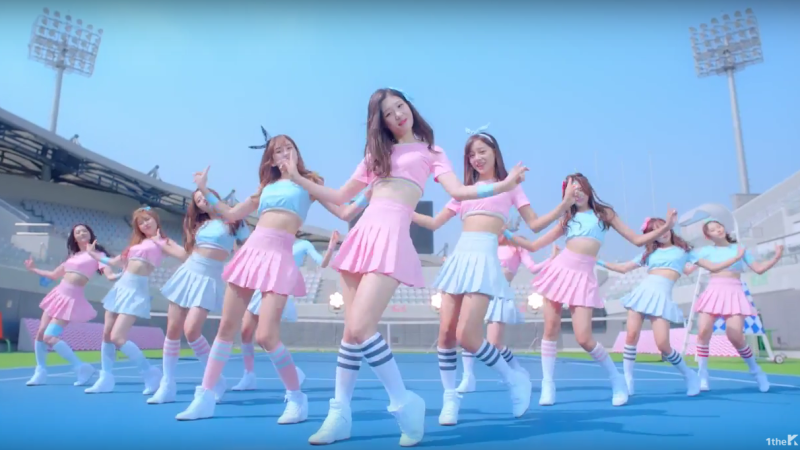 To be completely honest, hearing that the group would be promoting under YMC was very surprising when it was first announced. The label doesn't exactly have brand value, since their only real sustained claim-to-fame is Ailee. And while Ailee is very successful and incredibly talented, putting the group under YMC was bound to create problems. There have been several reports of mismanagement, whether it be scary managers or arriving late to events, and the label is essentially the only one to blame for these dilemmas. Trusting this slightly unknown label with some of K-pop's future stars might have been the wrong decision.
Putting all of these scandals and problems aside, the biggest controversies remain. First of all, as far as I know, there has never before been a group of girls signed to one label with each girl simultaneously being signed to a completely different label. The only other remotely similar example of this anomaly is Gain of Brown Eyed Girls, who was signed to Nega Network for group promotions, while signing with LOEN and other labels for solo promotions (this was before the entire group, including Gain's solo brand, switched over to Mystic Entertainment's APOP sub label, of course). I.O.I's label conflict creates a lot of problems, some of which most likely led to I.O.I's unfortunate inability to perform on any music shows other than "M! Countdown" and "Music Bank (they were even edited out of the SBS Dream Concert 2016 broadcast)."
The dual label problem gets even larger (and even ethically confusing) when members are withdrawn from one group to be part of another. All of this begins with Chaeyeon, Heehyun, and Ng Sze Kai, who were all members of groups during their participation in "Produce 101." Chaeyeon and Heehyun were members of MBK Entertainment's DIA, but "temporarily withdrew" in order to participate in the show as trainees, while Ng Sze Kai (more commonly known as Shin) did the same as a member of Hong Kong girl group As One. While Heehyun and Shin didn't make the I.O.I. lineup, Chaeyeon was voted in to join the group. It was expected by fans and netizens that Chaeyeon would remain "temporarily withdrawn" from DIA until I.O.I's disbandment next year. It's become pretty obvious, however, that this isn't happening. Once "Dream Girls" promotions began to wind down, Chaeyeon was pulled from the lineup of I.O.I's upcoming subunit lineup to promote with DIA. While she isn't an actively promoting member of I.O.I at the moment, she's still a member of both groups at the same time, under completely different labels. It goes even further with Jellyfish girls Sejeong and Mina, who were pulled from the subunit lineup to join their home label's first girl group Gu9udan. Even Yeonjung was pulled from the lineup to go back to Starship Entertainment. While Starship originally said she was being pulled "to work on skills other than singing," it's probable that she's coming out with her own project sometime soon, considering the label just opened a new Instagram account for a project called "Y Teen" set for release this month.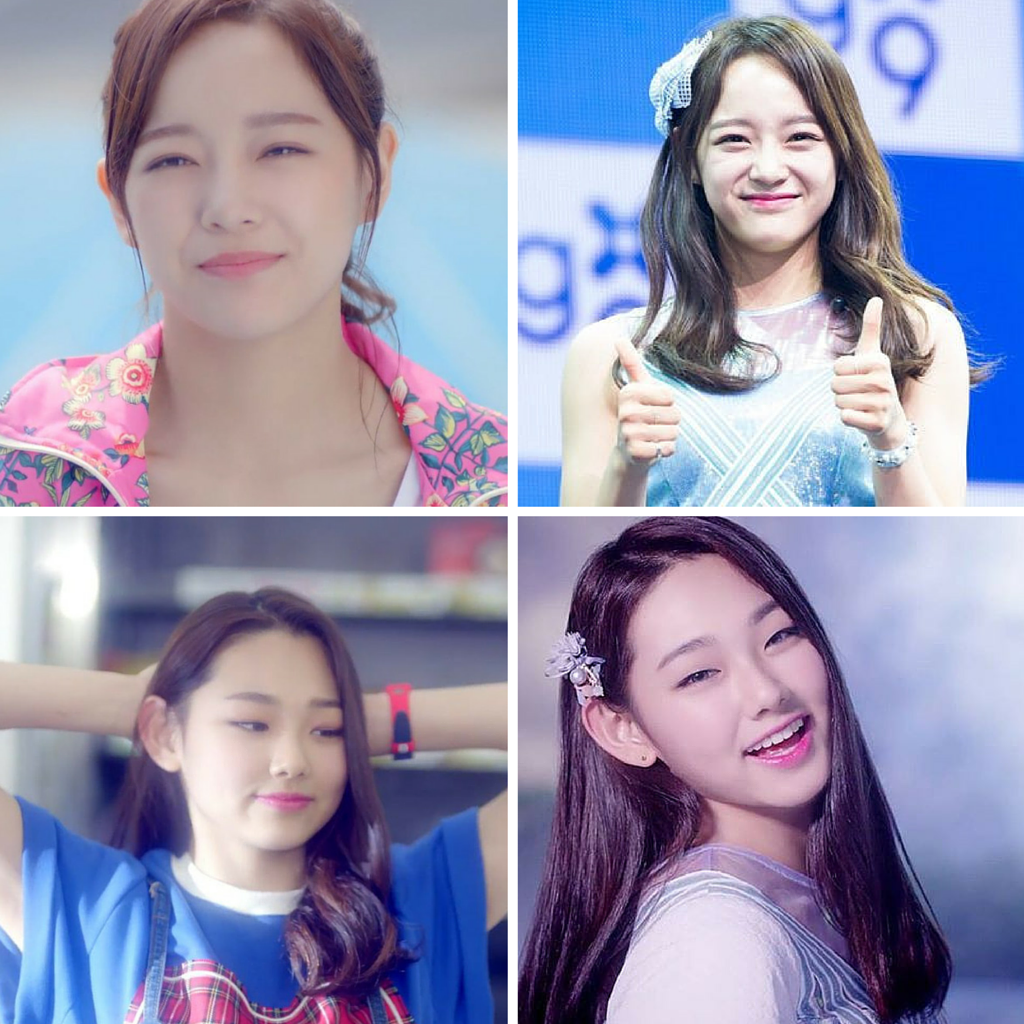 The dual group membership concept creates many problems in this setting. To bring back another K-pop example, an instance that resembles the current I.O.I situation is Yeonkyung of MBK Entertainment, who was at one point a member of both The SeeYa and F-ve Dolls. We didn't get to see many of the consequences of this arrangement, however, because both groups went inactive not too long after that announcement. Besides, both groups were under the same label, so the conflict is much less prevalent and plans can be made in accordance with both groups. Japanese record labels do this all the time — the main dancers of BABYMETAL were actually simultaneously part of another girl group under the same label (although they've recently withdrawn from the other group), and AKB48 constantly has concurrent members between itself and its many sister groups. The major difference is that, once again, they are all under the same management.
In Chaeyeon's case, she finished "Dream Girls" promotions with only a few weeks before diving into DIA promotions, leaving her practically no time to rest. According to recent reports, she is even being considered for a drama, which is just astounding, if you ask me. She debuted only months ago and she is already a member of not one, but two girl groups, on top of acting in a drama?! Too much in too little time — her health must be seriously suffering. The same can be said of Sejeong and Mina, who joined Gu9udan promotions very soon after I.O.I took a break.
And there's another conflict: neither of these groups' releases has been successful. DIA's "On the Road" barely managed to chart in the top fifty, and while Gu9udan's physical sales are good (the Jellyfish trio from "Produce 101" has a pretty formidable fanbase), their track "Wonderland" keeps on falling only days after release, with negative reactions from many fans and netizens alike. The rushed nature of these releases is most likely in part responsible for their lackluster quality, crammed to coincide exactly with the time during which I.O.I goes into subunit mode.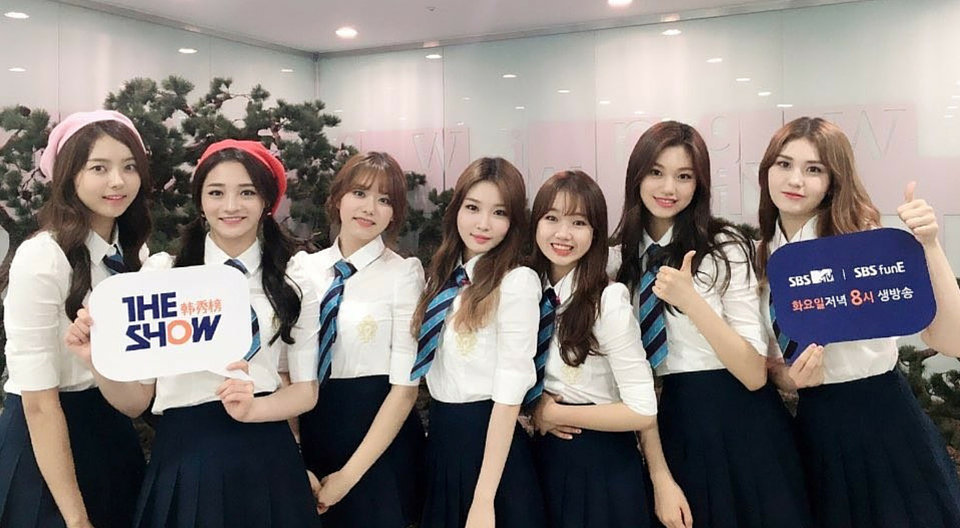 ---
---
So the questions must be asked: should one girl be in two groups at the same time? Does this become even more concerning when the girl is under two different record labels simultaneously? Not to mention the consequences — I.O.I's subunit is missing both of its main vocals. While these positions are likely to be filled by Somi and Chungha, neither of these two has the vocal prowess and technical skill possessed by Sejeong and Yeonjung. And what about health? Not only are Chaeyeon, Sejeong, Mina, and Yeonjung being thrown between labels and groups, but the I.O.I members won't get that much time to rest before subunit promotions begin, as it is.
And there's also probably the biggest, most frustrating conflict of all for many Korean fans — if they voted and supported their fave through "Produce 101," isn't it only fair that their home label not pull them out of the group while they're still claiming their year-long prize? Is that unfair to the fans who voted for them, or should fans simply remain supportive as their idol moves between groups and promotion cycles? In theory, I personally think there's nothing wrong with one person being part of two groups. But when the concept is carried out the way it is in this situation, I disapprove, simply because of how music releases, promotion cycles, and most of all, the members themselves are being treated.
The dilemmas are endless; I.O.I truly is a K-pop conundrum. Despite my intense criticism, I am a huge I.O.I fan in all honesty. My critique is not for the group members themselves. It's instead for whoever thought a publicly voted girl group would reach some sort of perfect "Ideal of Idol" (what the actual I.O.I acronym stands for). It's for whoever is managing them, whether it be YMC or the home label they're debuting under. It's for whoever put these eleven talented, beautiful, and amazing girls in the crossfire of a label jurisdiction war. With only three more releases from I.O.I coming our way, and whether they're in units or not, my only hope is that some of our many K-pop dilemmas are resolved before their untimely disbandment.
What do you think of I.O.I's controversies? Share your thoughts in the comment section below and be sure to subscribe to the site and follow us on Facebook, Twitter, Instagram, and Tumblr to keep up with all of our posts.
https://kultscene.com/wp-content/uploads/2016/07/Featured-Picture-The-I.O.I-Debacle-K-Pops-Newest-Conundrum-1.png
769
1024
Kushal Dev
http://kultscene.com/wp-content/uploads/2018/02/KULTSCENE-LOGO-2018-TRANSPARENT-RED.png
Kushal Dev
2016-07-06 04:13:10
2016-07-05 21:25:11
The I.O.I Debacle: K-Pop's Newest Conundrum