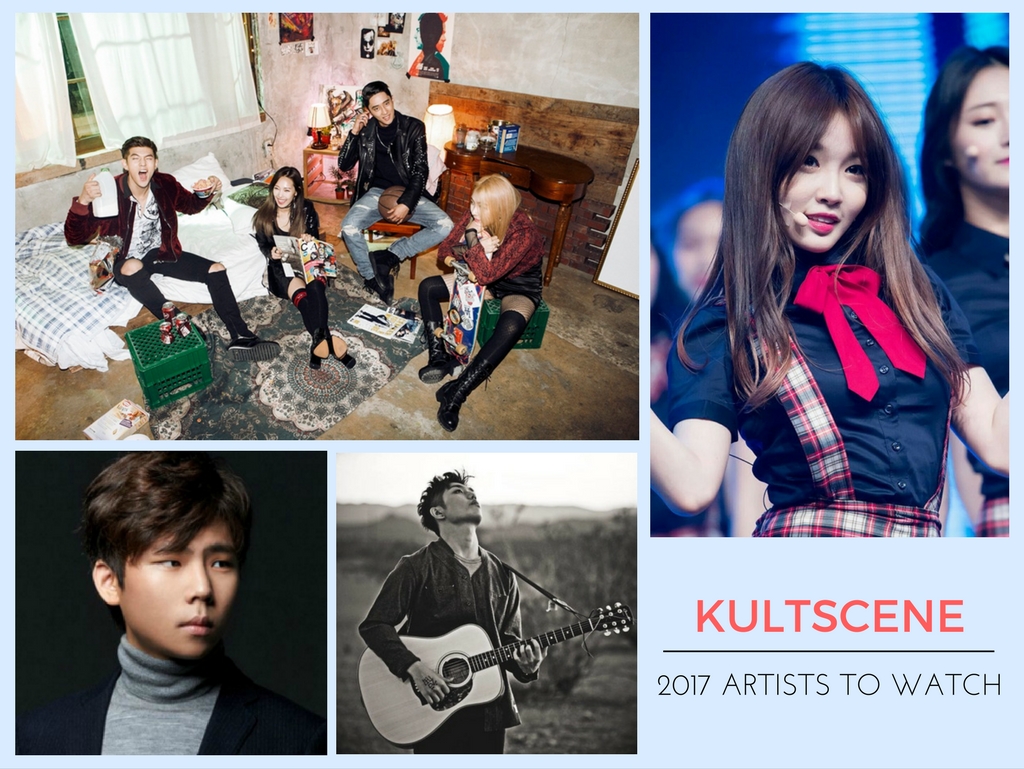 New year, new Kpop. As 2017 begins, we are watching closely for artists both new and old to stand out with better music and performances. And especially following the 2016 Kpocalypse, nothing is entirely predictable. Anything can make your fave popular — a funny variety appearance, a trendy CF, or a "Sha Sha Sha." So we ask: Who will be the trend in 2017? KultScene's writers Anna and Kushal break it down across Male, Female, and Coed lines to give you our prediction of 2017's rising stars.
MALE Artists to Watch in 2017: Jung Seung Hwan, Sam Kim (Antenna Music)
Of K-pop Star fame, these two singers made their much anticipated debuts in 2016 and while their styles of music are different, they both have equal potential to make it big in 2017. Beginning with Sam Kim's pre-release single in March with "Mama Don't Worry," he then made an official debut in April with his full-length EP I Am Sam.
Each of his songs are so musically inspired and creative that they bring a new life and freshness into the K-pop industry and "No Sense" illustrates that completely. The fact that he's only going to be 19 this year just means that he still has a lot more room to grow as a musician in the future. Most recently, he also released an amazing OST ("Who Are You") for popular airing drama Goblin and has been gaining a lot of recognition for the soulful track.
Jung Seung Hwan on the other hand, only made his debut recently in December with his album Voice. He achieved an "all-kill" on Korean music charts with the release of his album, but this shouldn't come as a surprise for the singer since he had previously topped charts with the covers he sang during his stint on K-pop Star. His naturally emotional voice makes him the perfect choice to sing sorrowful ballads and OSTs, as proven by the successful sound tracks he has been releasing, even before his official debut. In particular, his OST for Oh Haeyoung Again hit the right notes with the Korean public and has achieved a long-staying popularity even with the many other releases of 2016. (I heard the song playing in shops at least 5 times when I was visiting Korea in December.)
Ballads aren't new in K-pop, but the way these two artists reinvent the genre in their own ways keeps their music interesting and strengthens their individual identities as musicians. Here's hoping that they'll discover their well-deserved success in 2017!
FEMALE Artist to Watch in 2017: Kim Chungha (M&H Entertainment)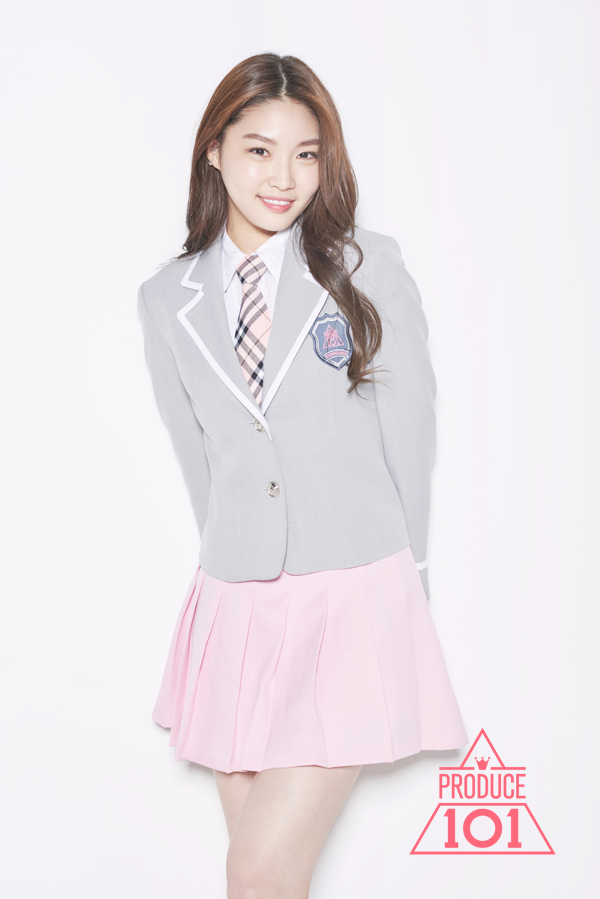 Originally one of Produce 101's underdogs, Kim Chungha quickly rose to fame last year as a member of the trendy, nation-produced I.O.I. Among many younger, cuter members, Chungha's sexier, more charismatic image immediately stood out to I.O.I fans looking for a member with an edgier side. While she rose to fame as a dancer and choreographer, she is by no means a weak vocalist. Chungha has impressed fans left and right with her dancing skills, from improvising "Partition" during her first Produce 101 audition in January to performing on Mnet's dance show Hit the Stage months ago. The crowning achievement of her tenure as an I.O.I member, however, is the choreography to the group subunit's song "Whatta Man (Good Man)," which she herself crafted during the summer.
Without a strong company behind her, Chungha's rise to relevance was largely unprecedented, but definitely welcomed by fans throughout the K-Pop world. While she has enjoyed success as an I.O.I member, many were worried about her future after the group's upcoming disbandment at the end of January. It was announced at the end of 2016, however, that Chungha would debut as a solo artist under her label M&H Entertainment in the first half of 2017. The decision to give her a solo debut was probably one of the smartest things her label could do, given that 2017 is already going to be flooded with newly successful girl groups and newly debuted girl groups that have yet to find success. The oversaturated nature of the market makes her solo debut something the Korean public and international fan community will quickly embrace — no new members to learn, no new group name to start stanning. In a world of cutesy and energetic girl groups, Chungha's charisma will likely stand out, giving her another edge in the intensely competitive market of female K-Pop artists. Chungha is definitely multi talented, and her ability to handle multiple skills and concepts puts her immensely ahead in K-Pop game this year.
COED Artist to Watch in 2017: K.A.R.D (DSP Media)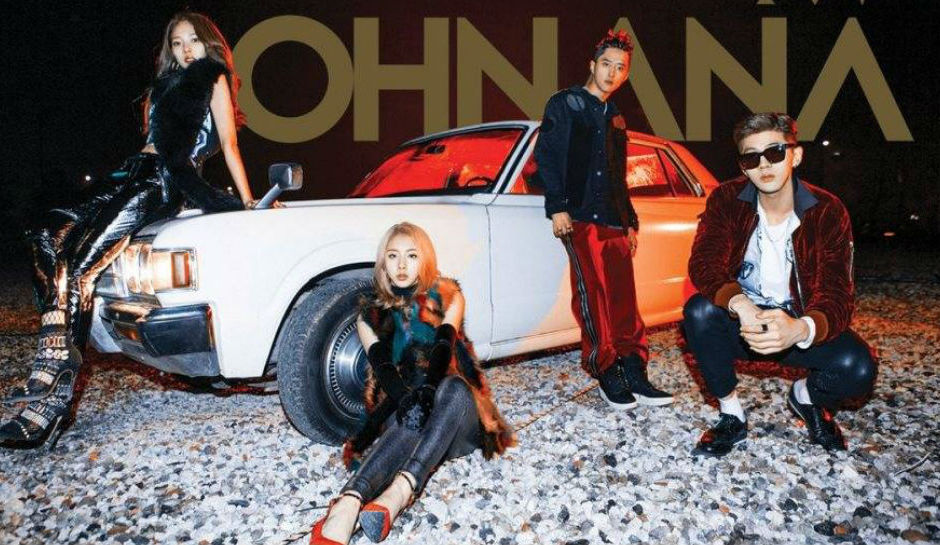 While they haven't officially debuted, the four members of K.A.R.D have already made huge waves in the K-Pop universe with their pre-debut track "Oh NaNa," which was released early last month. Voted by KultScene's contributors as the 5th Best Song of 2016, the track has yet to chart in Korea, but has remained near the top of worldwide K-Pop charts for almost a month. Their music video has also accumulated over 4 million views, and their YouTube channel has over 180,000 subscribers (keep in mind that they have already overtaken their label DSP Media in subscriptions, which is the channel with every single KARA music video ever…).
With the kind of international attention the group is receiving, it isn't long before they get similar love in Korea. The inclusion of masculine male rappers and infectious female vocals creates the ultimate mix of boy group and girl group fans alike. Instead of competing for the top spot among boy groups or girl groups, they amalgamate what makes each type of group work in a co-ed unit that stands out. While rising groups like Cosmic Girls and fellow DSP artist APRIL are trying to stand out in the girl group world this year, and new boy groups like VARSITY and Top Secret look for success on the other side, K.A.R.D has relatively no competition. They have entered a niche of K-Pop that hasn't been touched in years, and with the kind of visuals, talents, and musical quality with which they've started, it's only a matter of time before they become a force to reckon with in the K-Pop world.
Additional content courtesy of Anna Cheang. 
Who do you think will be Kpop's rising star this year? Share your thoughts in the comment section below and be sure to subscribe to the site and follow us on Facebook, Twitter, Instagram, and Tumblr to keep up with all of our posts.
https://kultscene.com/wp-content/uploads/2017/01/ARTISTS-TO-WATCH-2017.jpg
769
1024
Kushal Dev
http://kultscene.com/wp-content/uploads/2018/02/KULTSCENE-LOGO-2018-TRANSPARENT-RED.png
Kushal Dev
2017-01-09 06:51:27
2017-01-09 13:20:43
KultScene's 2017 Artists to Watch