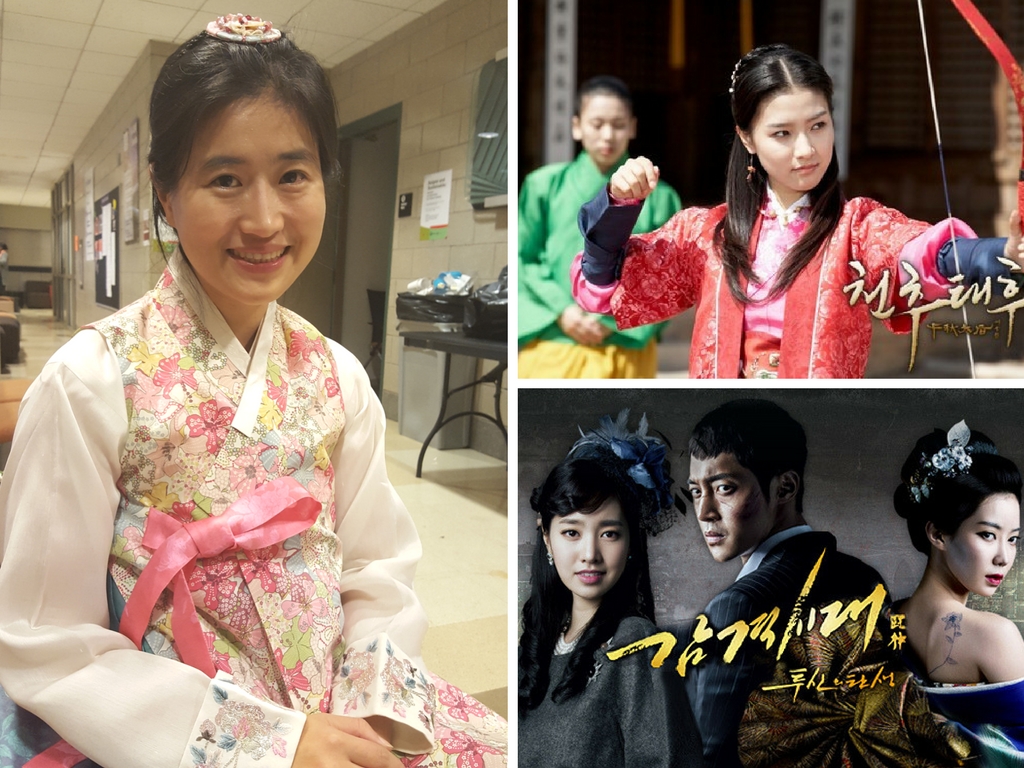 Fashion plays an important part in Korean films and K-dramas—from the Joseon era girls who are free to roam in boy's clothing to the newly rich women obsessed with name brand items—clothing defines and transforms characters. There may be a reason that so many K-drama plots, both contemporary and historical, feature makeovers. Nothing visually symbolizes change and new confidence quite like new and more flattering clothing. Costume designers know that costumes have a lot to say. According to designer Minjung Lee, no one should take costuming for granted.
The outfits are an essential part of historical Korean dramas, contributing to both character development and cinematography. Historically accurate costumes help recreate eras so vividly that viewers feel temporarily transported in time. Those are the clues that Lee seeks to express when she envisions drama costumes.
Currently a visiting scholar at UC Davis, Lee worked as a costume designer for KBS Artsvision for 10 years. She focused on costume design because of her interest in the history of Korean clothing, but also because she was fascinated by the psychology of fashion.
"I really wanted to read someone's mind, to understand why they wore what they did," Lee told KultScene.
---
---
This vision to see clothing as a reflection of personality helped Lee create costumes for characters in a range of KBS historical dramas. From the royal robes created for Kim So Eun in Empress Cheonchu: The Iron Empress to Kim Hyun Joong's Inspiring Generation wardrobe, Lee researched and created authentic designs that helped bring the characters to life.
Lee's first experience creating a costume did not live up to her expectations. It happened in middle school, when her class was planning a costume parade. She knew what she wanted to be but the costume did not exist, so she had to make it.
"I wanted to be a tree but then I thought, how do you make a tree? I had to figure it out, to find out where there were fabric stores in Seoul. My mother didn't even know. It was my first costume and it was not very good."
The tree costume, fashioned from nylon tent material, may have disappointed her but that did not discourage Lee from studying fashion for her undergraduate degree then going on to pursue a master's degree in Korean costume and a PhD in the aesthetics of dress at Seoul National University.
"My mother wanted me to be a doctor, but my talents fell somewhere between the scientific and artistic," said Lee. "I Ioved to draw but was not talented enough to be an artist. Nothing looked like I wanted it to. Textiles seemed like a good way to combine the scientific and artistic."
Her university studies included dyeing, printing, design, illustration, and marketing. Lee became so interested in the psychology of clothing that she briefly considered a career in psychology. Then she received her first costume request: The priest at the church she attended asked her to make him an authentic Gogoryeo era (37 BC–668 AD) costume, because he was studying martial arts.
Fulfilling that request was a challenge for Lee, as much of the dress history she studied in the past had focused on Western fashion. So she took a class in Korean dress history but there were few illustrations of what Goryeo era clothing actually looked like. Descriptions of Goryeo period clothing was mostly gathered from tomb paintings and the rare intact clothes displayed in museums were those worn by nobles. Rare Goryeo-era artifacts were mostly stored in North Korea, and while Lee attended school even scholarly access was limited.
There was no way to know what colors people wore, or what patterns tailors used. Despite the challenges Lee was determined.
---
---
She contacted the costume department at KBS and asked to visit their storehouse to see costumes of that period. They agreed. "They could have rejected me but they let me look at the clothes in their warehouse."
Exploring the KBS warehouse was so much fun Lee decided not to major in psychology but take a course in 10th century history. She eventually she became a costume designer at KBS Artsvision.
"After I got acquainted with the people at KBS I knew I had to become a costume designer," she said. "I didn't know anything about being a costume designer, no idea what was involved, but I knew I had to do it. I thought if I can interpret raw data into costumes, it will be perfect."
Part of the motivation was the clothing, but also because Lee herself is a fan of Korean dramas. "I love every kind of TV," she said. For a decade she worked on a variety of dramas, set in different centuries.
Once she starts working on a drama wardrobe, Lee says it is an all-consuming process and that she can think of nothing else. After she reads the script, Lee begins to research costumes of the period and create a wardrobe that best portrays the characters. She researches textiles and pays painstaking attention to the details–from hats to belts to jewelry– that make clothes seem authentic. Based on her research, she also has to create a budget and stay within it, oversee the production of all the drama's clothes, manage fittings, and supervise alterations that might be required while filming. After the drama is over, the clothes must be collected and catalogued before storage.
Her roster of dramas includes Empress Cheonchu: The Iron Empress (2007), King Geunchogo: The King of Legend (2010), which she won an award for, The Princess' Man (2011), Jeon Woo Chi (2013) and Inspiring Generation (2014).
Despite the rigorous research that goes into costume design, some historically accurate details may not be appreciated by a drama's cast or crew. When Lee's research led her to design clothing with sleeves that passed the fingertips, the crew was not pleased.
"The staff got mad at me because the sleeves dragged and ripped off, so I had to shorten them," she said."[And] sometimes the actors do not feel the clothes are flattering so they have to be altered."
After years of designing costumes set further in the past, Minjung Lee designed clothes for the 20th century historical drama Inspiring Generation, set during the era of the Japanese Colonial Rule of Korea (1910 to 1945). "The clothes in such dramas are more realistic since they are well documented," she said. "It makes it less of a challenge, but easier to replicate."
Lee also hopes to design costumes for films, citing The Royal Tailor, starring Park Shin Hye, as an excellent example of faithful costume replication. "The costume designer was brilliant, one of the best. I actually made my dream come true by pursuing textiles, but I want to be a designer like her. That is my ideal."
The costumer has written about dress aesthetics in the era represented in Inspiring Generation in her PhD dissertation, "Dress and Ideology during the 20th Century of Korea," where she examined the clothes and ideology of that time. She presented a paper "Fashioning identity and Ideology in Inspiring Generation" for a Fashion in Fiction conference and recently also spoke about the era at a Fashion Institute of Technology conference in New York.
Minjung Lee is currently living in the U.S. and taking a sabbatical from her design work while serving as a visiting scholar at the University of California-Davis in the Textiles and Clothing/Women and Gender Studies departments. When she returns to Korea in February, she plans to write more about the significance of fashion. "Academia does not always respect dress," she said. "They take dress for granted and fail to see it in the social context in which it originated."
What do you think of Lee's take on K-drama fashion? What's your favorite historical drama fashion? Share your thoughts about this article in the comment section below and be sure to subscribe to the site and follow us on Facebook, Twitter, Instagram, and Tumblr to keep up with all of our posts.
https://kultscene.com/wp-content/uploads/2016/11/Untitled-design.jpg
768
1024
Joan Vos MacDonald
http://kultscene.com/wp-content/uploads/2018/02/KULTSCENE-LOGO-2018-TRANSPARENT-RED.png
Joan Vos MacDonald
2016-11-28 05:52:56
2016-12-01 11:48:34
KBS K-drama designer Minjung Lee helps bring characters to life [INTERVIEW]