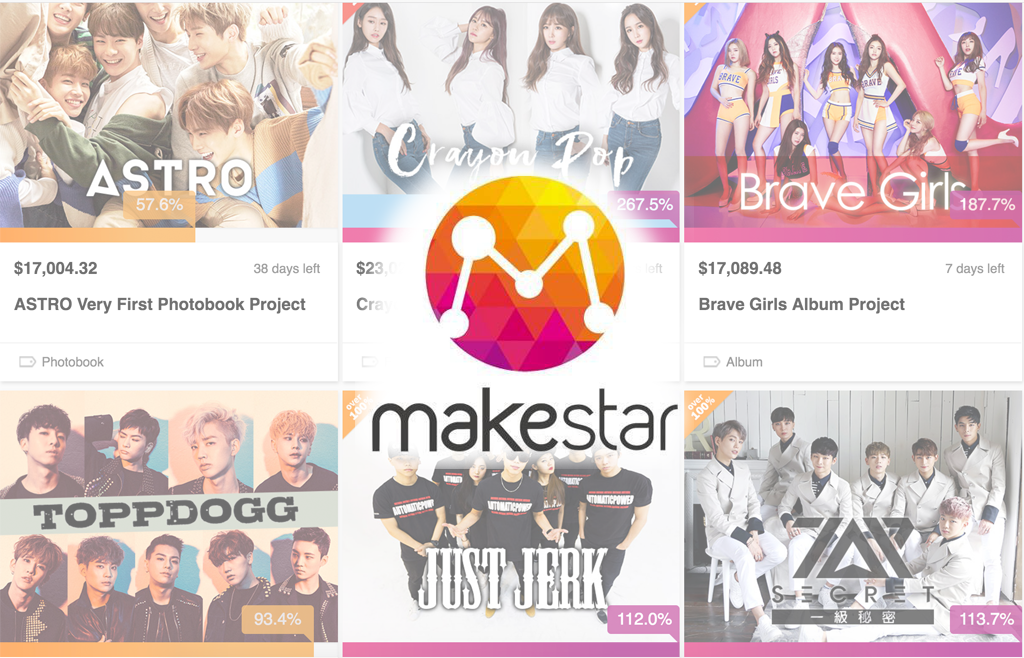 Every minute nowadays there's a new service disrupting one industry or another. For the hospitality industry, it was Airbnb. For the taxi industry, it was apps like Uber and Gett. And for K-pop, it's Makestar. The crowdfunding service is about a year old, but has already started to shake up the Korean entertainment industry.
Through a variety of fund-raising campaigns, running the gamut between things like photobooks for well-known acts to funding the debuts of rookie K-pop idol groups, Makestar has been giving the less-well-funded Korean acts a chance. K-pop acts like Crayon Pop, 24K, Nine Muses, Astro, and the recently-departed Rainbow have benefited from Makestar's unique approach to connect, both financially and on a personal level, Korean stars with their fans. By having fans pledge funds ahead of production of an album or special project, Makestar is helping Korean entertainment companies ensure that there's an audience for their production. And a profit.
According to Brian Kim, Makestar's chief product officer, the company's goal isn't simply to fund K-pop projects, but actually better the K-pop industry. Makestar's not just about K-pop, but it is the company's main forum of business right now. They have also featured a handful fundraising campaigns on the site for films and musicals, but the majority of their current projects are geared towards music fans.
---
---
"We're really focused on what the fans want," Kim told KultScene over the phone, explaining that a lot of his job revolves around communicating with the pledgers. "We're trying to make new opportunities for fans to have their voices heard a little bit more by the industry. I guess that's the foundation where we started."
Foundation or not, Makestar is definitely helping fans — particularly international K-pop fans — get their voices heard. Kim's most notable example was a recent interview with Stellar that an Australian fan got to MC, which featured questions the fan had gathered from Stellar fans from around the globe. Practically unheard of in the K-pop world, the interview was part of a fundraising campaign for Stellar that featured fans spreading the word about both Stellar and the Makestar project. According to Kim, Stellar's willingness to try new things with Makestar has helped the crowdfunding platform grow.
"Because of Stellar's projects we've tried new things, like mashing up the fans dancing with Stellar's music video and having it officially sanctioned and so on, to even basic things like Ask Me Anything kind of thing," explained Kim. "We've tried new things where fans get to feel closer with them and [Stellar] have been very receptive." Kim also added that the other Korean management companies have been more receptive of Makestar's suggestions on whatever project they're pursuing through the site as a result of Stellar's example.
Even KultScene's staff got on board: Joe showed off his production cred on Twitter earlier this year.
My Nine Muses Photobook arrived while I was away!! It's so beautifully made and has my name on it!! pic.twitter.com/KZXs3Za1X8

— Joe Palmer (@CaptainJoeHook) June 27, 2016
Convincing Korean entertainment agencies to try out Makestar wasn't the easiest thing at the beginning, despite Makestar coming with powerful backing. The CEO, Kim Jae Myun, was a co-founder of FNC Entertainment. "He was the one who created CNBLUE and FTISLAND," Kim interjected. Nearly a decade after FNC's founding, Kim created Makestar to see if mass fundraising would work in Korea's rigid entertainment environment. At first Makestar met with little success, but as the company started seeing success with their campaigns, entertainment companies started approaching the service about setting up their acts with a fundraising project.
Makestar's success relies on the popularity of K-pop, and the relative small market that Korea's estimated 300 entertainment agencies have to partake in. "Before Makestar, it was kind of understood, you know, 'we just don't have the funds, we don't have the resources, that's not the way it works.'" Single after single was the only way many small Korean agencies felt they could promote their act, hoping for a hit to compete with the bigger acts.
"A-listers will always be A-listers. They'll always have concerts, big events, and their albums will do well. The name value itself will carry," Kim explained, mentioning some of Korea's largest entertainment companies like SM Entertainment, YG Entertainment, and JYP Entertainment. "One way we discovered [potential] disruption was [by asking], 'Is this the only way?' If funds are a problem, crowdfunding can kind of solve that. If getting word out is a problem, the project can help with the premarketing and marketing, and we're getting into postmarketing."
---
---
International fans are very different than Korean fans, which Kim and Makestar are very conscious of when creating their campaigns. Boy bands will typically garner pledges primarily from middle-aged Japanese women, but well-known acts internationally, like Crayon Pop, will see about a third of their funding coming from the US and other English-language markets. Makestar's services are offered in English, Japanese, Korean, and Chinese, but they want to make it even more internationally focused. "American fans are very different from French fans because Americans and French people are very different," said Kim. "What we're trying to do now is involve fans in what we're doing at Makestar, whether it be suggestions, whether it be engineering a project. So if you like BTS and you'd like BTS to run a project at Makestar, what would you think as a fan would be a really good project to run? We'd really like to start crowdsourcing those ideas as well because at the end of the day who knows better than the fans?"
Through a variety of campaigns and offering different rewards, ranging from production credit to meeting and spending a day with K-pop stars, Makestar guides the fundraising efforts of K-pop acts. Kim reassured KultScene that it was Makestar acting as a consulting service, not Makestar acting as a secondary managing company. "At the end of the day, the management companies have the final say as to how the project proceeds. Sometimes it comes out pretty much as we expected, but other times, because of some additions that the management company has made on a whim, basically, made based on nothing, we do tend to have burps here or there."
While there may be slight issues Makestar seems to have figured out a way to ensure that campaigns succeed and they've had few failures recently, although a high profile campaign for Xia Junsu failed last December when it came about $300,00 short of its $838,000 goal. Garnering more than two times the goal isn't uncommon: Stellar's "Sting" album production project was funded more than 500 percent times the initial goal of $10,068.97, and brought in more than $53,000. The projects range varies, with smaller ones aiming for around $10,000 and larger ones by more popular acts, like Astro and Rainbow, angling closer to $30,000. Makestar recently saw its first crowdfunded debut from Momoland, who raised a little over $12,000.
What's next for Makestar? Not concerts, said Kim. "We do have plans for concerts, but we do really want to make them special. We don't want it to be just about money, money, money for [the stars] and the management company, because if that happens, we know that it's not going to be a special occasion [for the fans], other than the concert. So we've been racking our brains about creating a project style where the stars can visit different corners of the world and have that special connection with the fans. We're holding off on that."
What do you think of Makestar and their campaigns? Reach out to them via email if you have any ideas about campaigns! And share your thoughts about this article, and K-pop fundraising, in the comment section below and be sure to subscribe to the site and follow us on Facebook, Twitter, Instagram, and Tumblr to keep up with all of our posts.
https://kultscene.com/wp-content/uploads/2016/11/makestar.png
658
1024
Tamar Herman
http://kultscene.com/wp-content/uploads/2018/02/KULTSCENE-LOGO-2018-TRANSPARENT-RED.png
Tamar Herman
2016-11-22 15:33:37
2016-11-22 15:33:38
You too can be a k-pop producer thanks to Makestar [Interview]