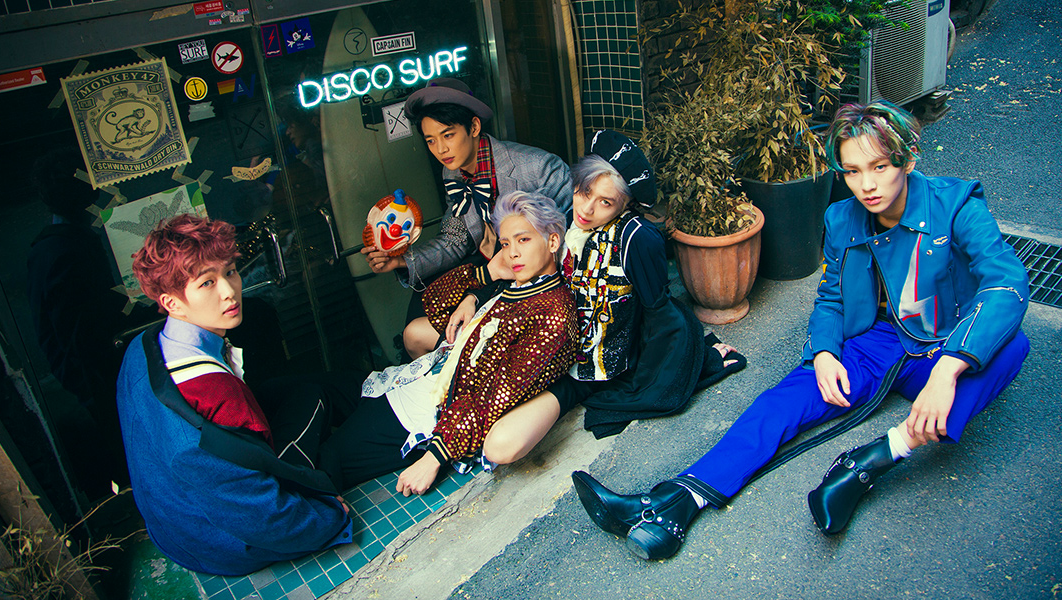 On Saturday, SHINee will take the stage at the Staples Center at the Los Angeles leg of KCON USA presented by Toyota. For the second time this year, SHINee's coming to Los Angeles to wow audiences and I'll be sitting in the crowd cheering them on, enthralled by their performance. A big change from the last time I saw SHINee perform in the US.
Walking into Madison Square Garden on October 23, 2011, I was ridiculing my friend who was a SHINee fan (Shawol). "Look, they're all short!" I said, pointing out how the fans with their pearl aqua green paraphernalia. "They're all young. They don't know what it's been like stanning these groups for years!" As a longterm Super Junior fan who spent much of 2009 heartbroken over a variety of departures from Super Junior and TVXQ, SHINee had no place in my heart. But then the quintet got on stage and I had to accept something I had been denying since I discovered K-pop a few years before:
SHINee is the best K-pop group of our generation.
And that's something I will go on the record declaring, despite people trying to counter this claim pointing to sales records. Not that other groups aren't iconic (Super Junior and INFINITE will forever be extremely talented groups in my eyes, and nobody can deny the insane response BIGBANG and EXO have received from audiences both in and out of South Korea). I'm not writing this to upset anyone. I'm writing this because I was on a very hot subway, listening to "Symptoms" (thanks Alexis for rectifying that emptiness in my life a month ago) and I had an epiphany about SHINee's career as a whole.
---
---
"Symptoms" isn't a single, although it was promoted alongside "Everybody" back in 2013. It shouldn't be a mind-blowing song. But it is, because it exhibits some of SHINee's best vocal performances, like Key's glorious, unexpected vocal trill. But it doesn't matter. Single or otherwise, SHINee's songs are always a step beyond the rest. Both because of the performers themselves and the production team that one day sat in a room and decided that SHINee wouldn't ever follow the trend: this is a group of trendsetters and they have been since day one.
When they debuted, SHINee made a splash for their song and style and then they became known for their insane dance skills and fashion. (Thank SHINee for all the colorful skinny jeans on male idols).
Now, SHINee is primarily known for their experimental styles– but I'm going to go further than that and say that their singing is what makes SHINee such a long-standing group. Good production isn't alone when it comes to K-pop, where every song is manhandled by production teams. SHINee is a top-tier group because they're produced by SM Entertainment, but it's their talent that the whole thing relies on.
When things come down to it, idol groups that release better music have far more of an impact even when they're not necessarily the strongest fandom: This quintet can take a simple b-side and make it an aural experience that any listener can enjoy. And that's why they're able to hold multiple shows in the United States this year even without any new material. Unlike much of K-pop, there's no need to be an innate fan of SHINee to like their albums. It's becoming more and more common; Red Velvet and BTS have released exceptional albums lately and Seventeen will likely join their ranks soon thanks to their production creds — but only SHINee does it in a way to appeal to even the most casual listeners.
(Sorry to literally every other idol group out there. I still love and appreciate the majority of you, but SHINee does it better than the majority.)
---
---
The combination of raw talent and precise production make SHINee the most accessible K-pop group of the past 10 years. Listening to their songs, SHINee's members have surpassed one another consistently to become a group that lacks little, if anything, sonically. Gone are the days when Jonghyun and Onew were clearly the main vocalists of the group; dancer Taemin has a solo album and Key surpassed expectations with his unique baritone tones, becoming a mainstay of their songs. Even rapper Minho has surpassed the dibidibidi days of yesteryear. Their performances of "View" last year were some of the most evenly distributed lines in K-pop in the past three years (the group's size clearly affects this). Aside from Minho, who smiles as he delivers his sweet but clearly less impressive vocal performance, the other four divide the song nearly evenly with each member given a chance to express his own vocal color.
It's been said before, but the only time SM Entertainment has seen such strong, unified vocals was from TVXQ back in the day when they were still a quintet. (TV5Q may have been better technically, considering that the group's harmony enable them to continuously impress with strong a capella performances.) But SHINee is so consistent that it's impossible to deny that we're really living in a SHINee World. Here's to their upcoming performances in the United States in California and Texas and their soon-to-be-released album.
Needless to say, I'm hyped to see a group I very much once loathed this weekend.
What do you like/dislike about SHINee? What's your favorite song? Let us know in the comments below. We'd love to hear you thoughts and don't forget to follow us on Facebook, Twitter, Instagram, Tumblr, and Bloglovin' so you can keep up with all our posts.
https://kultscene.com/wp-content/uploads/2016/07/Screen-Shot-2016-07-27-at-11.06.21-PM.png
600
1062
Tamar Herman
http://kultscene.com/wp-content/uploads/2018/02/KULTSCENE-LOGO-2018-TRANSPARENT-RED.png
Tamar Herman
2016-07-27 21:11:15
2016-07-27 21:23:35
An Ode to SHINee on the Eve of KCON LA 2016