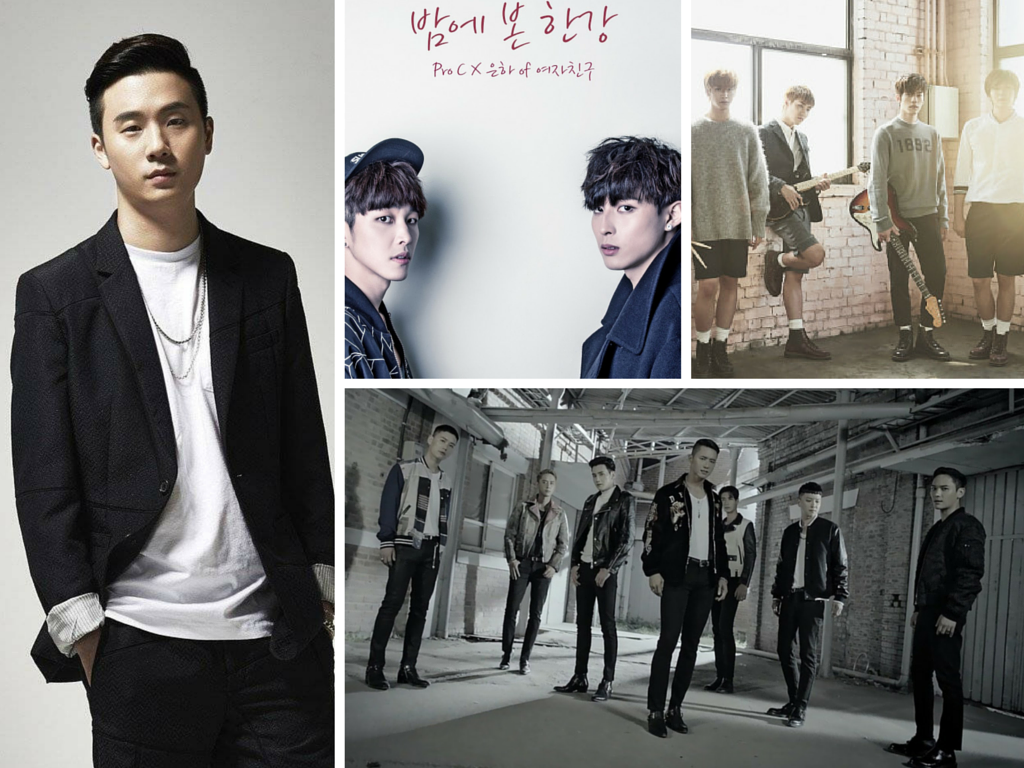 It seems almost impossible nowadays to stay on top of all the new songs that are being released. Aside from new groups debuting almost at a weekly rate, labels are also pumping out songs left and right to keep up with the competitive market. But have no fear, at KultScene we've compiled a list of K-Pop releases you may have missed in the month of October.
Pro C ft. Eunha (G-Friend) "Night At Han River"
I for one do not fancy girl groups; they get too generic too fast. With that said, I usually don't bat an eyelash especially if that female group has more than four to five members. But Eunha from GFriend surprisingly stole the show with her featuring in "Night At Han River". Even though I heard her gentle but compelling voice more than Moos and Buffy, members of MADTOWN's subunit Pro C, all three amazingly complimented each other very well. Although Moos and Buffy are rappers, they both have naturally soft and delicate voices which transcends throughout their lyrics whenever they're rapping, in addition makes this song all the more enjoyable and easier on the ears.
There's something about Moos, Buffy, and Eunha's voices that can make you feel cozy and gives you a sense of relaxation, which could be one of the many reasons why you would want to spend an evening at the Han River with them, right?
UNIQ "Best Friend"
When three out of the five members in a group are non Korean, it can be quite challenging trying to not only understand one another from a language standpoint, but also culturally. Sure there were probably moments of awkwardness when the guys of UNIQ were first told they were going to be in a group together and who knows how long it took them to get over that stage. But all that matters now, which definitely shows, is their bond and the sincere gazes that they have for one another. What better way to celebrate friendship than to sing about it? The music video for "Best Friend" demonstrates UNIQ's brotherhood and the fun loving behavior that they members have when they're around one another. It's a mellow song, one in which you can easily find yourself grooving back and forth to. If you're ever feeling down in the slumps, take a listen and watch "Best Friend" and let it enlighten your mood. On top of all that, these guys are absolute cuties!
---
---

Shin Seunghun "Me, Myself"
Have you ever listened to a ballad and thought you had your feelings all figured out? That is until you watch the actual music video and then develop a whole new set of feelings? There's something about Shin Seunghun's tender voice in "My, Myself" that naturally cradles one's emotions back and forth. Sure, it's a ballad, and ballads are supposed to be anything but gleeful. But there's something about the lyrics and melody that can get one worked up and feeling various feelings all at once, much like the lyrics which describes a couple's change in emotions post break up. Watching the music video and seeing the back flashes that actors Song Jae-rim and Gong Seung-yeon have for each other makes one feel all sorts of warm on the inside and yet feel heartache at the same time. You know it's great music if you're willing to throw yourself into this endless pit of emotions.
N.Flying "Lonely"
It was interesting to see what kind of direction N.Flying was going to take with their second release since their Korean debut in May of 2015. Considering that they are a band stemming from FNC Entertainment, home to exceptional bands FTISLAND and CNBLUE, there were definitely high expectations for more instrument usage or at least a more instrumental background, much of which their debut single consisted of. "Lonely" is reminiscent of CNBLUE's "Can't Stop" with a mixture of N.Flying's own non-aggressive style with the accompaniment of an artsy music video. Even with drums in the background and its rock tempo, the song is rather calming, much of which I wasn't expecting to hear. "Lonely" didn't blow me away but it's definitely a step up from their debut single "Awesome". Like other rookie groups, N.Flying is still trying to find it's own color, one in which won't be overshadowed by their label mates, one in which can show the audiences that they're not just another band. It might take some time but the potential is there.
10cm "October Rain"
The way Yoon Chul-jong softly strums at the guitar with the soft rain sounds in the background can make just about anyone doze off and fall fast asleep. Then you have vocalist Kwon Jung-yul pulling at your heart in a million directions, giving you all sorts of butterflies and a sense of melancholy. I should've sensed by the title "October Rain" alone that it was going to be one of those songs that was going to involve a lot of sentiment and closure of the eyes, to truly take in the meaning. I forgot to piece in the part that 10cm has a way of toying with one's feelings, with the simplest tone and note. Even if rain wasn't involved, this is a definite go-to song for those days when you're feeling less than normal and a bit sluggish. It might not be the song that'll make you get up and dance but it'll at least sooth your nerves and bring tranquility.
---
---

Click-B "Reborn"
"Reborn" is more than fitting as Click-B's returning title track, considering everything the group has gone through since debuting in 1999; from splitting up, losing two members, regrouping into a different group, then with all seven original members getting back together. With so many changes since 2002, it's great seeing Click-B coming back as one and gifting their fans with a long awaited comeback as all seven members. It's refreshing to see a group of older men — not to take anything from the younger male idols — rock out in full suits, with their slicked back hair and still have it in them to melt hearts with a quick glance. There are moments where "Reborn" sounds like any other song that's been released in the last year, but with it's rock-like background and it's being sung by a group of older men, there's a more matured feeling, something different. It brings on a sense of something completely new and yet it's not at the same time.
Lil Boi and Basick ft. Hwasa "Call Me"
This list has been a bit dampening, hasn't it? Here to lift up your mood and get you on the feet and swaying is "Call Me" by Lil Boi and Basick featuring Hwasa. Not your typical heavy rap song, "Call Me" has a light tune, which can easily get you going, and brighten up your day, especially with that megawatt smile from Basick. Not only is the song upbeat but also the music video is extremely entertaining to watch, especially when goofballs Lil Boi and Basick run wild around town. The energy between the two guys could be felt through the screen. It's one thing when a song is supposed to be fun, it's another thing when it actually is, which clearly shows. Why isn't there more feel good songs like this?
Did we miss any of your favorite October releases? Share your thoughts in the comment section below and be sure to subscribe to the site and follow us on Facebook, Twitter, Instagram, and Tumblr to keep up with all of our posts.
https://kultscene.com/wp-content/uploads/2015/11/oct-releases.png
768
1024
Tam Huynh
http://kultscene.com/wp-content/uploads/2018/02/KULTSCENE-LOGO-2018-TRANSPARENT-RED.png
Tam Huynh
2015-11-07 07:21:41
2015-11-08 18:14:29
October K-Pop Releases You May Have Missed