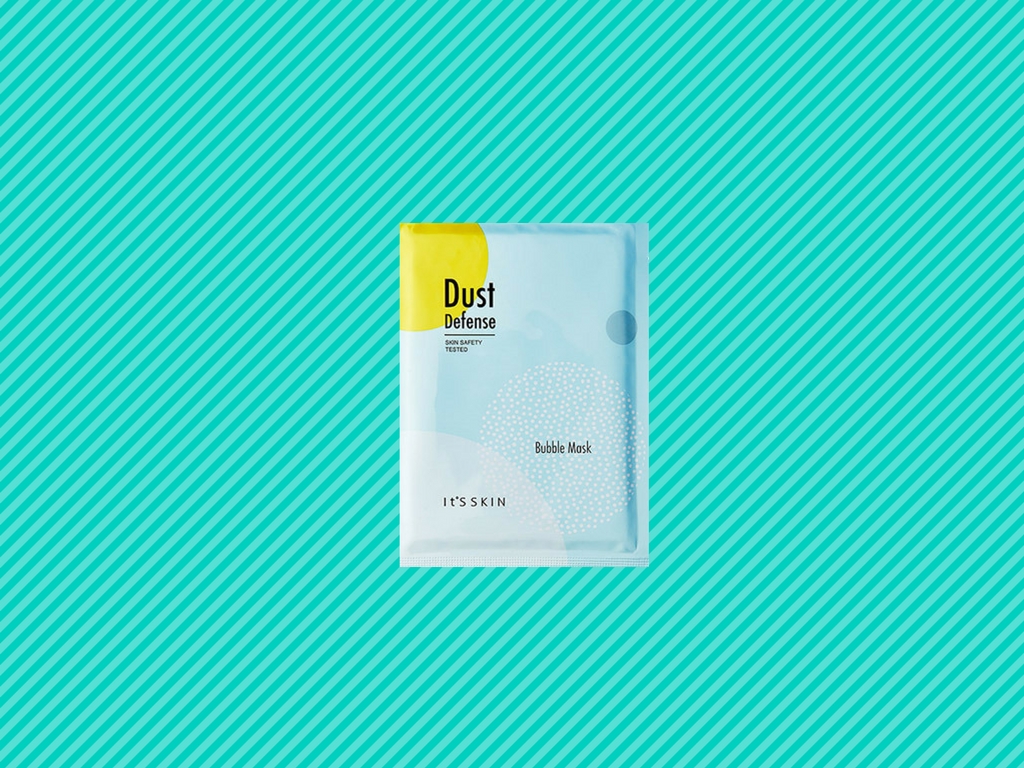 While I've done plenty of masking in my time I had never seen a bubble mask before, so was completely taken back by my recent experience with the It's Skin Defense Bubble Mask. According to the package, the Dust Defense Bubble Mask "protects and soothes skin from environmental damage, and offers deep hydration." Which meant… That it was essentially a cleansing mask?
Since I'm such a masking expert, I rarely take the time to actually read directions but I happened to glance at the Bubble Mask's guide to skin perfection and noticed that these directions were a bit different because of the mask's nature. Most sheet masks that I've used are meant to be delivering moisture and/or some sort of treatment to your face through the serum. It turns out that this sort of mask, since it's cleansing (even though it doesn't seem to imply that from it's description) you're not supposed to take off and then pat in the remaining moisture. Nope, you're supposed to wash it all off, since it's bubbly and supposed to have made your face dust-free.
Pros
BUBBLES!!!!!!! It felt like a full on bubble bath for my face. So much foam!!! I may or may not have cupped all the suds in my hand after removing the mask and played with them for a minute.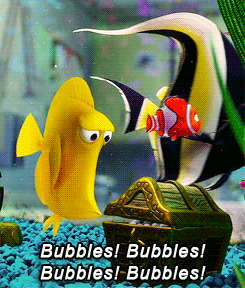 ---
---
Okay, it may be a bit juvenile, but here's what happened. When I opened up the mask I had two surprises: First, it was black. Second, it was soapy. Feeling a bit confused, and wondering how much more sudsy it could possibly get, I put the mask on. Ten minutes later, I glanced in the mirror and laughed at myself. It was like a Snapchat filter! The previously black surface of the sheet mask was absolutely covered in the white foam.
Cons
I always remove my makeup with a double cleanse before I mask, and this was no different. The only difference came after I removed the mask, when I realized my face felt raw. Because the Dust Defense Bubble Mask is essentially covered in soap, it seemed like it just cleansed my face again. I had to do some serious moisturizing post-mask, which I'm not a fan of. If I ever get another, I'll likely do it first thing in the morning, so I don't have to remove my makeup and will just use it to replacy my morning cleanser.
---
---
Overall
I like sheet masks because I can write an article while putting something good on my face. I really wanted to like the It's Skin Dust Defense Bubble Mask because I live in New York City and I feel like it ideally would be able to help combat the pollutants. Unfortunately, I don't think I'll use it again because it really felt like a cleanser and I don't need to scrub my face raw. But it was a fun experience, so I may try other bubble masks in the future and see if they don't dry me out as much.
It's Skin Dust Defense Bubble Mask
Have you ever tried a bubble mask? What did you think about it? Share your thoughts in the comment section below and be sure to subscribe to the site and follow us on Facebook, Twitter, Instagram, and Tumblr to keep up with all of our posts.
This review was not sponsored by It's Skin, but KultScene is always looking for affiliate and sponsors, particularly for product reviews. Email [email protected] for more details.
https://kultscene.com/wp-content/uploads/2016/11/Untitled-design-4.jpg
768
1024
Tamar Herman
http://kultscene.com/wp-content/uploads/2018/02/KULTSCENE-LOGO-2018-TRANSPARENT-RED.png
Tamar Herman
2016-11-03 20:16:47
2016-11-03 20:16:47
K-Beauty review: It's Skin Dust Defense Bubble Mask