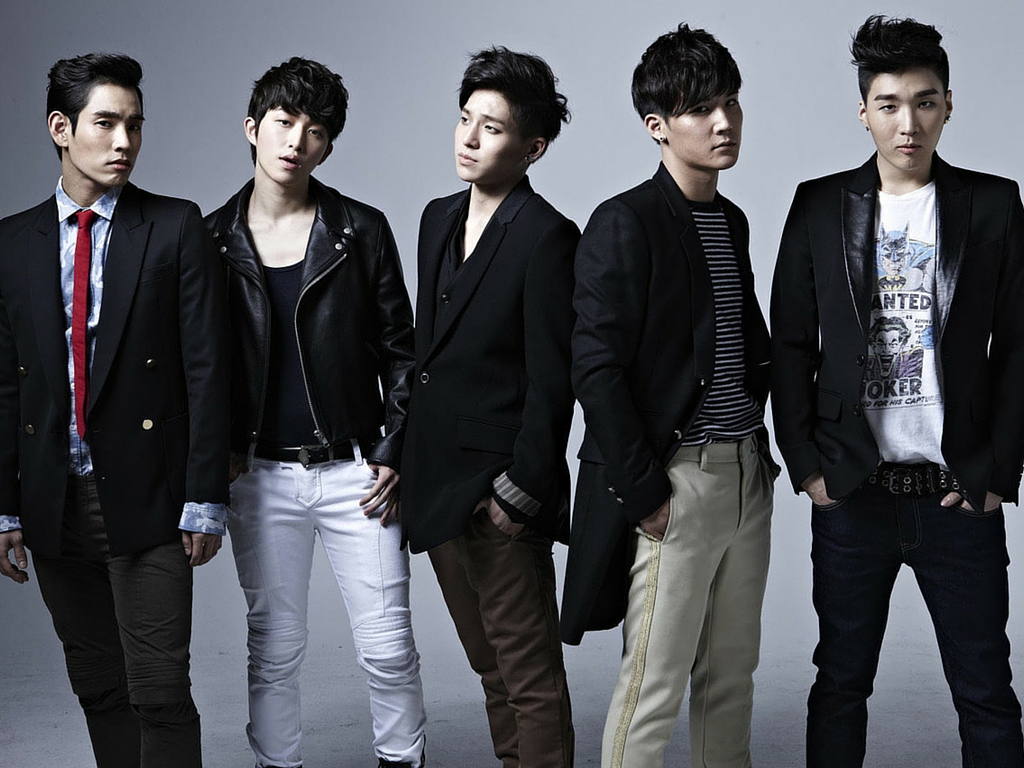 For a group who debuted five years ago and whose members each have an extensive track record, DMTN is one K-pop boy group who has yet to see any remarkable success in comparison to their juniors. It also doesn't help that the group has been MIA for two and a half years now, which is a total shame on the behalf of all the K-pop enthusiasts who are missing out on some serious talent. But I'm getting too ahead of myself; let's take a look at exactly what makes these guys so great.
---
---
DMTN debuted under the name Dalmatian in 2010 under MC Mong's self-established company, Monkey Funch Entertainment, and as bizarre as it is to brand yourself after the spotted dog whose greatest achievement was that one Disney movie, the name is actually quite endearing. Similar to the devotion of man's best friend's, it's the members' (Inati, Dari, DayDay, Youngwon, Jeesu, and Daniel/Drama) way of including the word "musician" in their promise to maintain loyalty to their craft (though, if that were the case would it not be "dalma-cian?").
And as if the Dalmatian trope was not enough, the group took it one step further with their charming debut music video and song, "Round 1," which featured plenty of canine onomatopoeias in its lyrics and Dalmatian printed suits as the main music video fashion takeaway. With a name like Dalmatian, they also were not going to get away with any kinds of powerful or beastly idol concepts. So in order to meet the standards of the rapper line that made up half their group and to devise a more fitting image, they looked towards a sprightlier hip-hop direction, which is an angle that most people don't associate with hip-hop. In any event, it was pulled off well as it's a fun, string infused number with compelling lyrics describing their arduous journey to stardom. "Six years being a trainee, I spent every night with bread and water," it goes. Sadly, promotions for the song only last two weeks, but their ambition and drive conveyed in that fortnight was enough to make me want them to succeed, that is, had I been introduced to them during that era.
Alas, "Round 1," by and large, went unnoticed and it wasn't until their first mini album comeback the following year where they gained more traction, and where I began to take notice of the rookie group. They came back with two title tracks, "Lover Cop" and "That Man Opposed" on the same day, though the two were promoted unequally as the former was only promoted once on broadcast. Again, it's a real pity because "Lover Cop," which was written after the members watched the popular movie "RoboCop," is an addictive synth pop track which features a robotic choreography that would have been fabulous done live. Even the liberal use of autotune works with the bionic theme and is ultimately forgivable. It's all about the feeling that a lover gives to a person, a love that is warm enough to fuel the coldest of hearts or to energize one's battery pack, if you will.
Like "Lover Cop," the other title track on the album, "That Man Opposed," continued the group's playful demeanor present in their debut song. And just as how all their previous songs were inspired from an experience the group had in the past, this was no exception. The basis of the song stemmed from member Jeesu's first love experience, and according to the lyrics which speaks to a one-sided love with a girl who only has eyes for a player, it did not sound like it ended well. The music video itself emulated the feelings of loving alone nicely without having the mood dampened by incorporating moments of light humor. The guys of the group fight over a line of girls, and none can seem to agree upon a mutual attraction. Punches are thrown – including those from the girls toward the guys – and shoving is inevitable. It's a simple, adorable music video with little production value, yet it was able to shortly fill the empty spaces with these messy scenes.
Moreover, the pop song is able to highlight the member's vocal abilities, especially Jeesu who is known for his insanely high notes and who was able to show them off during the final cadences of the song. It's not often that I encounter a song that grabs my attention upon an initial listen, but this one seems to does the trick.
As a sucker for the cute concepts, Dalmatian was able to achieve it beautifully without being overly cringe-y or losing their macho which can often happen when boy groups try to tackle on the concept. But given their age (the oldest, leader Inati, is 34 years old now), it was not long before they abandoned their lighthearted, pom-pom wearing selves for a more mature sound. The group finally made the change over after their 15 month hiatus following Dari's enlistment in the army. More revisions were made when it was revealed that DayDay would be not coming back for their next mini album and would be replaced by former pre-debut member Simon. With the loss of two of their strongest rappers, especially DayDay who was previously a rap trainer at JYP Entertainment, this was only the beginning of a series of unfortunate events that setback the group from ever fully taking off.
---
---
When the group did eventually comeback, it was through their hit "E.R," which revolves around waiting for an old love to return and which showcased a darker and more masculine side to them than the one we are used to seeing. For one, the five remaining members are all tatted up, shirtless, and toned now. Youngwon decided to finally trade in his Smurf blue hair during their first mini album promotions for a long mane. The piano melody, which is the central instrument of choice here, is not the upbeat ones from before either, but of the lugubrious kinds. And as for the colorful music sets, fuhgeddaboudit. "E.R" was an obvious shock factor for many of their old fans, and while the tune was certainly haunting in a good way, it was only okay. Maybe I am part of the dissenting opinion when I say that their peppy concept from long ago better suited the boys, but maybe it's also my inability to accept change. At least the members are still skilled in the rap and vocal department.
At this point, the group became well-aware of their abandonment of the original image they debuted with (and probably realized that instead of the K-pop group, search engines were bringing up images of dogs), so in order to mark their official foray into a different sound, they rechristened their name into DMTN, an abbreviation for "Desire. Motivation. Timing. Now," in 2013. That same year, the group made its first comeback under their new name as well with the single "Safety Zone," which was yet another somber piano laden track about how love sucks. I didn't appreciate it much the first time it was released, but returning to it two and a half years later I am slightly more impressed. The song is charged with raw emotions and has a really beautiful melody, a bit of information that I must have missed back then. Still, it's not infectious enough to have me looping it through my mind all day. To this day, I still find myself humming to "That Man Opposed."
The music video is more or less generic and will leave viewers in a state of total antipathy. There's the usual gangbang fight scene in an abandoned warehouse with burning trash cans and to a casual viewer, there's not much correlation with the various scenes. The only redeeming factor to the video was that Youngwon finally went and got a haircut for that gnarly mane of his circa "E.R" era.
Then, the thing that made them fall into oblivion happened – Daniel was charged with using, distributing, and selling marijuana. Although he still remains a fixed member of the group, Daniel moved back to the United States where he hailed from and has remained relatively hidden from the public eye. Since then, DMTN has also been put on hold while the members went on to pursue individual activities under, you guessed it, new stage names. Jeesu, now known as KIXS, released a solo debut track, "Beautiful" featuring San E on raps and KARA's Goo Hara as the main music video lead. Last month, former member DayDay, who also went by his real name David Kim during his appearance on "Show Me The Money 4," and Simon, aka Jakops, worked on a collaboration track titled "All Day All Night" with After School's Raina and former SPEED member Taewoon, too. Though the members may not be together physically as a unit now, they all still continue to support one another in their endeavors.

And that's what I love about DMTN. Amongst all their misfortunes, DMTN is a group who happened to have been caught in the crossfires but have not let that hinder their relationship and art. On their Instagrams, we still see pictures of the members, new and old, catching up with one another. Recently, on September 2nd, Dalmates (DMTN's official fan club) celebrated their five year anniversary since debut and Daniel, who captured a video of the congratulatory cake, hinted at a possible future comeback. Not to mention the fact that the video was set to a discography of their previous works and that he tagged all the members as "fam," it's enough to warm any fans' hearts. Like the original significance behind the name Dalmatian, the group continues to remain faithful to one another and to their fans.
https://instagram.com/p/7INFVOODqC/?taken-by=daniboywonder
What do you think of DMTN? Do you prefer their earlier concepts or their current concepts? Share your thoughts in the comment section below and be sure to subscribe to the site and follow us on Facebook, Twitter, Instagram, and Tumblr to keep up with all of our posts.
https://kultscene.com/wp-content/uploads/2015/09/Artist-Spotlight-DMTN-Feat..jpg
768
1024
Shelley Foo
http://kultscene.com/wp-content/uploads/2018/02/KULTSCENE-LOGO-2018-TRANSPARENT-RED.png
Shelley Foo
2015-09-05 17:21:15
2015-09-05 18:03:06
Artist Spotlight: DMTN