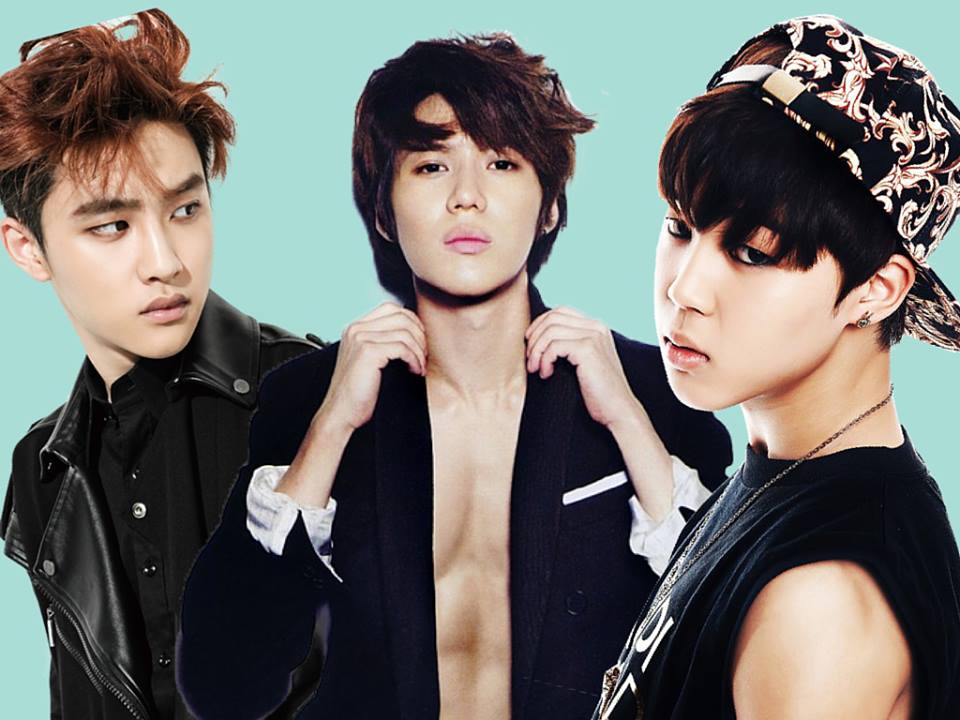 Have you ever listened to a K-Pop group or artist's comeback/debut song and liked it, but then found one or more songs that you liked even more on their album? This list continues to highlight some of the best B tracks from various artists. For more amazing B tracks check out the predecessor to this article, Best of the B Tracks.
Related articles across the web
Similar to the previous article on the Best of the B Tracks, we're starting this one off with some SM Town love.
Artist: EXO-K
Album: Overdose
Song: Thunder
We start out the list with EXO's Thunder. D.O.'s strong and soulful vocals lead us into the song and form there it only gets better. Thunder is a different pace for the sextet in that the production is slightly more scaled back compared to some of their other songs. The guys' vocals all compliment each other and the style of the song very well. The chorus will surely have you singing along as soon as you hear it. Moreover, at the end of Chanyeol's part of the rap toward the end of the song, the harmonies are brilliant. It's a short bit, but it definitely adds depth to the song and reminds fans of the vocal abilities of EXO-K. Thunder is my favorite song off of their Overdose mini.
---
Artist: EXO-K
Album: Mama
Song: Machine
Although EXO isn't that old of a group, they have an extensive music collection. So I had to add this song to the list as well. Machine is probably my favorite EXO song. The harmonies, the beat, everything about it is amazing! Although I cannot speak Korean, I find that I can sing the entire song. Now whether or not I am actually saying anything is another question.
Regardless, this song keeps a quick beat and, again, shows off the guys' harmonies and singing abilities as a group. There must be something about EXO and the parts right after the rap verses, because Baekhyun and Suho's lines are some of my favorites in the song. The song slows down as Baekhyun's vocals take over, as Suho's higher pitched part builds into the final stretch of Machine.
---
Artist: Taemin
Album: Ace
Song: Pretty Boy
Continuing on with the SM family is none other than SHINee's Taemin. Taemin's debut song Danger was a great song, but one of his B sides really stuck out to me. As his promotions for Danger got underway, Taemin performed Pretty Boy along with Danger on a few music shows, and I'm glad he did.
Pretty Boy begins with a trumpet and a swing/big band feel. In all honesty, for me, the song doesn't really begin until the hook and the chorus. That's when Taemin picks up the pace and adds more depth and passion to his vocals. Aside from being extremely catchy, Taemin's use of English makes the chorus ideal for singing along to if you're not fluent in Korean.
---
Artist: MBLAQ
Album: 100% Ver.
Song: 아찔한 그녀
For this next song, we're going back a couple of years to MBLAQ's fourth EP. What I like about 아찔한 그녀 is the beginning. It starts with a conversation between a man and a woman, and it's clear that the girl is annoyed with her boyfriend. The music is light-hearted and the perfect paring for the short conversation and the backbone of this song. Every time I listen to 아찔한 그녀, I feel happy. MBLAQ's vocals, the music, and the overall feel of the song is cheery and gleeful. The guys' harmonies throughout are spectacular, and G.O's high notes at the end… beautiful.
---
Artist: BTS
Album: Dark & Wild
Song: 2학년
Let's bring it back to 2014 now. The beat, the rapping, and the overall vibe of 2학년  is what makes me love this song. It's the second to last song on BTS' full length album Dark & Wild. The song opens up hard with an addictive beat and getting right into the song. Rap Mon further increases the face value of the song with his rap before the vocalists take over for the build up to the chorus and the actual chorus.
My favorite part, or parts, of this song are the rap verse by Rap Mon, J-Hope, and Suga. Listeners can clearly hear the guys' different styles as they rap, and each one perfectly fits the song. During Suga's rap, the music completely changes, which makes you pay closer attention all of sudden before you were lost in the music and knew what to expect. Then, BTS throws Suga's part for a little depth and to keep their listeners on their toes.
---
Artist: Rain ft. Epik High
Album: It's Raining
Song: My Groove
Now we're really going back with Rain's My Groove. I'm taking it back to my '90s/'00s R&B and hip-hop days. My Groove reminds me, musically and production-wise, of a late '90s, early '00s R&B track. I love when songs remind me of growing up and bring on the nostalgia. Obviously, when you have any song with Rain's sultry vocals and Epik High's beats and rapping, it's bound to be a good listen. And My Groove does not disappoint. The song may be repetitive, but there are a lot of English lyrics, and, as I mentioned, I can't really complain about a song that musically brings me back to the 90s and '00s.
---
Artist: Primary ft. Jinbo & Dok2
Album: Primary and the Messengers
Song: Mine Tonight
Primary's Mine Tonight starts out with a strong beat. Listen to this song with head phones and you'll really be able to tell. The music throughout the song obviously the driving force, but it doesn't take away from Jinbo or Dok2. Jinbo's smooth and laid-back vocals brings Mine Tonight to life. This song really doesn't need much of an explanation as to why it's great. Just take a listen and you'll be able to tell for yourself. You might wonder how a rap can be incorporated into a song like this, but when Primary and Dok2 are in control, it will work out and it definitely does in Mine Tonight.
---
Artist: Crush ft. Zion.T
Album: Crush on You
Song: Hey Baby
If you haven't listened to any of Crush's music before, I suggest you do. He is an incredibly talented producer, musician, and vocalist. His voice is smooth as honey and has a quality that entices you to listen to him. Hey Baby is my absolute favorite song from his Crush on You album. And even if Zion.T wasn't featured on the song, it would still be my favorite. The fact that two of my favorite Korean vocalists are on a track together makes me itch for more collaborations from the duo.
Hey Baby begins with an ever so addictive beat boxing introduction. The entire song is reminiscent of '80s Michael Jackson and some modern Justin Timberlake. Crush's and Zion.T's vocals bring this song to life. The beat is super catchy and it's easy to sing along to and best to do so with volume turned up all the way.
Share with us your favorite B tracks from your favorite K-Pop artists. Who knows, maybe they'll make part 3 of the best B tracks. Leave your thoughts in the comment section below and be sure to subscribe to the site and follow us on Facebook, Twitter, Instagram, Tumblr, and Bloglovin' so you can keep up with all our posts.
https://kultscene.com/wp-content/uploads/2014/09/K-Pop-B-Tracks2.jpg
720
960
Tara
http://kultscene.com/wp-content/uploads/2018/02/KULTSCENE-LOGO-2018-TRANSPARENT-RED.png
Tara
2014-09-12 20:15:04
2014-09-12 23:54:45
Best of the K-Pop B Tracks: Part Two