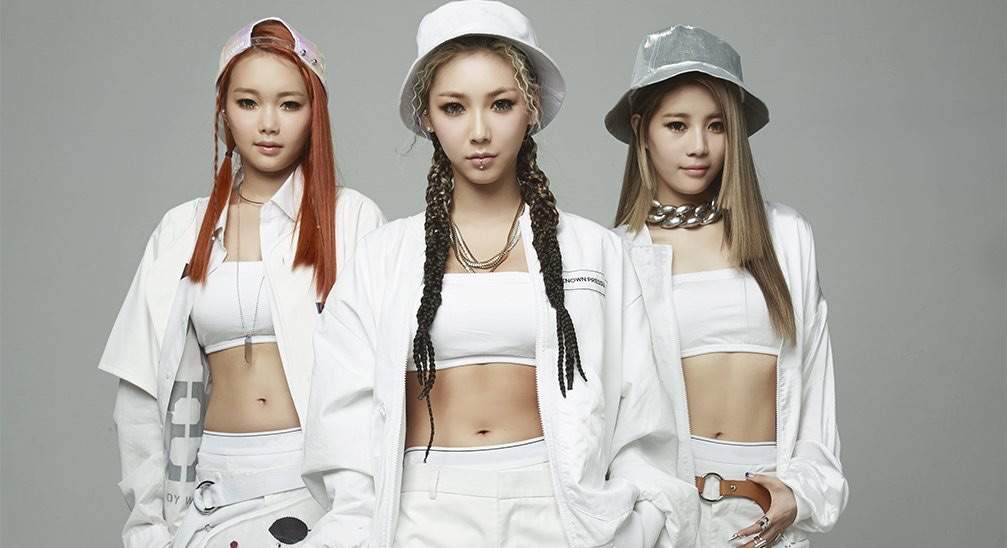 When is an idol group not an idol group? The general definition of an "idol" tends towards any manufactured pop star. Regardless of whether a company decides that a specific group is going to be more artistic sounding or more involved in production, every K-pop group fits into the idol category. Even when trying to distance themselves, no group has ever transcended this. They always fit into the idol system, the litany of teasers, dance routines, music show appearances, all of these things we love about K-pop restrict it. Little known girl group Rubber Soul are challenging this.
The group debuted in 2015 and their origins remain somewhat mysterious. Apparently the brainchild of three different companies, they emerged as hopeful rookies taking on the 90s right before the craze died. Their story is quiet but full of the contradictions you'd expect from an idol group wanting to be respected.
Two of Rubber Soul's companies were already used to being partners. Happy Tribe Entertainment and Universal Music Korea had previously collaborated to produce the underrated Boys' Republic. Despite the big name of Universal behind them, they never got very far but obviously in Korea, Universal doesn't have the same prestige behind it. The third company is withHC Entertainment, primarily home to actors. At the time they seemed to be taking the lead. Most press releases were issued by them and, being the smaller company, they were probably happy to have a potential hit idol group on their hands. The interesting thing about the companies though is that right now, none of them seem to be involved with Rubber Soul. withHC have no info about the band on their website, Universal are still distributing them presumably alongside Happy Tribe, although there is nothing to be found about either or how the latter company works with Rubber Soul.
---
---
This is the first sign of Rubber Soul attempting to step outside of the idol realm. Their original creative decision makers have seemingly taken over on the more administrative side as well. Usually a production trio, madsoulchild are the only constant in Rubber Soul's life. Their vocalist Jinsil featured on their song "Lonely Friday" and both DJ fellow member Chanwoo and she have taken most of the production duties alongside the Rubber Soul girls. Many groups have had producer mentors before but none have had them take full control.
Each of the girls, Lala, Kim, and Choi Cho, take part in production too. They're a group born of three companies but their output to date has been contained to a limited number of creatives. Maybe that's why they are just so good.
Debuting with "Life," the most 90s of all 90s throwbacks, Rubber Soul marked themselves as the most interesting rookie group of the past few years. The international K-pop fanbase definitely responded, and many blogs were writing about the gorgeous neo-soul track. From the opening beats to the echoey backing chorus "Life" recreates not just the sound but the very essence of 90s music. The clothing was teetered at the absolute edge of embarrassing and iconic even with the bucket hats.
"Life" at its best is found in the lyrics though. Matching the languid rhythms, the girls tell a simple story perhaps inspired by the slightly simpler times in which they are emulating. Each of the girls raps about the things they left behind, small pleasures that they are better off without. Choi Cho describes the minute details of the monotonous daily life she passed over. "In the tangled hair, a slight touch in the dried skin moisturizing cream" she opens with. Kim remembers the late nights drinking. "Everytime we lament our misfortune, in a glass of the drink, in our two loose hearts, we suddenly become king of the world." Lala brings it back around, reiterating the point featured rapper Mad Clown made in the opening. Describing her role in her family she says, "Our princess, our daughter, older sister Lala, let's eat! I mean that's love." Ordinary lives can be exciting and rewarding if you can realise the beauty of the mundane.
Rubber Soul's music is filled with the personalities of the girls. Each of their verses is distinct, lyrically and tonally. They build off of each other too. For example, "Lonely Friday," the b-side to "Life," starts off with Lala's apathy towards partying on Friday nights despite the "flooding emptiness" she feels from browsing Facebook all night. By the time the last verse comes around, she is rapping with her other members as if she's been convinced by them. "Stop those habitual excuses, with you, stop digging the floor, let's run together" they repeat together, ready to turn this lonely Friday into something a bit more exciting.
Rubber Soul promoted these songs as any group would. A short run on the weekly Korean music shows, a feature from a well known rapper., etc. They got a cameo slot on season six of Saturday Night Live Korea and Kim even appeared on Unpretty Rapstar's second season. Their promotions were failures though. On Unpretty Rapstar Kim was eliminated in the episode following the one in which she was introduced. Her taking part in the show was already under scrutiny thanks to her being shoved in halfway through the show alongside future Cosmic Girls leader Exy.
---
---
Two things usually happen after a failed K-pop debut, either the company doubles down on more comebacks so as to gain attention through sheer attrition or the group fades into obscurity waiting maybe years for another single. Given that their company has little to do with them anymore it's clear what route Rubber Soul took. They returned almost two years later to considerably less fanfare.
Now seemingly under not just the production talents of madsoulchild but managment and promotion as well, Rubber Soul's latest track "Freedom" continues their throwback trend with a more electro R&B inspired sound. Processed beats and synths build the otherwise tame song towards a great ending. The flitters of autotune eventually take over as the song transitions from its chorus directly into an abstract climax. A trap beat takes over as the girls' voices collide, articulating a certain sadness despite the party setting of the video. This sadness is amplified by Choi Cho's final vocal. Without even an English translation of the lyrics it's clear that "Freedom" is a song about being yourself to find,well, freedom. Definitely in line with what Rubber Soul had been talking about before, although it's harder to get into it when you can only understand the corny English lyrics. (So if any Korean-speaking readers would like to translate for us…)
"Freedom" represents a new, uncharted territory for Rubber Soul. Under madsoulchild they have a great chance to do something interesting while maintaining an idol image to try and show the masses a new kind of idol. K-pop groups don't need to be managed by small production groups like this to be innovative, but Rubber Soul's new venture does represent something that has not been done successfully to date.
The potential is seen in their "mixtapes." Two short videos that they released titled Mixtape 1 and Mixtape 2 are not really mixtapes but inventive little rap samples. They could add up to a mixtape eventually but Rubber Soul are probably just using the word to seem a bit more underground. The first, which sampled Daft Punk's "Get Lucky," was called "I Wish You Good Luck" and was released shortly after "Life" and "Lonely Friday," back in 2015. It acted as a showcase for the girls' rapping skills, with each one getting a verse and absolutely killing it. The "Get Lucky" beat remains one of the most infectious ever and Rubber Soul reworked it just enough to highlight their flows.
The second mixtape samples Lauryn Hill's "Doo Wop (That Thing)" to marvellous results. Lala and Kim rap with such ease as they lay back on a bed. It's relaxed but full of personality, the girls vape, burp, and lounge around the bed with ramen packs (which also offer the best part of video when Kim smashed one with her elbow in time with the beat.) Choi Cho ends with an excellent Mary J. Blige impression.
By now, Rubber Soul should have already carved out a niche fanbase for themselves. Most rookie groups would have had numerous comebacks and would at least cement them in the industry. As it stands Rubber Soul have no place in any environment, not the idol or underground. A commitment from madsoulchild could allow this group of big personalities to express themselves.
What do you think of Rubber Soul? Do you hope to see more of them in the future? Share your thoughts in the comment section below and be sure to subscribe to the site and follow us on Facebook, Twitter, Instagram, and Tumblr to keep up with all of our posts.
Translation Source: Life, Lonely Friday
https://kultscene.com/wp-content/uploads/2017/03/9b1446b3032d60c15db7ce54ee979d0b30b85d15_hq.jpg
548
1007
Joe Palmer
http://kultscene.com/wp-content/uploads/2018/02/KULTSCENE-LOGO-2018-TRANSPARENT-RED.png
Joe Palmer
2017-03-22 09:00:49
2017-03-23 12:06:42
Artist Spotlight: Rubber Soul