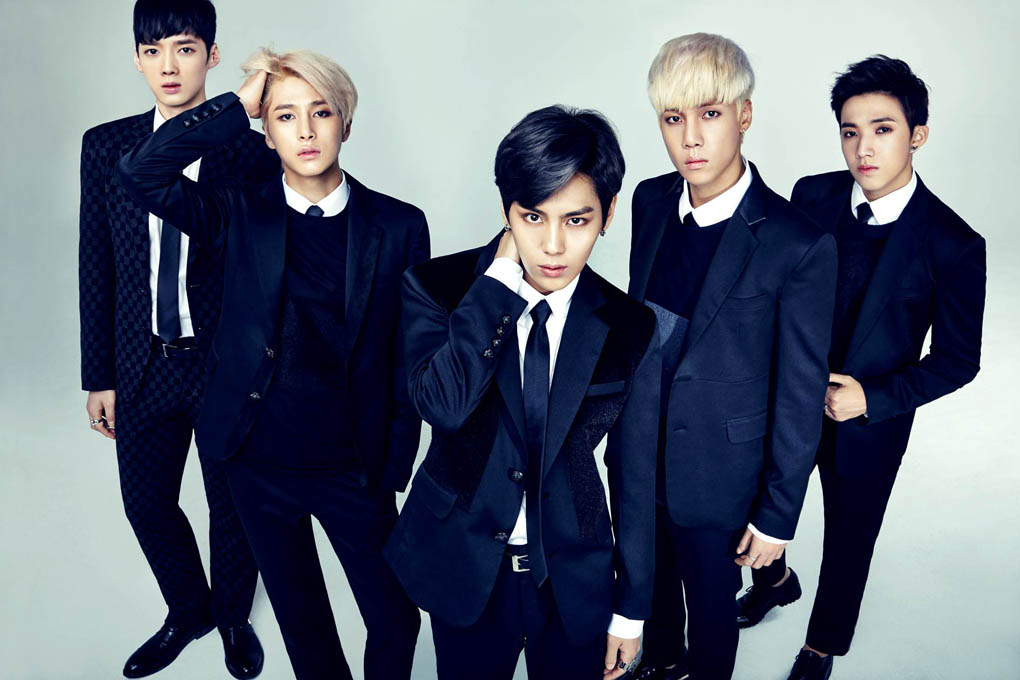 In an oversaturated market of male K-Pop idols, many aspiring boy bands face intense competition every year to make an impact. One such group currently vying for success is Happy Tribe Entertainment and Universal Music Korea's five member boy band, Boys Republic. The group comprises leader and eldest member Won Jun, main vocalist Sun Woo, rapper and dancer Sung Joon, fellow rapper and dancer Min Su and Su Woong, vocalist and the youngest member.
The group trained together for two years prior to debut, after which their exemplary work earned them an endorsement deal with Jeju Air, a budget airline, which adopted Boys Republic's Orange Sky as its company theme. Three of the members also had previous showbiz experience; in 2010, Sun Woo (known then as Da Bin) had a brief stint in boy band Touch and subsequently joined Cube Entertainment, Su Woong was a trainee at Big Hit Entertainment and Sung Joon was under the wing of JYP Entertainment.
Thanks to their manager, Jung Hae Ik, Boys Republic have an outstanding musical pedigree. He is a former SM Entertainment executive who ensured the massive success of such illustrious groups as H.O.T, S.E.S, G.O.D and Shinhwa in the mid 90s and his vast experience was put to good use when Boys Republic made their much anticipated debut on 5th June 2013, with the highly addictive anthem "Party Rock."
---
---
It is a heavily auto-tuned and synthesized dance song with a colourful and quirky music video, in which Won Jun tries unsuccessfully to flirt with a girl. She rebuffs him and disappears into a cardboard box which the members proceed to throw around, much to her annoyance. Boys Republic and their fellow party goers are then seen dancing in the box, whereupon the girl emerges, angrily steps on it and walks away.
"You Are Special," the group's second single of 2013 (which coincided with their first mini album Identity), saw a complete change of image for Boys Republic. They become edgy rockers in a music video filled with such standard K-pop devices as the members looking angst ridden, Sung Joon breaking a concrete wall with a sledgehammer and assorted wild dogs! Boys Republic also showcase some impressively athletic choreography on what appears to be a freezing cold day, then the video culminates with a scene of them all walking towards a burning door frame.
At the beginning of 2014, Boys Republic's management announced the group's "fantasy trilogy" concept, which would aim to fulfill their fans greatest wishes. "Video Game" formed the first part of the project and the story version of the song features the members wearing virtual reality helmets, which enable them to participate in a game. The heavy EDM sound of "Video Game" proved a winner with fans and the choreography, by Nana School, marked Boys Republic's most demanding routine to date. Incidentally, the song received increased exposure when a video of Girls Generation members listening to it was uploaded to the SM Town YouTube channel.
The group followed this up in the summer with the release of "Dress Up," a catchy 90s style pop song, which showcased Boys Republic's lovable and humorous side. With a plot which involves a female friend receiving a confidence boosting makeover, this music video has a worthwhile message, which strongly condemns superficial beauty standards, after their friend becomes the target of bullies who judge her harshly due to her perceived lack of style.
---
---
Towards the end of the year, Boys Republic surprised and delighted their loyal fans, affectionately known as the "Royal Family", by unveiling their second mini album "Real Talk" and promoting the music video for its title track, "The Real One." It involves all five members, smartly dressed in suits, engaging in a dance off with themselves and features choreography far more suggestive than anything they had previously attempted. All of these elements, plus a funky and danceable song, combined to give Boys Republic a solid winner.
Prior to their European "Royal Tour" in July 2015, the boys released the melancholic ballad Hello, in June, to commemorate their second anniversary since debut. The group's first ballad single showcases the members sensitive side and is accompanied by an anguished music video, in which the boys mourn the loss of a previous love who has abandoned them. Boys Republic's strong vocals are evident here and the change of pace clearly demonstrates that the band's management is not afraid to try new approaches
Apart from their obviously close friendship and down to earth approach towards their fans, Boys Republic are well known for their philanthropic work. They have been appointed ambassadors for the Korean Federation of Youth, participated in a Salvation Army charity fundraiser and Sun Woo has even knitted hats for a Save The Children project.
Recently, Sung Joon, Su Woong and Sun Woo demonstrated their versatility by starring in the web drama "Alchemist," alongside Kara's Young Ji. With this kind of exposure, Boys Republic can surely look forward to a rapid increase in the size of their fan base in the near future.
Do you like Boys Republic? What's your favorite song? Share your picks in the comment section below and be sure to subscribe to the site and follow us on Facebook, Twitter, Instagram, and Tumblr to keep up with all of our posts.
https://kultscene.com/wp-content/uploads/2015/11/boys.jpg
680
1020
Eve Backhouse
http://kultscene.com/wp-content/uploads/2018/02/KULTSCENE-LOGO-2018-TRANSPARENT-RED.png
Eve Backhouse
2015-11-10 05:55:58
2015-11-10 05:56:41
Artist Spotlight: Boys Republic