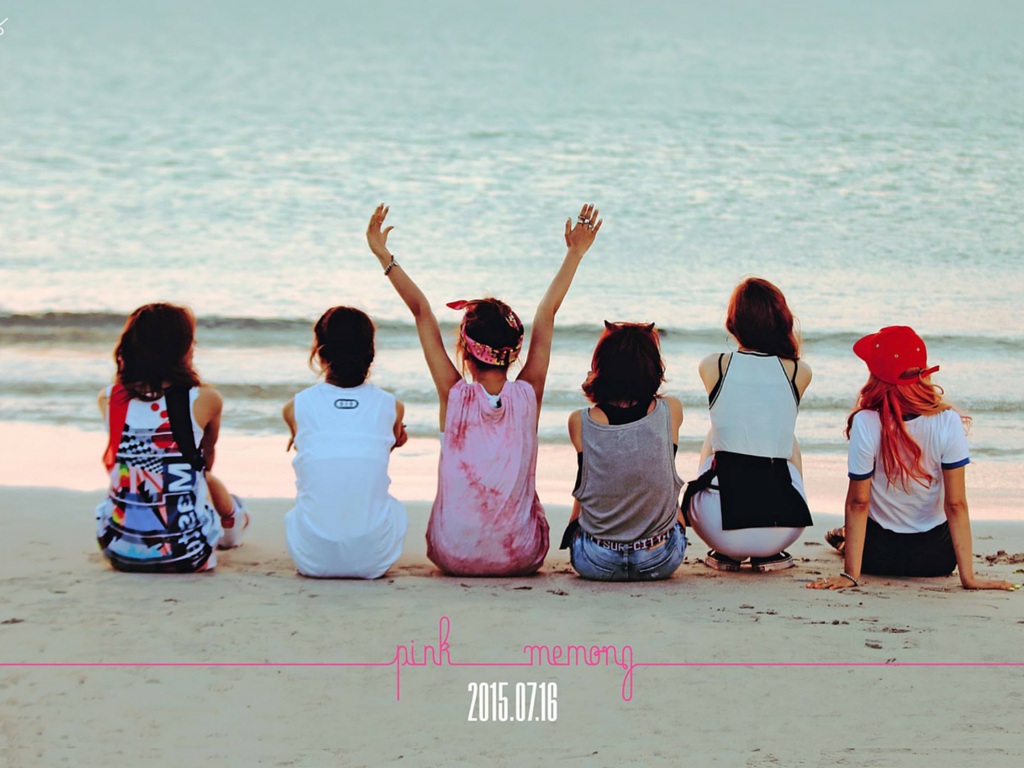 Adding to the long roster of girl group summer comebacks is Apink with their bittersweet song and music video for "Remember." The girls were able to achieve an "all-kill" with their title song, which is to be expected of a group with the second largest fan base for a girl group after Girls' Generation. Despite this feat, the song also received many mixed reviews, many alleging that the song did not flow well or how it was "too slow." Ironically, "Remember" may not have been as memorable as Apink would like to believe.
Meaning
Let's leave together, in the cool breeze
Let's forget today and go back to those times
The convivial pop song and summer-themed music video makes it easy to miss that intrinsically the track revolves around a relationship gone sour. Instead of living in the demanding and mundane present, let's revisit our pasts to a moment when we were once happy. The lyrics paint a brilliant imagery of a time long ago – the beating sun, the cool breeze, the blue waves – in order to set up the longing air appropriate for such a nostalgic song. Reminiscing might not solve today's problems, but if it mitigates the current situation even a little bit then it's well-worth coming off as a little delusional.
---
---
Song
Since their debut back in 2011, Apink has always showcased their cute charms and tender vocals with each consecutive comeback they made. From the start, they knew their target audience, which is why they can get away with recycling the same innocent virgin concept every time. Not to mention their super catchy songs always made up for this fact.
But "Remember" was neither captivating nor anything we have not yet seen from them, at least in terms of vocal arrangements and instrumentals. Here is yet another Shinsadong Tiger production that blends hip-hop mixes from the '90s with percussive chimes among many other sounds. The only redeeming factor that differentiates this from his other hits such as "NoNoNo" and "LUV" was the interesting woodwind riff during the refrains. Frankly, I enjoy Apink's modern take on girl group legends such as S.E.S, but even S.E.S varied their sound once in a while. Rather than integrating their old sound with new ones, it would have served in their best interest to do a little more with the aforementioned exotic woodwinds or with the lulling music boxes that only made a brief cameo during the song. And should Apink ever do venture and experiment with more standout sounds, it does not mean they can't preserve the virtuous image they debuted with while doing so!
The stale instrumentals, however, is only second in concern to the flat vocals. Because the verses are similar in tone to the hooks, the result is one long humdrum of a verse. I waited on a climax that never came and was severely disappointed by the simplicity of the melody. Essentially, the track is the fluff that we all ad-lib and hum to ourselves occasionally; I would not be surprised if that was how Shinsadong Tiger put together the song as well. "Remember" just does not do the group enough justice and should not reflect upon the remarkable talents of the Apink members.
Videography
Like the song, the music video carried little to no shock factors. It's the typical overly saturated cinematography that is rampant during this time of the season and features a throng of summertime clichés. There's the yacht, there's the beach, there's the frolicking in an open field of dandelions, there's the sunset, there's the sparklers… all that's missing here is a nighttime outdoor bonfire. The video offers nothing but pretty sceneries we all want to visit but can't, and eye candy, which I am sure fanboys (and fangirls!) do not mind. Regardless of the hackneyed theme and video shoot, the girls really do look as if they are enjoying an actual vacation by the looks of their effortless expressions and by the way they fool around with the other members. The amount of freedom the girls were allowed for the music video is unprecedented.
---
---
Style
Rather than saying that Apink copied Girls' Generation's style from their 'Party' music video that was released earlier this month, I prefer the notion that stylists were seriously lacking inspiration for this summer. With "Remember," Apink too bought back the dated Coachella look. From the fringed suede vest that member Bomi layers over a white bell-sleeved shirt to the lace yoked shirt that member Hayoung pairs with a simple pair of denim shorts, it's all been done before. Nightlife by the pool also called for similar shiny sequined outfits to add a pop of fun and shimmer, just like the sparklers the girls wave in the air.
Still, the members were able to make the most banal and casual of outfits look good. Since most of the shoot took place at the beach and on a yacht, it's only right they opt for blue and white nautical motifs, such as the anchor on member Naeun's ribbed dress, and stripes. The girls look super mature and put-together in these outfits, and were definitely the main ensemble. Additionally, the white boyfriend button downs they all sported created a uniform, crisp look that could only suit the fresh image that Apink is best known for. Sometimes modesty is fundamental, and when you are Bomi with your hair dyed a vibrant pink, this especially rings true.
Overall Thoughts
After repeating the song and music video a dozen times for the sake of this review, "Remember" has grown on me just a little bit more than it did during my initial listen. It's nothing I would return to again, though. With comebacks such as these it makes it difficult not to believe that Apink is moving into a more generic side to them that was not present before. The song has me remembering as well, but for a different reason. Alas, I can't help but miss the unique fairytale-like quality that their past hits such as "I Don't Know" manifested and that I originally fell in love with. Let's just pray their next comeback fare much better than this one did.
What did you think of Apink's "Remember?" What direction would you like to see Apink tackle on next? Share your thoughts in the comment section below and be sure to subscribe to the site and follow us on Facebook, Twitter, Instagram, and Tumblr to keep up with all of our posts.
https://kultscene.com/wp-content/uploads/2015/07/Apink-Remember-MV-and-Song-Review-Feat..jpg
768
1024
Shelley Foo
http://kultscene.com/wp-content/uploads/2018/02/KULTSCENE-LOGO-2018-TRANSPARENT-RED.png
Shelley Foo
2015-07-18 13:31:54
2015-07-18 13:31:54
Apink 'Remember' Music Video & Song Review