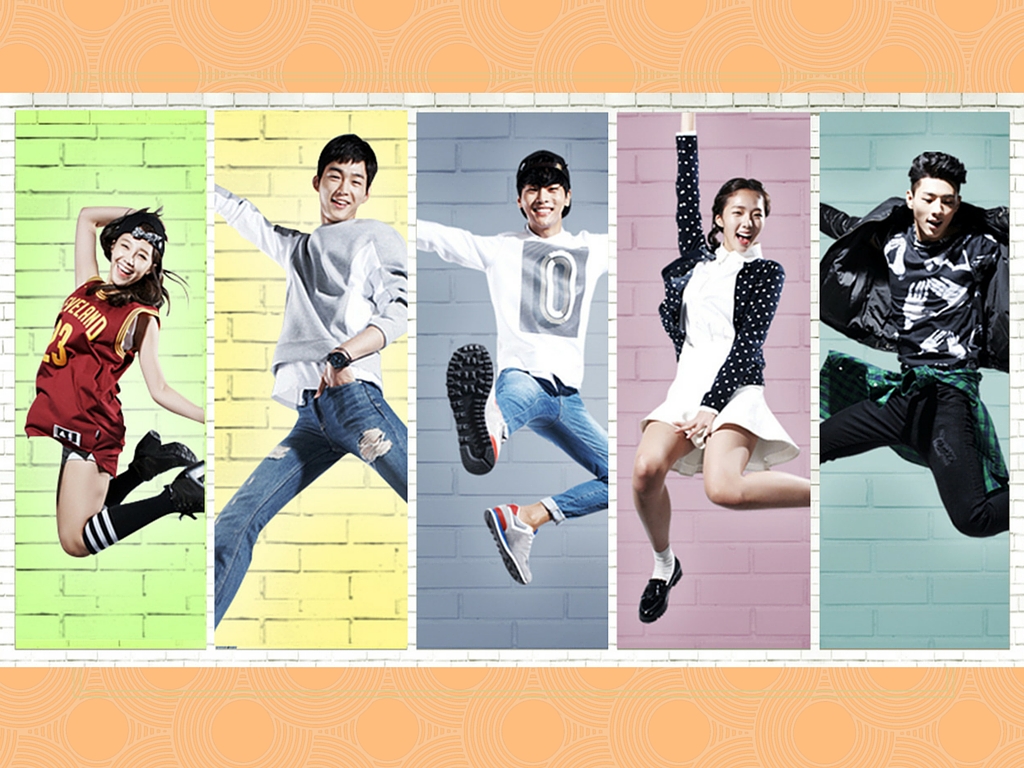 By Sana Parvayz
After a good 12 episode run, "Sassy Go Go," aka "Cheer Up," unfortunately met its end this past November 10. The romcom K-drama, that A Pink's Eunji starred in along with actor Lee Won-Keun, created a lot of buzz while it aired and was very popular. The cast further included VIXX's N and Ji-Soo, who appeared in "Angry Mom."
"Sassy Go Go" is high school K-drama, set in Sevit High School, which portrayed the struggles and inferiorities of students. As students were rated by their academic performance, the sole focus of students were only achieving higher ranking by any means. The brutal environment of Sevit High made it impossible for students to hold on to their moral values. The chaos of "Sassy Go Go" started as the lowest and highest ranks clashed in Sevit High.
"Sassy Go Go" really cheered the viewers up with its happy ending. We're definitely sad that it's over, and the fact that it was so short left so many things unsaid and made us wonder about all the potential possibilities. So let's talk about all the cliffhangers that "Sassy Go Go" left us thinking about.
[Disclaimer: This article contains spoilers, read at your own discretion.]
The Relationship of Kim Yeol and Kang Yeon-Doo
By the end of the show, the issues between Kim Yeol (Lee Won-Keun) and Ha-Joon (Ji-Soo) have been resolved. Seo Ha-Joon is fine with Kim Yeol dating Yeon-Doo (Eun-Ji). Meanwhile Kim Yeol already noticed how dearly his father loves Yeon-Doo's mom. How he has no objection against his dad getting married to Yeon Doo's mom. During the last episode, we got a glimpse of Kim Yeol making arrangements for the change in his guardianship so he could date Kang Yeon-Doo and their parents could get married.
---
---
The adoption of Kim Yeol is not guaranteed because anything could happen in K-dramas at the very last moment. Even if Kim Yeol gets adopted, he could not deny the blood relation to his father. But still, how strange it sounds. Imagine what sort of family it would be? An absurd lovey dovey family!
What if their parents wish to expand their family? What would they tell their future child? That Kim Yeol and Kang Yeon-Doo are your siblings and they are dating each other? Huh? I don't know what the writers were thinking, but…
Second Lead Syndrome: Seo Ha-Joon
Second lead syndrome is the reason why most of us hate love triangles. The poor second lead always get neglected in Korean dramas and it breaks our heart to see them bleed every time, even if we already know that this fate is inevitable.
I am head over heels for Seo Ha-Joon, and I guess most of you are too. Our poor Ha-Joon was abused by his aggressive father and attempted suicide when he could no longer handle the situation. He only has Kim Yeol as his friend, who was luckily able to help him with his anger management issues. Just like Yeon-Doo, we all couldn't help but to sympathize for Ha-Joon. Yeon-Doo tries to assist Ha-Joon as a friend, but gradually Ha-Joon started to develop feelings for Yeon-Doo and we got a love triangle in "Sassy Go Go."
The chemistry between Kang Yeon-Doo and So Ha-Joon is adorable, sassy Yeon-Doo teasing shy Ha-Joon.
Seo Ha-Joon not only bled but also sacrificed his love for his friend. However, he said that he would get over it. But deep down, he would always have feelings for Yeon-Doo. The ending of the drama just gave us hope for Seo Ha-Joon and we'd love to know what the future has in store for him
 The Not So Evil Kwon So-Ah and Ha Dong-Jae
We would like to see more of Kwon So-Ah and Ha Dong-Jae, and how Dong-Jae would bring out the best in her personality. Just one episode wasn't enough for us.
How could someone get over something in an instant? I think Dong-Jae would need more time to recover from his complex of touching. We are sure that Kwon So-Ah would help him.
Sevit High Teachers
And how could we forget our favorite teachers? We just got a flicker of interaction between them in the ending episodes. Definitely, we would like to see the chemistry between them and the reaction of their students. We would like to know what the former principal is doing. What new changes are being brought by the current Sevit High teachers. Who is the new principal?
---
---
The Flawless, Absolute, & Perfect Kim Yeol
On the funny note, we just found out in the last episode that Kim Yeol is a squid. Kim Yeol lied to us in all those 12 episodes. He kept on skidding from here to there and we only noticed his act in the last episode.
Dreams For The Second Season
After looking at all these cliffhangers, there is a possibility of a second season. The possible outcome for season two could be that Kim Yeol and Yeon-Doo would find it hard to date each other as their parents would get married. On the side note, a new transfer student would enter Sevit High. This transfer girl would be a best rival Kim Yeol could ever think of. It would be first time for Kim Yeol to face defeat and he would probably develop interest in that girl. Whereas, Yeon-Doo would feel left out and would likely spend more time with Ha-Joon. No doubt, this time Kang Yeon-Doo would fall for Ha-Joon and our second lead would finally get a happy ending.
The bromance between Kim Yeol and Ha-Joon would stay strong no matter what ever happens. Not even Yeon-Doo could surpass it. That ship would sail smoothly to make us swoon worthy. Kwon So-Ah and Ha Dong-Jae would start dating. As, they both understands each other really well. They would help each other out and would look cute together.
The former principle would reflect on her actions and would despise bribery and greed. She would join Sevit High as a teacher and would try to win the hearts of students. Due to the previous notorious acts of Sevit High, new actions would be taken and co-curricular activities would be encouraged in school.
"Baek Ho" and "The Real King" would again join forces to participate in the cheerleading competition, and this time, they would win the trophy. Season two would end on a happy note as well.
But in the meantime, Cheer Up! and enjoy the exhilarating theme song and go down the memory lane of "Sassy Go Go."
What did you think of the "Sassy Go Go" finale? Do you want a second season? Share your thoughts in the comment section below and be sure to subscribe to the site and follow us on Facebook, Twitter, Instagram, and Tumblr to keep up with all of our posts.
https://kultscene.com/wp-content/uploads/2015/11/Untitled-design.jpg
768
1024
KultScene
http://kultscene.com/wp-content/uploads/2018/02/KULTSCENE-LOGO-2018-TRANSPARENT-RED.png
KultScene
2015-11-26 12:37:24
2017-05-15 20:07:51
Questions We Have After The End of 'Sassy Go Go'