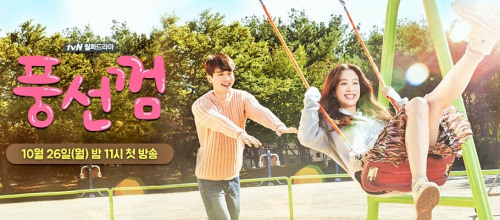 tvN's latest drama "Bubblegum" premiered two weeks ago and has gained many fans since then. Although it seems to be a standard romantic comedy about two best friends who fall in love with one another, its plot definitely stands out among other such dramas and there is just a certain charm about it that I can barely put into words. It may not be suspenseful or full of plot twists, but what is it about this drama that keeps fans hooked onto it? Here are the five reasons why "Bubblegum" is so addictive.
1. The Chemistry between the Two Leads
It's a given that the two main characters, Haeng Ah (Jung Ryeo Won) and Ri Hwan (Lee Dong Wook), are bound to have a special chemistry, since they have spent most of their lives together since childhood. They know each other so well that they can even identify on one glance which items belong to each other. Not to mention that they hang out in an adorable playground a lot and when they are around each other they suddenly revert back to their child-like selves, complete with a lot of headlocking and playing catch. The two actors pull off this relationship very believably and this allows fans to become engaged in their relationship as well. This couple is truly adorable to watch and their romantic scenes are just sizzling with chemistry, so much so that they really make me want to watch all the episodes at one go.
2. Park Ri Hwan
I had never watched a Lee Dong Wook show before this drama but him as Park Ri Hwan is literally perfection, both because of his ability as an actor and also because of how Ri Hwan was written. Granted, he may not be very realistic because of how perfect he is but he has all the character traits that could seriously make him the best male lead in K-dramaland. He has a goofy and childish side, especially in front of his bestie Haeng Ah and his mother, but as an Oriental Medicine doctor he also has a serious one as well. He knows what he is doing and is professional when he treats patients but at the same time he utilizes his friendly nature to better communicate with the patient and sometimes even ends up solving more underlying problems for them. He is also a cute and filial son to his mother, Sun Young (Bae Jong Ok), and they share a sweet relationship. Perhaps it is because he is familiar with the actress, having previously lived with her during the second season of "Roommate," but he enjoys a comfortable chemistry with Bae Jong Ok and I look forward to their scenes as well.
Above all, Ri Hwan's best trait is that he is a very straightforward and direct person. He isn't blunt, but he knows clearly what he wants, especially in regards to his feelings for Haeng Ah. To me, there's nothing more annoying than a male/female lead who is always wishy-washy about their feelings (sadly this appears in almost every drama), and his directness felt like a breath of much needed fresh air. Even if Haeng Ah is going to be more hesitant about her feelings in the future, at least he will be around to push for their relationship and they will not be going around in circles getting confused about their own feelings (think "The Time We Were Not In Love"). He's even direct towards the second female lead for this drama, a dentist named Hong Yi Seul (Park Hee Bon). She's a pitiful character who falls for Ri Hwan after meeting him on a blind date because of his sensitive nature, and I actually enjoyed watching their developing relationship even though I knew that it probably would not end well. It's just amazing to watch Ri Hwan help Yi Seul gain some self-confidence, especially because she definitely deserves it, and his thoughtful actions just make me love him as a character so much more.

---
---
3. Kim Haeng Ah
At first glance, Haeng Ah definitely seems like a typical "Candy" girl. You know, those girls who are poor, who don't have parents, and who are always smiling even if they are sad. "Candies" are also pushovers, and they tend to get bullied by everyone else in the show. That was my initial opinion of Haeng Ah, to be perfectly honest, because she was such a smiley person even while going through a breakup and having lots of negative emotions pent up within her.
She also seemed to lack confidence and treated everyone around her amiably. The only time she seemed to come alive was when she was bickering with Ri Hwan, and through the flashbacks the show provided at the end of the first three episodes which showed her lively nature. I was even more impressed when she grew a spine and told her ex boyfriend firmly that she really wanted a breakup. She still spoke docilely but I could tell that she meant it, and for someone to have so much courage to reject empty promises she was a person with a strong spirit. Haeng Ah is a character with many layers and I'm really looking forward to see those layers being peeled back as this drama progresses.
4. "Family" Relations
For a girl who has lost both her parents and has no siblings, Haeng Ah really does have a lot of "family" members who love her and care for her like their own. Of course there is Ri Hwan, who was somewhat like a brother to her since young, then there is the "Secret Garden" family who runs a restaurant by the same name and feeds Haeng Ah daily, there even is a sister in the form of her close friend Tae Hee (Kim Ri Na) who houses her whenever necessary and is always there to help her. Ri Hwan also has a fantastic relationship with his mother and their interactions are always touching because they are acted in such a heartfelt manner. These relationships are built upon years of experiences and they make this drama really heartwarming to watch.
---
---
5. OST
This seems like a weird reason for a show to be addictive but the OST for this drama is really stellar. As this drama has an overarching theme of a radio show (Haeng Ah is a radio program PD) soothing music and songs are always played throughout the episode. The songs will all be relevant to the storyline at hand and it just gives off such a nice and relaxing vibe that will allow viewers to just enjoy watching the drama. The meaningful lyrics of the songs being played sometimes also brings more insight to the situation being played out and I appreciate the space that the drama gives viewers with these subtle moments. It is because of these songs that viewers are able to better empathize with the emotions of the characters, and this keeps us more invested in the show.
All in all, this is really a romantic comedy done right, and it touches my heart in all the right places. Even though it's still early into the drama, I'm very excited to see how it will turn out and I trust that I will not be disappointed. I can't wait to watch how the relationship between Haeng Ah and Ri Hwan will be developed and I really need more episodes right now.
Are you watching this drama? What is your take on the romantic K-dramas nowadays? Share your thoughts in the comment section below and be sure to subscribe to the site and follow us on Facebook, Twitter, Instagram, and Tumblr to keep up with all of our posts.
https://kultscene.com/wp-content/uploads/2015/11/bubblegum-poster-large.jpg
220
500
Anna Cheang
http://kultscene.com/wp-content/uploads/2018/02/KULTSCENE-LOGO-2018-TRANSPARENT-RED.png
Anna Cheang
2015-11-14 05:52:47
2015-11-14 05:52:47
5 Reasons Why 'Bubblegum' Is Addictive