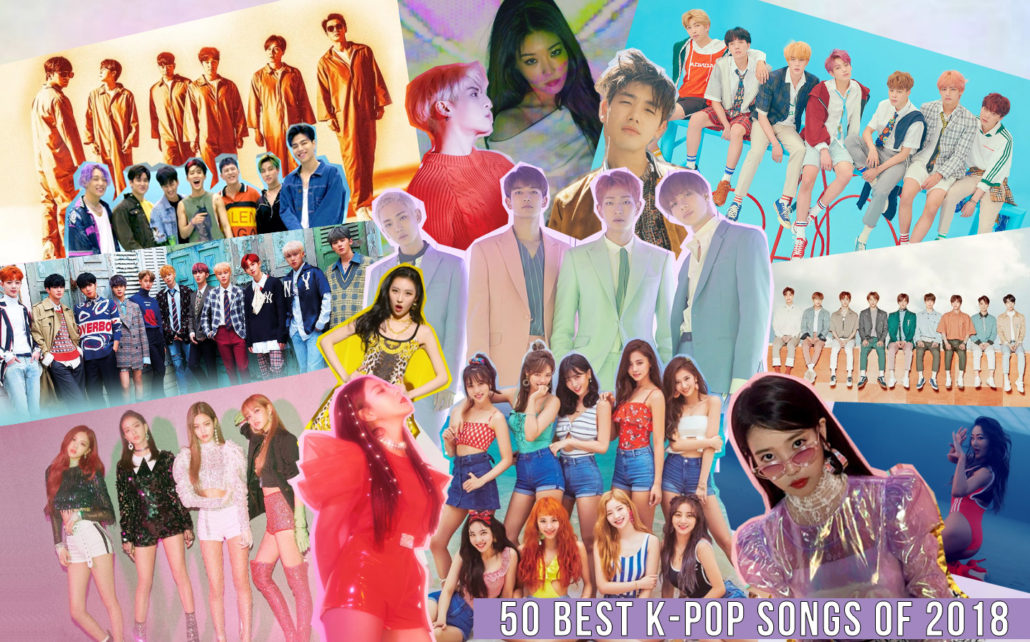 With another year in K-pop coming to a close, the editorial team at KultScene looked back on 2018, a year filled with amazing music, to decide the absolute best (in our humble opinions, of course). There was not a down nor dull moment in 2018; we saw long awaited comebacks, development in solo careers, and experimentation with new genres from various artists. We also had a couple of heartbreaks due to military enlistments, upcoming disbandments, and, of course, the absence of Jonghyun.
After voting on a pool of about 110 tracks, here are the best K-pop songs of the year numbered 50 to 26.
50. "BBI BBI" by IU
IU's only release this year, "BBI BBI" is an iconic song to celebrate the decade-long career of one of the industry's most impactful artists. Right off the bat, IU's opening line "Hi there!" comes with a layered instrumental backdrop. It is bouncy and light on top, but driven by a deep bass and hip-hop beat right underneath. IU's vocal delivery mimics this dichotomy-she softly whispers during verses and sings bright melodies in the choruses, but the lyrics themselves are much more revealing than her tonality.
Written by IU herself, the song tells those critical about her personal life or artistry to "keep the distance." With confidence and dexterity, she brings out the attitude, using emphatic English lines "Yellow C-A-R-D" and " Hello Stu-P-I-D" to send a clear message to those attempting to denigrate the stature she's built as one of K-pop's most enduring idols to simply leave her alone. More than anything, "BBI BBI" is testament to the complex, multifaceted person that IU has become.
-Kushal
49. "Dance The Night Away" by TWICE
Easy, breezy, lemon-squeezy. From the first 'la la la,' "Dance The Night Away" proved it was one of the summer's best hits. Reaped from the same minds behind Red Velvet's "Peek-a-boo," the song added a little edge to TWICE's signature bubble-gum persona. The soft, EDM track mixed a steady bass, light synths making for a catchy, easy to follow song. It definitely had me planning a trip to the nearest beach.
-Nnehkai
48. "Heroine" by Sunmi
In last year's "Gashina," Sunmi was cynical and offended at the fact that her lover was leaving her, but with 2018's follow up "Heroine," she's cold-hearted and over it. She declares "the show must go on" in an anthemic britpop extravaganza, paired with an almost humorous choreography. Though she has long proved that she is a force to be reckoned with since her solos under JYP Entertainment, 2018 was the year Sunmi position herself as a top pop girl and K-pop icon.
-Alexis
47. "Woman" by BoA
Can we just say that the opening walking choreography is EVERYTHING! Ms. Kwon has still got it after all these years. "Woman" was released as a part of BoA's ninth Korean studio album of the same name. This women empowerment anthem has great vocals and the high quality dancing that BoA is known for. The electro-pop dance track has a funky bass that compliments the vocals as the change back a forth between low and sultry g fashion choices. Despite its simplicity, "Woman" is still a solid song that showcases BoA's confidence as a veteran artist and songwriter.
-Katherine
46. "Love U" by Chungha
Chungha had a year of strong releases, and the most lighthearted among them is probably this summer bop "Love U." Her melodious voice with her powerful dance moves creates a lethal combination, and Chungha is definitely poised for greater success and breakthroughs in the coming years. The ease with which she manages the high vocal range of this song while showcasing her best strengths is amazing and definitely shows her talent as a performer.
-Anna
45. "Black Dress" by CLC
"Black Dress" is a masterpiece from beginning to end. An interesting mix of synth-rhythms and drum claps fluctuate at different levels with a booming bass while a slight hint of a dancehall beat is heard in the chorus. CLC's confidence and sophistication exude throughout the song as there's something about a little black dress that emboldens you. The boldness of the song is a reflection of CLC's fearlessness in experimentation.
-Nnehkai
44. "Our Page" by SHINee
A sense of wistfulness pervades SHINee's "Our Page," the group's ambient hymn to both departed member Kim Jonghyun and an end of the group's career as a quartet. Delicate, ambient synths and twinkling beats open up the track, which puts the emphasis on the foursome's reflective verses and their impactful verses. Throughout, it's clear from the SHINee-penned lyrics that "Our Page" is just as much of a promise to continue as it is a tribute, assuring listeners that the story of the group still has pages to fill while reflecting on the brightness that has been brought into the world from the act since May 25, 2008. As the song peaks during the climax, a short utterance of "you did well," seemingly aimed at Jonghyun, closes a chapter of SHINee's career in the most poignant of ways.
-Tamar
43. "Kiss Me Like That" by Shinhwa
The acoustics. The guitar loop. Music to my ears, literally. As veterans of the idol industry, Shinhwa has experimented with a bunch of different musical styles throughout the years, but their approach with "Kiss Me Like That" might be one of their best yet as of late. The song is already oozing with enough charisma even without watching the music video. The transitions are effortless and harmonious, and the parts are fitting of each members distinctive tones. Shinhwa kept it light but still provided the listeners with a strong sense of seduction. "Kiss Me Like That" gives a feeling of peace and tranquility; just drop me off on a remote beach somewhere while this song is blaring and I'll be content.
-Tam
42. "Fake Love" by BTS
Hip-hop is the core of BTS' sonic and performance identity, and rock is not exactly a new approach for them either, who have experimented with the genre in previous singles like "Boy in Luv" and "Run." However, never have the group blended the two genres in such a cohesive way like in "Fake Love." The combination was just the perfect choice to lead Love Yourself: Tear, an album in which BTS explored themes such as illusion and identity crisis. If rock was the main genre to represent young melancholy in the '90s and early 2000s –times when a huge part of BTS' fan base were in their teenage years– today it is hip-hop and trap that best conveys the mourning of the current generation. With "Fake Love," BTS once again proved their ability to cater to a wide range of audiences. The single became the first Top 10 for a Korean group on Billboard Hot 100, and also the highest entry-charting single for BTS, leading the album to debut on number one on Billboard 200. Between the smart production, multi hook-infused melodies, and raps that are catchy enough to drive fan made chants ("Why you sad? / I don't know, ë'œ ë ª °ë ¼",) in additional to official ones, "Fake Love" has the potential to become one of BTS' songs that will age better.
– Ana Clara
---
---
41. "Touch" by NCT 127
Bright and exuberant with a touch of whimsy in the form of bright future synths and chanting "na na na"s, NCT 127's NCT 2018 Empathy song turned the focus away from the group's typically experimental, hip-hop-leaning sound that they've explored on the majority of their singles to put the emphasis on the group's vocalists. Smooth, breezy R&B beats and funky melodies drive the song, which soars with the perky tones of the then-nine members of the act. (Jungwoo joined later in the year). Playful in its lilting, snapping nature, "Touch" is an infectious, groovy song full of energy and layered harmonizing. It's a smooth, slightly more impish style than what this NCT team tends to go for, but it was a pleasant change that let the singers truly have their time to truly shine from start to finish. While it's a bit irregular (pun intended), it'd be wonderful to see NCT 127 continue to occasionally lean into this sort of softer side.
-Tamar
40. "Spring Breeze" by Wanna One
One year and three months after they were finally revealed to us, Wanna One said goodbye to many with "Spring Breeze." A group of 11, there are many perspectives to the way they say their farewells. They're nostalgic, apologetic, thankful, and above all, hopeful. Jihoon starts them off on a regretful note and the track follows him by being almost oppressively singular. A spacious drum beat, light sporadic guitars, and keys try to weigh them down, to push them into this harmful thinking. It's not until the first repetition of "we'll meet again" does the music let up, dropping a dense set of heavy synths to bolster Seongwoo's emotions. From there the track feels so much more free; a fiery rap from Woojin lights it up. The beat becomes defiant, their vocals more relaxed but bigger. Wanna One struggled, but they found a way of facing up to their huge legacy. The constant assertion that they will meet again is key to their goodbye. "Spring Breeze" uses those repetitions to bring comfort to their lover, their fans, but most importantly, each other.
-Joe
39. "Dally (feat. Gray)" by Hyolyn
"To Do List" was Hyolyn's first single as a self-managed artist under her own label, BRID3 Entertainment. However, it was with "Dally" that she truly showed how much of a force of nature she is. Not any vocalist can handle such a breathtaking (literally!) melody with so much style! But Hyolyn is also a prolific performer, and the R&B deliciousness of "Dally," along with the verse of rapper Gray, sets just the right ambient for urban dance, one of the dozens of things she nails as well. Hyolyn's versatility was never a secret. But in 2018, besides Hyolyn being a singer, rapper, songwriter, and dancer, we also got to see Hyolyn the CEO: a woman in full control of her music, performances, fashion, etc. She'll surely be great at whatever she sets her mind to do. These boss vibes shine through "Dally," which is already one of the best moments of Hyolyn's entire career.
-Ana Clara
38. "What" by Dreamcatcher
2018 has been a busy year for Dreamcatcher. After completing their Nightmare series, the group embarked on a few international tours spanning Europe and South America. Without taking a breath, the group released their third EP Alone in the City with the title track "What." Sticking to what they do best, the song takes influences of rock and melds it with pop to give Dreamcatcher their unique sound. The arrangement of the song is intense from the orchestra build up to the chorus to the more mellow bridge, plus all of the different instrumentations and vocals combines to create an intricate and rich sound. They may have toned down the horror concept with their latest release, but the creepy urban setting in the video still pays homage to their dark image. The girls are found isolated in different settings, possibly hinting that they are each trapped in their own nightmares. While most of the video is dark, some of the dance sequences are performed with an ice or crystal backdrop, referencing back to the crystal snow globe that is pretty prominent at the beginning and end of the video. This may or may not mean something but I guess we'll have to wait and see with their next release.
-Katherine
37. "Love Bomb" by Fromis_9
Approaching a first love isn't much different from attempting to disarm a bomb without any prior knowledge of ordnance. There are so many ways you could go about it and yet, every single one looks equally right and wrong. Of all the rookie girl groups who endeavoured to take on such an idea, none were quite as successful as Fromis_9. At every step of the way, they make the right calls on the jittery "Love Bomb." This hypothetical bomb of love tries to fool them with an erratic, almost off rhythm beat and an ever changing bed of synths. Each shift threatens to pop in their faces but it only succeeds in making them "beautifully dizzy." It is no match for the chattering of Nakyung and Jisun, the velvet tones Hayoung and Jiwon, or the peak of catchiness in the best chorus of the year.
-Joe
36. "Honestly…" by Eric Nam
Eric Nam continues to grow as a musician with "Honestly…". So much stands out about this release, be it the stunning instrumental, which incorporates both acoustic sounds with electronic ones, or the unique lyrics of the song, which are truly befitting of its title. The song is not like most conventional K-pop songs, set in a context of a relationship which has ended or one that is blossoming. Rather, the protagonist of the song has reached a stage where he is tired of the relationship but is afraid to break up. It is refreshingly realistic and honest, and much more enjoyable because of how relatable it is for listeners. Eric continues to showcase his vocal abilities here, and it is no surprise when his trademark high notes pop up at the dance portions of the track. It is wonderful to watch how he retains his musical identity even while experimenting with different music genres and styles.
-Anna
35. "Jealousy" by Monsta X
Ever since Monsta X revamped their sound and earned their first music show win with "Dramarama" last year, the group showed no signs of slowing down and almost immediately followed up with "Jealousy," a poppy dance track swelling with obnoxious synths and their favorite low brasses. With its multiple layers of harmony, the constant, drawls in the chorus echoing the single's title stand out from among the rest of the song, which all just feel like fillers in comparison. At the very least, the group was able to sneak in some humor, such as when member Wonho asks why we are talking about leader Shownu (and presumably not him). It's not every day an idol calls out fans for their lane-swerving ways, and in that respect "Jealousy" feels fresh.
-Shelley
---
---
34. "Flower Road" by BigBang
Departure is a hard pill to swallow with BigBang's "Flower Road." The dance-pop track was released as a farewell to the veteran group's fans, V.I.P, as BigBang embarked on a lengthy mandatory military service hiatus. The song boasts calm guitars, bass and soft hand claps while declaring lyrics like "If you are going to leave, I shall let you go" and "If you miss me come back to me, then you can love me again" offer the greatest comfort and reassurance fans could ask in their absence. Whether V.I.Ps stay or go, the artists wholeheartedly understand and will create a beautiful path of flowers no matter the choice. "Flower Road" captures the steadfast bond between BigBang and V.I.Ps.
-Nnehkai
33. "Shinin'" by Jonghyun
Jonghyun's passing last year took everyone by surprise in the K-pop community. But his post mortem song "Shinin'" came out early this year, giving us the sound that Jonghyun has always been loved for. His passion through his lyrics and sound made us feel like he was still with us and gave us hope after the tragedy. The retro sound and the beautiful lyrics in the chorus stating "Always be with you" was Jonghyun's hug to Shawols.
-Alejandro
32. "DDU-DU DDU-DU" by BLACKPINK
In 2018, the words "BLACKPINK comeback" came with heavy expectations. Fans and onlookers alike wanted nothing short of an anthem-a club banger complete with choreography, visuals, and confidence that very few other music acts can serve. "DDU-DU DDU-DU," as a result, was most powerful in the simple fact that it delivered on all of those expectations. Mixing belted pre-choruses with deep trap beats and fast rap breaks, the song fuses traditional K-pop and popular hip-hop seamlessly. While female K-pop as a sub-genre has taken a more submissive, cute, and alternative turn in recent years, "DDU-DU DDU-DU" proves that confident, powerful women still have a place in the Korean music scene, and adds promise to BLACKPINK's incoming global pursuits. It is no surprise that this song is one of the year's most streamed, bought, and viewed-such impact is what we have come to expect from a girl group with so much prowess. Hopefully, their catalog of music expands faster in the year to come than it has so far.
-Kushal
31. "See Sea" by Hyolyn
After leaving Sistar and setting up her own music label, BridÊ', Hyolyn announced her plans to return to the music scene with a three-part solo single project, SET UP TIME, which included the mid-tempo "To-Do List" and the R&B-pop number "Dally." These all felt like appetizers for what was to come, though. "See Sea," released in mid-July and the last of the series, sets Hyolyn's signature airy vocals to a balmy beat rife with percussive claps, rolling drums, and mellow marimbas to match the season. Produced by Black Eyed Pilseung, the busy song evokes our auditory imagination through its sound recordings (e.g., the pop and fizz of a can of cola) and modulated synths in order to paint a tropical soundscape. By the final slowed down repeat of the chorus, Hyolyn's voice is dripping with sensuality, assisted by a rip-roaring electric guitar that suggests things of heated romance on a beach. Her playful yet mature take on summer love songs makes this an automatic yes to anyone's summertime playlists. The queens of summer Sistar might or might not have just died so Hyolyn can live.
-Shelley
30. "Siren" by Sunmi
Bringing the quirky yet sexy vibe, Sunmi rounds out her year with the release of her second EP Warning and lead single "Siren." Every aspect of this song does a fantastic job of narrating the lyrics in which she warns a boy to leave their relationship after she hurt him. Let's take the title for instance. Sirens in everyday life serve as a warning of danger while in Greek mythology, sirens are half woman half bird creatures that are known for their beauty and song that lures sailors with their song to shipwreck on the shores of their island. Both of these themes are reflected in the music video by the red colors and caution tape as well as the eccentric depictions of sirens in each of the rooms. Even the clever choreography of the chorus follows the lyrics of the song as move is the literal translation to the words being sang. Not only is the video visually captivating, Sunmi's voice is on point and the pop-synth track does a very good job of complimenting her vocals. Everything has its place; from the lazy yet charming "la la la"s to the abrupt and edgy bridge. It is no wonder this song earned her her second number one.
-Katherine
29. "Lil' Touch" by Girls' Generation-Oh!GG
When news dropped that three members of Girls' Generation had left SM Entertainment, the prospect of a new subunit that could successfully meld five of the group's most stylistically and sonically divergent members seemed unlikely. But K-pop fans have (hopefully) learned over time that doubting Girls' Generation on any front is a mistake. On "Lil' Touch", Taeyeon, Hyoyeon, Yuri, Sunny, and YoonA sing with sexuality and confidence characteristic of their larger group's later releases, but the song sounds nothing like Girls' Generation as a whole. Lifted by a heavily synthesized chord progression and bounce-clapping pulse, the song is a surprisingly welcome departure from previous Girls' Generation, subunit, and solo releases, capturing a synergy unique only to this combination of SNSD members. The surprise star of this release is none other than Sunny, whose abilities as a powerful and dramatic vocalist come through in the bridge. One of 2018's most unique songs, "Lil' Touch" is exactly what the women needed to deliver a powerful contradiction: that they are a completely united fragment of one of K-pop's most powerful and lasting groups.
-Kushal
28. "Killing Me" by iKON
iKON has this way about them where you're never 100% sure of what direction they'll take a song. In the case of their latest track of 2018, "Killing Me," it felt like a crossover of different music genres. Certain moments, especially towards the beginning, gave it potential to be a mellow song. It adds in a little house influence and then amps it up all within a few seconds, and suddenly you feel like you're in a club with the deep bass. There were so many different layers to be peeled in the song as it consisted of a rollercoaster of melodies. But in the end, it worked. The meshing of the different tunes are bewitching and no doubt meant to be a "hype you up" kind of song.
-Tam
27. "Now or Never" by SF9
Variety is the word that defines the journey SF9 has been traveling with their music. But, regardless of the genre, what makes their best songs stand out is the smart composition that places interesting elements just when you expect the song to go the easy route. In "Now or Never," this surprise factor comes in the pre-chorus. After teasing the listener with dramatic vocals at the end of the first verse, and right when you think the song will explode, it unexpectedly goes for a minimalist melodic approach that just keeps repeating the word "ì §ˆë €ì– ´" over a bass boosted beat. As we slide to the chorus, then, the melody brings up a nostalgic feeling that goes surprisingly well with the modern appeal of the instrumentals. If, hypothetically, "Now or Never" should be considered a decisive moment to determine SF9's career, like the title suggests, I would definitely say the group passed the test.
-Ana Clara
26. "Roller Coaster" by Chungha
Chungha teeters on the edge of her own range and emotions on the blistering electro pop smash that is "Roller Coaster." Her single from last year, "Why Don't You Know," attempted something similar but just about failed. It had little to no momentum and pushed Chungha too far too soon. On "Roller Coaster" she finds her key and belts out her unpredictable feelings of love. The toybox chimes and acoustic guita give her constant contrasts on which to descend from, crashing into a chorus which she sends into the stratosphere. Her slight nasal tone on the other hand gives everything a sense of warmth. She makes all these "dangerous feelings" she sings of something exciting. It's only dangerous because it's changing. Chungha happens to love these tumultuous changes and it's impossible to doubt her.
-Joe
Stay posted for our best 25 K-pop songs of 2018 (numbers 1-25)!
What were your favorite songs of 2018? Let us know your picks in the comment section below and be sure to subscribe to the site and follow us on Facebook, Twitter, Instagram, and Tumblr to keep up with all of our posts.
http://kultscene.com/wp-content/uploads/2018/12/KPOPSONGS20181-1.jpg
895
1436
KultScene
http://kultscene.com/wp-content/uploads/2018/02/KULTSCENE-LOGO-2018-TRANSPARENT-RED.png
KultScene
2018-12-24 16:51:57
2018-12-25 15:08:37
50 Best K-pop Songs of 2018