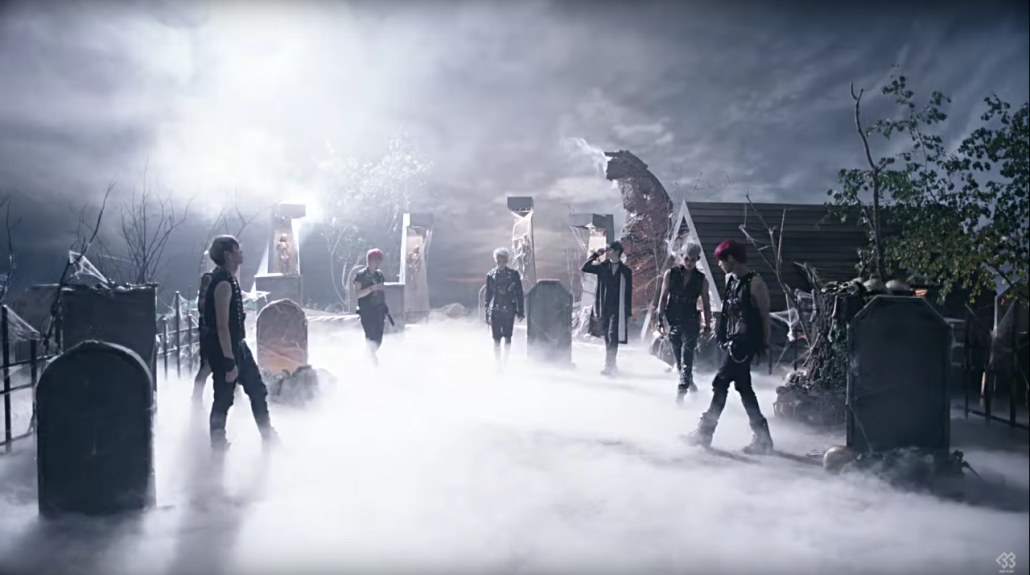 Ladies and Gentlemen, the time of all things dark, spooky, and strange is upon us. With Halloween just around the corner, whether you want to party till the sun chases away the monsters or curl up in a dark corner watching a horror movie marathon, here are a few Korean music videos to help awaken your inner ghoul.
1.BTOB – "Thriller"
It can't be Halloween without a few zombies. BTOB brings us a dark video that starts out in a creepy cemetery with their "zombie dance" opening. From the sharp and haunting dance moves to glowing eyes, "Thriller" perfectly expresses the dark theme while still remaining stylish and fresh. The song features powerful vocals from vocalists Hyunsik and Eunkwang mixed with fast and steady rap verses from Ilhoon and Minhyuk that accentuate the idea of invincibility and the fact that frightening things can be exciting, which is what Halloween is all about.sup
2.100% – "Beat"
This literal heart-wrenching video from 100% puts a dark spin on the classic Frankenstein story which features a girl harvesting parts from other members to bring the one she loves back to life. "Beat" prompts viewers to question how far would they go for love and dealing with the consequences. The smooth almost monotone feeling of the song explodes with the chorus,
where the group's lead and main vocals Rokhyun and Hyukjin do a great job in expressing the pain and dark side of love.
3.BOYFRIEND – "WITCH"
BOYFRIEND's "WITCH" is a dance song with a catchy hook about liking a girl that they probably shouldn't. The video features a hot gang of vampires and Little Red Riding Hood the vampire slayer. . . It's K-Pop so why not? The eerie background sounds mixed with the upbeat dance track and vampire visuals do well together to create a dark atmosphere perfect for any spooky
dance party.
---
---
4.VIXX – "VOODOO DOLL"
At the climax of their dark/horror concepts, VIXX released the video for "VOODOO DOLL." Unlike the typical bright bubbly  mages K-Pop is known for, VIXX did a complete 180 with everything from blood to voodoo possession. If you're not a fan of the all the blood and gore, then you can opt for the clean version and admire the dance moves and large pin prop that VIXX incorporates, going along with the whole voodoo theme. But since it is Halloween, why not embrace the stunning visuals that VIXX created in all of its gory awesomeness?
5.BEAST – "Shadow"
BEAST totally embraces the whole dark and brooding theme with "Shadow." A song written by BEAST's very own rapper and composer genius Young Jun Hyung about being in darkness (or shadows, if you will) after losing a loved one. The song features great vocals and rap verses, not to be outdone by the dark post-apocalyptic imagery of the video.
6.Sunmi – "Full Moon"
Vampires are definitely a popular thing this time of year. Instead of a heart-pumping adrenaline rushing vampire image, Sunmi takes a more sexy dark approach to the whole blood sucking thing. "Full Moon" is a slow jazzy song perfect for those cold dark nights.
7.Kim Jae Joong – "Mine"
Kim Jae Joong, 1/3 of the popular group JYJ, stepped out with a solo rock song. From snowy forests to random evil foreboding animals and Jae Joong as a bedazzled Doctor Doom/Vampire/Angel. The video is filled with everything your dark goth-y heart would desire.
8.F(x) – "Red Light"
Now "Red Light" isn't your typical Halloween spooky song full of pumpkins and monsters, although the video does have a black cat in it. The song and video gives off a dark and mysterious vibes that are perfect for this season.
9.Block B – "Jackpot"
Many people find clowns delightful, but if they are not really your style then the opening of Block B's "Jackpot" will probably freak you out. The whole strange freaky theme is carried throughout the video with the band tormenting a girl with their crazy antics (though I wouldn't mind at all).
10.Sunny Hill – "Midnight Circus"
Another group that likes to hang out at creepy circuses is Sunny Hill. In "Midnight Circus" the girls take a more sexy approach in a strange vintage looking circus in the woods. With an eerie intro, "Midnight Circus" plays nicely into the Halloween theme.
---
---
11.Lee Jung Hyun – "V"
The video begins as any other horror movie; guy is stranded and wanders into a creepy old house were mayhem pursues. The Techno Queen Lee Jung Hyun takes a more fun approach to the whole creepy obsession thing and puts a fun quirky spin on the traditional haunted house.
12.LADIES'CODE – "Hate You"
Whenever girl groups do a dark concept, it usually comes off as sexy. On the contrary, LADIES'CODE does the dark concept in a more artsy way. Their whole doll concept is both strange and beautiful at the same time proving that you don't have to be crazy or gory to send chills down someone's spine.
13. Super Junior – "Opera"
Super boy band Super Junior puts out a dark Phantom of the Opera-esque video with "Opera." In the video the boys vanishing and appearing like very stylish ghosts. Yes, this is the Japanese version, but the video fits the whole Halloween theme than the Korean dance version.
What's your favorite Halloween song? Share your thoughts in the comment section below and be sure to subscribe to the site and follow us on
Facebook
,
Twitter
,
Instagram
, and
Tumblr
to keep up with all of our posts.
https://kultscene.com/wp-content/uploads/2015/10/Screen-Shot-2015-10-30-at-9.50.34-AM.png
714
1280
Katherine
http://kultscene.com/wp-content/uploads/2018/02/KULTSCENE-LOGO-2018-TRANSPARENT-RED.png
Katherine
2015-10-30 06:54:51
2015-10-30 06:54:51
13 K-Pop Videos to Get You into the Halloween Spirit