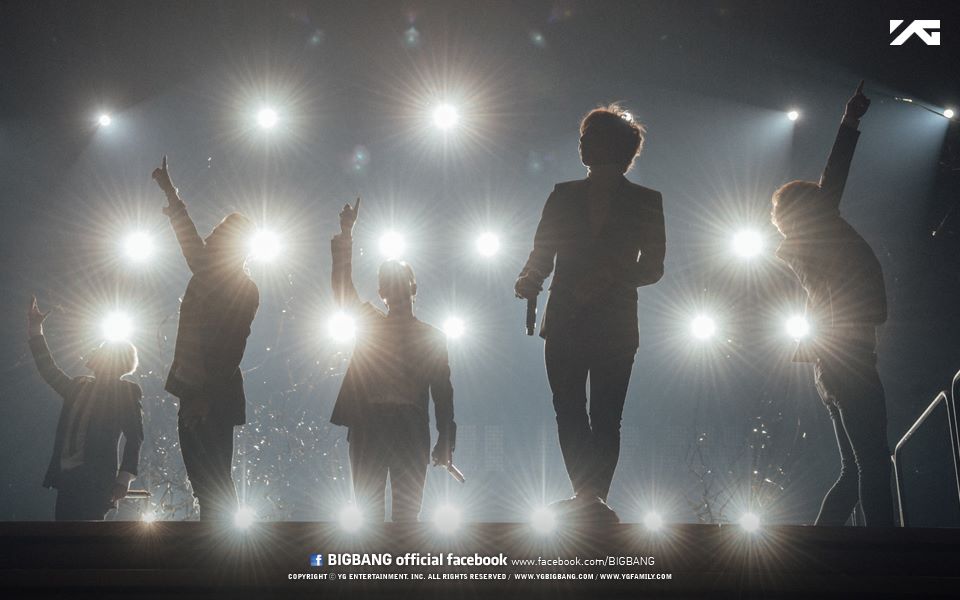 So, what do you do when one of your most prized and favorite K-pop boy band announces a World Tour? You buy tickets for one…or maybe three of their North American stops. When YG Entertainment's renowned boy band BIGBANG announced their World Tour back in the spring, all North American VIPs (BIGBANG's official fan club name) were on pins and needles waiting for the company to release US tour dates. As a fellow die hard VIP myself, the suspense was beyond real. It was unlikely that they weren't going to announce at least one US date since in their previous Alive Galaxy World Tour back in 2012, they made two coastal stops, with two dates in both Newark, New Jersey and Los Angeles, California.
This year's highly anticipated MADE World Tour not only meant a lot to both the new and old VIPs, for those who haven't seen BIGBANG live and even for the ones who have, but it also potentially signifies BIGBANG's last time performing in North America as a group for quite some time. With rumors of eldest member T.O.P enlisting next year, GD and Taeyang in 2017, Daesung in 2018 and youngest member Seungri in 2019, it is unknown when BIGBANG will go on their next group tour.
After seeing BIGBANG in 2012, I told myself that the next time the guys were back in the United States, I was going to go all out and go to ALL their American stops. Fast forward three years later considering how I was completely overwhelmed by all the cities BIGBANG had on their North American tour and how I had to be somewhat of a responsible adult, I decided to go to only three of seven stops. I say "only" because their shows are extraordinary and I'm okay with setting aside time and an absurd amount of money on them. Some may call that an unhealthy lifestyle but it's a lifestyle I'm able to fund and makes me happy, so it's okay.
---
---
Las Vegas
Being from Boston it obviously made the most sense that I go to the New Jersey shows, and I had tickets for both the October 10th and 11th. But since K-pop never goes to Las Vegas, except for that one year they had the Billboard K-pop Masters at MGM Grand Garden Arena, I thought to myself "Why the hell not?" and my friends couldn't have agreed more. Why miss out on this once in a lifetime opportunity to "party" with BIGBANG in Sin City? Although it was going to be a quick trip out west with no sleep scheduled, my expectations were especially high for BIGBANG's Las Vegas show, specifically since their music video for "Tonight" was filmed there. Even though a part of me was hesitant as to how the crowd out in Las Vegas would be like and because I wasn't exactly sure what to expect, all drama aside, I knew that if I didn't go, I would've regretted it for all eternity.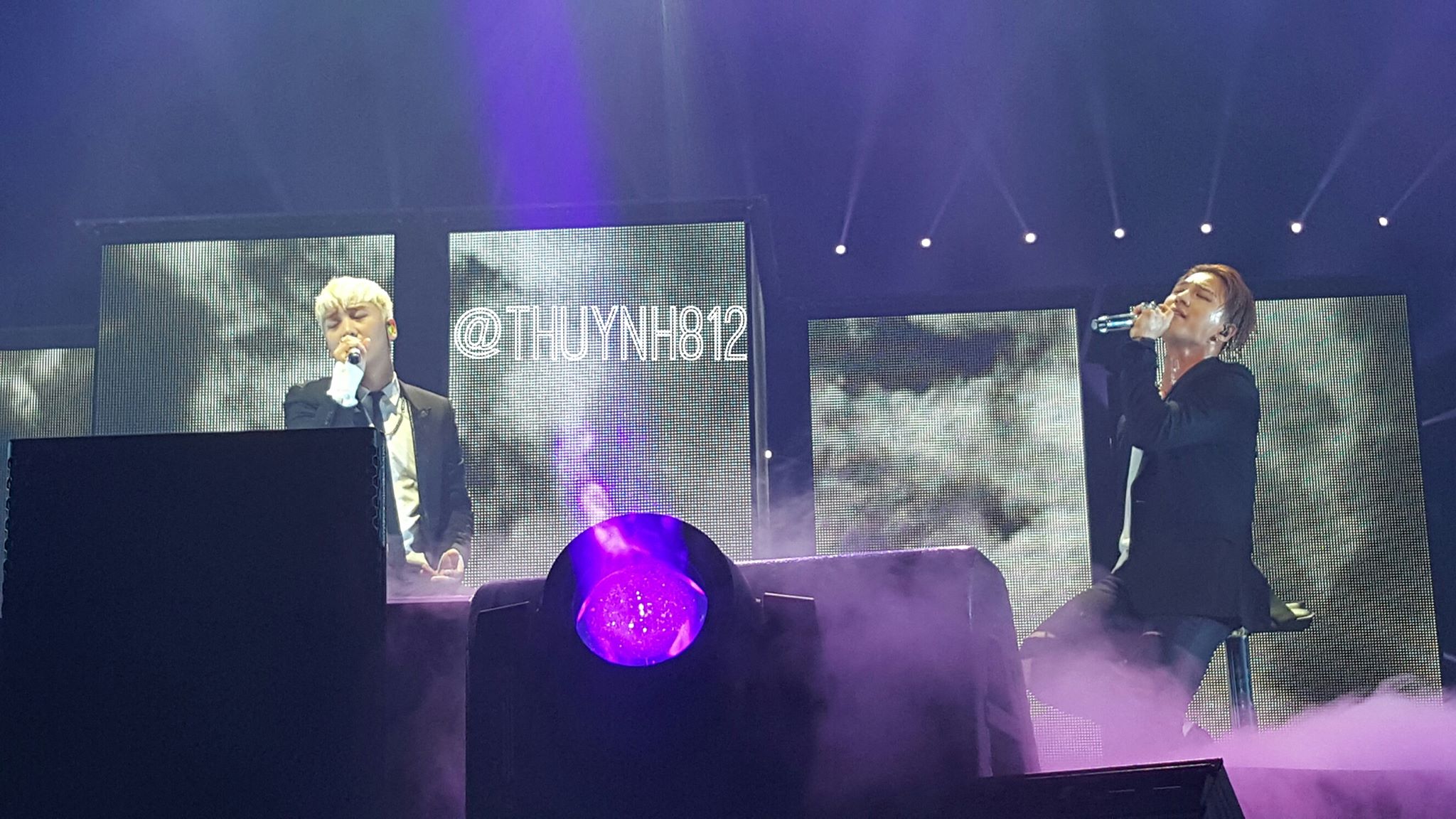 Considering the show was going to be at a casino, a part of me was rather tense as to how everything was going to fall into place. Nonetheless, I was very excited to give gambling a go for the first time. I even found the 918kiss app (click here for the 918kiss download android) in preparation for this exciting trip. If you ever visit Las Vegas, it is always best to practice on the online casinos first. There are hundreds of different sites which you can use, so you'll probably want to use a site like casino-bonus.me.uk to help you to choose the best one.
Of course, there are some fantastic casinos in Las Vegas, but I was not sure how they were going to host a concert. Although, I had to try and not worry about this, as this is clearly something that happens on a regular basis. I just need to make sure that I'm as prepared as I can be for the concert itself, so I'm obviously debating about whether I should give games like 918kiss a go first, as wouldn't it be good to have some luck before going on stage? I think it is, but I still need to make sure I'm prepared. That being said, apart from the show, I was excited to have a go on some of the slot machines. It was certainly in a unique setting you might say. I had never been gambling in a casino before this trip. Sure, I had watched some of my friends play games like starburst slot on their phones, but I had never placed a bet of my own before so I was crossing my fingers for a big win.
The crowds at K-pop concerts have a tendency to be quite a handful, a little more so than a crowd of people at let's say, a Justin Timberlake concert. I've been to enough Korean concerts to confidently say that I've seen all sorts of drama ensue; starting from petty arguments as to why someone is wearing another group's merchandise at the show they're actually attending, to concert goers waiting in line for an insane amount of hours (I am guilty of getting in line 28 hours before a concert once) which then coincides with an issue that continues to grow bigger and bigger at every show, line savers/cutters. It's not my business if you and a group of your friends want to line up early for a show (sometimes it's not okay if the venue is sternly saying not to do so) so that you can secure yourself a great view in the ever so dangerous mosh pit but it's never okay for you to wait in line, by yourself and maybe with one or two other people and then all of a sudden a few hours before the show, decide to bring in your 5+ friends that didn't exist before. Not only are you causing problems for yourself and those around you but also you're then potentially contributing unnecessary issues with the staff and making a lot of fans unhappy. Not only is all that stress and drama taking the fun away from your own concert experience but many of those around you.
Music shows usually aren't as intense when a venue is seated but because the MADE Tour consisted of two mosh pits, one for the special MADE and BAE BAE VIP ticket holders and an even bigger pit for GA ticket holders, it stirred up some anxiety for a lot of us. My time in Vegas was limited; I was going to be there for 48 hours and I wanted to make every single second, minute, and hour of it count, so the last thing I wanted was to worry about whether or not if I'd get a viewable spot in the pit/not get trampled on. There were some minor hiccups prior to the Vegas soundcheck and concert. But it was handled relatively well considering it was the first leg of their North American tour. The hours were quickly approaching and I could feel my nerves starting to tense up. My patience was starting to wear thin and after being in line since 7am the morning of the show all I wanted was to get inside the arena and witness the great show that BIGBANG had planned for us.
Granted I had seen them before in 2012 but it was still a strange feeling seeing them again. This time in a closer and more intimate setting, even though I was sharing them with thousands of others fans. There was a great deal of expectations but I wasn't 100 percent sure what I was actually expecting. I had held off on watching any fan cams and videos from their previous stops on their tour in Asia because I wanted to be surprised and I'm pleased that I did because it made the show that much more exciting. Even if you went into this concert being a skeptic, the moment that BIGBANG stepped foot on the stage for soundcheck, down to their very last bow before exiting, you could tell from all the energy and excitement that the members had that they were genuinely excited and oozing with delight that they were to have kicked off their US Tour in Las Vegas.
Although Vegas was the smallest of their stops, the intensity that filled the Mandalay Bay Events Center could've had you mistaken that there were tens of thousands of people in that arena. Everything felt closer and homier than the later shows I attended. The fans who had been stressed out earlier in the day, myself included, no longer felt the need to dwell on anything other than being in the moment and enjoying the occasions when GD would swing his feet a mere three to four feet above our heads to the times when T.O.P would melt our hearts when he'd throw hearts into the crowd of swooning fan girls. Everyone was relaxed, people weren't as aggressively as I had been concerned about; they weren't pushing up against one another, there was room to dance and move about. Everything that I was hoping Vegas to be ended up being just that and because it all happened so fast, the way it ended just as fast as it started, I knew I shouldn't dwell, since I had both New Jersey shows the following weekend to prepare myself for.
---
---
Newark
On the contrary, unlike Las Vegas, we had our work cut out for us in New Jersey. The once semi chill and relaxing atmosphere from Vegas no longer existed; now it was time to venture onto the brisker weather and "colder" folks that were to be in attendance for the first East Coast show. My friends and I had the MADE tickets, the top tier VIP tickets, which also meant that if we wanted to secure a great view, with any hopes of being in the front row, we would have to camp out. It didn't come as a surprise to us, seeing how we've all slept outside for a show(s) before at some point in our K-popping careers, but knowing that there were already people lining up in the early afternoon of the Friday before the show and because it was in Newark, New Jersey, one of the most dangerous cities in the nation, had us all a bit worried. Those worries quickly went away though because there we were, lining up at 2am, a little unprepared for what was to be a nippy night, but there nonetheless.
By the time we arrived at the Prudential Center, at 2am, there were about 50 people ahead of us, most of whom were knocked out and fast asleep on the uncomfortable pavement or curled up in sleeping bags. There I saw a fellow fan who I had remember seeing in Vegas and simply thought to myself, "It's great knowing that I wasn't the only one jumping cities to see BIGBANG", only to later finding out that she had also gone to the Los Angeles and Anaheim shows, with tickets to both New Jersey shows AND Toronto. Now that is true love.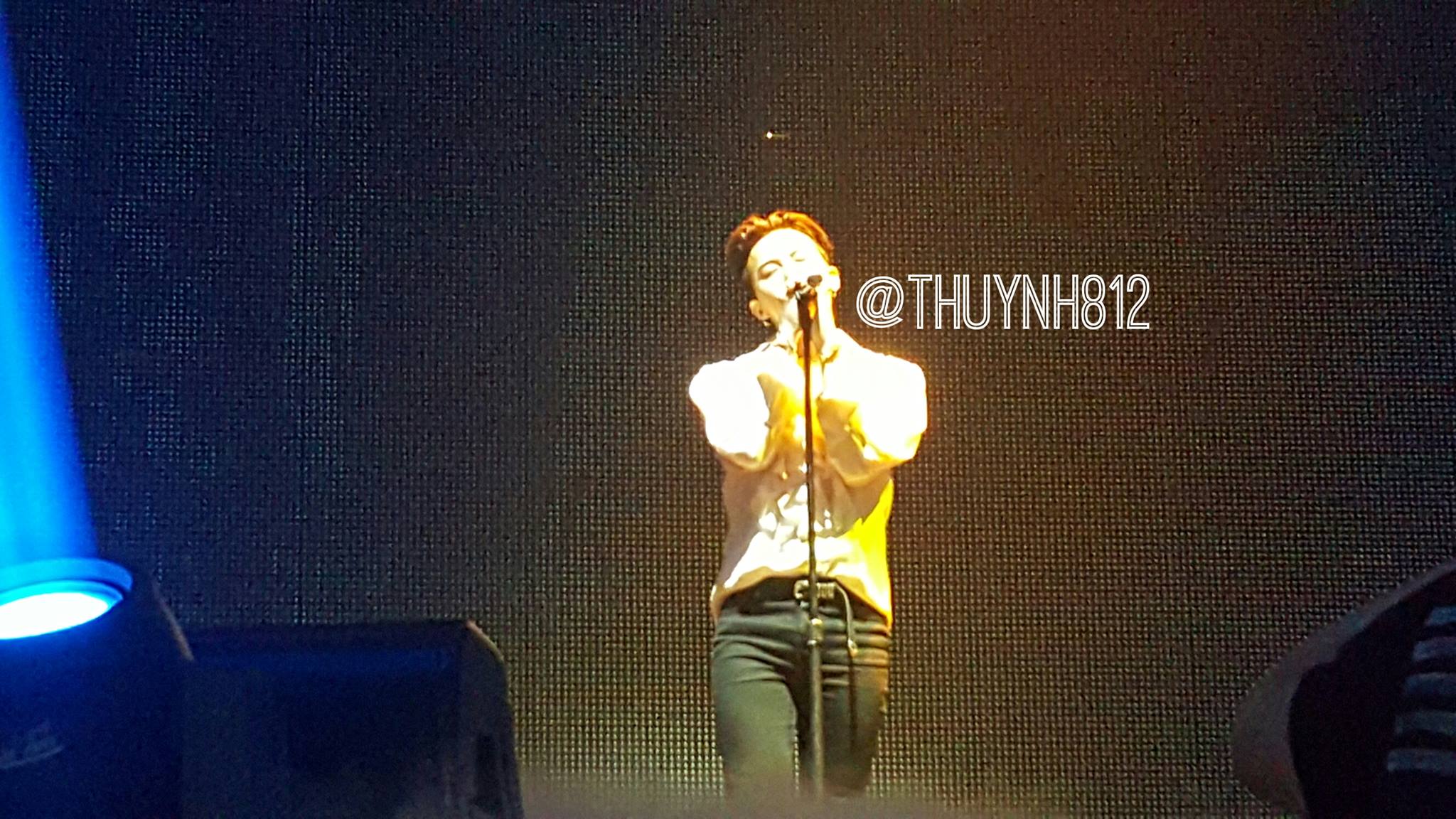 Because we were so spoiled with being inside at all times while in Vegas, the cold wind that would occasionally blow through the quiet and still sidewalks of Newark had everyone groaning in misery. That happened a lot throughout the night and it was during those very moments that I questioned why I even do these kinds of things but then I was quickly reminded by friends that camping out and doing things the "right way" was better than being a sasaeng (dubbed as the crazy fans who stalk idols).
The morning quickly approached and the lines were only getting longer. By 8am I had already seen a number of friends I had accumulated over the last couple of years, all of whom I've met at K-pop concerts. Meeting people who share an interest/hobby in something like Korean music and culture while no one else will ever understand is probably one of the best things about going to these stress inducing shows; these people become your second family.
Of course kicking off the tour in Vegas was great and all but to be attending not one but both New Jersey shows held a different, more meaningful and momentous spot in my heart. The Alive Galaxy World Tour in 2012 in Newark is where I met some of my closest friends that I have today; it's like going full circle for us, going back to where it all started- the line outside of a BIGBANG concert. Although our whole crew couldn't get together, others were with us in spirit and in order to fully ensure that they too felt the love and got to enjoy the show via us, we knew we had to have 10 times the more fun! By the time the first New Jersey show rolled around that evening, things were a lot more orderly and the staff made sure things was taken care of in a more efficient timely manner, which was great since that was one less thing we'd have to worry about. Things were progressing so rapidly (and when I say fast I mean everything happened within a span of about five hours) that I never gave myself time to fully prepare myself for what was yet to be the best night of my fangirl life.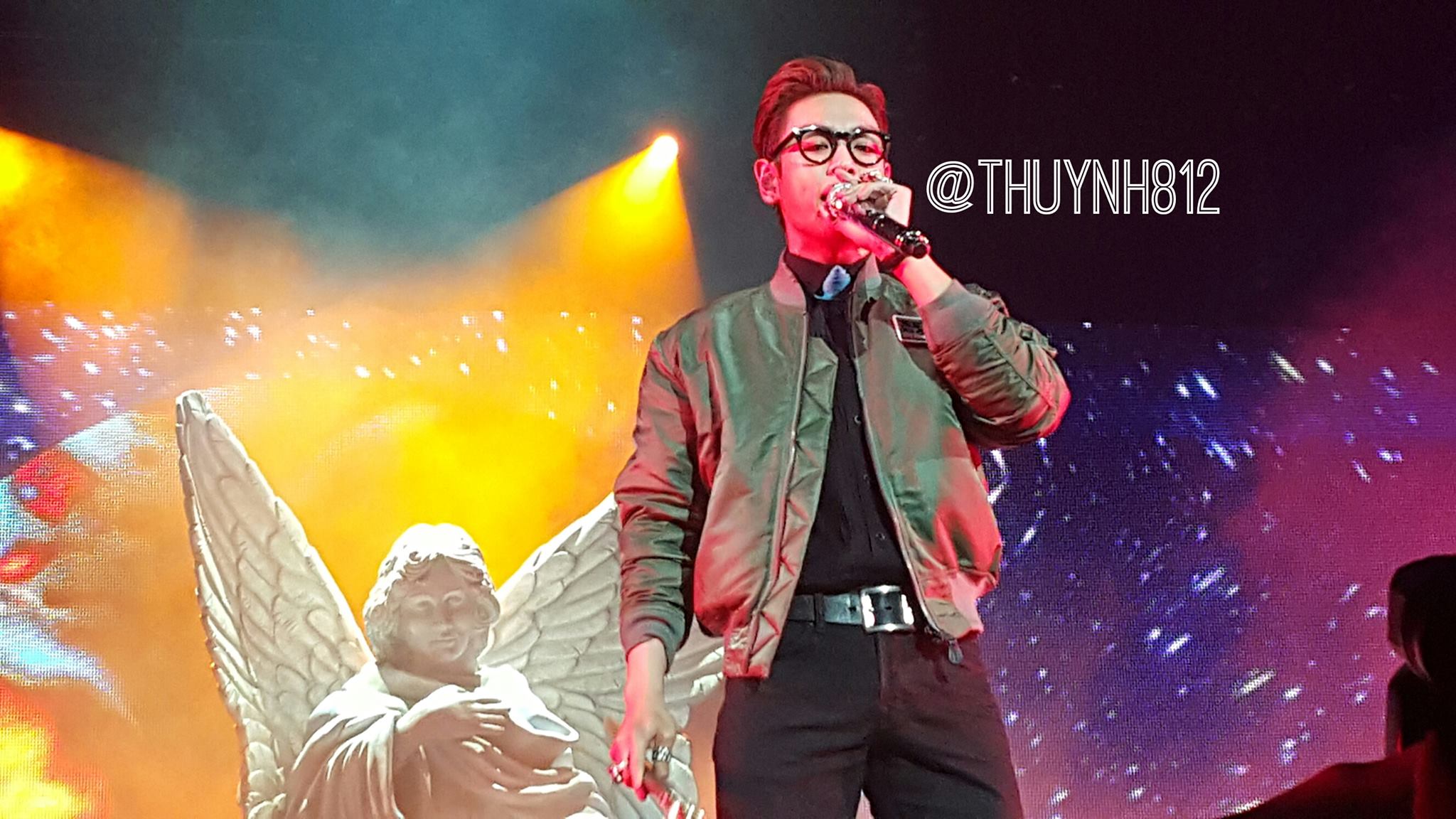 I didn't know it at the time that I was going to be front and center for both sound check and the actual show. It also didn't cross my mind that my bias Taeyang was going to accept my "finger hearts" and then throw some back at me nor did I expect him to blow air kisses at me but I'm fine, really still freaking out, with how it all happened so unexpectedly. They say good things come to those who wait, and boy oh boy was I waiting!
The MADE package included a "send off" which basically meant that we were to line up along barricades (in a separate area of the building after the show), give and get high fives, with the potential of getting selfies with the members and literally sending them off on their way. As draining and tiring as it was spending the night outside of the Prudential Center, attempting to sleep on cold pavement, all of that disappeared the moment I realized that I was a mere few inches away from BIGBANG. There are no words out there that can fully express everything that went through my head when T.O.P graced us with his presence as he walked by us with a grin on his face, when Taeyang made quite the entrance by rolling down the hallway on his Segway, to when Daesung held onto my arm as we took a photo together. When will I ever get an opportunity to do all of this again?
It was beyond difficult trying to get my mind straight after that night, only to remember that THIS wasn't it and that I was going to see them again the following night! By that point, I was the most exhausted that I've ever been but my eyes quickly opened when I saw that there had already been another line created for Sunday night's show! I'm not too sure what surprised me more, the fact that I saw familiar faces from that night's show already back in line or the fact that I wasn't also in that line. The original plan was to get back in line after the first New Jersey show but the lack of sleep and old age had already crept up on me and my body was telling me not to spend another night outside. With that said, going into Sunday night's show, while being semi rested with a good five to six hours of sleep, all the energy and refueling that I did overnight, had to be released and put into their last US show.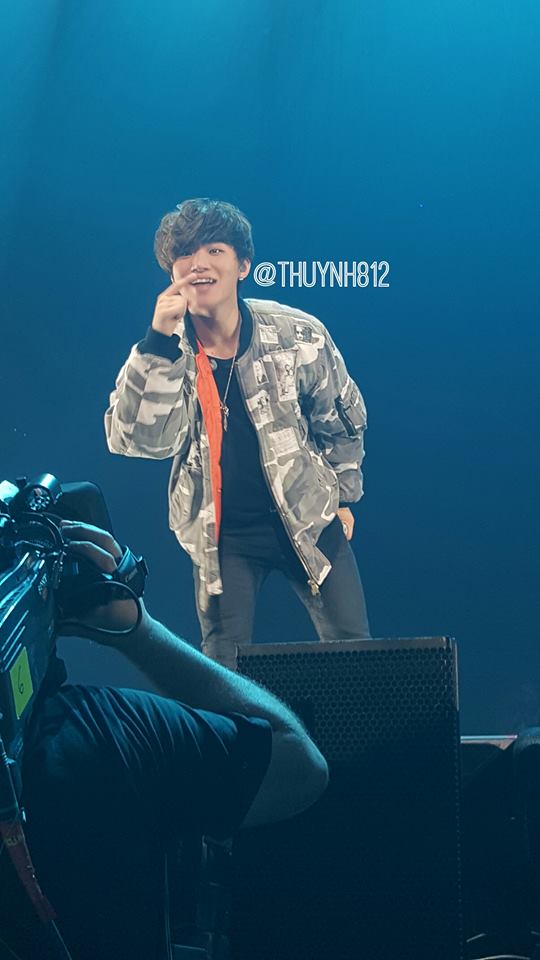 Going into this tour, I didn't think I was going to have a chill as of a day as I did Sunday. We had BAE BAE tickets but by now we knew how things kind of worked and we didn't want to bother trying to line up early, although we did show up a few hours before we were told to so that we could see some of our friends who did line up in the wee morning. Once we were inside, done with sound check, we were allowed to roam about, actually eat and get drinks, leisurely move about, which tends to be a rare occurrence especially when you have a pit ticket.
Whether or not because it was the last US show or because BIGBANG was able to recharge the night before, these guys came out with full ammunition and ready to blow the crowd away. GD wasn't going to let his cold and runny nose get in the way of them setting the crowd on fire. At this point, I didn't care where I was standing and what view I had, I just wanted to have as much if not, more fun than BIGBANG themselves. I didn't want to spend my time trying to record their performances, I did enough of that in Vegas and at the Saturday night show to make a full concert series, rather yet I just wanted to savor up the last few moments of being in their presence and show BIGBANG that WE (too) LIKE 2 PARTY!
This probably goes without saying but whether you were a VIP to begin with or maybe a friend dragged you to the show, you left that concert feeling revitalized and mind blown. The 2015 BIGBANG is remarkably different from the 2012 BIGBANG. I get it everyone "grows up" and develop as they age. Even though I've always viewed BIGBANG as men, just within three years time, all the members have all grown and matured so much, especially Daesung and Seungri.
As you've probably figured out by now, I didn't actually tour with BIGBANG although with all the time that I spent flying and commuting, I might as well have been apart of their crew. Wishful thinking, I know but hey, you can't blame this fan girl for dreaming. It's been a difficult journey trying to recover from this post concert depression; there were so many highs and thankfully little lows throughout this tour, so many scattered emotions and cluttered thoughts. A week later and I'm still unable to wrap my head around the ample amount of fanservice that each member gave to the VIPs. Apparently my mind and body still haven't found its way back to each other yet but that's okay because I'm content with continuously reliving each moment. The part that makes transitioning back to real life the hardest is not knowing when BIGBANG will comeback. It's too soon to say "never" but it'll be quite some time before we'll be united but I'll have memories that'll carry me through until the next time we meet again.
Did you get the chance to catch BIGBANG on tour? Share your thoughts in the comment section below and be sure to subscribe to the site and follow us on Facebook, Twitter, Instagram, and Tumblr to keep up with all of our posts.
https://kultscene.com/wp-content/uploads/2015/10/12140811_1028485360541795_2648881633500742807_n.jpg
600
960
Tam Huynh
http://kultscene.com/wp-content/uploads/2018/02/KULTSCENE-LOGO-2018-TRANSPARENT-RED.png
Tam Huynh
2015-10-17 08:10:33
2020-11-11 07:29:44
Touring With BIGBANG, Fangirl Style