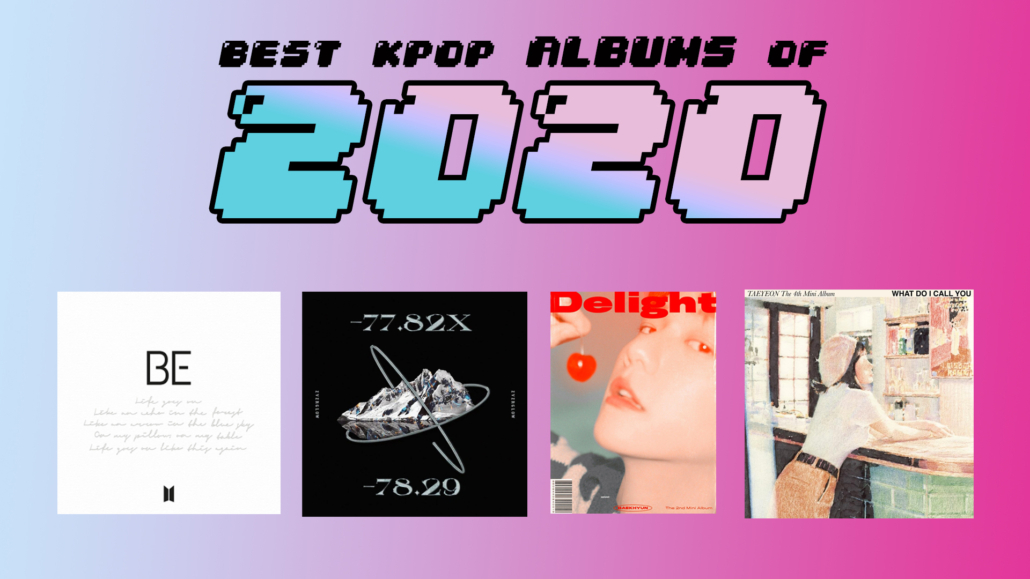 Looking back on 2020, it was both the best of times and worst of times on the K-pop front of things: there were a lot of great releases, but also a lot of disappointments. On the album front, long term faves delivered great bodies of works, while some newer acts shared surprises that bode well for their future as they develop their discography. Retro sounds, especially disco and '90s-inspired R&B, resonated through many albums as artists across the industry leaned into revitalizing eternally familiar pop sounds for a time when everything seemed topsy-turvy and these blasts from the past brought comfort.
Rather than a ranking, like our annual Best of Song's list, this year some of KultScene's writers opted to share their takes on the best albums that particularly resonated with them on a personal level during the year that was 2020.
What do I Call You by Taeyeon
Be it for the familiarity (after all, she's been in the game for almost 15 years) or just for its beautiful timbre, Taeyeon's voice inspires comfort and warmness. And 2020 was a year when we all could use these feelings.
In What do I Call you, her voice and technique breathe life into five elegantly written tracks, one of them co-written by her ("To the moon.") Songs like "Playlist" (the perfect lyrical picture for the intimate mood of the album) or "Galaxy" (which obediently follows the rule that every song called "Galaxy" is dreamy and ethereally gorgeous) shows how suitable Taeyeon is for sweet R&B tracks, while "Wildfire" is probably the least blending song in the album, recalling the Taeyeon from "Why."
But still, it's a harmonic 15-minute set, the same length of a phone call, or the same amount of time it takes to buy a coffee. Indeed, in a year most of us spent locked at home, listening to What do I Call you might be the closest one could feel to entering a calm cafe on an autumn day.
And if the impressionist-reminiscent cover makes the album look like a work of art, it's because it is.
— Ana C.
Delight by Baekhyun
It's difficult to make a no-skip album — especially within the K-pop landscape, where artists and companies generally want to include and experiment with every genre known to men in order to secure something for everyone. But that's exactly what Baekhyun did with his sophomore EP, Delight, and he did it with ease, style, and a lot of sexiness. A collection of multiple R&B stylings, Delight has something for everyone. And we can talk in circles about how the moods were sexy and the lyrics were provocative throughout the entire EP. But speaking frankly, Delight was a very horny album. From what exactly he's referring to with all the mentioned flavors on "Candy" or the specific logistics of "R U Ridin?" to maybe being a one night stand on "Ghost," Delight was selling one thing and it wasn't Tootsie pops. And given that 2020 was the year the entire world had to social distance, it was quite appropriate. However, at no point was Delight literal or overt, but was a class act through and through, and Baekhyun proved yet again why he's spearheading the R&B pop movement within the K-pop industry.
— Alexis
Love Synonym #1: Right For Me by Wonho
In South Korea, leaving behind a stable music group on (albeit unfounded) allegations of illegal drug use could be the final nail in the coffin for an idol, but for Wonho it gave him the push he needed to finally jumpstart his solo career. And for the former Monsta X member who regularly participated in the group's song writing, composition, and arrangement process, this transition to independent artist was only natural.
With his debut extended play Love Synonym #1: Right For Me, Wonho was able to bring his skillset to new heights as he took on diverse sounds, such as with the stripped-back pre-release ballad "Losing You" or the aptly named interlude "Runway," which bounced with the same charismatic high fashion energy it was inspired by. Wonho's penchant for higher registers, airy vocals, and breezy melodies also continues to influence his music as the hallmarks that distinguished his songs ("From Zero," "Do You," "No Reason") from his time with Monsta X survive in "I just" and "Lost in Paradise." The mini album has something for every listener, be it suggestive lyricism or raw poignancy, and with credits on six of the eight tracks Wonho is already proving to be quite the versatile singer-songwriter.
Aside from giving us some of his best output thus far, this album challenged Wonho in other ways, namely by embracing K-pop's global appeal. Both remakes of "Losing You" and the electro-funk title track "Open Mind" are done entirely in English, and at a proficient level to boot. On "With You," he sings hypnotically in Spanish ("Adicto a tu cuerpo, mueve tu cuerpo"), a Romantic addition to an even more romantic song. Somehow waxing poetically about how you would go to war for your love or whispering sweet nothings about an addiction to their body hits differently when it's in a language you can understand. This extra effort to communicate with fans around the world in this way remains the EP's most attractive quality.
— Shelley
–77.82x-78.29 by Everglow
Everglow delivers (electro)pop perfection with their second mini album, –77.82x-78.29; the number represents the latitudinal and longitudinal coordinates of Antarctica, a place that has been a constant reference in the sextet's concepts and mentioned in their previous mini album, in the lyrics of "NO LIE."
Co-composed by the experienced Hayley Aitken – who's been involved in writing hits for Red Velvet, Twice, Girls Generation, LOONA, and more – and co-written by Everglow's very own E:u, "LA DI DA" is a strong opening for the cohesive EP. Produced and mixed as an '80s dance hit, the track, which was voted by KultScene as the best K-pop single of 2020, fortifies the Everglow brand through cheerleading vignettes ("Everglow forever, let's go") and boldly positions the group as heroes of the retro sound candidates, while they've already proven, in previous releases like "Bon Bon Chocolat," how fit they are for more contemporary approaches of electronic dance music too.
The David Anthony & Dsign Music-coined "UNTOUCHABLE" is a sexy and addictive song that shall stand proudly both in the songwriting collective's amassed history and the K-pop girl group's one that is being written. Built off delicious synth pop beats, "UNTOUCHABLE" counts on the Everglow vocalists to help set the perfect vibe for its composition, which thrives in rhythmic duality: it's sultry and slow in the verse and post-chorus, rapid and high-pitched in the pre-chorus. The chorus is an encapsulation of the song's formula, alternating between a spaced repetition of the lyric "UNTOUCHABLE" and agile following vocals. This melodic back & forth makes a trip that leaves you wanting more: "UNTOUCHABLE" is undoubtedly one of the best K-pop b-sides of the year.
The second half of –77.82x-78.29 is less addictive, yet charming. Even the weakest track of the mini album, "GxxD BOY," could be a single; and the electro-R&B "NO GOOD REASON" closes the project in style, elegantly adorned by good vocal moments like Aisha's low note in the second verse. The lower register is not a frequent guest in K-pop (or at least in songs from girl groups,) so this small yet remarkable moment of "NO GOOD REASON" is worth being repeated.
While –77.82x-78.29 is a complicated name, listening to it, and becoming obsessed with it, is very easy.
— Ana C.
The Book of Us: The Demon by DAY6
The third part of DAY6's The Book of Us series, this mini album is full of surprises. From the relatable title track "Zombie", which ironically speaks about the importance of continuing to live, to "1 to 10", a catchy song which contains unexpectedly creepy lyrics describing an obsessed romantic, the whole album covers many (admittedly dark) aspects of love and heartbreak, both lyrically and musically. The band's foray into EDM with "Love Me or Leave Me" also paid off, and the track became a huge hit when the album was released because of its addictive melodies and beat.
Even as they try out new genres and styles, DAY6 does it all with lots of heart, and this sincerity explodes in leader Sungjin's self-written ballad, "Afraid", a heart-wrenchingly beautiful track that talks about the fear of being a burden to the people we love. Considering that members Sungjin and Jae went into a hiatus right after this album was released, this song and the painful emotions it conveys really hit fans hard, as it proved that idols are ordinary humans as well, equally affected by the unpredictability and tragedy of this world. However, the way DAY6 is able to incorporate such human fallibilities into their music is a part of what makes them truly great musicians – with their true-to-life songs, they bring comfort to listeners and prove that no one is truly alone in the struggles they face in this life.
— Anna
NCT 2020: Resonance by NCT
If you're familiar with Spider-man, then you know with great power comes great responsibility and thankfully, NCT rose to the occasion to save 2020 with their second installment to include every member under the diverse NCT brand.
NCT 2020 Resonance delivered new and refreshing lineup combinations that fans had been dying to see ever since WayV debuted a year after NCT 2018 Empathy. And although Empathy was already exciting enough, it only offered a taste of what NCT was capable of as a whole and didn't exactly utilize the "mix and match" concept of NCT U to its fullest potential. But, that's where Resonance comes in. Each new unit shines in its own right and was strategically put together to highlight and even challenge the members to match each other's energy and strength — "Make A Wish" would be a great example of Xiaojun grabbing its concept by the horns and completely obliterating it in a way we haven't seen him do thus far in WayV. For this, he's still living in our minds rent-free.
What sets Resonance apart is the theme's continuity throughout the album. The tracklist is broken down into three sections: past, present, and future with interludes placed thoughtfully between each section to signify a change in time. Resonance Pt. 2 (a combination of songs from parts one and two) in particular enhances the experience, as it transports the listener on a journey through space and time with exceptional storytelling.
Sonically, the '90s presence is clearly felt during the past songs like "90's Love", "Misfit", and even "Light Bulb," which opted for a softer spoken-word delivery from rappers Taeyong and Sungchan — reminiscent of late night poetry slams from back in the day. However, the soothing 1950's inspiration for "Dancing in the Rain" should not be overlooked, especially since some of its lyrics were penned for the first time by Mr. Valentine himself, Jaehyun. Subsequently, the "present" portion of the album is where we heard a lot of current trap and R&B motifs ("Dèjá Vu", "Nectar") and the future introduced plenty of future synths, techno, and lo-fi elements ("Work It", "I.O.U"). It's a musical tale of what used to be, what is, and what will be popular through the eyes of NCT — ambitious, yet extremely satisfying.
— Chyenne
BE by BTS
Career peaks are when some musicians are their loudest, using bigger sounds and even bigger ideas to try to beat both the competition and their own past releases. Not BTS, though. As their albums hit new peaks on global charts and break their own sales records, they've chosen to zoom in on the smaller, more quotidian parts of our lives. The bedroom, the falling leaves, the ongoing winter (as both a season and a state of mind).
2020 may have been a year of triumphs for BTS, but BE tells us that they, too, felt the weight of all that 2020 was. On the mid-tempo opening single "Life Goes On," Jungkook sings, "One day, the world stopped without any warning." And while the travel industry, the economy, and even everyday life screeched to a halt, the earth itself didn't ("Spring didn't know that it had to wait / Showed up not even a minute late"). BE is full of these acknowledgements of both doom and wonder, an 8-song thesis on the adjustment, pain, and continuities located in global catastrophe. They even reimagine the bedroom — on "Fly To My Room," it's not a space of COVID-induced confinement, but instead a space to "get me outta my blues" and help you feel "brand new."
Buried within these worldly reflections, however, is BTS grappling with the personal reality of their stardom. "Skit" is, at one level, a conversation between friends whose personalities are globally known and adored. But like its counterpart on Love Yourself: Her, the conversation is also a real, honest reflection on growing from humble beginnings to the behemoth that BTS now is. "I couldn't sleep at all," Suga speaks of the night he heard that "Dynamite" hit #1 on the Billboard Hot 100. He's trying to wrap his head around being one of the world's biggest stars in a moment when the world itself is on the brink of falling apart.
BE travels across tempos, from the slow and somber "Blue & Grey" to the EDM-pop "Stay" and disco smash hit "Dynamite." Through it all, the album is introspective and thoughtful, rather than brash and bombastic. Among the already small crop of global stars considered "generation-defining," BTS is a rare breed who navigate the reality of their success through remarkable humility and poignant self-awareness. It's not about what you have or what you've accomplished — rather, it's about who you choose to BE.
— Kushal
Reload by NCT Dream
Experiencing the growth of NCT Dream over the years has been like watching our younger siblings as they enter adulthood with pride and confidence. This is especially what it felt like during the Reload era, the last album to feature only six Dream members before welcoming the eldest, Mark, back into the circle after his short-lived graduation from the act.
Although Reload is a rather short EP with only five tracks compared to the group's previous releases, it could easily compete as one of their strongest to date. Its lead single, "Ridin'", is a testament to Dream's maturity and deserved so much more credit than what was given. Notably, Haechan and Renjun's vocal performances are incredibly clean here and nothing is more comforting than the sound of Renjun's ethereal vibrato in any song. But when it comes to the stage performances, it's Jisung who shows the most versatility as he executes each pop and lock with razor-sharp precision.
"Quiet Down" would be without a doubt the runner up as a lead single, if "Ridin'" didn't exist. Lyrically, it's one of Dream's boldest tracks as they address the gossip-loving audience who do nothing but spread rumors and project their insecurities onto others: "There's nothing I have to prove, you know that. Look at yourself reflected in your eyes." It's a powerful hip-hop and EDM based track with an equally powerful message.
"7 Days" and "Love Again" are only two examples of how NCT (across all units) pretty much dominated the '90s sound in 2020 for both R&B and hip-hop, so it's no surprise that it's two of Dream's best tracks so far. "7 Days" captures the listener's heart and soul with lo-fi vibes and adolescent schoolyard memories. While "Love Again", on the other hand, wouldn't sound out of place at a '90s house party with the bass thumping against the walls as a crowd of people sing along to, "Hey, my first and last!" An appreciative ode to Dream's humble beginnings. As the EP comes to a close, you're brought back down to earth with the beautiful acoustics of "Puzzle Piece," co-written by Jeno and Jaemin. By that point, you're probably wishing this EP didn't have to end so soon. Lucky for us, we have so much 7Dream to look forward to in 2021.
— Chyenne
Map of the Soul: 7 by BTS
As paradoxical as it may sound, BTS expanded their artistic universe to go even deeper into their self-reflection with Map of the Soul: 7. Everything about the album was purposefully huge: the launching promotion included a global art curation series, the tracklist follows a Jungian psychology-inspired storyline, each of the singles had two music videos, including an art film, a "Kinetic Manifesto" and one with a biblical narrative enactment; even the physical album was symbolically huge-sized.
Yet nothing seemed vainglorious or out of place. It was the right mix and the right time for the right band. Had it been done any bit sooner, it wouldn't be the perfectly timed celebration of the seven-member band's seventh career year; had it been done any bit later, a lot of it wouldn't probably been done at all, since the COVID-19 pandemic took over the world weeks after the album's release.
For the ARMY (BTS's fandom,) the band's music has always been a source of strength and support, and Map of the Soul: 7 was that too.
Starting with the philosophical rap "Intro: Persona," which first appeared in BTS's 2019 EP Map of the Soul: Persona, and finishing with the resilient, serotonin-infused "Outro: Ego", BTS travels through different states of consciousness in 7, from the self to the collective and back — or, more accordingly to Carl Jung's archetypes that inspired the album, from the persona to the ego, linearly. In the hauntingly beautiful tracks "Black Swan," "Louder than Bombs," and in the hip hop rhapsody "Interlude: Shadow," the members speak of their fears; and in the energetic "ON" and "UGH!," they fight them.
Each of the seven BTS members has their chance to shine alone in the album, in moments of vulnerability and versatility in style and songwriting — one of these solo moments, by the way, is a tribute to versatility itself: Jimin's "Filter."
Mega and meta, 7 is a timely self-tribute of BTS's relationship with themselves individually ("Inner Child",) as a group ("Respect," "Friends,") with their fans ("Boy With Luv," "Moon," We Are Bulletproof: The Eternal,") and with music ("Dionysus", "Black Swan.") Of course it is. BTS and their fans have mastered the art of celebrating themselves before waiting for anyone else to do it, so it's only right that 7 does just that too. As SUGA raps in "Louder than Bombs:" "if not us, who will do it?"
— Ana C.
When We Were Us by Super Junior K.R.Y
This album took a long time (14 years…) to materialize but boy was it worth the wait. While the genre of ballads might sometimes be unfairly criticized as being boring, When We Were Us is a brilliant model example of the beauty of this genre. Apart from "The Way Back to You", the jazzy R&B offering where Ryeowook gets to display his fairy-like falsettos, the other five tracks are ballads through and through – complete with string instrumentation, emotional vocal performances and reflective lyrics.
While all three members of this subunit are all celebrated vocalists individually, the highlight of K.R.Y and this album as a whole is definitely their powerful harmonies, which feature heavily in "I Can't," "Home," and also the title track "When We Were Us." The technically challenging harmonies definitely required a lot of practice on their part, but they prove that they are truly better together. It is also impressive that despite their varying vocal tones and singing styles, they do not clash but instead complement each other to create the richest songs possible. While Ryeowook's bright vocals add innocence, Kyuhyun's velvety voice brings in warmth, and both balance well with Yesung's melancholic singing. When We Were Us"\ was released in June, but the album is wonderful to cuddle up and listen to at this time of the year, or anytime you're in need of a good cry actually.
— Anna
Minisode 1: Blue Hour by Tomorrow x Together
With a barely two year old career, Tomorrow By Together (TXT) is already one of the most consistent K-pop acts, never lacking in terms of music, videos and performance. Their third EP, Minisode 1: Blue Hour, takes their precociously solid discography to a whole new level.
In less than 20 minutes, TXT delivers disco, rock, tropical house and R&B, with catchy pop-molded songwriting like in the groovy "Blue Hour" — the best pre-chorus of the year and a chorus that is no less captivating; — the unexpectedly sad yet danceable "We Lost the Summer," with which TXT could rival their label mates BTS's "Life Goes On" if there was a "Songs That Best Describe 2020" contest; and the warm, sophisticated "Way Home."
But TXT also shines in their rock-star-potential moments, making it even sadder that 2020 brought little opportunities for the band to perform live — songs like the The Drums-a-like "Ghosting" and the energetic "Wishlist" would have definitely been amazing jumping, "put your hands in the air" concert moments.
Minisode 1: Blue Hour makes full use of the five members's youthful energy, displaying a range that surprised their fans, amassed new ones and consolidated their potential to make music for a long time — and even pivot to new band formats if they ever want to.
— Ana C.
DYE by GOT7
Seven years into their careers as a group, the members' specific styles when it comes to producing and writing lyrics have become pretty distinct — and DYE was the perfect collection of all the different characteristics that make up the GOT7 sound. Throughout the years, whether produced by JYPE or the members themselves, we've come to expect something from the group's singles: big, house-y productions with intricate choreographies. On their self-penned and produced b-sides, however, is where we've been able to see how they marry their individual colors with the collective one of the group. Though DYE was an EP, it's their most mature body of work to date. JB brought a stronger, smoother R&B influence with "Crazy;" Youngjae's "Aura" was yearnful; Jinyoung's "Love You Better" features an array of different styles and flows that compliments each member; and the Yugyeom co-written "Poison," well, Jackson said it best: it's a daddy song. Overall, DYE is a sexy album — the members are more in touch with their emotions and how they emote them musically. With the group leaving JYP Entertainment, it's uncertain what the future holds for GOT7 as a group. But if anything, DYE was the testament that each member is ready and fully capable of shining individually.
— Alexis
Dystopia: The Tree of Language by Dreamcatcher
Owners of one of the most cohesive musical identities in K-pop, Dreamcatcher did it again in their first Korean studio album. "Dystopia: The Tree of Language" is a solid, entrancing work with the best of the dark, punk rock sound the group is known for, as well as bits of the EDM-punk rock infusion that they've also explored before, and some punctual moments of calmness between the storm.
While nothing can be more Dreamcatcher than the guitar riffs from "Tension" and "SAHARA," the group's distinctive colors also shine in the production of "Scream" and "In the Frozen", full of electronic touches that add to the haunting mood of the album; and the trap beats of "Black or White" and "Red Sun."
But the modest star shining in the middle of Dystopia is "Jazz Bar," an elegant piano and guitar-driven track that transports you to a lobby bar. The vocals here are lowered and smooth; a perfect break in the perfect place amongst the other electrifying tracks.
And speaking of things you didn't expect to hear in this album yet you're so glad you did, Siyeon's solo, "Paradise," is a highlight too – especially if you, like me, is crazy about that 2010s K-pop template of dance-pop ballads such as Ailee's "Rainy Day" and Song Jieun & Bang Yongguk's "Going Crazy" – they all share the same chord progression and sentimental print as "Paradise."
Dystopia: The Tree of Language is one more addition to Dreamcatcher's consistent discography and one more evidence that sometimes, even if choreographies and visuals are just as important for a K-pop group, the music can do well alone as it is too.
— Ana C.
Alexis Hodoyan-Gastelum, Anna Cheang, Shelley Foo, Kushal Dev, Ana Clara Ribeiro, and Chyenne Tatum contributed to this article.
What was your favorite K-pop album of 2020? Let us know in the comment section below and be sure to subscribe to the site and follow us on Facebook, Twitter, Instagram, and Tumblr to keep up with all of our posts.
KultScene is a writer-driven website dedicated to creating a platform where diverse voices' takes on K-pop can be heard. If you like this post and would like to see more by helping support KultScene's writers fund, please email us for more details.
https://kultscene.com/wp-content/uploads/2021/02/1bestkpopALBUMS.jpg
1080
1920
KultScene
http://kultscene.com/wp-content/uploads/2018/02/KULTSCENE-LOGO-2018-TRANSPARENT-RED.png
KultScene
2021-02-05 12:58:07
2021-02-05 13:25:30
Best K-pop albums of 2020