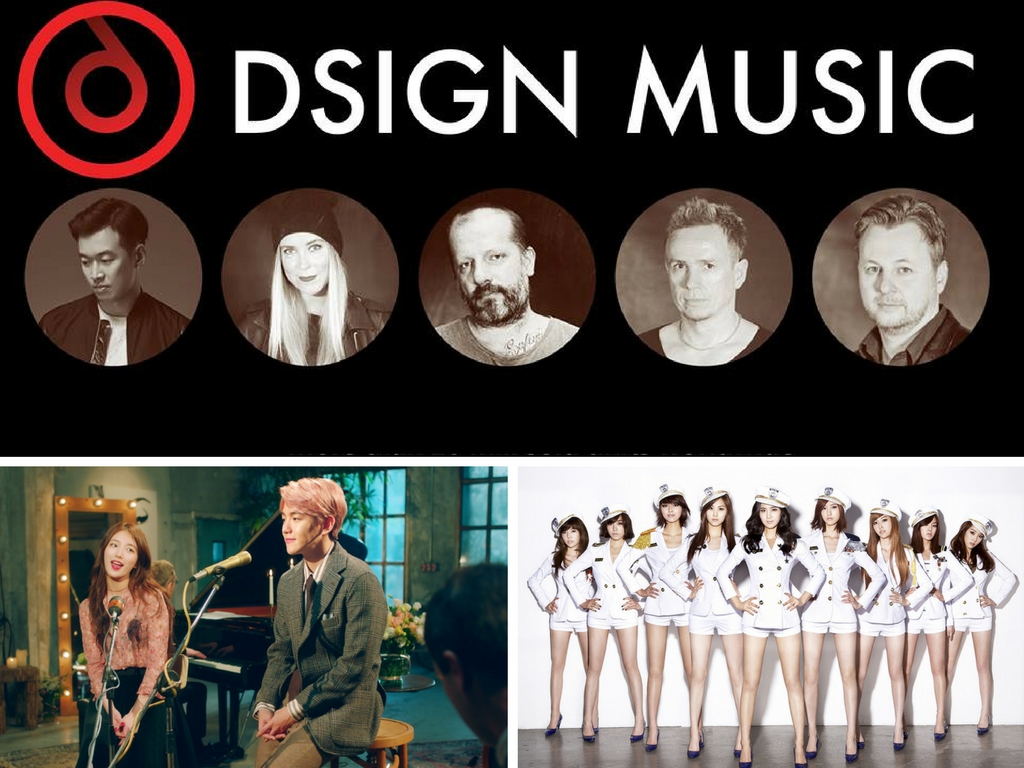 Fans can wax poetical for hours about the positive aspects of the music coming out of South Korea nowadays, but more than just avid lovers are looking to K-pop for its innovative industry. Music producers, songwriters, and industry insiders from around the world are turning towards Korea to see how they can get involved. According to Robin Jenssen, the CEO of Dsign Music, K-pop is seen by western producers as the entry point into the larger Asian music market.
"You have two-thirds of the world in Asia, why should you just stick to the millions of people in the US and Europe?" Jenssen asked during our phone call last week. "It's a really small market. Everyone wants to be a part of that new [market]. When everything opens up [in Asia], it will be a huge thing for music."
Korea and Asia as whole have already been a huge thing for Dsign Music, which has created hits for everyone from Girls' Generation and TVXQ in Korea to EXILE and Namie Amuro in Japan to Jolin Tsai in Taiwan and, wait for it, Ricky Martin himself. K-pop fans owe a lot to Dsign, considering that the Norway-based production team created hits like Girls' Generation's "Genie" and "I Got A Boy," EXO's "Wolf," f(x)'s "Rum Pum Pum Pum," and Red Velvet's debut single "Happiness." Their latest Korean single, Baekhyun and Suzy's "Dream" peaked at number one in South Korea and number three on the Billboard World Digital Songs chart. Dsign's most recent Korean songs were featured on Apink and Red Velvet's latest albums.
---
---
But before "Genie (Tell Me Your Wish)" came out in 2009, Jenssen had no idea what was going on in South Korea, or the fact that Dsign would end up creating some of the most popular songs. "It was actually our publisher who called us one day and said 'Hey, you know they still sell a ton of records in Japan and Korea?' We were like, 'we don't even know what it is,'" Jenssen said with a laugh. "We knew where it is but we had no ideas about the music. We had no clue."
After "Genie" topped charts around Asia, Jenssen and his team went to see Girls' Generation perform at the Tokyo Dome. "We had four TV interviews while we were at the stadium and there were thousands and thousands of people walking around the stadium. Then we realized, 'Okay, we want to do more here.'"
Jenssen also credited iTunes and Spotify for opening up Asian music to western listeners who had otherwise had little access to non US or European-based music industries.
Since then, Dsign has been integral to K-pop's foundation. They work closely with SM Entertainment, which tends to work closely with many western producers, but have also produced music for non-SM acts like Lee Hyori ("Bad Girls"), Spica ("Tonight"), Rainbow ("Energy"), Boys Republic ("Video Game"), and 9 Muses ("Hurt Locker"). Jenssen runs the day to day business aspects of Dsign, but has plenty of a role in the creation of their songs; his voice can be heard for a split second at the very end of Girls' Generation's single "Beep Beep."
When creating songs, Jenssen revealed that it's not just music that international producers have to pitch to Korean companies, it's the whole concept. "Music in Asia is all about the video, the dance routines, the marketing, and how you put the package together," he explained. "A good example is [EXO's] "Wolf." You get all the kids in Seoul to go around with their hands up in the air making ears and howling 'awoo!' They sold a lot of merchandise based on that song because it's a concept song. And you kind of understand everything when you see the video and see how everybody reacts to it. Other songs are also concept songs, so sometimes we'll write down ideas for the video too to ensure that the concept sticks through to the end."
---
---
Jenssen emphasized that foreign producers are learning that K-pop is based around the synthesis of intense concepts with the rhythm of US music, like hip-hop and R&B, and the melodies of Europe, where electropop is still prominent. But it's not just K-pop emulating western styles according to Jenssen, who highlighted Selena Gomez for pulling off the most K-pop-like sound in the English-language music market. "A lot of new stuff in the US now is sounding more like the K-pop we've been doing for like five years, with a bit more stuff happening with several more parts in the song. When we won the YouTube award for Girls' Generation with 'I Got A Boy' it was described as the 'Bohemian Rhapsody' of 2013 because it had all these parts in it. That's something that K-pop is well known for."
And Dsign Music believes that Korean music, and music industries throughout Asia, offers a new frontier in particular because of its immense export rates, which Jenssen said emulates the current model for English-language music. "Most of the income stream from the US artists comes from the rest of the world. Same with the UK. So the UK and the US have been always the winning part in the sales numbers because of the overseas sales just like Korea's building its way to being the musical export market of Asia."
As for Dsign's future in Korea, Jenssen, unfortunately, said that they have more songs planned for later this year, but due to South Korea's secretive approach to promotions he's not allowed to give any details.
What do you think about Korea's role in the future of music? Which is your favorite Dsign Music-written song? Share your thoughts in the comment section below and be sure to subscribe to the site and follow us on Facebook,Twitter,Instagram, and Tumblr to keep up with all of our posts.
https://kultscene.com/wp-content/uploads/2016/09/Untitled-design-2.jpg
768
1024
Tamar Herman
http://kultscene.com/wp-content/uploads/2018/02/KULTSCENE-LOGO-2018-TRANSPARENT-RED.png
Tamar Herman
2016-09-26 06:31:25
2016-09-26 06:43:38
From 'Genie' to 'Wolf': Dsign Music believes the future of music begins with K-pop [INTERVIEW]