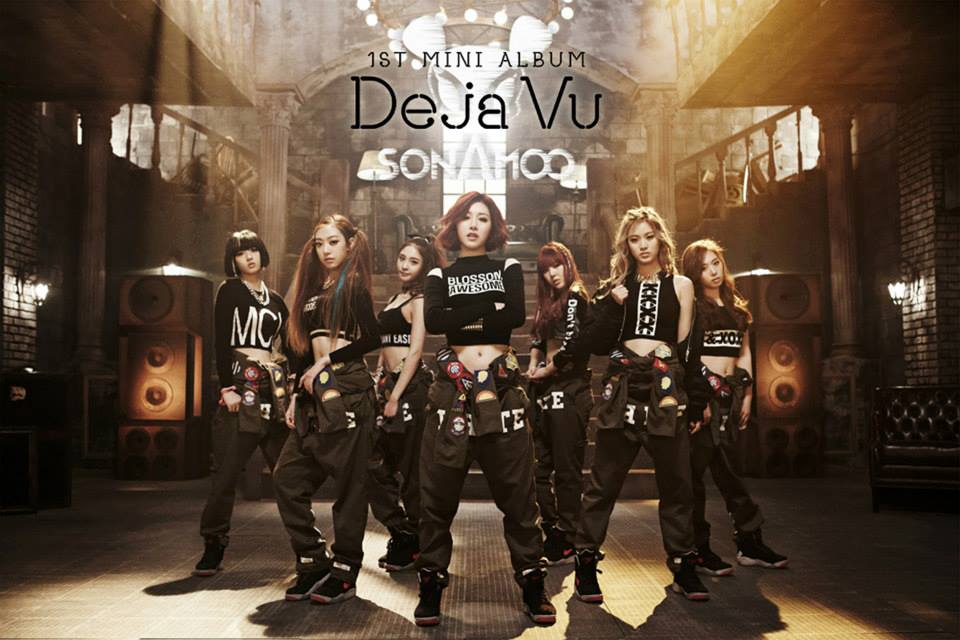 TS Entertainment's latest girl group, Sonamoo, debuted at the end of 2014, with the song Deja Vu. There was some controversy around TS debuting a new group amidst contract issues with TS popular idol group, B.A.P, and also concerns that Sonamoo's official color is too similar to that of SM Entertainment's SHINee. Despite the issues have with how TS Entertainment handled Sonamoo's debut, it's hard to deny that Deja Vu is a stellar debut song.
Song
The song is catchy and the members appear to be able to sing well (although some of their debut stages leaves room for argument). The song has powerful beats and EDM elements that wouldn't be out of place in a club, but Déjà Vu just isn't really memorable. It's just another dance track with a powerful beat. Sonamoo tries really hard, but the debut song seems like just another dance song with some interesting beats dropped every once in a while in an attempt to make the song give off a more powerful vibe.
One of the major problems is that the seven girls have voices that don't really match up with the hip-hop elements. Some higher pitched voices simply don't seem to fit amidst deeper, rougher voices like those of the rappers. The two rappers, D.ana and New Sun, dominate the entire performance with their stage presence and stellar attempts at rapping. But transitioning from rap to a sweet sound comes off as sudden and I personally feel that it ruins the momentum.
Another problem I have with the song is that I really wish that they had gone with more meaningful lyrics rather than just singing about how love is like fate that has happened over and over again. If I didn't know what Sonamoo was singing about, but heard the song and saw the performance, I'd honestly probably think that the seven were singing a song about female empowerment. The music video looks like it would be more about the awesomeness of girl power along the lines of Beyonce's Run The World, but Déjà Vu doesn't deliver that.
Music Video
The video's sets were really cool, even though some of it reminded me a lot of B.A.P's debut music video for Warrior. Nothing wrong with reusing sets, though, especially when the set is remade to look like the inside of an industrial factory with a chandelier. The dance stage, where the seven members of Sonamoo danced amidst scaffolding, looked really cool and futuristic, but differed a bit from the rest of the video's style (the outfits that I take problem with also made their appearances during that part).
Moreover, the plot is a bit nonexistent. With a title like Déjà Vu it would seem that the music video would be about Sonamoo seeing things over and over again. Instead, it's about the members looking for something and turning on the power, literally, and seeing a stream of energy flit about the place without any clear interpretation.
Style
The video started out really strong conceptually, rocking the hip-hop styled sporty outfits. Sports bras, loose harem pants, athletic jerseys, leather jackets… They all made appearances. But then the black and white tight fitting outfits appeared and I was less impressed that TS Entertainment chose to put the fiercer outfits aside for traditionally sexy, skin-fitting clothes. The individual style for each girl, with unique hairstyles and personalized outfits, were a nice touch.
Dance
Sonamoo's strength is definitely its dance. The body popping and locking that several of the dancers use is rare to see in K-pop girl group's songs, although the twerking, now a commonly seen dance move in K-pop, isn't super exciting and kind of diminishes the powerful dance moves. Even so, Sonamoo's dancers are really good performers, performing splits and never seeming out of synchrony. The random hand-game that the rappers perform seems kind of silly and doesn't really add to the song, though, so I can't really say the dance is flawless.
Rating
It's a really good attempt at a style of girl group that's rare– tough rather than cute or sexy, but the song, while catchy, doesn't really seem so memorable. The vocals are good but have a long way to go, and Sonamoo's saving grace is really the dancing.
2.5/5
https://kultscene.com/wp-content/uploads/2015/01/Sonamoo.jpg
640
960
Tamar Herman
http://kultscene.com/wp-content/uploads/2018/02/KULTSCENE-LOGO-2018-TRANSPARENT-RED.png
Tamar Herman
2015-01-05 15:57:34
2015-01-05 15:57:34
Review: Sonamoo 'Deja Vu'