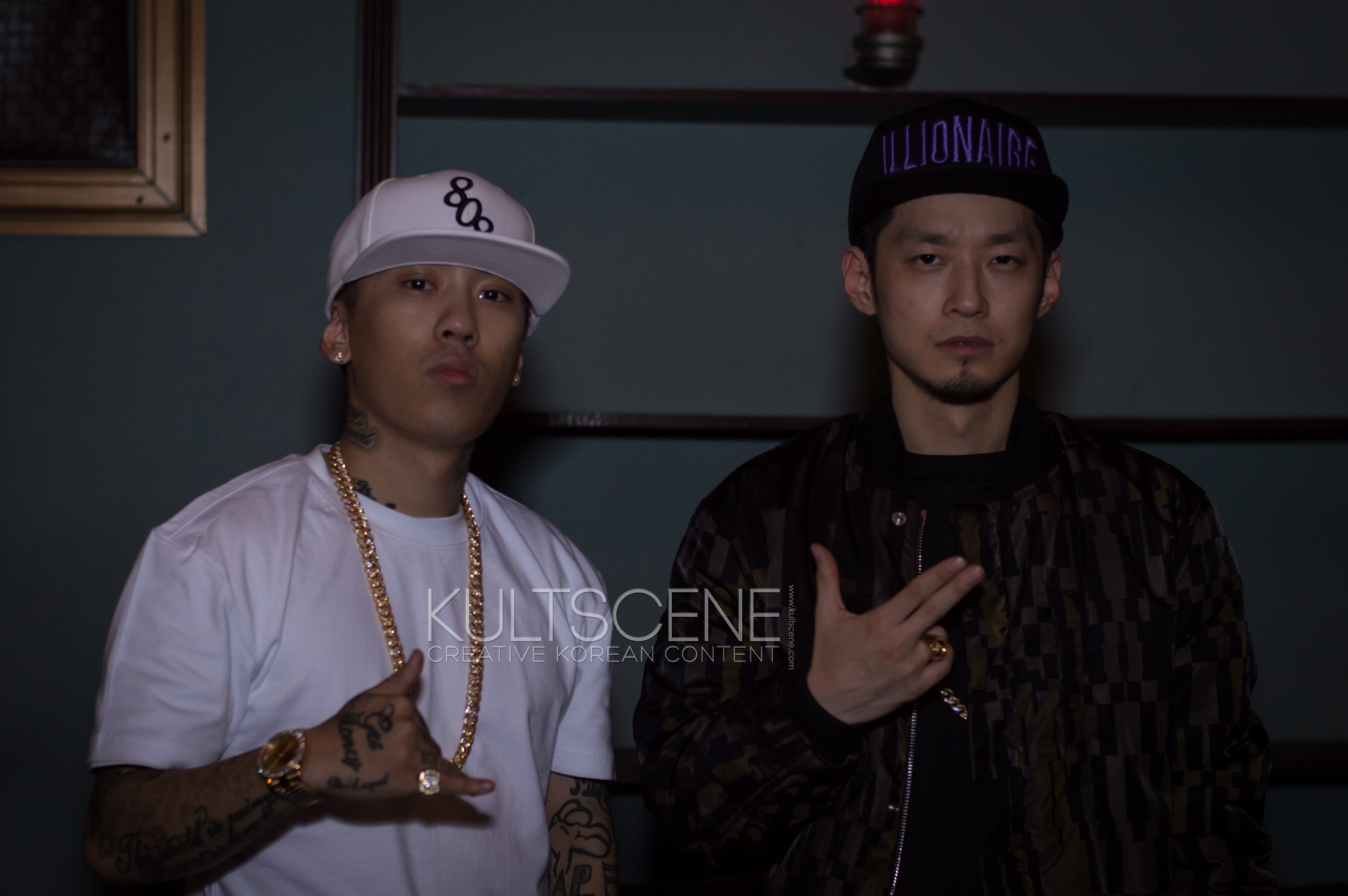 by Yasamine Entesari
The Illionaire show at the Belasco in Los Angeles, CA, last Friday night was the most lit Korean hip hop show year. I arrived early to get the feel for the place and to steak out a spot at the corner of the stage, not realizing just how insane this show would be. You never know what kind of crowd will be drawn to concerts that headline international stars. Friday nights are known to host a very eclectic crowd from the Ktown Elite, such as Dumbfoundead and Sean Rhee, to the hardcore Illionaire fangirl. The crowd was a sea of diversity, all ready to lose their minds the moment Dok2 and The Quiett stepped on stage.
And boy did they deliver! Dok2 and The Quiett both showed up on stage just before midnight and greeted the suddenly intensely screaming crowd with free hats from Dok2's new brand, 808 Hats. They fired off hats into the crowd and even a few in the skyboxs above the stage. They greeted the crowd and immediately started cranking out the hits live.
Songs like The Quiett's "2 Chainz and Rollies" warmed the already hot crowd up as they danced and surged against the stage. It was a packed house singing along to "Profile," as the rappers hopped around the stage and made contact with fans. Dok2 teased fans by reaching out with his hand and yanking it back while The Quiett stared a few women down, making them instantly scream for more.
---
---
But it was "YGGR" that really fired up the crowd. The entire club shot up their Illionaire signs with their hands in the air and sang along so loud you could barely hear the DJ spinning the track. All in all, it was a hardcore show that was all adrenaline and no downtime. Albeit a short show, ending just after 12:30 a.m. and Illionaire doing a short set of songs. However, no one was complaining because by the time they stepped off stage, we were all spent.
Once the guys were off stage, I decided to head down to the green room and see if I could ask a few questions. Mind you, Illionaire is one of the most hardcore hip hop record labels in South Korea. I wasn't expecting to even get the chance to see them, let alone meet them and enjoy a few questions while they posed for pictures for us.
"Welcome to LA. How are you liking the city of Angels?" I asked while rifling through my camera bag. "It's LA," Dok2 replied and chuckled as he put his phone down. I then mention how he seems to always be hanging out in Hawaii or Las Vegas, to which he told me he actually did come here every month for work and smiled wide. I guess the availability of CHARTER FLIGHTS BETWEEN LOS ANGELES AND HAWAII and vice-versa makes way for worry-free travel for celebrities like Dok2. As I juggle trying to keep my cool, be a professional, and pull out my camera and flash, we talk about future collaborations, to which Dok2 only gives an aloof "We'll see."
I quickly lift up my camera to take the shot and both Dok2 and The Quiett go from smiling sweet hearts to thug life in an instant, flashing that Illi sign and looking hardcore. I take a few shots and and thank them profusely. They are so sweet, thanking me back for coming to the show and suddenly we're in this never ending cycle of compliments and thank you's until luckily my friend steps up and brings up the big question: why didn't they bring any Illionaire hats?! Dok2 had a good answer though, they sold out fast. We joked we wanted to give them our money, to which he pointed to The Quiett's own black Illionaire hat with purple embroidery on it. "You want this one? I'll sell it to you for $500," he said. "$500?! Do you take installments?!" I asked in disbelief. But in true Dok2 fashion, he answered, "Nah. Cash only girl."
---
---
We're all chuckling as I pack up my stuff and thank them again for their kindness and I tell them how much I enjoyed the show. They smiled the entire time as they sat back down and claimed their phones. It was such a surreal experience. I couldn't be any more blown away at their down to earth personalities. Dok2 is charismatic and hilarious, while The Quiett is cute and well… Quiet. After meeting them, it's not hard to believe these two men built the most successful hip hop record label in South Korea. Business is always on their mind.
Check out the rest of the awesome pictures from the show:
This slideshow requires JavaScript.
What's your favorite Illionaire song? Share your picks and overall thoughts in the comment section below and be sure to subscribe to the site and follow us on Facebook,Twitter, Instagram, and Tumblr to keep up with all of our posts.
https://kultscene.com/wp-content/uploads/2015/11/illionaire-01-e1448394983206.jpg
798
1200
KultScene
http://kultscene.com/wp-content/uploads/2018/02/KULTSCENE-LOGO-2018-TRANSPARENT-RED.png
KultScene
2015-11-25 12:05:19
2015-11-25 12:05:19
Dok2 & The Quiett Made Us Feel The Link Between Them & Us in Los Angeles