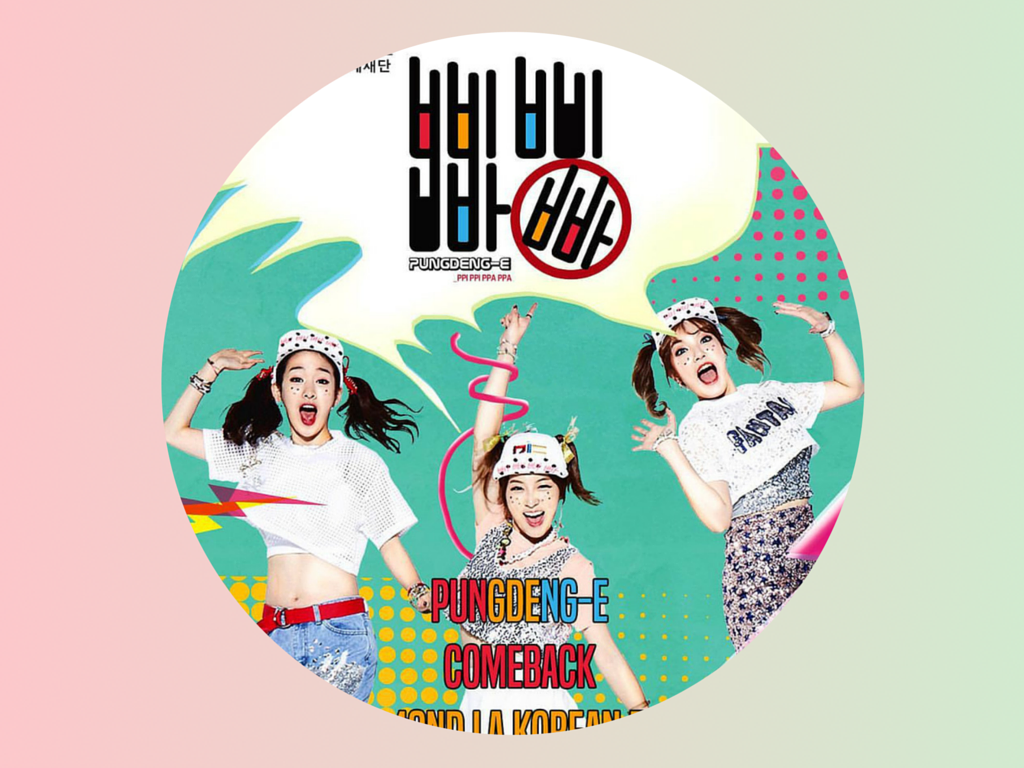 Perfectly timed to coincide with their appearance at the 42nd Los Angeles Korean Festival, Doma Entertainment's Pungdeng-E released "Ppi Ppi Ppa Ppa" on October 1. This comedic, three-piece girl group, whose name translates in English to "beetle," debuted in December 2013 with the unique concept of performing in different Korean regional dialects. Pungdeng-E's over-the-top musical style has frequently been described as "aegyo hip hop," but the term doesn't even begin to describe the girls' unabashed eccentricity. Frankly, no other Korean girl group is as willing to look so totally ridiculous, as demonstrated amply in "Ppi Ppi Ppa Ppa."
Song
In the same vein as Pungdeng-E's previous songs, "Ppi Ppi Ppa Ppa" is a highly unusual composition which, against all the odds, manages to successfully combine such varied elements as traditional German brass band music, with circus overtones and a Latin interlude. For good measure, there is even a catchy saxophone solo towards the song's conclusion. Blue and Red, known as the rappers of the group, feature prominently, yet blend perfectly with Yellow's sweet and understated vocals. "Ppi Ppi Ppa Ppa" has a chorus which is impossible not to sing along to and will remain in your head long after the track has finished – in other words, an indisputable earworm.
---
---
Videography
This highly inventive music video opens with a rural setting shown on a retro TV, to the loud accompaniment of a cockerel crowing twice. The camera pans down to reveal the members of Pungdeng-E living in a dilapidated shack, which appears to be somewhere in Europe. The girls wake up from sleeping on the floor and merrily go about their daily routine, marching everywhere with boundless energy. The video is full of hilarious moments, most notably the members messily eating a celebratory cake with their hands and toasting each other with wine glasses full of milk.
"Ppi Ppi Ppa Ppa" takes an even more bizarre turn when Pungdeng-E watch themselves on TV, displaying incredible super powers and dancing to their own song. We see Yellow lifting cattle in the air, Blue zipping around like Road Runner, and Red flying past jumbo jets, having been launched into space. There is an obvious movie reference to "Chitty Chitty Bang Bang," when the girls take off in a flying car, followed by another to "ET" at the end of the video, when the same car is silhouetted against the moon.
Styling
In keeping with the song's European rustic concept, the girls are styled in peasant ensembles, with Yellow wearing dungarees and Blue and Red in dresses. All the members have their hair in plaits or bunches and these are maintained throughout the video. In stark contrast to the muted and earthy colours of their previous outfits, Pungdeng-E are seen in '90s style hip hop gear for the dance breakdown and wear colourful baseball caps, hot pants, and pedal pushers, covered in glitter. Of particular note is Red's short sleeved basketball jersey, which bears the phrase "Norway 22." Several YouTube users have mentioned this in the comments section and stated that they hope the group will subsequently gain more attention from European fans.
---
---
Overall Thoughts
Pungdeng-E's collective sense of humour and totally unpretentious style are a breath of fresh air in a sea of Korean girl groups, who are marketed largely on conventional concepts of sex appeal. At present the girls have a relatively small fan base, but thoroughly deserve more recognition for their efforts to be highly individual. Following on from the equally innovative "Al-Tang" and "Baechu Bossam," "Ppi Ppi Ppa Ppa" is another fine addition to Pungdeng-E's fledgling discography.
Pungdeng-E 'Ppi Ppi Ppa Ppa
But now onto the fun stuff! We're giving away a copy of Pungdeng-E's "Action Pungdeng-E Go!" to a lucky fan. And did we mention it's autographed? Well, it is, so don't miss out! All you have to do is follow the four easy steps on the form below. Anyone around the globe may enter. The giveaway runs from October 12 until the 20 at midnight PST. The winner will be announced through our Twitter and Facebook accounts, so be sure to stay tuned
a Rafflecopter giveaway
What did you think of "Ppi Ppi Ppa Ppa"? Let us know in the comments and be sure to subscribe to the site and follow us on Facebook, Twitter, Instagram, and Tumblr to keep up with all of our posts.
https://kultscene.com/wp-content/uploads/2015/10/Untitled-design2.png
768
1024
Eve Backhouse
http://kultscene.com/wp-content/uploads/2018/02/KULTSCENE-LOGO-2018-TRANSPARENT-RED.png
Eve Backhouse
2015-10-12 06:03:45
2015-10-12 06:58:26
Pungdeng-E's 'Ppi Ppi Ppa Ppa' Music Video & Song Review + Autographed Album Giveaway