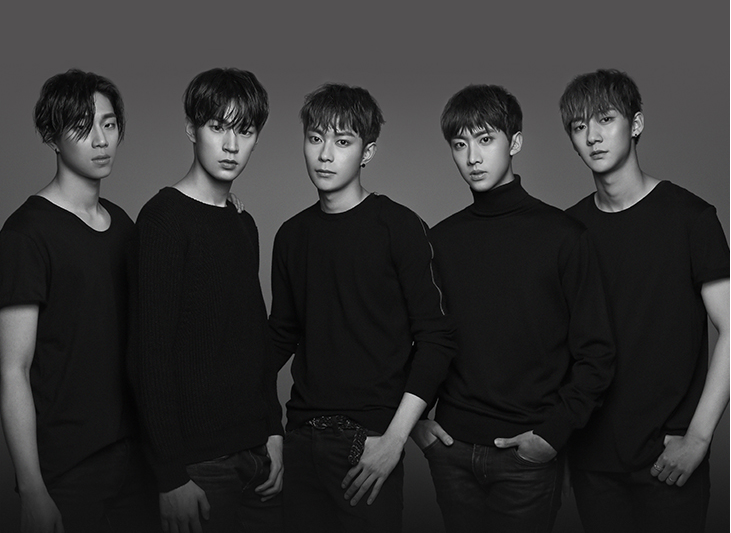 Five was once the magic number of K-pop boy bands, but it's been quite some time since quintets were a thing in K-pop. Bigbang, B1A4, FTISLAND, and, after the departure Hyunseung, BEAST are some of the few popular active acts to have only five members nowadays. And now we have KNK, a new boy band from YNB Entertainment that is garnering a lot of attention.
KNK, or "Keunakeun" the word for great or might in Korean, come from a relatively small agency with a lot of exceptional talent. (If you haven't heard Noel, Almeng, or Bestie, go listen to some of their songs right now.) After debuting in February as the first male idol group under YNB, KNK caught the attention of several KultScene staff members with their debut single "Knock," which features a deceivingly ballad-like intro before quickly morphing into an aggressive, pounding dance-track. The b-side track of their first single album, "Angel Heart," in contrast, is a ballad that has a J-pop soft vibe. Multifaceted musically and able to captivate with their dances, KNK is a must watch rookie of 2016.
---
---
But maybe more so than their own songs, KNK caught my eye when I heard their version of
TVXQ
's "Love in the Ice." (The below video is their performance from their debut showcase. KNK has performed the song on multiple occasions.)
To understand why this was so exciting to discover that a rookie boy band could hold their own while performing "Love in the Ice" live, it must be understood that the song is legendary. KNK performing it, and managing to do it justice, shows that not only are these five rookies extremely skilled they're also determined.
There's no sticking to simple when it comes to KNK; they could have picked a much less strenuous song to perform at their debut showcase but instead they performed a song that every audience member, perhaps every person in South Korea, would recognize and would know if they missed up. That takes guts for rookies, but KNK managed to pull it off. Primary vocalists Yujin and Inseong carry the majority of the song, but that in itself is impressive considering the song was meant for five of K-pop's most iconic vocalists.
KNK has also gained quite a following thanks to their frequent videos uploaded to YouTube or Naver's V App. They're about to release their first EP "Awake," so here's a perfect time to get introduced to KNK.
Jihun
Kim Jihun's only 21 years old and the second youngest of the group, but he's actually the leader of KNK. He's the group's main dancer and, like everyone but Heejun, Jihun performed as a backup dancer for Bestie prior to debuting. Before going to YNB Entertainment, Jihun was a trainee under Nega Network. (And he's kind of a dork.)
---
---
Youjin
KNK's lead vocalist and oldest member (he's 23), Kim Youjin has some of the most powerful vocals around. Before joining his current agency, Youjin trained with B.A.P's members at TS Entertainment.
Seungjun
The group's rapper and visual (that means they think he's the best looking but the below video argues that), Park Seungjun trained with BTS and Got7 before moving to YNB. The tallest of the group, Seungjun was also voted the least stylish of the group and has a goofy side.
Inseong
The middle member when it comes to age, Jeong Inseong is one of the group's main vocalists. He formerly trained at Big Hit Entertainment with the trainees who would end up being BTS and also trained at FNC Entertainment.
Heejun
The youngest member, or maknae, Oh Heejun was formerly an FNC Entertainment trainee who appeared on the company's reality show "Cheongdam-dong 111" with Inseong. He was featured as a vocalist and guitarist in FNC's Kokoma Band but now is one of KNK's rappers.
What do you think of KNK? Are you excited to see where they take their career? Share your thoughts in the comment section below and be sure to subscribe to the site and follow us on
Facebook
,
Twitter
,
Instagram
, and
Tumblr
to keep up with all of our posts.
https://kultscene.com/wp-content/uploads/2016/05/Screen-Shot-2016-05-26-at-10.12.48-PM.png
533
731
Tamar Herman
http://kultscene.com/wp-content/uploads/2018/02/KULTSCENE-LOGO-2018-TRANSPARENT-RED.png
Tamar Herman
2016-05-26 19:34:45
2016-05-26 20:20:28
Intro to KNK