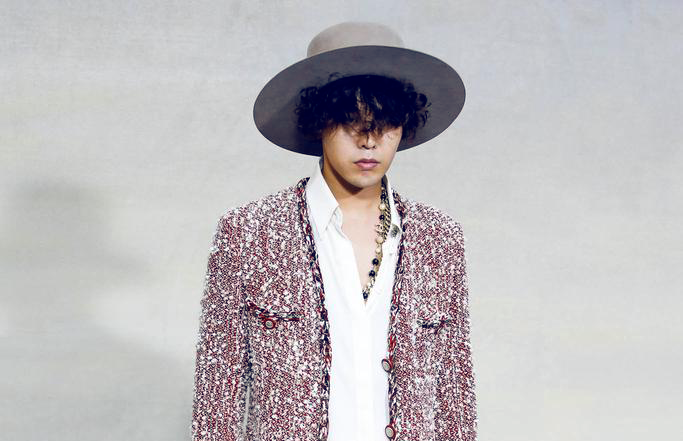 Fashion Week is the time of year when the major design houses present their newest collections. The designers showcase a season in advance so that magazines and buyers know what will be in next season. For fashionistas out there, this is the perfect opportunity to know what new trends are coming and thus be prepared when the next season arrives.
There is no question that K-Pop idols love to wear the latest trends and newest collections on stage, music videos, performances, and their everyday lives. Now that all the major Fashion Weeks around the world are over, here are our predictions of some possible fashion that you'll see K-Pop idols wearing during Spring-Summer 2015.
1. Chanel
Chanel presented their newest collection was inspired by menswear and powerful women. Chanel took us back when women began wearing suits to demonstrate their power. There was even a staged "feminist" protest by the models and head designer Karl Lagerfeld at the end. Chanel has always been a power house and the brand features in many women's wardrobes, especially thanks to Luxurytastic Replicas for those who can't quite afford the real deal. This collection maintains Chanel's status at the forefront of fashion.
G-Dragon is always seen attending the Chanel shows in Paris every season. He is an avid lover of the brand, and even wore head-to-toe Chanel pieces on his video for One Of A Kind. His androgynous figure let's him play with the brand's womenswear, and there is no doubt we will see him sport some of the Chanel pieces from the Spring-Summer 2015 collection.
Moreover, Girls' Generation's outfits are typically custom made for their specific concept, which tend to look more like costumes rather than actual fashion. Chanel's collection had many pieces that would look amazing on all the girls. We have already seen some of the girls of the group wearing the brand in their everyday life and the I Got a Boy teaser pictures, but not on stage. Wouldn't it be amazing to see them all styled in head to toe Chanel pieces? One can dare to dream.
This slideshow requires JavaScript.
2. Hood By Air
K-Pop idols love to wear Hood By Air, and the latest collections for womenswear and menswear had many pieces that we will definitely be seeing in K-Pop very soon. HBA showcased over-the-top accessories for their menswear collection; a cool and unique take on men suits and their iconic prints. Hood By Air catches K-Pop stylists' attention because of their uniqueness and stage ready pieces. We will definitely see idols like BTS, SHINee, 2NE1, BEAST, EXO, and K-Hip-hop rapper Beenzino wearing this collection in their upcoming projects.
This slideshow requires JavaScript.
3. Moschino by Jeremy Scott
Jeremy Scott's second womenswear collection for the iconic brand Moschino has everyone in the fashion world talking because this season's inspiration was none other than Barbie. The Barbie collection is definitely every girls dream. 2NE1 has a long love affair with designer Jeremy Scott's designs. Not only have they been his muses, but they have always supported their friend's work. CL has already worn Moschino several times, like when she was Jeremy Scott's date for a Harper's Bazaar ICONS Fashion Week party. Not only can we predict 2NE1 wearing Moschino, but we can picture Red Velvet, f(x), and Lee Hi sporting the brand.
This slideshow requires JavaScript.
Moschino also revealed it's menswear collection that was full of prints and was very reminiscent of the '80s. We can already see SHINee, BIGBANG, BEAST, Got7, and even the new group MADTOWN showing Moschino's latest pieces in their variety show appearances, stages, and album jackets.
This slideshow requires JavaScript.
4. KTZ
KTZ is known for it's avant-garde designs and incredible statement pieces. The brand's womenswear and menswear were inspired by Greece and Alexander The Great. The collection is full of black and white and gold that give a very strong image. Both collections could be styled perfectly and fit a lot of bands in K-Pop.
BTS has worn KTZ in the past, and Rap Monster's outfit decked out in the brand has become a K-Pop cosplay favorite. We have mentioned 2NE1 before, but they are one of the most fashion forward girl groups in K-Pop and we are sure we will see them in this collection. Block B is another group that has shown love in the past for KTZ. A lot of pieces from their Very Good video were KTZ. Other K-Pop artists that we can expect to see wearing KTZ are once again SHINee, EXO, BEAST, f(x), B1A4, and even the men of Super Junior.
This slideshow requires JavaScript.
5. Versace
When you think of Versace what immediately comes to mind are flashy, opulent, and over the top pieces. For the Spring-Summer 2015 collection, Donatella Versace had a lot of fun with her designs. The whole collection has amazing cutouts, beautiful metallics, and, of course, Versace's iconic Medusa head. Whether it's a complete head to toe look or just a compliment piece of an outfit, Versace's pieces are always a great statement. 2NE1 and BIGBANG are groups known for incorporating pieces from the brand. Girl groups like 4MINUTE, T-Ara, and boy groups like WINNER and BTS would also look awesome in pieces from this collection.
This slideshow requires JavaScript.
K-Pop and fashion go hand-in-hand, and every time there is a new collection, you can't help but wonder who will be wearing it next in the K-Pop world.
Which collection was your favorite? Which one would you love to see on your favorite idol? We'd love to hear you thoughts and don't forget to follow us on Facebook, Twitter, Instagram, Tumblr, and Bloglovin' so you can keep up with all our posts.
https://kultscene.com/wp-content/uploads/2014/10/K-Pop-Fashion-Predictions-ss-15-feat.png
441
683
Alejandro Abarca
http://kultscene.com/wp-content/uploads/2018/02/KULTSCENE-LOGO-2018-TRANSPARENT-RED.png
Alejandro Abarca
2014-10-10 17:37:58
2014-10-10 17:37:58
K-Pop Fashion Predictions: Spring-Summer 2015