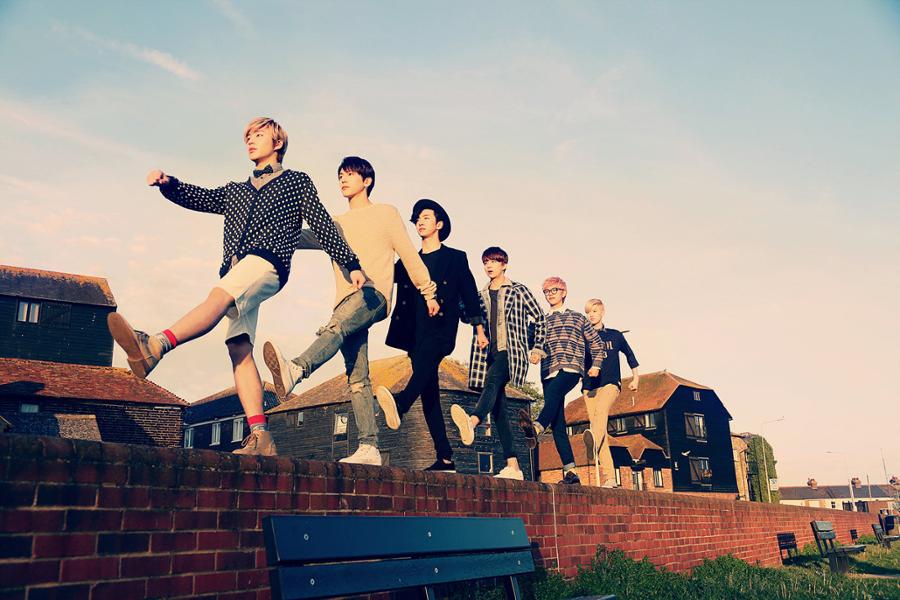 K-pop songs are filled with tons of catchy Korean phrases, and any longtime fan of K-pop has probably picked up a few words or phrases here and there. But many Korean songs have English choruses, leading to many K-pop fans just singing along with the English hook rather than taking in much Korean language skills. In this list, we've compiled some of the best Korean songs for learning a bit of Korean language, which will help you out if you ever find yourself in Korea, or if you just want to impress people with all of the cultural diffusion that K-pop promotes.
In case these songs aren't enough for you, and you feel like you really want to get your Korean on, check out our giveaway at the bottom of this list for two books that will help you study Korean vocabulary and grammar.
1. "Hi" [Lovelyz "Hi~"]
Annyeong is a shorter version of annyeonghaseyo, or Korea's formal word for "hello." Lovelyz' "Hi~" is the perfect example of a bright song to learn how to greet someone in Korean. (Fun fact: if you've seen the American TV show "Arrested Development," you'll need to re-learn the pronunciation since the characters mispronounce annyang throughout the series.)
2. & 3. "Oppa" & "Noona" [Psy "Gangnam Style" & SHINee "Noona, You're So Pretty"]
The most popular Korean word in 2012 was easily "Oppa" thanks to Psy's famous song "Gangnam Style." Many people may not actually realize that oppa is actually the Korean word that technically means a girl's older brother, and is what female call old males who they have a close relationship with, whether it's brothers, friends, boyfriends, or husbands.
The equivalent term for males to call an older female was made famous in SHINee's iconic 2009 debut song "Noona, You're So Pretty." Noona similarly means a boy's older sister and can be used for women a younger man has a relationship with.
---
---
4. "Where?" & "What?" [B.A.P "Where Are You? "]
Again, Korean is a complex language, and songs aren't the best things to learn grammar from, but this B.A.P song is a good start. Some of the words from the title and chorus of the song are the very basis of learning any language; odi means "where," while mwo means "what." The song's actual title in Korean is "Where Are You? What Are You Doing?"
5. "Hello" When Using The Phone [Nu'Est "Yoboseyo"]
Korea has a lot of forms for the word "hello," and this list contains two of them. "Yoboseyo" is what someone uses when they greet someone else on the phone, as heard in this Nu'est song. The word is a compound from yogi poseyo, which literally means "look over here."
6. & 7. "I Like"/ "I Love" [BTS "I Like It"/ Girls' Generation's Taeyeon "I Love You"]
The most important word in any language is "love," and in Korean they use both the word "like," joah(hae)-yo, and the word saranghae, "love," to express the romantic emotion. Joah(hae)-yo can be used to mean "I like" romantically or just in general, but saranghae is a much deeper form of attachment, as conveyed by Taeyeon on this track. You'll typically hear joah(hae)-yo being used in Korean dramas or movies when people confess their love for the first time (or in this BTS song), and if there's someone you're crushing on, it may be a phrase you want to keep in your back pocket.
---
---
8. "Stop" [GOT7 "Stop Stop It"]
If you've watched a Korean drama that takes place in high school, you've probably seen a scene or two where someone is causing problems and someone else barges in and shouts "HAJIMA! You've got it. Hajima means "Don't do [that], and combines the Korean verb ha-da, "to do" with "don't," or ji-ma. Good thing this GOT7 song repeats the word over and over on the chorus to help us remember.
9. & 10. "I Know" & "I Don't Know" [INFINITE "I Don't Know"/ Se7en "I Know"]
Do you know how to speak Korean? Mol-la. In Korean, there are words for both: "I know" (arra) and "I don't know" (molla). And luckily you know two Korean songs by INFINITE and Se7en that will teach you those things.
11. "Be Quiet" [U-KISS "Shut Up!"]
Koreans like being very emphatic with their language, so the word for "shut up" or "be quiet" is essentially the same, but shikkuro really means "it's loud in here." Feel free to use it when you're trying to study Korean and the people around you just will not be quiet or singing along to U-KISS.
But now onto the good stuff, the giveaway. Our friends at Tuttle Publishing are giving away some copies of books that can help you learn even more Korean that the few phrases we mentioned above.
Do you want to own either of these books at no cost? Enter now to win! The giveaway ends on September 21 and we will notify the winner through Twitter and announce it on our Facebook page as well. Anyone anywhere can enter the contest. But in case you want to jumpstart your studies, you can also buy your own copies of the books on Amazon, here and here.
a Rafflecopter giveaway
What Korean did you learn from K-pop? Let us know in the comments, and be sure to subscribe to the site and follow us on Facebook, Twitter,Instagram, and Tumblr to keep up with all of our posts.
https://kultscene.com/wp-content/uploads/2015/09/B.A.P-Where-Are-You-What-Are-You-Doing.jpg
600
900
Tamar Herman
http://kultscene.com/wp-content/uploads/2018/02/KULTSCENE-LOGO-2018-TRANSPARENT-RED.png
Tamar Herman
2015-09-15 17:14:05
2015-09-16 13:48:35
10 K-Pop Songs That Teach Basic Korean Phrases + Chance To Win Korean Study Guides