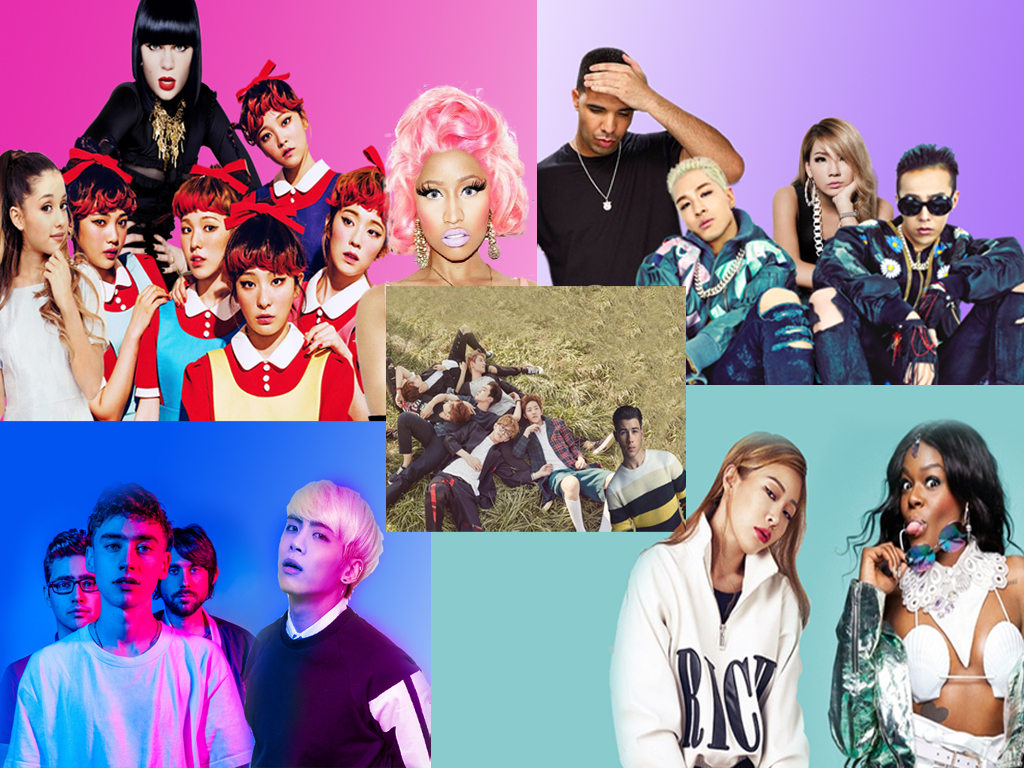 Having Korean artists collaborate with your favorite non K-pop artists is something that K-pop fans dream about. We imagine our fantasy collaborations in our heads and even become producers in our dreams for them, imagining what sound they could create together.
Some collaborations have started to happen and one can dare to dream that anything on our list could actually come to fruition. In the last list we had for you, we talked about G-Dragon collaborating with Grimes. That hasn't happened yet, but we did see G-Dragon cameo in her music video for "REALiTi." And his labelmate, CL, has been seen working with Grimes and her close friend Blood Diamonds in preperation of her American debut. Without further ado, let's explore more of our fantasy collaborations between K-pop and non Korean artists.
5. SHINee's Jonghyun & Years & Years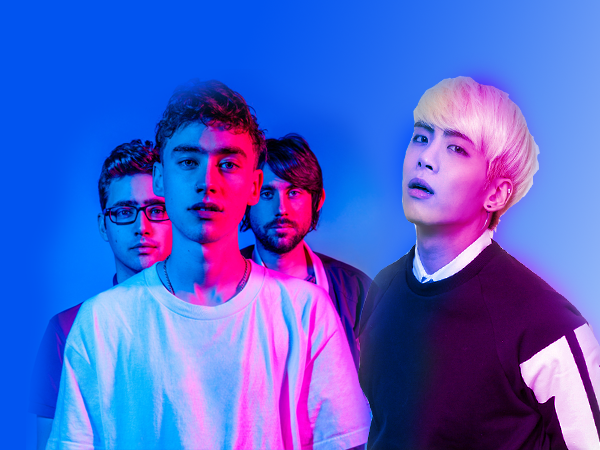 Years & Years' vocalist, Olly Alexander, shares a similar style of vocals to SHINee's vocalist Jonghyun. They both love to show off their incredible high pitches and it will truly be a match made in heaven. Just imagining Jonghyun singing this track with Years & Years gives us goosebumps. The chorus is perfect for Jonghyun to join them on the track and have a solo towards the climax of the song and even, perhaps, a dance solo at the end.
4. Red Velvet, Ariana Grande, Jessie J, & Nicki Minaj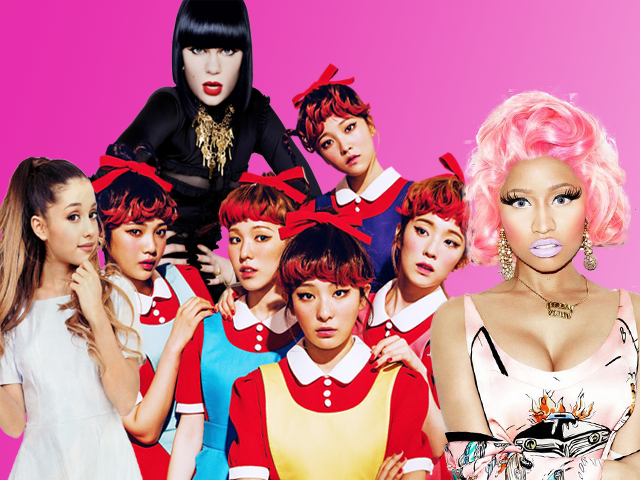 The ladies of Red Velvet just came back with their first mini-album "The Red." Their new brassy experimental pop song "Dumb Dumb" has gained attention online due to similarities to another popular track out there. The song in question is Jessie J's collaboration with Ariana Grande and Nicki Minaj. Yes, there are some similarities between the two tracks, but it's clearly not plagiarism. Instead on focusing on that, what if instead we imagined the parties in question doing a collaboration track? It could be part two of "Bang Bang" and it could be a mass hit. Many fans out there have been already showing support and have created mashups of the two songs giving us a clear idea of what a collaboration between these eight powerful ladies would sound like.
---
---
3. Day6 & Nick Jonas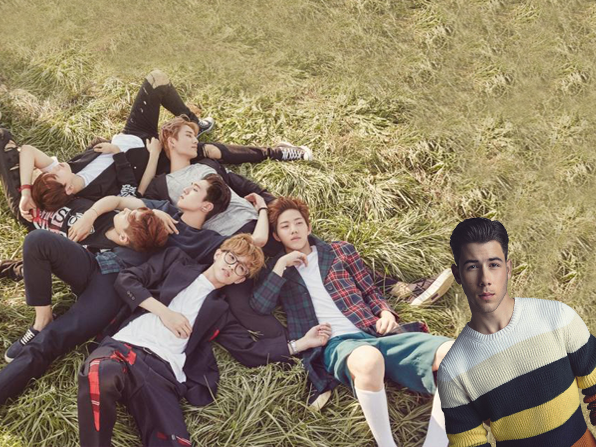 Day6 has everyone in the K-pop fandom falling in love with their music and their looks. And that's what exactly Nick Jonas did when he released his first solo album. Day6 has great vocals and Nick Jonas isn't a stranger for boy bands. Just imagine Nick featuring in an English remix of "Congratulations," adding his vocals to the song. His part could come after the rap and would not only be a great addition to the track, but would make the song very sexy. The song could have a repetitive synth and bass like Nick Jonas' "Jealous," making Day6's debut track into more of a R&B style song while still maintaining the feeling of the original score. We can only dare to dream but having these boys together would be incredible.
2. Jessi and Azealia Banks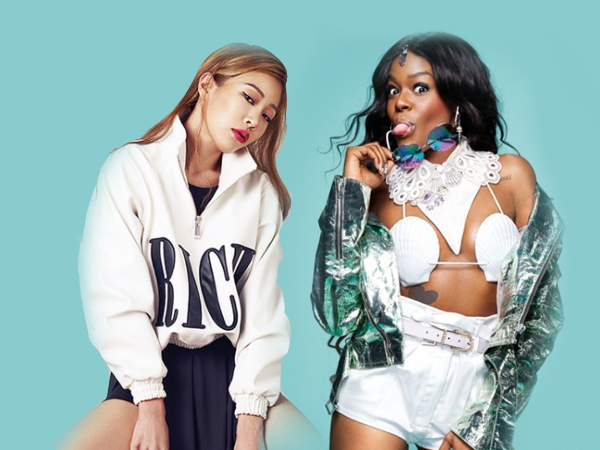 Both Jessi and Azealia Banks are known for being explosive rappers; they're not afraid to say what's on their minds and create incredible good music because of it. Jessi just released her single "SSENUNNI," which could easily be re-released as a remix format featuring Azealia Banks. The collaboration would be an intense mix between the two artists and will surely make everyone talk about their track. And maybe after they collaborate, Azealia will go on a rant about Jessi and their "friendship" will end. Nevertheless, it's a fantasy collaboration we would love to see happen.
---
---
1. G-Dragon, CL, Taeyang & Drake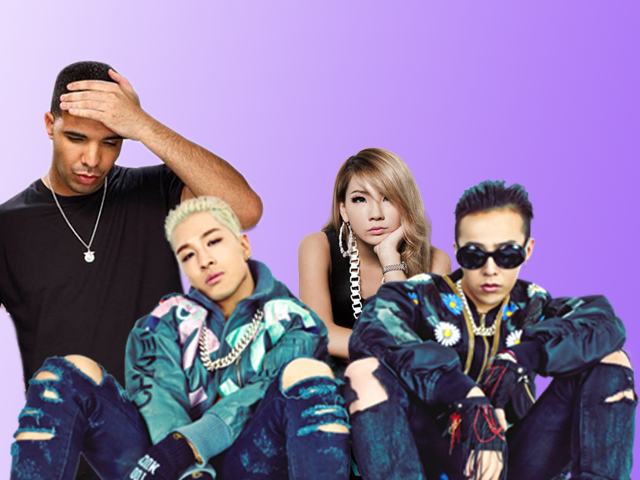 G-Dragon and Taeyang are known for being sentimental artists, and one who is no stranger to that either is rapper Drake. The three men could collaborate on a completely new track that will need a powerful female to feature with them, and the perfect candidate for that is CL. The collaboration track could be a mixture to Drake's "Hold On We're Going Home" and Taeyang's "Eyes, Nose, Lips." The song would start with Drake's sweet vocals and seductive rap followed by G-Dragon's. For the chorus, Taeyang's emotional chords would fit perfectly with the collaboration, and finalizing it with CL joining them in the climax of the song.
Did you like any of our fantasy collaborations? Which one was your favorite? Let us know in the comments below. We'd love to hear you thoughts and don't forget to follow us on
Facebook
,
Twitter
,
Instagram
,
Tumblr
, and
Bloglovin'
so you can keep up with all our posts.
https://kultscene.com/wp-content/uploads/2015/09/5-Fantasy-Collaborations-with-Non-K-Pop-Artists-2-feat.jpg
768
1024
Alejandro Abarca
http://kultscene.com/wp-content/uploads/2018/02/KULTSCENE-LOGO-2018-TRANSPARENT-RED.png
Alejandro Abarca
2015-09-16 12:01:58
2015-09-16 13:08:24
5 Fantasy Collaborations with Non K-Pop Artists Pt.2