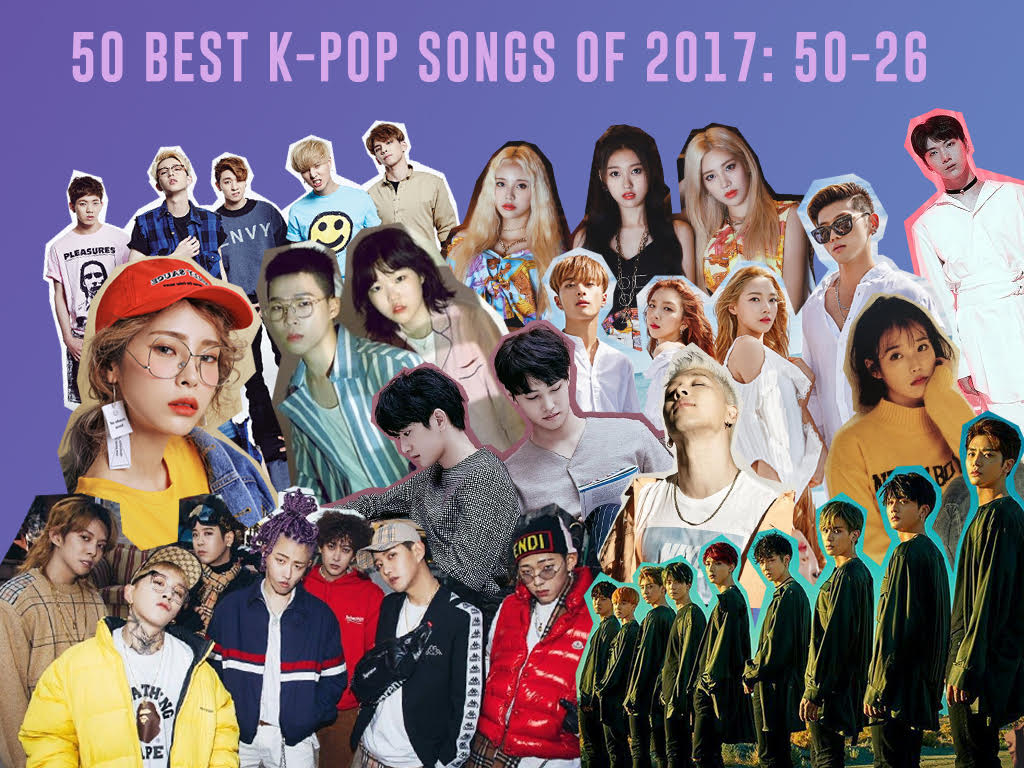 While the year may be closing in a very sad and unfortunate manner with the passing of a K-pop icon, artists consistently delivered memorable songs throughout 2017. This year saw a lot of great moments from some of Korea's most popular new acts, while newer acts also proved their worth with addicting, sleekly-produced music. Trop was the king of this year's K-pop trends, but far from the only genre of music that saw its moment in the limelight.
Check out the first half of KultScene's 2017 best K-pop songs list below:
50. "Circle's Dream" by Subin
Subin is trapped in an endlessly repeating contradictory cycle in her self-written and composed single "Circle's Dream." She is told that she is round and that's good, but then that it's not. She wants to be angular, to pierce her lover, to make him feel like how he made her feel. Yet she is also trapping herself within a recurring musical structure, as an acoustic guitar plucks an incisive riff throughout the song. It is the only angular part of Subin's song yet has no variation. Her stark synths come in late but their slow rhythm only accentuates the repetitiveness. Each element is perfectly realised to tell her story. Her voice completes it. Its soft and sweet but particular pronunciations like denggeureureu are key. This word alone combines both the round and angular sides to her. It has repetitions but in order to say it properly she still has to roll her tongue. Subin has enwrapped her whole song with the confusing ideas in her head. No solo idol has ever produced something of such pointed precision.
—Joe
49. "Wee Woo" by Pristin
If "Wee Woo" had been released at the 2012-ish heyday of Hallyu, Pristin's debut song would be considered legendary right now. It's barrage of shifting sounds and onomatopoeic vocals are absolutely classic. The Pledis Entertainment regular songwriter Bumzu brings a bright and breezy feel to the whole production with disco electric guitars taking the brunt of the work. This allows the girls room to deliver the most hooks in a single song EVER. Each part is so complete on its own you could take them individually and create five more songs around them. The fact that they all come together for something that doesn't feel so monumental is the greatness of "Wee Woo." It's arrogant in its effortlessness all the way down to making the primary hook out of the most simple term of jowahae nol jowahae ("I like (you) I like you").
—Joe
48. "Beautiful" by Monsta X
Monsta X's cultivated sound and signature unruly charms finally comes together for the consummate "Beautiful." Perhaps because it is supposed to be representative of the group's first studio album, the single feels particularly significant. For one, there's really nothing quite like the opening out there. Scattered with a prominent distorted electronic beat that is quickly followed up by Jooheon's explosive raps, the real hook is not in the chorus but here in the introduction, where the task for the listeners to not mimic the unique noises or the clever near-rhymes is near impossible. The vocalists dwindle down the excitement sometimes without sounding monotonous, almost acting like the Apollonian restraint to the Dionysian madness. The constant shower of peculiar oscillations, whirs, and horns all make up the perfectly organized chaos that Monsta X is known for, and though "Beautiful" did not grant the boys their first music show win like it should have, it will always remain a tour de force in our hearts.
—Shelley
47. "Where You At" by NU'EST W
With their revival in popularity following some of the members' appearance in Produce 101 Season Two, this subunit of Nu'est (missing member Minhyun who debuted in Wanna One) released this flashy track which stayed true to their unique music style. Bursts of electronic instrumentals are mixed with a calm piano backing track and adds a lot of contrasts to the song. It also highlights the strengths of each member, with Baekho's explosive high notes complementing Ren and Aron's softer and sweeter voices. JR's rapping is as stable as ever, and he definitely shines more back in his own group. It's wonderful to see this talented group get more recognition for their talents, and I can't wait to see the full group back together again soon.
—Anna
46. "You Were Beautiful" by DAY6
The February release of the band's "Every DAY6 Project" can be said to be their most successful, especially domestically, and it's not difficult to see why. The raw emotions brought out by the members coupled with the sincere lyrics create a sentimental rock ballad which truly tugs on the heartstrings of listeners. The end of the bridge in particular, where Young K and Wonpil's voices are layered, is such a beautiful and emotional climax of the song. Even though it appears simple to sing along to (and is apparently a favourite among other JYP singers for karaoking), the song is actually very vocally challenging due to the large range required, and the effortless way the DAY6 members sing it shows just how skilled and well-trained they are.
—Anna
45. "Tomorrow, Today" by JJ Project
After debuting ahead of GOT7's debut with the exuberant "Bounce," JB and Jinyoung returned as a more matured rendition of JJ Project this year and it was absolutely glorious. The two vocalists released this sweeping, introspective song about the very-millennial topic of making decisions and fearing regrets. The track provides the perfect forum for the pair to show off how well their vocals work together, with the duo harmonizing over guitar riffs, tapping percussion, and mellow synths. "Tomorrow, Today" is reflective in its warm approach to soft rock, and hopefully we'll see more of this from JJ Project in 2018. It was a complete turnaround from their first iteration, and definitely more suited for the pair's artistic style and capabilities.
—Tamar
44. "Don't Know You" by Heize
Heize's "Don't Know You" is a very groovy song full of percussions with a slight mixture of disco, hip-hop, and R&B, which features the soloist using deeper vocals than what we've been used to hear from her. The overall appeal of this songs starts at the beginning of the track with the repetitive beats and the introduction of the synth drums that follow different tonalities on the record that give great texture to "Don't Know You." Her famous ad-libs are also present on this song as she goes from high to low tones, which are achieved by the reverbs added on the vocal track, that create great contrast between her sexy sweet voice and her solid rap parts. The harmony is very steady throughout and creates a great chill up-tempo track perfect to dance and groove to. Heize continues to show great promise with her experimental sound.
—Alejandro
43. "Tequila (feat. Hoody)" by G.Soul
One can't help but want to book an immediate flight to somewhere like Bali while listening to "Tequila," especially with the brutal winter quickly approaching much of the States. Hoody's bewitching voice alongside G.Soul's multifaceted vocals make for the perfect combo in this dancehall track, ideal for both a cookout and the club. Lyrically wise, "Tequila" might not be appropriate for all age groups, as G.Soul sings about only wanting a one night stand. But if you're someone who's over the generic "let's fall in love" type of style that is prevalent in K-pop the majority of the time, this song's for you. The lyrics aren't candy coated or sleazy, but come off rather… inviting. This wasn't meant to be a flashy song, which is what made it even more enjoyable. Although G.Soul wasn't hitting those high notes (that I love so much) like he usually does, it wasn't a lack felt by this song.
—Tam
42. "Wake Me Up" by Taeyang
It is no news that Taeyang can hold a ballad like no other, and in 2017, he gave us two great ones. "Wake Me Up" doesn't have the same degree of emotional complexity of "Darling," the other single from the album, but it's its apparent simplicity what makes this song amazing and addictive. Objectively speaking, it's a very linear song with no surprise factors when it comes to its structure. It might even seem like Taeyang doesn't have much to say in "Wake Me Up," but it's definitely not because he's lacking emotions. In reality, what we see is that he just doesn't know what to do with them. Everything in "Wake Me Up" sounds gorgeously inconclusive and mysterious — from the airy sounds and atmospheric, echoed beats, to the lyrics that offer more questions than answers. No wonder the most touching moment of the song is when he's constantly repeating "Is it love?" while delivering breathtaking high notes. Overall, Taeyang's vocal performance amidst the ethereal instrumental creates just the right vibe for a song that is about love, but mostly about confusion and doubt. After so many years, you can still count on Taeyang to get you in your feels.
—Ana
41. "Honeymoon" by B.A.P
Coming out during the fall when it should've been a summer jam, "Honeymoon" is a delightful EDM track from B.A.P's seventh album Blue. The whistling at the beginning of the song left the remainder open for interpretation; this song could've been a sweet one, much like the title suggests, or a somber one. I'm glad it wasn't the latter. "Honeymoon" puts listeners in a lighter mood, whereas previous songs were dark and heavy, all the while still executing a clear message. "With the overflowing stars from beneath the palm tree. A film on the shining freedom and bright youth," they sing. Through this track, B.A.P wants to remind us to live life to its fullest, fulfill your heart's desires to its grandest and emphasises that today's youth will be the game changer in society going forward.
—Tam
---
---
40. "Chase Me" by Dreamcatcher
Taking the bubbly girl group image and tossing it out the window, MINX re-debuted early this year under the name Dreamcatcher. Not only did the group have a new name, but they also gained two new members and an interesting concept and sound. Taking the term re-"vamp" quite literal, the group came out with a dark and creepy concept straight out of a horror movie. The video for "Chase Me" takes references from classic horror movies like The Shining but also has cuts to choreography to showcase the girls dance moves. The song begins with pianos and then picks up at the chorus. Adding31 to the darker image, the song melded hard rock elements with a dance pop track to create something very dynamic. There's something about the mixing of heavy rock instrumentals and feminine voices that is very appealing. Although the song sounds like it's straight out of an anime, it is also an interesting new sound that's refreshing to the K-pop world.
—Katherine
39. "Never Ever" by GOT7
Ever since debut, GOT7 have switched up their sound with every release, experimenting with different styles and concepts, and their first comeback of the year was no different. "Never Ever" follows in the same angsty direction as "If You Do," yet this track mixes electronic and trap sounds while giving it their signature bubblegum spin. Vocally, JB and Youngjae can always be counted on to deliver outstanding choruses and ad-libs. But reveal of the year was that "Never Ever" is probably the song where the rap line is collectively most stable and the flows, while different, work together. GOT7 is building up a name as a dance group whose choreographies are insane, and "Never Ever," with its glitches and heavy bass, is the perfect performance track in their building discography.
—Alexis
38. "Love Story feat. IU" by Epik High
One of the two title tracks off of Epik High's new album, "Love Story" is a beautiful song about love lost. The steady drum beats coupled with the sometimes frantic sounding piano and, later on, the smooth orchestra creates a complex yet easy sounding melody that balances well with IU's sweet voice and the rap verses of Tablo and Mithra Jin. Along with the concept video of a girl reminiscing about her past relationship through videos and photos on her phone, it sets the perfect setting for a song about heartbreak and loss. As expected with most of Epik High's collaborations, the group and the featuring artist blend perfectly to portray the story being told.
—Katherine
37. "Wake Me Up" by B.A.P
A lot of the times, K-pop consists of clichéd lyrics and similar concepts. There are times when a number of artists will put out a string of songs, music talking about love, relationships and breakups. Again, the repetitiveness. Just when you feel like you've had enough of that sappy stuff, B.A.P appears with an eye opener like "Wake Me Up," a track that touches on societal issues and mental health to stimulate one's ear buds. The song has a compelling beat, a sound so strong, it'll act as the pillar that will hold you up when one is fighting off their inner demons and struggles in life. "This is an endless tunnel, in darkness with no light. Wake me up, wake me up. I need to find myself," they sing. B.A.P wanted to push awareness and wake up a society that looks away and pretends that issues like racism, judgement, and depression aren't real issues because these things are very much on going and continue to be real life problems.
—Tam
36. "Palette feat. G-Dragon" by IU
As one of Korea's most prominent artists, IU on "Palette" seems to be comfortable with her fame and life, assuring both herself and her listeners that she's changing in ways she embraces. Her lyricism uses cute examples, from changing color preferences to hair length, to demonstrate that she, "Knows a little bit about [herself] now." The song's instrumentals are a more alternative play on classic, theatrical IU releases. While the trademark ticking noises and sound effects are present, the song itself is slower and wispier, updated to match a more modern vibe that she seems to have grown into. The top female star of Korean music in the past decade, IU demonstrates that she remains focused on making hits, but now, on her own terms. With the help of a strongly performed and well-placed rap break from G-Dragon, IU on "Palette" lets us further into her excited, changing young adult world. Where she goes next from here, however, we'll be watching.
—Kushal
35. "Dinosaur" by AKMU
AKMU is known for creating beautiful music, but with "Dinosaur," the duo really surprised us: they finally added some EDM to their music while managing to make it their own. The electro beats and synths that appear through the track's melody seem very stripped down and almost make it feel like an acoustic electronic song. The opening guitar in the beginning of the song especially feels like an homage to their earlier music. The synthetic kickdrums that blast before the beautiful notes from Suhyun during the chorus melody and are present through the whole track, giving it an unique mystery to the track. We also get more singing from Chanhyuk instead of his typical talk-like rap, which was surprisingly beautiful. Their voices blend and harmonize perfectly with the synthetic beats that made it an upbeat chill song for the summer. AKMU really had a lot of fun creating this track and used every tool that electronic instruments can give you as a producer. The song is simple but very detailed with a beautiful, heartwarmingly catchy harmony and a light beat that is very uplifting and instantly makes you feel good.
—Alejandro
34. "Dream In a Dream" by Ten
SM Entertainment's Station project has produced a bit of a mixed bag this year, delivering some truly great pieces of music amid a majority of lackluster ones. But "Dream In a Dream" was one of its glorious high notes. The ambient, east-meets-west styling of the song serves to relay the performance-heavy music video, which highlights Ten's immense dance skills. Providing a soundtrack to the highly-stylized, contemporary dance video, it's a song filled with drama and passion. But even as a stand alone track, "Dream In a Dream" delivers something truly special through its symphonic instrumentals relaying Ten's echoing declaration of love. Lush synths and pulsating beats guide the track as it layers traditional Asian strings and into the atypically-structured melody. So far, Ten has participated in both this and NCT U's "The 7th Sense," two hauntingly beautiful, choreography-focused singles, and if this is the direction SM continues pushing him in, it may be the thing that could breathe new life into this era of all-too-similar K-pop male acts.
—Tamar
33. "Shall We Dance" by Block B
Ever since Zico cemented his status as a hip-hop icon in Korea, Block B has pretty much taken a backseat on the ride. And after a couple of quirky, even cutesy releases, it seemed the group had gone awry of the sounds and concept they made a name with. That's why when they dropped "Shall We Dance" it was way more impactful. More in tune with the "trendy" sounds Zico is known to produce for his solos, the track explores different urban Latino sounds, which particularly stood out this year when artists are still releasing trop-house songs. "Shall We Dance" is groovy, smooth, and just as the title suggests, dance provoking. Being an older male group with a diverse lineup of talented members, it's important for Block B to color outside the lines and continue to push the envelope as they have always done. And with this song, they did just that.
—Alexis
32. "Girl Front" by ODD EYE CIRCLE
"Girl Front" felt like a particularly important moment for LOONA. When LOONA ⅓ debuted as a unit they were still fairly unknown, a weird project group going about their own thing. By the time of ODD EYE CIRCLE, they had significantly grown with more people both at home and internationally taking notice. The fact that they absolutely nailed it came as no surprise to me, but how they did it was so impressive. By combining the songs of three girls (Choerry, Jinsoul, and Kim Lip) producers Ollipop and Hayley Aitken created something unprecedented in K-pop. "Girl Front" has the peppiness of "Love Cherry Motion," the dense, propulsive beat of "Singing in the Rain," and the electronic sheen of "Eclipse." It's a miracle that it all comes together to form something coherent let alone this good. The girls give it the last edge of excitement with non-stop vocals as they bounce off one another with glee, building a climax of unstoppable motion and further push forward the most exciting story of the year.
—Joe
31. "I Wait" by Day6
"I Wait" was the first release of the group's ambitious project, which set a high bar for their following monthly singles. The opening of the song draws the listener in with somber synthesized keyboard notes and dreamy vocals. The mellow beats gradually increase to the more aggressive instrumentals of the chorus, showcasing a much harder sound than what the band has been previously known for. The song continues to bounce back and forth between a softer sound and the heavy chorus, which creates and interesting medium. The video itself isn't really anything special but somehow still complements the song with the changing graphics and effects. Overall, "I Wait" fulfilled its purpose of drawing in the audience with a new sound, showcasing the band's versatility and ability to deliver quality songs throughout the year.
—Katherine
---
---
30. "MIC Drop (Steve Aoki Remix feat. Desiigner)" by BTS
"MIC Drop" was already a good song before Steve Aoki's remix, but with his production, the producer added the aggressiveness that the track needed to be fully solidified as an anti-haters anthem for BTS. He did this by converting the hip-hop track into a hip-hop, R&B, and EDM infused song that made us remember the old BTS from their debut era. The track is energetic and gets you pumped up as soon as you listen to it; V's deep voice and RM's raps are major highlights from this record. The lyrics take a very sarcastic tone that even if they seem cocky it makes us sympathize with them. With the new added English lyrics in the chorus, the song makes everyone want to stand up against haters and face them off. BTS creates yet another ode for outcasts and bullied kids all over the world by once again taking on topics that usually K-pop bands don't talk about.
---
---
—Alejandro
29. "Darling" by Taeyang
This ballad stands out with its somewhat unconventional structure and chord progression, but it's truly beautiful and addictive when listened to in its entirety. The way that Taeyang's smooth voice connects the various parts of the song elevates it and showcases his impressive range and ability. His raw emotions are showcased front and center here too, especially with the way the song "progresses" in intensity from verse to verse. It's soothing and intimate all at once, and allows Taeyang to present a more honest side of himself, as compared to being a charismatic star glorified by the limelight.
—Anna
28. "Hola Hola" by KARD
Over the course of three project singles, KARD was able to develop a musical formula that worked. The tropical house and dancehall that undergirded "Oh Nana," "Don't Recall," and "Rumor" provided a strong foundation for when they finally did make their official debut with "Hola Hola," a timely and bright synthy number perfect for the summertime. Being co-ed is more than just a gimmick for this group; the exchange between tender vocals and throaty raps is the contrast listeners need to keep engaged. The chorus, on the other hand, shifts its weight onto an island beat, and while it would be easy to dismiss this sudden move as overly simplistic, the hypnotic effect is undeniable. It sweeps the carpet from under our feet and displaces us in a chimerical paradise. It is a nice recess from Jiwoo's spunky rap midway or from any other strained moments, providing us with a sensual and personable comfort. "Hola Hola" only marks the beginning, but already the internationally beloved group has been dealt a good hand, and are making all the right plays to keep momentum going.
—Shelley
27. "Cherry Bomb" by NCT 127
Without a doubt, "Cherry Bomb" definitely encapsulates the sound of NCT127. The different mixes of genres that create a very fresh and futuristic sound create a unique style for the band that has everyone falling in love. The track starts off with a heavy bass and the repetitive "Hurry, hurry, avoid it, right Cherry Bomb feel it yum," then goes off to Mark's and Taeyong's rap, with the pair proving to be the real standouts for this track, while the bridge explodes with Taehyun's, Doyoung's and Taeil's beautiful vocals that melt any listener's hearts. The song is filled with background synth noises, singed hooks, and creepy sounds that create a very chaotic but interesting track that is reminiscent of the album cover and the title of the song. It's a classic, sassy and rebellious track and shows great direction for the boy band.
—Alejandro
26. "O Sole Mio" by SF9
Is it possible for someone who lacks rhythm AND coordination to find themselves swaying ones hips and body with precision to the entrancing latin sounds of "O Sole Mio"? This track comes from SF9's third mini album, Knights of the Sun, only one year after their debut. Rather then SF9's usual upbeat dance tracks, "O Sole Mio" is captivating in it's own mellow way. The transitions between the vocal and rap lines were smooth and well-versed, building up to a tender climax without it ever being over the top. The fusion of latin pop to K-pop is still new, but, let's be real: we all could've used a break from some of the generic sounds we've heard this year, and the fresh sound of "O Sole Mio" delivered just that.
—Tam
Stay tuned for the second and final half of our Best K-pop Songs of 2017 list, which will contain the top 25.
What was your favorite release of the year? Let us know in the comment section below and be sure to subscribe to the site and follow us on Facebook, Twitter, Instagram, and Tumblr to keep up with all of our posts.
https://kultscene.com/wp-content/uploads/2017/12/KultScene-50-best-K-pop-songs-of-2017-50-26.jpg
768
1024
KultScene
http://kultscene.com/wp-content/uploads/2018/02/KULTSCENE-LOGO-2018-TRANSPARENT-RED.png
KultScene
2017-12-22 05:12:51
2017-12-22 10:02:42
50 best K-pop songs of 2017: 50-26