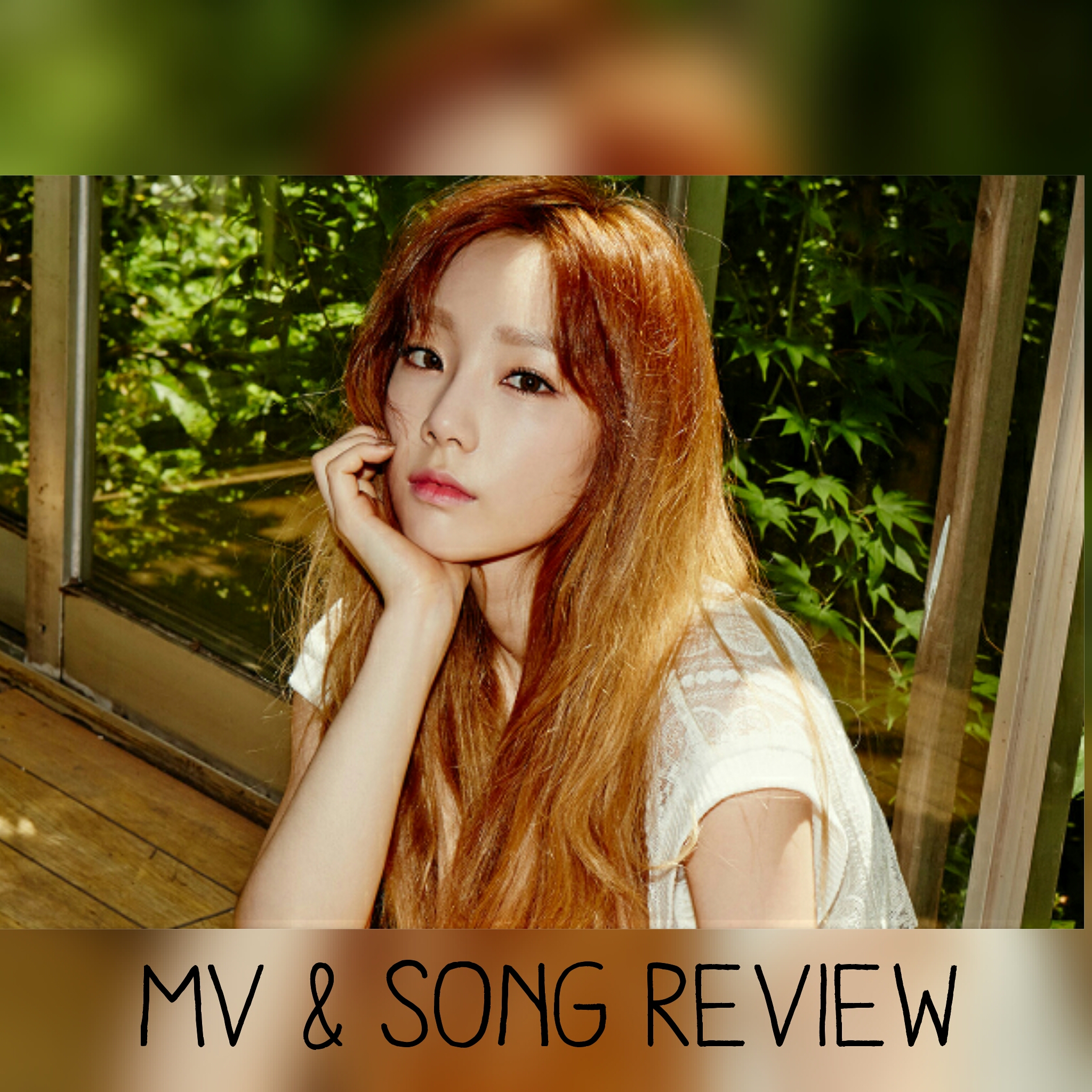 I am not a Sone (official fanclub name for Girls Generation) but I have always enjoyed Taeyeon's solo releases, especially popular OSTs such as "Missing You Like Crazy" and "And One". That was why I got excited when I heard about Taeyeon's solo album, and even more so when I heard that her title track "I" achieved an all-kill on local and international music charts. With well-known rapper Verbal Jint featuring on this track, I knew that it would be something special. Without further ado, here's my review of "I".
Song
The track opens right away with the addictive chorus but is immediately followed by Verbal Jint's short rap. The first time I heard it I found the transition a bit abrupt, especially since the chorus is repeated again after his rap. Taeyeon's style of singing the chorus, or mainly the word "I," reminds me of country music and Taylor Swift (in her first few releases). While it is nice to listen to, initially, I got quite tired of it by the time the song was over. The song picks up considerably during the other verses and the bridge though, both in terms of melody and the emotions in Taeyeon's voice. I especially love how Taeyeon's voice grows stronger and more free in the bridge as the song comes to a climax, as it clearly empathizes the meaningful and inspirational lyrics of the song.
Flower petals wilt
I had difficult times, but followed a small light
Distant day, let it go far, faraway
I fly splendidly
Sky that pours light
Renewed eyes (Renewed eyes)
Fly far away (Fly high, fly high)
Beauty that belongs only to me
The instrumentals were pretty amazing from start to finish as it started out softly but gradually built up and really enhanced the track; it honestly blew my breath away towards the end of the song. I would probably have enjoyed the song more if Verbal Jint's presence was more prominent because he definitely added a level of intensity and depth to this otherwise catchy but musically shallow track. That's not to say that it was bad, because Taeyeon exceeded my expectations entirely with this release.
---
---
Videography
The music video for this song is simply gorgeous, mostly because of the natural scenery featured frequently in it. The music video was shot in New Zealand, a country famous for its physical beauty, and the videography certainly did justice to it.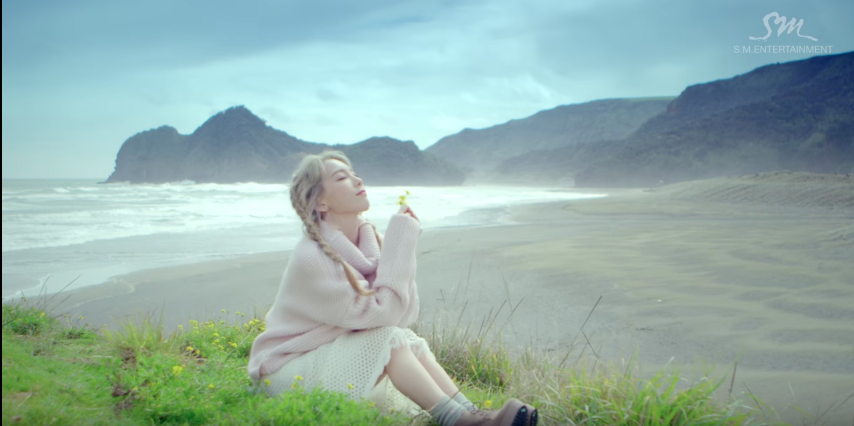 I love the fact that this music video has an engaging storyline and an empowering message. Featuring Taeyeon as the protagonist, she plays a waitress who hates her dreary life in a cafe and is constantly dreaming about frollicking freely in nature. She eventually quits her job at the cafe (in a totally bad-ass way) and gets to live out her dream.
Don't be afraid to follow your heart and fulfill your dreams is the beautiful and inspirational message that Taeyeon is conveying through this video. As can be seen by the comments left on her video on Youtube, this message is encouraging and relatable to many viewers who feel stuck in their tiring daily lives. It is rare to see K-pop music videos these days that have such meaning and it is certainly refreshing.
---
---
Styling
Taeyeon wore a few outfits throughout this video and definitely looks gorgeous in her waitress uniform even though I think she had too much jewellry on. However, her styling when she was in the fields leaves much to be desired.
During scenes when Taeyeon is surrounded by nature, she sports a country-style white dress and a cute braided hairstyle, but the make-up splattered on her face does not suit her attire at all. The choice of the feather earring for these scenes was also a bit unfortunate because it kept flying up her face due to the strong winds.
I love this look on Taeyeon though, she pulls off the girl-next-door vibe very well. It looks comfortable but still extremely glamorous on her with her flawless beauty.
Overall Thoughts
This was a good solo debut for Taeyeon and she certainly deserves the success she is getting from it right now. The song and video were not perfect but they undoubtedly brought out the right tone and message befitting the lyrics. She has set a high bar for her future releases and I cannot wait for her next comeback.


Have you heard 'I'? What do you think about it? Share your thoughts in the comment section below and be sure to subscribe to the site and follow us on Facebook, Twitter, Instagram, and Tumblr to keep up with all of our posts.
https://kultscene.com/wp-content/uploads/2015/10/1444282394392.jpg
2048
2048
Anna Cheang
http://kultscene.com/wp-content/uploads/2018/02/KULTSCENE-LOGO-2018-TRANSPARENT-RED.png
Anna Cheang
2015-10-08 07:24:29
2015-10-08 07:24:29
Taeyeon's 'I' Music Video & Song Review