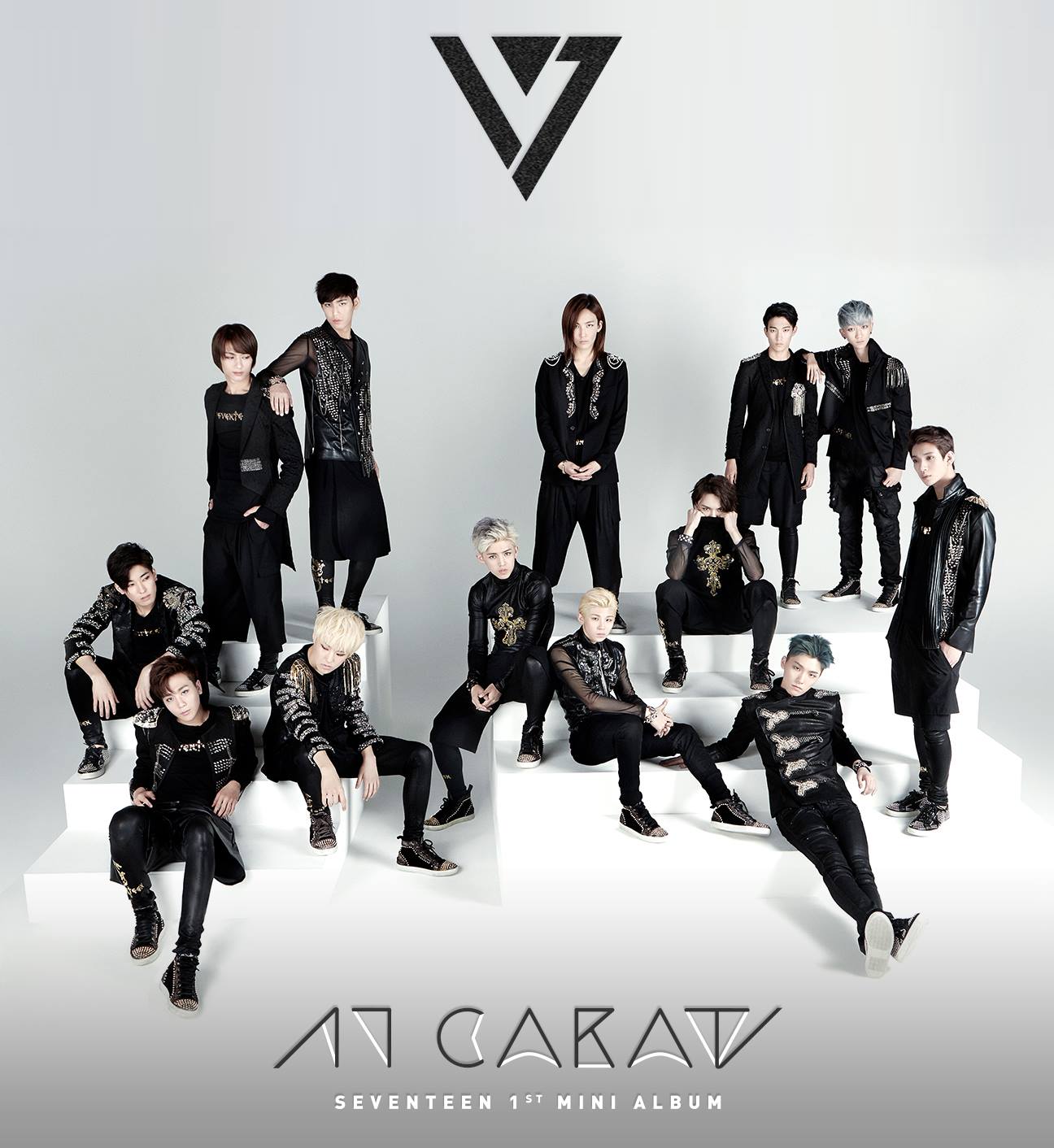 It seems as if for as long as I have been listening to K-pop, Pledis Entertainment's latest boy group Seventeen has been teased. With as many members as their name, with an apparent average age of seventeen too, the group was first announced and touted as one of the next big things before rookies began to explode in 2012. But until May, it was just rumored debuts. On May 29, Seventeen finally released its first album "17 Carat." I had been interested in the group's debut long before that, because I was into all things Pledis since I'm a huge After School fan. After a while, though, I forgot that Seventeen even existed and when the group finally resurfaced recently I wasn't too hopeful. With such a long wait and a line up that was less than their name originally suggested (13) interest had dropped off. That's what makes, at least for me, their eventual debut so surprisingly great.
---
---
Recently, there's been a trend of K-pop boy bands debuting with a powerful concept. They immediately try to act like men even at a young age. They never really embrace the vibrancy of youth while they still have it, a trend that was popular in the late 2000's and early 2010's (ie SHINee and SS501.) With Seventeen aligning their concept perfectly with the members ages, they have created something energetic but straightforward. They did this by also using some of the more powerful, darker concept signifiers like including lots of rap. Each of these elements is incorporated well to give Seventeen a fresh rookie feeling. The lead single ''Adore U'' is especially good and utterly vibrant.
Too bad the rest of the album doesn't hold up.
The first song, ''Shining Diamond,'' opens with Michael Jackson through the prism of K-pop. The opening whispers and references make this apparent. However, the retro electro verses sound comes off as just dated enough to be a throwback while remaining modern. They move into a fairly standard orchestral chorus with a big hook. Throughout the song, voices are pitched slightly higher in a nice touch to recall MJ.
Of course, this is K-pop so it can't just be an homage. It is also infused with rapping and seems to announce that it'll be a big part of Seventeen's sound. In an environment where more and more idol rappers are coming from underground backgrounds, it's important to at least sound good if you don't write your own stuff. The rappers here do flow quite well. I especially like how they can switch between two rappers at a moment's notice organically. Vocal contrasts like this always adds a layer of interest to a song for me.
That being said ''Shining Diamond'' never rises above being more than album filler. It's a fine opening but doesn't come across as anything more than what we are used to.
Not surprisingly, lead single ''Adore U'' is the real shining diamond of the album. There's something about those guitars that is so effervescent and reminiscent of adolescence that "Adore U" is impossible to dislike. The sounds are so funky and fresh amongst the hyperactive, multi-genre sound that's popular in K-pop music today. "Adore U" is fun without having to get too complicated.
''Adore U'' achieves a lighter sound while still incorporating a lot of rapping. It's accomplished and confident without ever sounding arrogant. Again, they make use of different rapping styles in dual verses. Not only does it sound great but the rap actually makes Seventeen come across as even more fun. It seems like the rappers are having a conversation, which adds a sense of camaraderie and energy. The rap also helps to give the individual verses an extra edge, making sure they don't get forgotten behind the amazing chorus.
This chorus goes for a delightful double hook. The 'yoohoos' of the first are sweetly infectious and the brilliant shout of "Oh-kkin-da" (The Korean title of the song,) in the second repetition of the chorus is an extravagant declaration of love. The lyrics here (and throughout) are refreshingly honest and sweet. Boy band posturing has gotten old fast that, at least to me, it's nice to see a group being vulnerably adorable. There's a straightforward exuberance to ''Adore U'' that I don't think even Got7 has achieved lately.
---
---
The third track seems to go against this infectious fun though. It's far and away my least favourite song on the album. It's a Diplo-lite style slice of electro rap that does nothing to add to the already massive pile of these in K-pop. The beat is formulaic and the chorus chants are dull. The rapping is not too bad. That's the best I can say about ''Ah Yeah,' which pales in comparison to EXID's song by the same name.
''Jam Jam'' follows on from ''Ah Yeah'' with its hip hop tendencies. Its production is altogether more interesting than the previous song, yet not enough to make it stand out amongst the album in the same way that "Adore U" does. The bubbling looping synth holds the song together with a lot of fun, but the bursting adolescence takes a back seat once again for rapping because it's cool, and serious, and mature.
This would all be so much worse if Seventeen's rappers weren't pretty decent. One member, Vernon, especially has a distinctive and impressive flow.
Just when I taught things were getting really bad ''17 Carat'' moves on to the obligatory upbeat, acoustic cute song. It's better than an obligatory ballad, I guess, but "Adore U" was so addicting with the fun, upbeat, electronic sound that I hoped for more of its ilk.
I liked how Seventeen had been sort of sweet before but that was with a lead single which helped them differentiate from the K-pop crowd. "20" is the sort of album filler that is so prevalent among all groups that the sweetness means nothing past the title track. Songs with cute lyrics about love over an acoustic guitar are second on my list of K-pop things I hate after album filler ballads; Seventeen differentiated itself with the title track, now I want to see something fabulous on the album. The one good thing I can say about this song is the electric guitar stuff at the start is fun. It never comes back though so it may not even be a good thing to tease the listener that way.
We are left here with a strong debut on top of a weak album. Usually lesser albums could be ignored if their accompanying single was good enough but nowadays it's not as clear. When groups like BTS with ''In The Mood For Love'' and EXID with ''Ah Yeah'', are releasing brilliant and complete albums the game is slowly being pushed. Seventeen though, have created an album that is only seventeen minutes yet is tough to stay interested. What started out so exciting quickly turned into a derivative bore. ''Adore U'' is genuinely a smash though and could prove to garner them a strong young fanbase.
What's do you think of Seventeen's debut? Let us know what you think in the comment section below and be sure to subscribe to the site and follow us on Facebook, Twitter, Instagram, and Tumblr to keep up with all of our posts.
https://kultscene.com/wp-content/uploads/2015/06/1-jpg.jpg
1412
1296
Joe Palmer
http://kultscene.com/wp-content/uploads/2018/02/KULTSCENE-LOGO-2018-TRANSPARENT-RED.png
Joe Palmer
2015-06-03 18:56:34
2015-06-03 18:56:34
Seventeen's '17 Carat' Album Review