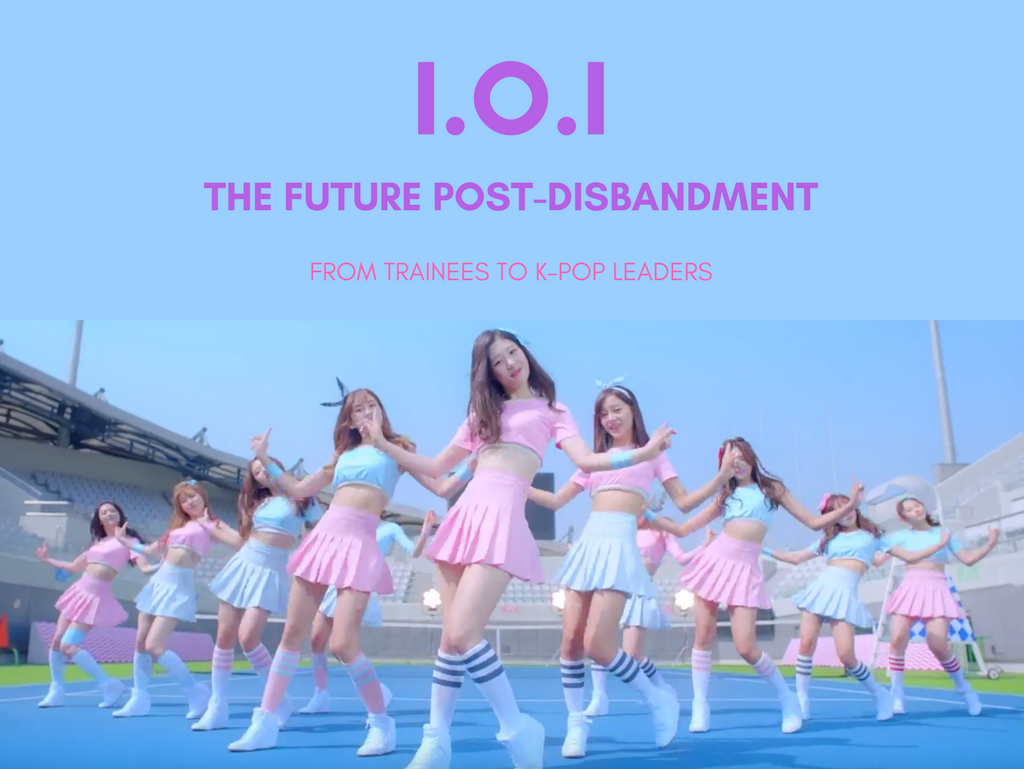 From humble trainees on Produce 101 to chart-topping idols in their music video for "Very Very Very," the eleven members of I.O.I saw their lives massively changed in the course of only one year. While the group has given strong performances, memorable variety appearances, and infectious songs, it is no secret that fans of the group are apprehensive about I.O.I's scheduled January 31st disbandment. A few months ago, we analyzed I.O.I's unique formation regarding how members are simultaneously part of two labels and, for some of them, two groups, something largely unheard of previously in the world of K-Pop.
But with the new year ahead, infinite possibilities remain for the eleven members of I.O.I, all of whom now have public recognition and newfound popularity to take with them to future activities and musical ventures. And although we have an idea of where many of the members are going post-disbandment, it's worth discussing how these paths may benefit or hurt them. Let's look at each member or groups of members, and make some predictions about their largely divided futures.
So what's next for I.O.I's 11 members?
Im Nayoung & Zhou Jieqiong (Pinky)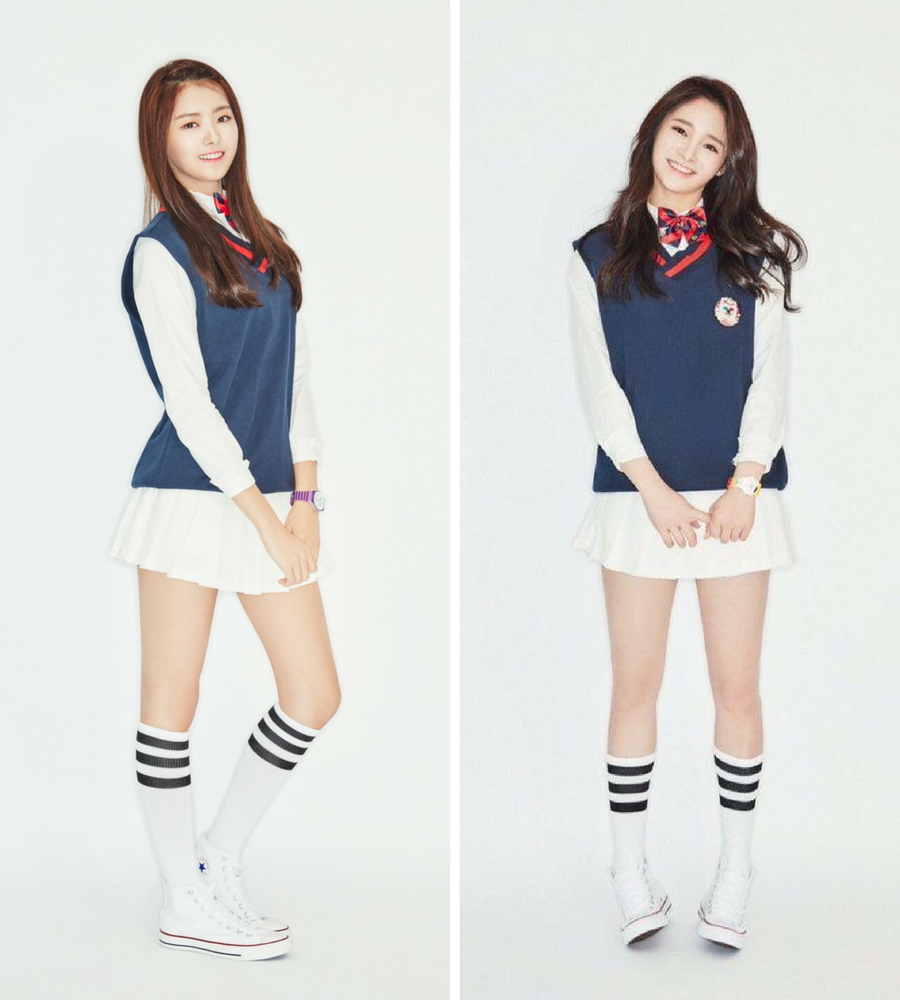 As Pledis Entertainment artists, the futures of these these two I.O.I members are largely intertwined. Alongside I.O.I, Nayoung and Pinky were more quietly part of Pledis Girlz, a pre-debut group headed by their company, alongside eight other trainees, many of whom also competed in Produce 101 early last year. And while groups like Gugudan and DIA were shrouded in controversy for continuing with I.O.I members, Pledis Girlz has only recently become official under the name PRISTIN. The group is yet to debut, and yet to regularly promote on television. As a result, PRISTIN has maintained the respect of the public and I.O.I fans, especially when Nayoung and Pinky partook in I.O.I's promotions for "Whatta Man (Good Man)" even as other members were pulled out for individual promotions.

The new group has found public exposure from
Produce 101
and various pre-debut performances and promotions. As a result, PRISTIN's growing fanbase both within Korea and around the world line them up to be one of 2017's more successful girl group debuts, especially since Nayoung and Pinky are the leader of I.O.I and one of its notable visual/vocalists, respectively. Not to mention, some other popular competitors from
Produce 101
, including Eunwoo, Yebin, and Siyeon, are in the group alongside them. With a debut slated for soon after I.O.I's disbandment, Nayoung and Pinky have a collective future that is certain and in sight. Within this framework, it seems that, among I.O.I's eleven members, Nayoung and Pinky are most likely to succeed within another group following the official split later this month.
Kang Mina & Kim Sejeong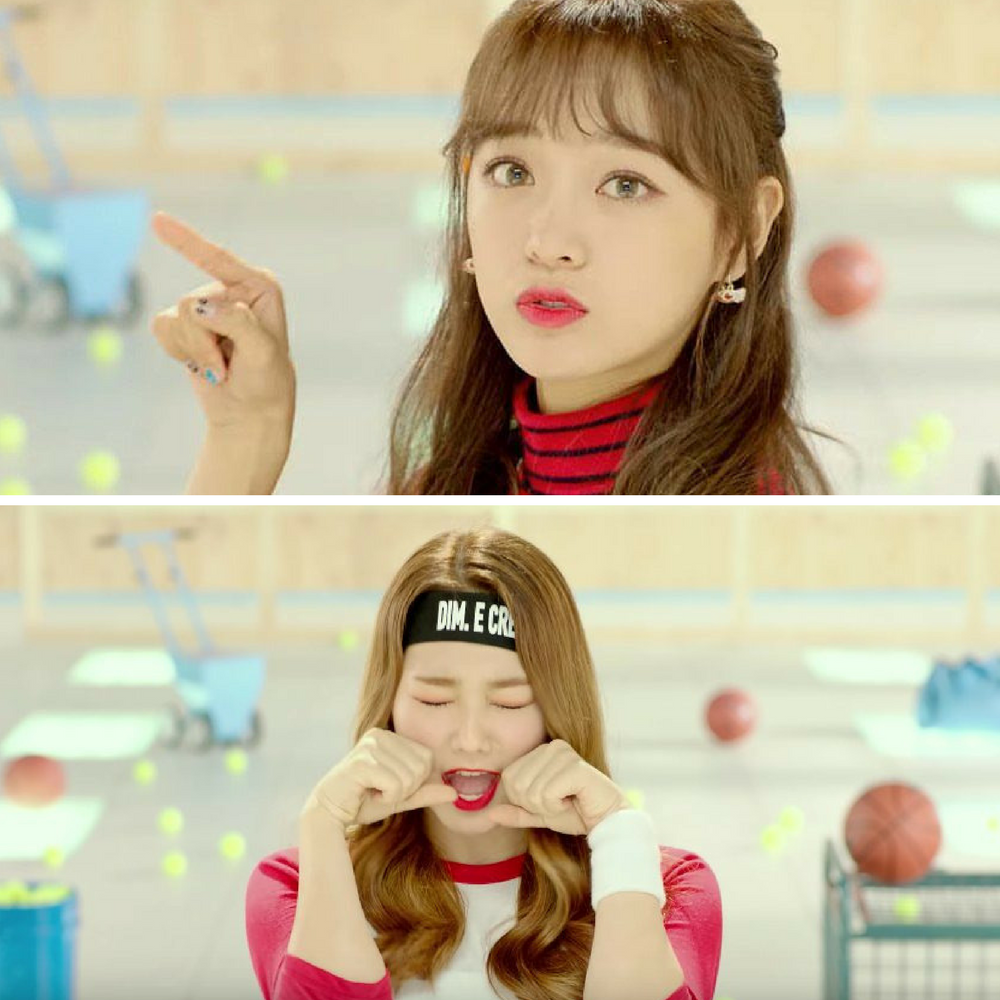 Two of the most talked-about members of I.O.I, Sejeong and Mina have a clear path laid out for them after January 31st. Last summer, their company Jellyfish Entertainment had them debut in the nine-member Gugudan, which coincided with the release of I.O.I's "Whatta Man.". And while the group did receive attention due to the Mina and Sejeong, alongside another popular Produce 101 trainee Kim Nayoung, the group failed to captivate the public's attention due to what was largely seen as an awkward concept backed by lackluster music. As a possible rising girl group in 2017, the group does have potential to succeed, but it is also possible that they fade into irrelevance if the next release isn't more appealing, especially given that they are one of many new large girl groups with innocent, feminine concepts. Sejeong and Mina will have to work especially hard to bring Gugudan some credibility in the oversaturated girl group market if they want continued musical relevance in a group structure.

That being said, their options aren't as limited as those of their group members. While she will become a full-time Gugudan member once February begins, Sejeong particularly maintains widespread popularity, as one of I.O.I's main vocals, the runner-up on
Produce 101
, and a regular cast member on variety shows. Her debut solo single, "Flower Way," was also a success, demonstrating that her individual popularity will not be quickly forgotten even if she is part of a girl group that isn't as successful. Sejeong can and will be a strong force in 2017, but it remains to be seen how Mina or Gugudan as a whole will fare later on this year.
Jung Chaeyeon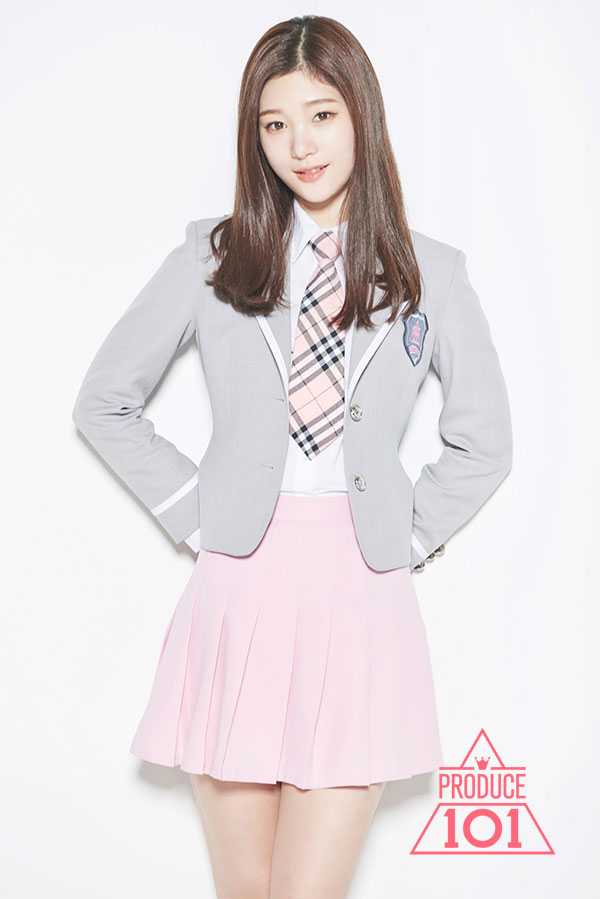 Chaeyeon remains in a similar situation as that of Sejeong and Mina. Under MBK Entertainment, she is also part of a struggling girl group. While DIA has made some strides in finding public popularity this year with Chaeyeon and fellow member and Produce 101 competitor Huihyun (Cathy), the group's current state is not very competitive in relation to the larger girl group market. Unless DIA can move their image away from their controversial CEO and agency, and bring out some title tracks with wide appeal, it's likely that the group will have but another hard year in 2017.

But like Sejeong, Chaeyeon maintains considerable popularity. One of the most active I.O.I members, she maintained positions in both groups while also acting in a drama, making variety appearances, and doing pictorials throughout 2016. While she may not have an incredibly successful group to come back to, Chaeyeon will likely remain relevant in 2017 through her various activities as a singer and actress.
Yoo Yeonjung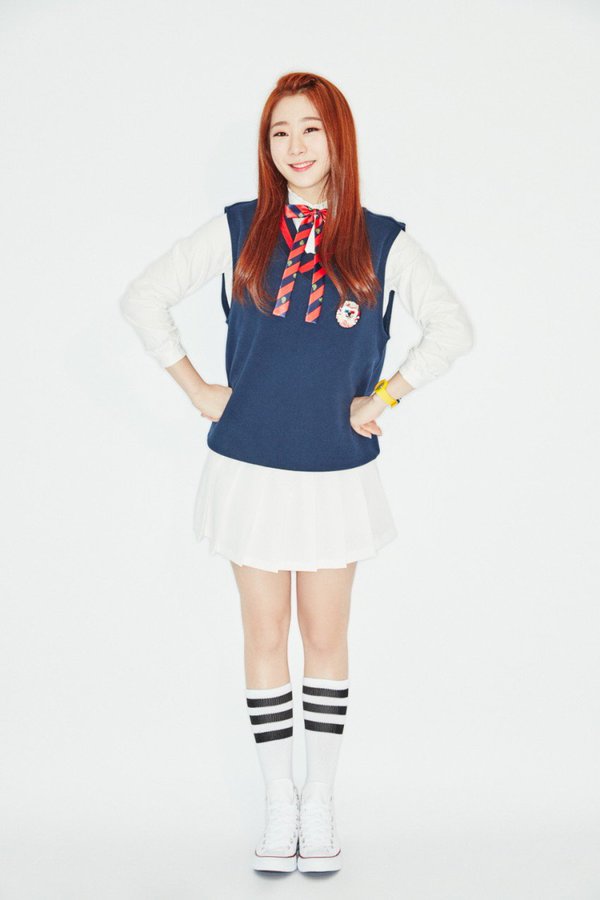 While also already a member of another group, Yeonjung may possibly find herself in a slightly different situation than that of her groupmates Sejeong, Mina, and Chaeyeon. A Starship Entertainment artist, Yeonjung is the thirteenth member of Cosmic Girls (WJSN), which debuted early last year but added Yeonjung during I.O.I's subunit promotion cycle. WJSN has definitely yet to strike it big, but they arguably show more rising potential than do DIA and Gugudan.

As the group's main vocal, Yeonjung has brought them forward considerably, but unlike her I.O.I groupmates, she is not the most popular member of WJSN. After seeing a huge surge in popularity last year, member
Cheng Xiao
currently carries the group in popularity. WJSN will likely move further and further into the public eye as time goes on. While their current track "I Wish" isn't faring incredibly well on the charts, it's doing much better than past tracks "Mo Mo Mo" and equally as well as "Secret," demonstrating that this promotion cycle may be the precursor to a much more successful one in the coming months. For both Yeonjung and her group, there is definitely hope, and with her shining vocals, the chance for solo promotions definitely exist in the near or distant future.
Kim Chungha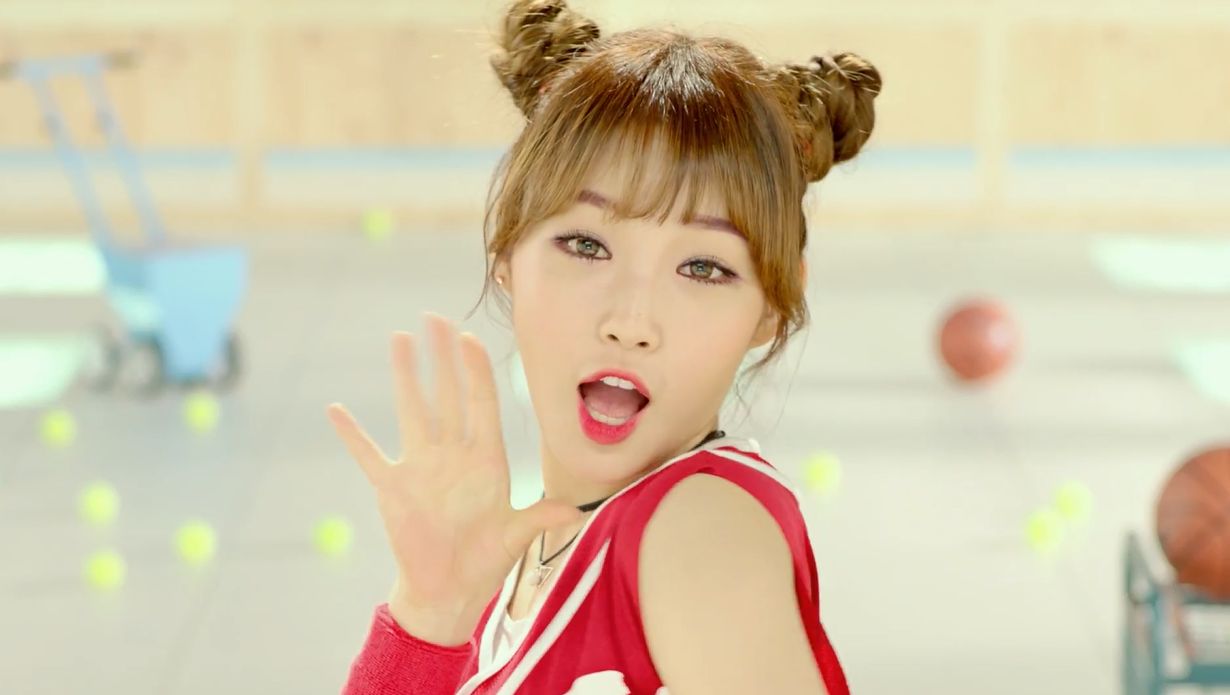 Considering that Chungha is under no-name label M&H Entertainment, fans have worried about her future after I.O.I's disbandment. But as I wrote in KultScene's Artists to Watch 2017 list published earlier this month, Chungha shows a lot of potential for success. One of the higher ranking trainees on Produce 101, Chungha's variety of talents made her an instant stand-out both before and during I.O.I's promotions. And given that her company has announced that she will debut solo in 2017, what's to say that she can't continue to stand out in the future? With a good song and concept, Chungha will have no trouble utilizing her incredibly strong dance, remarkably stable vocals, charismatic image, and English-speaking skills in future performances. Chungha is undoubtedly one of the most versatile members to come out of I.O.I, and her trendy and international appeal makes incredibly hopeful about her future. All it will take is a company that really works for her, and I'm praying that M&H is exactly that this year.
Kim Sohye
Sohye's future is largely undetermined, except for the vague answer of "acting." Currently under her own management, she plans to spend her time training and debuting as an actress this year post-I.O.I. It is still not clear, however, whether she will remain under her one-woman S&P Entertainment or if she is still related in anyway to her previous agency, Redline Entertainment. And while she constantly receives hate for her untrained musical abilities, Sohye has found herself a cult following during her time under Produce 101 and as a member of I.O.I. Although she isn't the strongest singer or dancer, it is possible that she is an incredibly talented actress, and while netizens and international viewers were quick to call her useless or untalented, her real charms may have yet to be seen. As a result, I hold out hope for Sohye as well — after all, she may not hit it big on music shows, but she may be instead destined for drama primetime slots sometime soon.
Jeon Somi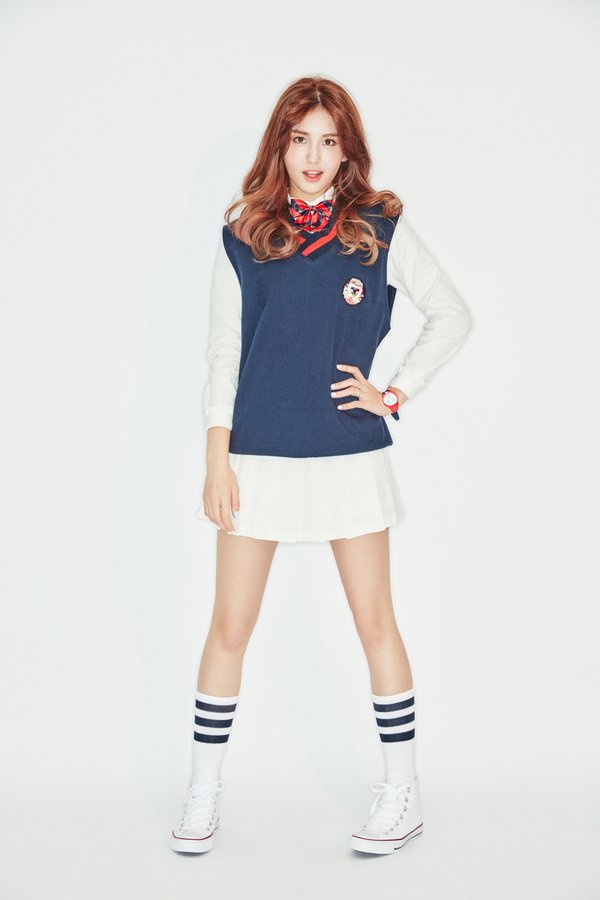 Somi's situation is very curious. Unlike that of her groupmates, we know very little about her future, except that she has now been bumped up from trainee to artist under JYP Entertainment. Currently a huge trend in Korea and closely associated with labelmates TWICE, many predict that JYP will add Somi to TWICE as its 10th member, giving the already explosively successful group another huge asset. And while there is a chance that this happens, I think (and hope) that JYP is smart enough to go in a different direction with Somi.
At only fifteen years old, the I.O.I center doesn't need to debut in a girl group immediately. She can continue with variety appearances, pictorials, and possibly solo music releases or acting stints before she debuts in JYP's next girl group, which will probably debut in at least a year or two from now. As one of I.O.I's most popular members and one of the bigger trends of girl group K-Pop in 2016, Somi holds the power to bring any future JYP girl group to immediate public spotlight. So while I don't think Jeon Somi will disappear this year, I don't think we'll be seeing her "Like OOH AHH" anytime soon.
Kim Doyeon & Choi Yoojung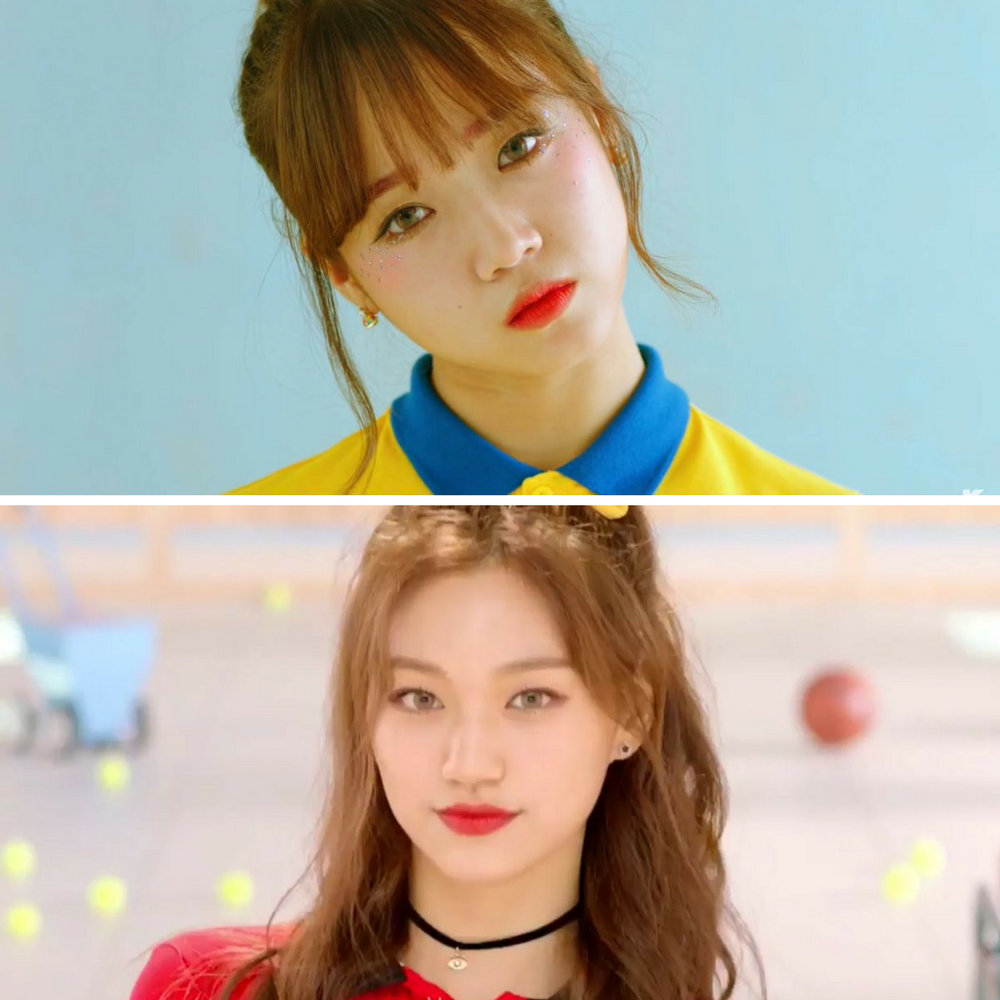 While there are few details, Doyeon and Yoojung are clearly destined to be members of Fantagio's next girl group. The girls' agency, however, has yet to make any major announcements about this girl group — we do not know the group's name, how many members it will have, when it will debut, etc. But we do know that Doyeon and Yoojung have also been promoted to artists under the label, and their young age (both are only 17 years old) gives them some time before having to debut. It is likely that the group will debut probably earlier than later in 2017, and it's even more likely that these two will bring a lot of attention to their debut.
Yoojung specifically has found immense popularity as a strong stage and variety personality, while Doyeon is also a trend for her visuals and versatile talents. As a result, there is nothing stopping these girls from being incredibly successful, making their future group's success a strong possibility as well. Not to mention, the group may possibly have sisters Lee Chaeyeon and Chaeryoung of JYP Entertainment's survival show SIXTEEN, as the rumor mill says that they have transferred to Fantagio to debut alongside Yoojung and Doyeon. Having four members with previous public exposure, the members of this group have little to worry about right now. We will likely see lots of Doyeon and Yoojung in 2017, working hard to ensure their new group's success.
While the "Cherry Blossoms" will eventually "Fade" at the end of this month, it's clear that the members have a lot going for them. Dividing now into what may possibly be six different girl groups (counting already debuted groups along with Pledis Girlz, Fantagio's upcoming girl group, and JYP's next girl group a couple years away) and an actress, the eleven members are truly embodying the group's name "Ideal of Idol." While the futures of each group vary in likelihood of sustained relevance, it is clear that each individual member of I.O.I doesn't seem to be going anywhere. As fans, we are definitely downcast about the disbandment of such an amazing girl group, but we can find solace in the fact that our "Dream Girls" will remain active in the industry in coming years. And whether apart or together, I.O.I's legacy will live on.
Who do you think will be Kpop's rising star this year? Share your thoughts in the comment section below and be sure to subscribe to the site and follow us on Facebook, Twitter, Instagram, and Tumblr to keep up with all of our posts.
https://kultscene.com/wp-content/uploads/2017/01/ioi-disbandment.png
769
1024
Kushal Dev
http://kultscene.com/wp-content/uploads/2018/02/KULTSCENE-LOGO-2018-TRANSPARENT-RED.png
Kushal Dev
2017-01-18 06:58:52
2017-01-18 06:58:52
From 'Nation's Producers' to Actual Producers: The Many Futures of I.O.I's 11 Members