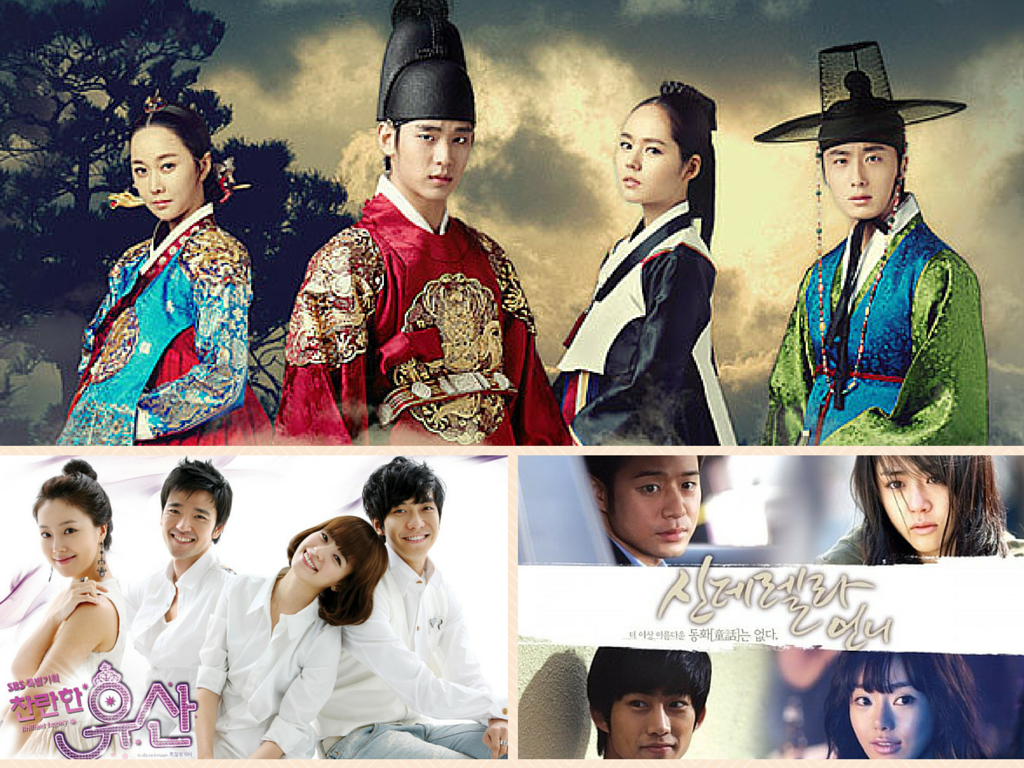 I remember watching my first K-drama series, "Autumn in My Heart," starring heartthrob actors Song Seung-heon and Won Bin and charming actress Song Hye-kyo in 2001 on VHS with my mom. Aside from crying every other episode as the result of a heartbreaking plot, I remember falling madly in love in with the melodic ballads and acoustic OSTs (original soundtrack). I was young and didn't want to ask my parents for money to buy the OST album, so as a result, I made my way onto Limewire (once an online file sharing downloading website) and downloaded the 13-track soundtrack and became completely immersed, day in and day out.
---
---
Going into this drama, I wasn't expecting to be so mesmerized by the somber songs and tender guitar and piano acoustics considering this was my first time being exposed to the Korean culture and the Korean music. My love for these sappy, heart wrenching, and emotional OSTs surely hasn't slowed down. One of the reasons why I'm usually drawn to a drama nowadays is because I'll hear the OST elsewhere, become completely absorbed in the music, and then watch the drama itself. Considering that I'm such a sucker for a great soundtrack, it was quite difficult for me to create this list, but if I let it go on any further it wouldn't have ever ended. So with that said, here are my top 5 choices.
5. K. Will – "Love Is Punishment" ("Brilliant Legacy")
I stumbled upon K. Will's "Love Is Punishment", an OST from "Brilliant Legacy" (also known as "Shining Inheritance"), while binge watching Korean OST videos on YouTube. (I find a lot of enjoyment out of doing so). At first, I had very little interest in the storyline and didn't care for the drama as much since I didn't know any of the cast members–this was before I fell for the witty actor Lee Seung-gi. But the more that I listened to "Love Is Punishment", the more I would get wrapped up in K. Will's sorrowful and raspy voice and found myself engrossed with sadness every time a snippet of the song would start playing. There were moments where the scene hadn't even intensified yet and the song would start playing and I could immediately feel the tears form. You know it's a good song if it can make you cry at a drop of a beat, right? Right.
4. Super Junior's Yesung – "It Has To Be You" ("Cinderella's Sister")
Admit it, if you've seen Cinderella's Sister then you probably watched it for Ok Taecyeon (from 2PM). Or was I the only one? But regardless of why you might've watched it or why you haven't yet (which you should), if you're anything like me you were probably blown away by the compelling soundtrack. I don't follow Super Junior so I never really invested the time in trying to learn who was who, who was considered a vocalist, rapper and so on. I only knew of them from their popular dance songs like "Sorry Sorry" and "Mr. Simple". Can you imagine how surprised I was to find out that Super Junior member Yesung sang my favorite track off of the soundtrack, "It Has To Be You"? Yesung's touching voice stirred my emotions from beginning to end, continuously conveying to me, the listener, that it just had to be me.
---
---
3. Ailee – "Goodbye My Love" ("Fated To Love You")
I don't remember which episode of Fated To Love You played the first sneak peek of Ailee's "Goodbye My Love," but I remember getting so flustered trying to figure out who the artist was. When the full version was released and it was, in fact, Ailee, I felt upset with myself that I couldn't recognize her rich and expressive voice. As if the drama itself wasn't climatic enough, they went and added Ailee's heartfelt ballad at just the right sentimental moment and had all the viewers, myself included, balling our eyes out. Ailee's already known to be a powerhouse vocalist, whether it's an upbeat dance song or her specialty, ballads, she has no problem reaching into your soul and bringing out every little last bit of emotion in you.
2. Lyn – "Back In Time" ("The Moon That Embraces The Sun")
Lyn's "Back In Time" is a beautiful song for such a tragic yet passionate drama. She expresses the perfect emotions infused with her soulful voice, which quickly captured the hearts of those that watched "The Moon That Embraces The Sun". I'm usually a bit skeptical with historical dramas and, aside from rising star, Kim Soo Hyun's superb acting, what really reeled me in, what really kept me hooked and in the moment, had a lot to do with Lyn's moving tone of voice. The way her voice transcends in not just "Back In Time" but in practically all the ballads that she sings will surely give you the feels.
1. Fly to the Sky – "Even Though My Heart Breaks" ("Fashion 70's")
When I first started watching "Fashion 70s", starring manly man Joo Jin-mo, carefree Chun Jung-Myung and the ever sweet Lee Yo-Won, I didn't expect to be as captivated by it as I was; maybe it was the grainy quality. For once, the drama itself was what kept me intrigued and not so much the soundtrack. Could it have been that the plot was based during a war time zone therefore the drama didn't have the ballad-y OSTs that I'm ever so fond of? I thought that was going to be the case until I heard some familiar voices. One voice of which I can never mistaken nor forget; I heard Hwanhee's seductive low tremble and shortly after Brian's tranquil and gripping voice. The kings of ballads appeared and just like that the drama was ten times better. Fly to the Sky's "Even Though My Heart Breaks" was that little umph that the drama was missing. This song has created it's own corner in my heart and mind; an everlasting impression that whenever I see Joo Jin-mo or Lee Yo-won in any other drama, my heart breaks just a little bit.
I'm not sure if you've noticed a trend here but a lot of the OSTs that I've grown infatuated with over the years have all been sorrowful-like ballads. Why? They're just my cup of tea I guess. Talking about these songs makes me want to go and rewatch all the dramas they were in!
What are some of your OSTs? Are you into ballads like myself? Share your thoughts in the comment section below and be sure to subscribe to the site and follow us on Facebook, Twitter, Instagram, and Tumblr to keep up with all of our posts.
https://kultscene.com/wp-content/uploads/2015/08/Untitled-design-4.png
768
1024
Tam Huynh
http://kultscene.com/wp-content/uploads/2018/02/KULTSCENE-LOGO-2018-TRANSPARENT-RED.png
Tam Huynh
2015-08-21 18:44:16
2015-11-16 14:01:43
5 Tear Inducing K-Drama OSTs