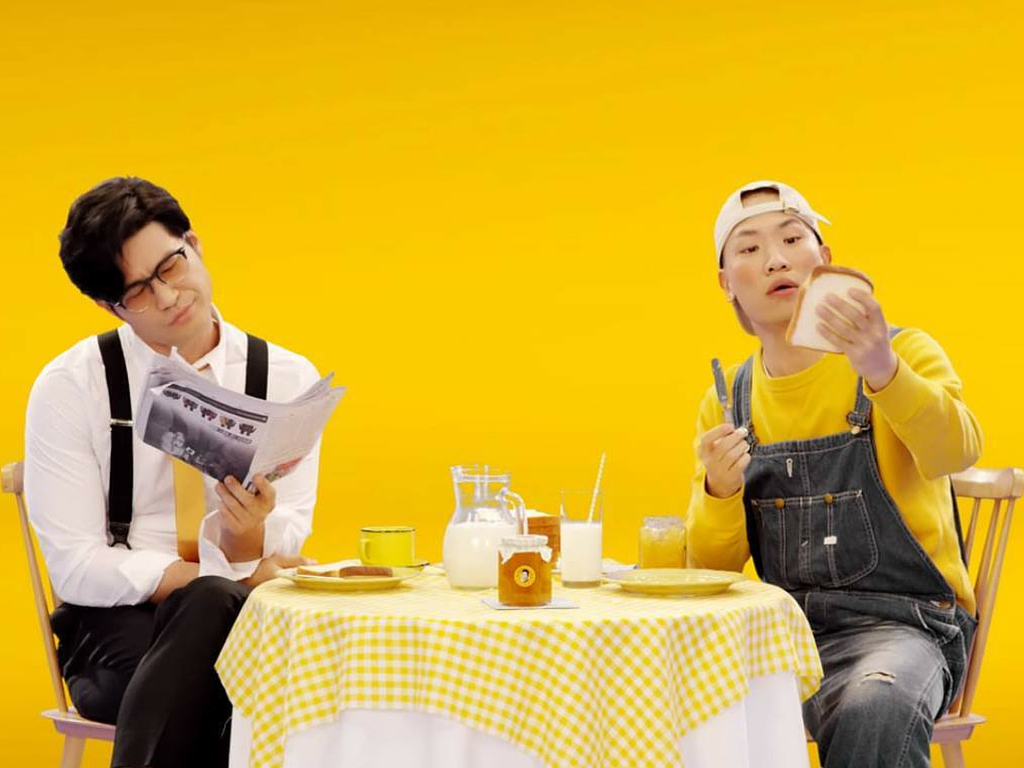 It's been just over two years since Dynamic Duo's last solo offering and they are back with a brand new song and music video, entitled "Jam," released on November 16th. Amoeba Culture's Gaeko and Choiza, two of the coolest rappers on the Korean hip-hop scene, have dispensed completely with their sharply dressed and mean and moody image for the video and the results are nothing short of hilarious.
Song
"Jam" is a smooth and sophisticated blend of strings, synthesiser, and funky bass, mixed with understated rapping and a surprising amount of vocal harmonies from the guys. A soulful guitar solo, which wouldn't be out of place in an Isley Brothers composition, features towards the end of the song, as well as some clever puns based on the names of Big Bang members. Sung in Korean, the English translation of two such examples are as follows: "We're feeling like we're on top," and "my heart breathes fire like a dragon dragon." "Jam" is such an addictive song, I challenge anyone to listen to it just once.
---
---
Videography
The video opens with a father (Choiza) and son (Gaeko) sitting at a breakfast table, with the latter asking questions about the honey he is spreading on his slice of bread. Intrigued by his father's response, a conversation ensues which is clearly a euphemism for the "birds and the bees." As the song begins it cuts short an explanation of how bees make honey and zooms into Choiza's face on a jar of the spread. We then see an adult Gaeko, resplendent in absurd bee costume, working on a "Honey Jam" production line while daydreaming about cavorting with the girl of his dreams.
The company boss, also a bee and played by Choiza, reprimands him for slacking off and the dejected Gaeko consoles himself with a trip to a nightclub after work. There he finds and flirts with his dream girl (the aptly named Honey Lee), only for her to be stolen away by the ostentatiously wealthy Choiza. During this scene a well observed and affectionate parody of Big Bang's "Bae Bae" takes place, featuring Gaeko, Choiza, and Crush as the members. The video returns to the setting of the first scene, with the father telling the son to stop fooling around with his food and finish eating it. The boy then cheekily says: "YOU eat it."
Styling
The video features highly saturated colours, giving it a bold, bright, and cartoonish quality which is Disney-esque in places. The insect costumes are similarly garish, but it is still possible to tell the social standing of each wearer by the individual styling touches. Choiza, for example, is seen as a bee wearing various items of clothing usually associated with the wealthy, such as a bow tie, a tuxedo and a brocade smoking jacket. Gaeko's bee outfit is utilitarian by comparison, but he attempts a cooler image by donning a pair of red and white rimmed shades to go clubbing in. The Big Bang lookalikes are also presented as bees, but instantly recognisable by their trademark hair and clothing!
---
---
Overall Thoughts
This is Dynamic Duo like we've never seen them before and full marks to the guys for giving us the most inventive video of the year so far. Gaeko, Choiza, and their assorted pals clearly had a ball making "Jam," but not half as much as I had watching it! The music video will stand up to endless repeat viewings, so miss it at your peril.
Dynamic Duo "Jam" Music Video
How did you like "Jam?" Share your thoughts in the comment section below and be sure to subscribe to the site and follow us on Facebook, Twitter, Instagram, and Tumblr to keep up with all of our posts.
https://kultscene.com/wp-content/uploads/2015/11/Untitled-design-6.png
768
1024
Eve Backhouse
http://kultscene.com/wp-content/uploads/2018/02/KULTSCENE-LOGO-2018-TRANSPARENT-RED.png
Eve Backhouse
2015-11-19 17:20:56
2015-11-22 15:16:01
Dynamic Duo's 'Jam' Music Video & Song Review