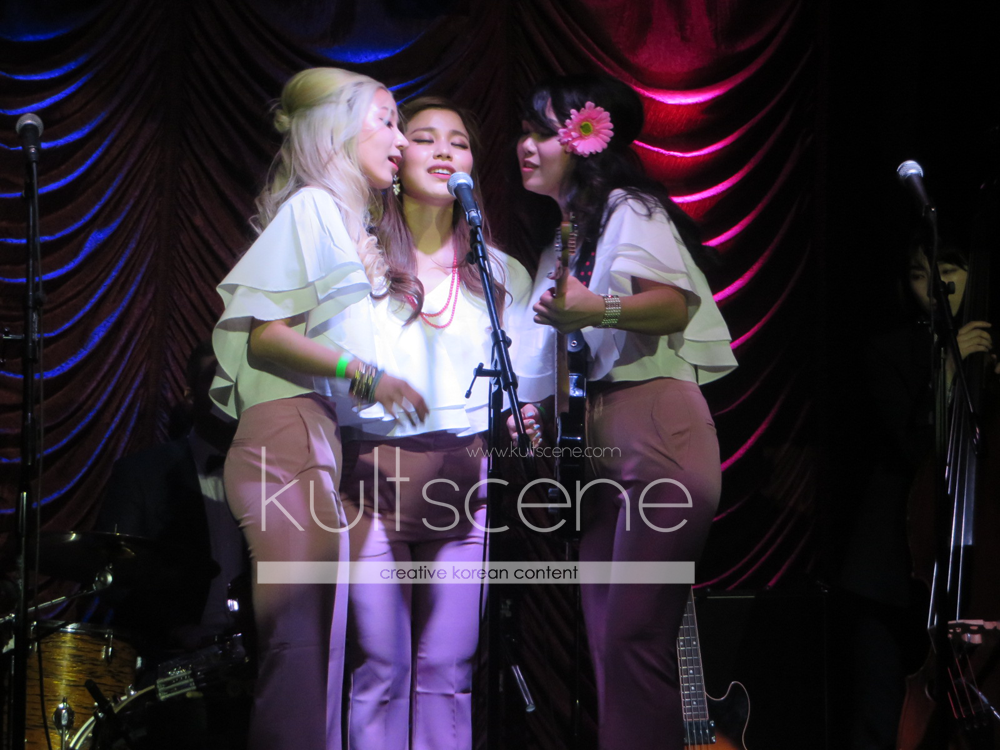 "This isn't K-pop," promised The Barberettes in their opening number at American Beauty in New York City on May 10th.
The doo-wop queens of South Korea were performing in the Big Apple for the first time, an intimate, cabaret-style show with about 50 audience goers. With retro-inspired outfits, poufs galore, and an altogether aura of yesteryear, Shinae, Sunnie, and Sohee took the crowd on a sonic road trip.
Unlike K-pop girl groups from South Korea, The Barberettes were backed by a live band while they sang and Shinae played the guitar. Switching off between English and Korean, singing oldies and more modern songs with a boogie-woogie twist, the trio opened the night with their original song "Little Gals," then moved onto covers of songs like "Mr. Sandman" by the Chordettes. Incorporated into the 25 song set were an almost equal amount of Korean and Western songs, with The Barberettes drawing not only on swing, pop, jazz, and rock but also on trot and pansori, Korean musical genres.
Consummate musicians, the trio wowed the crowd the whole night, but one of the most unique moments was when they performed what appeared to be a cover of Lee Hi's latest single, "Hold My Hand." The joke was on the crowd though; not only was "Hold My Hand" written by Shinae and writing partner B.A. Wheeler, but during a press roundtable earlier in the night Shinae revealed that the song was originally meant for The Barberettes.
---
---
"Epik High's Tablo was a radio DJ for a while and he used to play a lot of Barberettes records on his show," said Shinae, who was fluent in English and did much of the talking. "And then he was looking for musicians to work on Lee Hi's album and then he contacted me so I wrote a bunch of songs. And then I actually wrote that song 'Hold My Hand' and I thought 'gosh, I want this song for my band. Should I keep it or give it away to Lee Hi?' Well, the song was taken and I didn't know it was a title and then it became the title song. We're singing that tonight in the original version. Please spread it out. It's the Barberettes'."
As the night went on, it was clear that the Barberettes were the musicians they had set out to be when they started down the path. Shinae had the idea of forming a retro-inspired girl group while listening to the music of past decades on the now-defunct streaming app Songza. After forming the Barberettes in 2012, the group gathered a large following. The Barberettes performed at this year's Korea Times Festival, held at the Hollywood Bowl on May 7th, and expressed delight at the fact that they can play for thousands of people one night and a small concert venue another.
"SHINee on the left, Red Velvet on the right," recalled Shinae, citing two of the popular young idol groups that also performed at the Korea Times Festival. "And it was actually like 'Where are we?' It's really cool. So we can be that and at the same time we can play in clubs like this with our full band. You know, I think it's really cool. I think it's a huge advantage for us not to belong anywhere."
And they don't really. The Barberettes aren't quite K-pop, even though they perform retro pop music and they've performed at major festivals like the Korea Times Festival and SXSW, and aren't quite Korean indie, despite not being signed to a major label. Creating everything themselves is important to the group, who expressed amazement at how far their career has come.
"It's all about us," said Shinae while discussing how they were different than other popular Korean girl groups. When asking where they fit in the greater scheme of Korean music world, they laughed and responded "nowhere."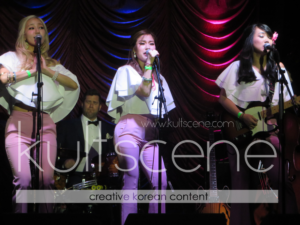 "We make our concepts. We plan our way and things. So, I'm thinking this is what we built with our hands. There are many people around the world doing that and it's really hard to make it work but here we are playing in NYC and other places so I think this is, I don't believe in God, but I think this is God's gift. And we would never mess it up until reaching its maximum potential."
While it may seem like The Barberettes have made it, the three women expressed interest in meeting fans in South America and Japan. But for now, they were in New York, enjoying Chipotle and Central Park.
Shinae, who had been to New York once before recalled how she ran into JYP Entertainment soul singer G.Soul, who directed her to live music venue Village Underground. "I went and it was actually open mic night. So I signed up and I went on stage and I sucked," Shinae recalled, laughing at herself.
It's hard to imagine any of the three women sucking. They compared themselves to the stars of the film "20 Feet From Stardom," pointing out Sunnie's past as a backup singer to internationally famous acts. Not only has she sung backup vocals at concerts for f(x), Big Bang, and Girls' Generation, 25-year-old Sunnie is, according to her bandmates, "hilarious." Full of laughter during the interview, the newest and youngest member of The Barberettes wowed the audience with her powerful vocals later in the night. She also expressed her love of the dramas "Descendants of the Sun" and "Cheese In The Trap," and telling us "I love [actor] Park Seo Joon."
---
---
The quietest of the group during the interview, blonde Sohee described being part of the Barberettes as "a very precious experience in life" and thrilled the crowd with her rendition of "Meet The Spring," a song from the '30s. Sohee's tone matched the old-school style music popular in the first half of the 20th century, eliciting howls from the crowd. But her personal taste geared towards indie, with Sohee citing the Korean indie bands Life and Times and Sultan of the Disco as her recommendations to listeners trying to find new Korean music. Aside from the Barberettes, of course.
Shinae suggested that any listener trying to get into Korean music outside of K-pop should visit the bar Samcheongro 146 in Seoul. Owned by a vibraphone player known as Mothervibes, The Barbarettes join indie musicians like Sunwoo Jungah, violinist Kang Lee Chae, and Mothervibes herself to perform and have their own estrogen-filled music show.
As for their future, The Barberettes hope that people will be captivated by their music.
"At the end of the day, if you work hard and you come back home from hard work, you lay down and want to put some music on.. We love our concept and what we do and our shows but we would like to be the music that people want to listen to when they actually want to listen to music."
This slideshow requires JavaScript.
What's your favorite thing about the Barberettes? Make sure to subscribe to the site, and follow us on Facebook, Twitter,Instagram, and Tumblr to keep up with all of our posts.
https://kultscene.com/wp-content/uploads/2016/05/Barberettes-KultScene-1-1.png
750
1000
Tamar Herman
http://kultscene.com/wp-content/uploads/2018/02/KULTSCENE-LOGO-2018-TRANSPARENT-RED.png
Tamar Herman
2016-05-15 09:16:30
2016-05-15 09:25:09
Retro-Inspired Girl Group The Barberettes Makes Music in a K-Pop World [Interview]