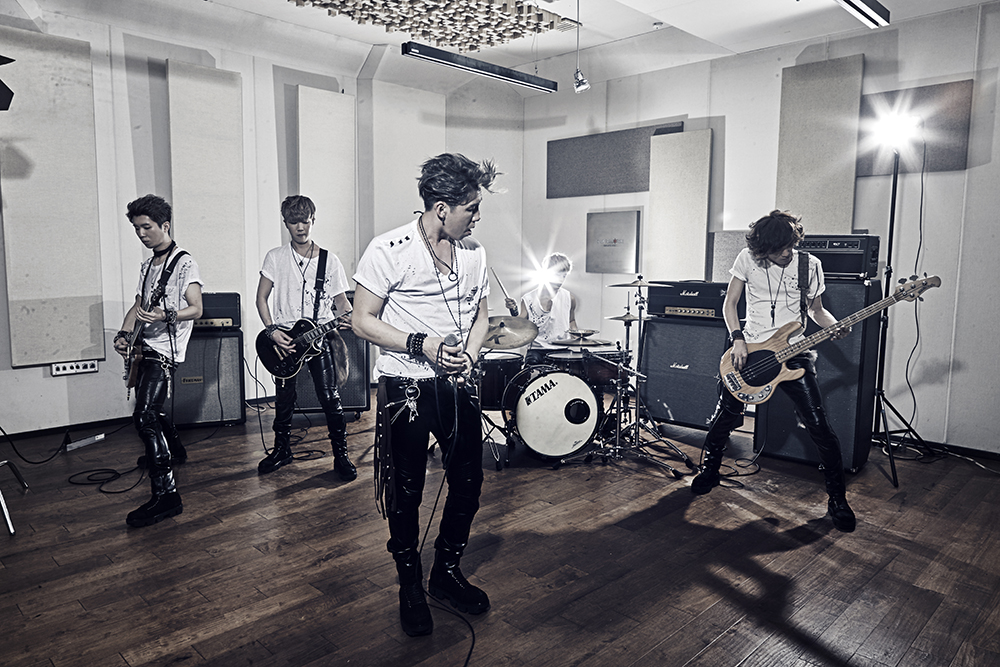 Punk rock is back in a big way with Burstered. If you've never heard of this Korean rock band, don't worry, you're not alone. I only discovered Burstered when my YouTube autoplay kept going without permission. But I wasn't disappointed. The Korean music scene is sorely lacking in the rock department, and not since the TRAX's debut has there been any attempt at putting together an idol rock band. Burstered is the answer to all of our prayers, although calling them idols would be doing them a disservice.
The group first got their name out there back in 2014, when they appeared on "Superstar K6" and made it to the final six. Burstered made a big impact on the show with a unique sound and style that's not usual in Korea, and their hardcore-hip hop hybrid cover of After School's "Shampoo" with T.O.V is absolutely outstanding.
Burstered claims on their homepage to be an "emotional rock" band, and features vocalist No Daegun, guitarists Ahn Junyoung and Lee Kyejin, bassist Cha Hwanhee, and drummer Jung Sangyoon.
---
---
Take note, their name is a bit confusing. In Korean, and whenever the band members say their name, it clearly is "Buster Red." Unfortunately, Burstered has never offered an explanation for the "r" in the first part of their name. We like them well enough anyway.
Burstered debuted formally in February under Evermore Music, whose tagline is "the real music company for the real musicians." And it doesn't get much more real than Burstered.
A little less intense than their "Shampoo" cover, Burstered's debut song "Whenever You Call Me" starts off with a soft melody and then turns into a garage punk rock style song with a cool half-tempo chorus. This song is pretty Korea-friendly, and lacks the screams and wails that Burstered has utilized in other songs that they've performed before their formal debut. (The group has numerous song covers on their YouTube page, so check that out.)
The music video for "Whenever You Call Me" is a bit dark until the very end, but has some great cinematic shots of both the plot and the bandmembers themselves. Visually, the music video also bares some similarities to 30 Seconds' To Mars' "Kings and Queens," which makes sense considering vocalist No Daegun credits the group as one of his inspirations on Burstered's official homepage.
Seriously though.
---
---
Although they've only been around formally for a bit, Burstered has really made an impression. In August, Burstered appeared on KBS1's "Concert Feel" and hilariously were introduced by "The Imperial March" from "Star Wars" before the band started playing their own music for the next 45 minutes.
In September, Burstered made a comeback with "Lost Child," a much more hardcore punk rock song with metal elements that were missing from the group's debut song.There's more of an emphasis on the band's music in "Lost Child" than in "Whenever You Call Me," with more of a screamo vibe. The new track doesn't try as hard as the earlier song to fit Burstered into Korean mainstream music.
To match the metalcore style, the music video gets rid of any convoluted plot. Gone are the beautiful shots of "Whenever You Call Me," and instead we get a vibrant, band-focused music video. The only gimmick is to hide the members faces by mummy-style bandages, as if Burstered is demanding people to listen to their music rather than admire their handsome features, a la the average K-pop band.
Do you like Burstered and their style? Share your thoughts in the comment section below and be sure to subscribe to the site and follow us on
Facebook
,
Twitter
,
Instagram
, and
Tumblr
to keep up with all of our posts.
https://kultscene.com/wp-content/uploads/2015/11/236982449_4PGgUaQk_EBB284EC8AA4ED84B0EBA6ACEB939C3.jpg
667
1000
Tamar Herman
http://kultscene.com/wp-content/uploads/2018/02/KULTSCENE-LOGO-2018-TRANSPARENT-RED.png
Tamar Herman
2015-11-23 12:47:05
2015-11-23 18:33:50
Artist Spotlight: Burstered