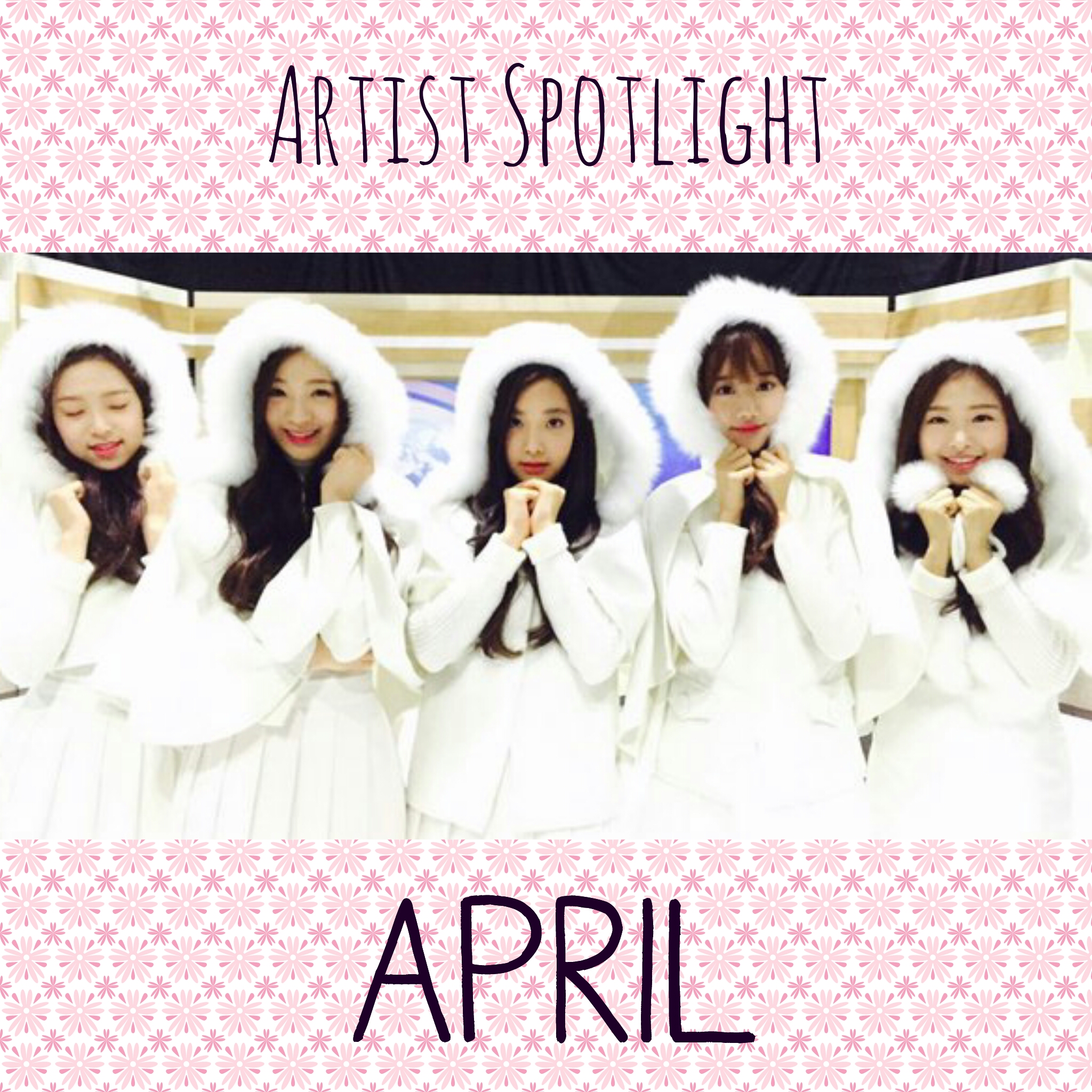 DSP Media's rookie girl group April entered the scene last August and has released three albums since then. They've also had their fair share of pre-debut drama and member departures, even though it's only been less than a year since their debut. With so much going on for them however, why is it that April remains so unknown and underrated?
Sure, they have a loyal group of supporters who have followed them since the start (especially for Chaewon, who was part of the "Kara Project"), but their fan base has remained stagnant over the year, unlike fellow rookie groups such as TWICE and Oh My Girl. For a group that has produced consistently good music, April really deserves more attention.
They kicked off their journey in August 2015, when the original six members released their first mini-album "Dreaming." With their title song "Dream Candy," April really sold their image as pure and innocent young girls, which seemed especially appropriate for this group with an average member age of 16-17. Although this cute concept led to April's eventual blending in with several other girl groups who were all using similar concepts, it would be hard to imagine this youthful and energetic group of girls doing anything else.
---
---
While I wasn't immediately taken by their debut, mostly because of how similar all the members looked and the rather mediocre quality of their title track, once I listened to their whole album I realised that they had a lot of potential, both as individual members and as a group. There were standout tracks that I really enjoyed and gave me faith in the group, such as "Hurry Hurry." It had the catchy melody that "Dream Candy" slightly lacked, and also much less auto-tune so I could enjoy the unique voices of the members better. All in all, the album was merely a stepping stone for this group, as evidenced by their subsequent releases.
Three months later, along with the news about the departure of leader Somin, came the news that April was making a comeback with "Boing Boing," a new mini-album. Despite the member shake-up, April didn't seem to be too affected by the change and came back with an even better song than before. "Muah" still had the same identical styling and cute dance that "Dream Candy" had, but with a more addictive melody and less auto-tune. The music video was also more entertaining because it had a storyline that was both adorable and suitable for the members. They weren't proper and perfect little girls this time, rather they fantasized about romantic encounters with cute guys, just like most teenage girls. This made them more endearing, in my opinion, because they acted more like themselves and not as if they had just come out from a K-pop idol training factory. Each member was also given more time to shine as there were more individual scenes this time around, allowing fans to enjoy April's individual charms.
Towards the end of their whirlwind year, in fact, even before finishing their "Muah" promotions, DSP media announced that April would be releasing a Christmas album.
---
---
I was skeptical about this because April seemed to be releasing way too many songs for a rookie group but at the same time I was excited to see what they would have in store for their fans. "Snowman" was a definite success in my books because it showed their growth and slight maturity as artists, despite the short period of time since their debut. The style of their music video was very much the same as the previous two releases and, despite the lack of a proper storyline, it was a sweet video filled with scenes of the members preparing for Christmas.
The best part of the release however, was the song itself. "Snowman" didn't just fit the winter and Christmas theme perfectly, it was also a platform for the members to show off their vocal chops in a way that they had never done before. Even less vocally impressive members were able to sing without much auto-tune this time, and the two main vocals, Chaewon and Jinsol, simply amazed me. I had known for a while that Chaewon had a great voice, but the fact that Jinsol, the 14 year old maknae (youngest member) of the group, had a voice that was stronger than all her fellow members shocked me.
Jinsol's voice has a very unique tone that makes it instantly recognisable and despite her young age she controls her voice well, it's powerful when it needs to be and subtle in the quieter parts of the song. The two main vocals had more adlibs on this song as well, allowing it to be more layered and nice to listen to.
Although they probably spent a lot of their time recording songs and practicing for their countless stages, April somehow found the time to do some variety as well. Apart from having their own variety program, "Here Goes April," they also guested on well-known programs such as "Weekly Idol" and "Let's Go Dream Team!." Although they are still very young and inexperienced, (with the departure of Somin, who was their oldest member, their oldest member is only 18 years old) there's a lot of potential for April because they've proven (albeit in minor ways so far) that they're able to let go of their pristine idol images for the sake of good entertainment. Energetic members like Jinsol are also able to hype up the atmosphere so I'm really looking forward to their future variety programs.
Since their debut April has given us many venues to see how hardworking and talented they are. Though they are still starting out, and they have a lot of room to grow, they're also very young and brimming with potential. I trust that their troubles are over and from now on, as long as they keep improving with every song or album that they release, they'll definitely be successful and go far.
What do you think of April? Share your thoughts in the comment section below and be sure to subscribe to the site and follow us on Facebook, Twitter, Instagram, and Tumblr to keep up with all of our posts.
https://kultscene.com/wp-content/uploads/2016/01/1452767501350.jpg
2048
2048
Anna Cheang
http://kultscene.com/wp-content/uploads/2018/02/KULTSCENE-LOGO-2018-TRANSPARENT-RED.png
Anna Cheang
2016-01-14 07:24:07
2016-01-14 14:51:11
Artist Spotlight: April