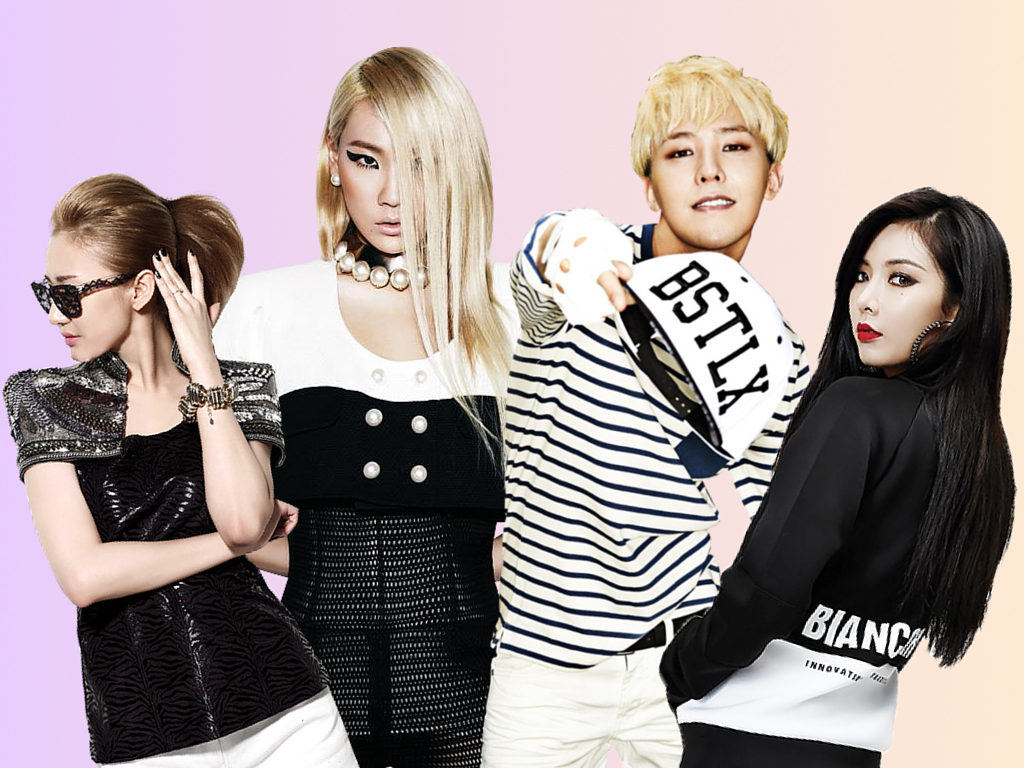 [Disclaimer: This was written by a young, awkwardly tall Latina girl with no butt. However, if I did have a prominent derriere and fierce hip hop skills, this is what I would be twerking to. This article is only meant as fun, so don't take it so seriously.]
Last year when Wa$$up debuted, the K-Pop girl group faced lots of criticism and slut-shaming because of their alleged twerking. However, anyone with an internet connection and access to Youtube knew that Wa$$up's hip thrusts and booty shakes were certainly not twerking. Moreover, the slut shaming has been the response to every other "provocative" dance over the years; Elvis' hip thrusts? Oh my! The lambada? Someone separate those two! In other words, people, once again, were big squares over self-expression through dance…
But just because Wa$$ap doesn't live up to their twerk-dol tag nor any other artists twerk their way through music videos, this doesn't mean they don't release music that would be perfect for this type of dance. That's why we curated a list of nine songs, slowly growing on tempo, that would be perfect to twerk to.
1. Jay Park – Nana
Released earlier this summer, Nana is a laid back tempo track that also mixes in a catchy head-nodding beat. Because the pace is a bit slow, it makes for a subtle twerk. And since we're building momentum here, this Jay Park featuring LOCO track is perfect to get started –a warm-up, if you will.
2. 4minute – Wait a Minute
To bump it up a notch, 4minute's tempo on Wait a Minute is still not that fast, but it's clapping beats make it easy to follow. The song, in my opinion, is an allegory for sex, so it sets the scene perfectly for a coyer interpretation of twerking.
3. f(x) – Boom Bang Boom
Traditionally, f(x)'s music is not what one would associate with any ramifications of the hip hop genre. However, with Boom Bang Boom, the girls presented an interpretation of it that stayed true to their concept; experimental yet cute. Like the previous pick, this track has easy to follow claps and snaps throughout the melody. Furthermore the break down after the chorus also serves for the perfect moment to showcase one's hip thrusts.
4. EXID – ??? (UP&DOWN)
I know, I know. Hip hop nor rap nor any of those genres fit EXID's concept, but LE's rapping in ??? (UP&DOWN) together with the bubble-popping sounds and instrumental beats in the song make it an innovative yet fun pick to twerk to –excluding the chorus, of course. Moreover, since sultry is EXID's brand, we can easily picture the girls doing it in a solo showcase not broadcasted on television.
5. Dok2 – Outchea
But now that we've tried a few experimental groups and sounds, let's go back to basics. Dok2's Outchea offers a more, let's say, traditional hip hop beat for twerking. The tempo is mostly slow, but picks up at the chorus. As opposed to the previous choices, this song does offer the possibility to squat lower and lower as you see fit.
6. Hyuna – Blacklist
Twerking to a track that tells a guy to piss off might seem contradictory to some. However, Hyuna and LE acknowledge their sexiness in Blacklist and are not going to stop being them over some dude. Let's call it twerking with a purpose. Girls who twerk are confident in themselves and their dancing, so this song's beat, lyrics, and fierce idol rappers set the perfect atmosphere for it.
7. G-Dragon – One of a Kind
As a producer and composer, G-Dragon (together with YG Entertainment's house producers) always find new and ingenious ways to mix hip hop with trendy beats, and that's exactly what they did with One of a Kind. The song's hooks give way to faster movements, while the actual chorus allows for slower and deeper ones. One of a Kind is an all-around fun song, so why not twerk to it? The female backup dancers at one point do make some butt popping, so it's just a matter of taking it to the next level.
8. WINNER – I'm Him
We've finally arrived to that part of the list where you're supposed to let loose and just go with the track. It is physically impossible not to get immediately drawn and addicted to WINNER's I'm Him; from the strong thumps in the beat to Mino's rapping, even if you can't twerk, you'll be dancing. This song really needs to explanation… Just play it, and you'll instantly feel it in your backside.
9. 2NE1 – MTBD
And now, the most twerk-tastic jam in K-Pop ever: 2NE1's MTBD. Similar to the previous entry, this song speaks for itself, but ok, let's get into it. This piece is the perfect canvas for your dancing masterpiece. From the trap beats to the electro-hip hop fusion to CL's fierce rapping, the the twerking possibilities are endless. The song offers different tempos that allows a fully-developed diverse choreography. If this song doesn't make you want to thrust your butt and unapologetically purse your lips, I don't know what will…
Do you twerk (or try to or wish you could?) What's your favorite song to twerk to? We'd love to hear your thoughts and don't forget to follow us on Facebook, Twitter, Instagram, Tumblr, and Bloglovin' so you can keep up with all our posts.
[Renders by: classicluv, thisisdahlia, dianpotpot, Kookieng]
https://kultscene.com/wp-content/uploads/2014/10/Untitled-design1.png
768
1024
Alexis Hodoyan-Gastelum
http://kultscene.com/wp-content/uploads/2018/02/KULTSCENE-LOGO-2018-TRANSPARENT-RED.png
Alexis Hodoyan-Gastelum
2014-10-18 21:08:09
2014-10-18 21:09:56
9 K-Pop Songs for Twerking