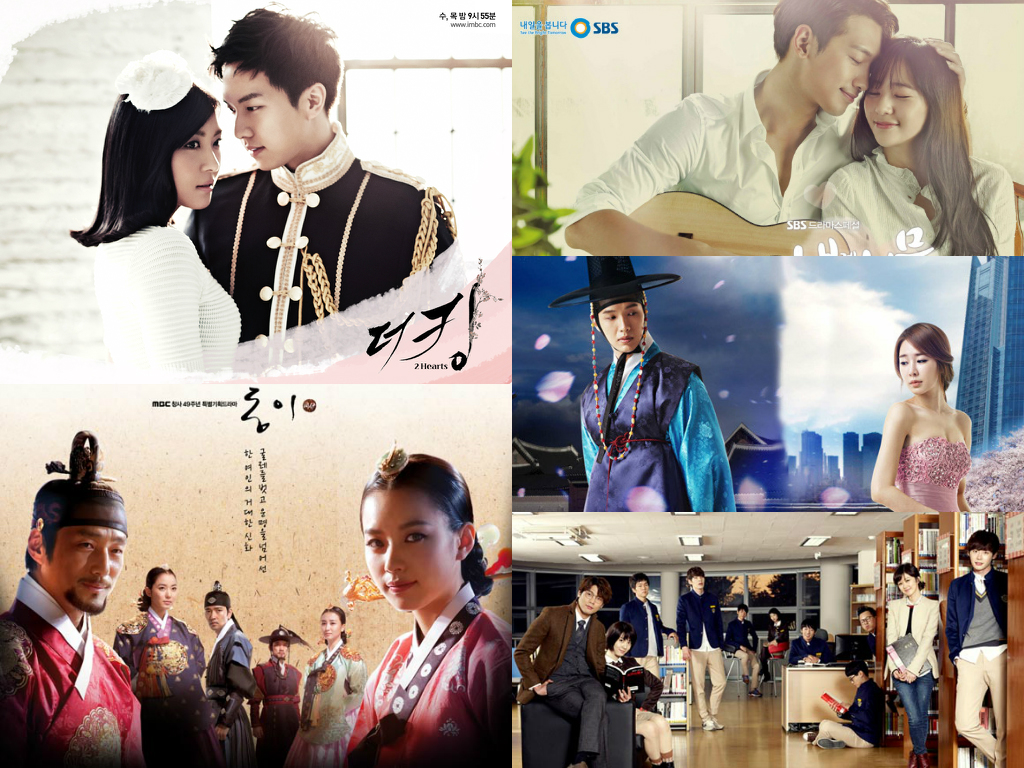 If you ask me what makes a good K-drama, rather than a star-studded cast or a fresh storyline, my answer would be a good soundtrack. OSTs (original soundtracks) are instrumental to dramas because they create the appropriate mood for the various scenes which play out, thus adding a lot of vibrance and emotion to the drama. When used correctly, OSTs also have the ability to grip the hearts of viewers and carry them throughout the drama. A few years ago, that is what a special OST did to me. For the first time, I cried along with the main characters because of the anguish that I felt as I listened to the song, and since then, the tears have never stopped flowing. I started to have a great appreciation for emotional OSTs and would listen to them over and over again.
Over the years, I've gathered quite a collection of my favourite OSTs, but the following five that are listed have a special place in my heart and still linger fondly in my memories today. (Warning: Some drama spoilers ahead!)
5. Gavy N.J – "Rewind" ("My Lovely Girl")
"My Lovely Girl" (2014) is one of the more recent dramas that I've watched and what it lacks in plot it certainly makes up for in its soundtrack. As a drama centred around an entertainment company run by Lee Hyun-wook (Rain), I expected that there would be many amazing soundtracks being used in the show. Indeed there were great songs, such as Krystal's (f(x)) "All of a Sudden" which I enjoyed. But the first song to really touch my heart was Gavy N.J's "Rewind." In the drama, this song is used as a recurring reference to Sena's (Krystal) deceased sister, which on its own is a tragic enough plot point, but the gorgeous voices and harmonies of Gavy N.J brought tears to my eyes, and caused me to care a lot more about the show than I would have originally. The song is not flashy in any way, but sometimes it's the softest and simplest melodies which are the most poignant.
4. Jang Nara – "Walk In A Dreamy Road" ("Dong Yi")
"Dong Yi" was one of the first K-dramas that I watched, and my first sageuk (Korean historical drama.) It definitely had a slower pacing in terms of the plot, but it also offered some of the best soundtracks. The combination of all the traditional instruments with a beautifully haunting melody sold it for me, and the first time it played during the drama (it was a pretty sad scene) I lost it. I went on Youtube to find the song as soon as the episode was over and subsequently learnt how to play it on the piano. This song actually taught me how to play the piano with emotion, and I still practice it every now and then. "Dong Yi" had a rather tragic plot, but one of the saddest scenes in the drama that I remember was when Dong Yi (Han Hyo Joo) was separated from her lover, the Emperor (Ji Jin Hee) and they were both thinking of each other forlornly. As this soundtrack played, I sobbed along with Dong Yi, even though my family was watching the drama together with me. It simply made the scene that much sadder.
---
---
3. Joo Hee (8eight) – "Different Time, Same Sky" ("Queen Inhyun's Man")
I seem to have a fetish for sageuk dramas but you can hardly count "Queen Inhyun's Man" as one, because most of it takes place in modern times. "Different Time, Same Sky" is the best phrase to describe the drama's star-crossed lovers, actress Choi Hee-Jin (Yoo Inna) and Joseon scholar Kim Bung-do (Ji Hyun Woo), just as the OST is the perfect way to express their romance: Beautiful, passionate, and downright heart-wrenching. Whenever it played in the drama I just wanted to hide in a corner and cry, but the show and the electric chemistry between the two leads was so addictive that I had to keep watching, all of which resulted in me keeping a tissue box with me every time I watched an episode. My favourite scene from this show came in the finale episode, when Bung-do was about to hang himself with a tie in a Joseon jail. The worst part was, Hee-Jin, who had just regained her memories about him was, at the same time, sitting in a car and crying her eyes out. Cue this amazing OST and guess who was bawling along with them. It was so heart-breaking that I could not bear to watch it, but at the same time, it's also the reason why "Queen Inhyun's Man" remains my favourite drama of all time.
Under the same sky, in a different time
This sad love can never be
I will become the moonlight in the dusk sky and shine on you
So you can find your way back to me
2. Kim Bo Kyung – "Don't Think You're Alone" ("School 2013")
Just like dramas, OSTs do not have to be about romance to be touching. In a show filled with emotionally charged and tear-filled moments like "School 2013", this song ties it all up together and really brings out the message of encouragement that is undercurrent throughout the whole series. The drama was realistic, heart-breaking, and extremely painful to watch, but this soundtrack, which plays at least once per episode, reminds us that school, and real life for that matter, is never entirely hopeless. There are always people by our side who will love us and support us no matter what situation our life is in, whether it is our family, our friends, or even our teachers. Through the drama's numerous lonely characters such as Lee Jongsuk's Go Nam Soon and Kwak Jung Wook's Oh Jung Ho, I saw bits and pieces of myself, and being a student I also could relate to the student characters in the show on a deeper level.There were so many instances when I watched this drama that I shedded tears because of how deeply it impacted me, and this song played a major role in achieving that.
---
---
1. K.Will – "Love is Crying" (The King 2 Hearts)
"The King 2 Hearts" is one of the most severely underrated K-dramas in history. It has a well-crafted and engaging plot, a great cast with the likes of Lee Seung Gi and Ha Ji Won, and a wonderful soundtrack featuring known balladeers such as K.Will and Taeyeon (Girls Generation). It is also one of the saddest dramas I have ever watched (even among sageuks) because of the sheer amount of tragedy that takes place over the course of 20 episodes. When politics and international relations start to get incorporated into a drama, you would probably be surprised at how many terrible situations can result from it, especially when it's about the tense relations between South Korea and North Korea. Then again, the more tragic, the better. A lot of dramas make me cry, but none to the extent that my eyes remain swollen and my nose is blocked for a good part of the following day. "Love is Crying" played a big part in that, partly because it is one of the best OSTs I have ever heard in a musical sense and mostly because K.Will sings with so much emotion. It never fails to amaze me how hilarious he acts on variety shows or over the radio, because his voice always has the ability to dig deep into my heart, sometimes even painfully so. His voice makes me feel like I'm facing that tragic situation in the drama myself, which to me, is the mark of a good OST. It's a pity that this drama and OST aren't more well-known, but ratings can never define the quality of a drama, and this is definitely a gem.
As a bonus, Lee Seung Gi sang the same song during his fanmeeting in Japan as well. His voice isn't as skilled as K.Will's, but he still pulls off the song very well.
Do you like sad OSTs as well? How important do you think OSTs are in dramas? Share your thoughts in the comment section below and be sure to subscribe to the site and follow us on Facebook, Twitter, Instagram, and Tumblr to keep up with all of our posts.
https://kultscene.com/wp-content/uploads/2015/09/OST-feature.jpg
768
1024
Anna Cheang
http://kultscene.com/wp-content/uploads/2018/02/KULTSCENE-LOGO-2018-TRANSPARENT-RED.png
Anna Cheang
2015-09-19 10:20:21
2015-11-16 14:02:56
5 Tear-Inducing K-Drama OSTs Pt. 2