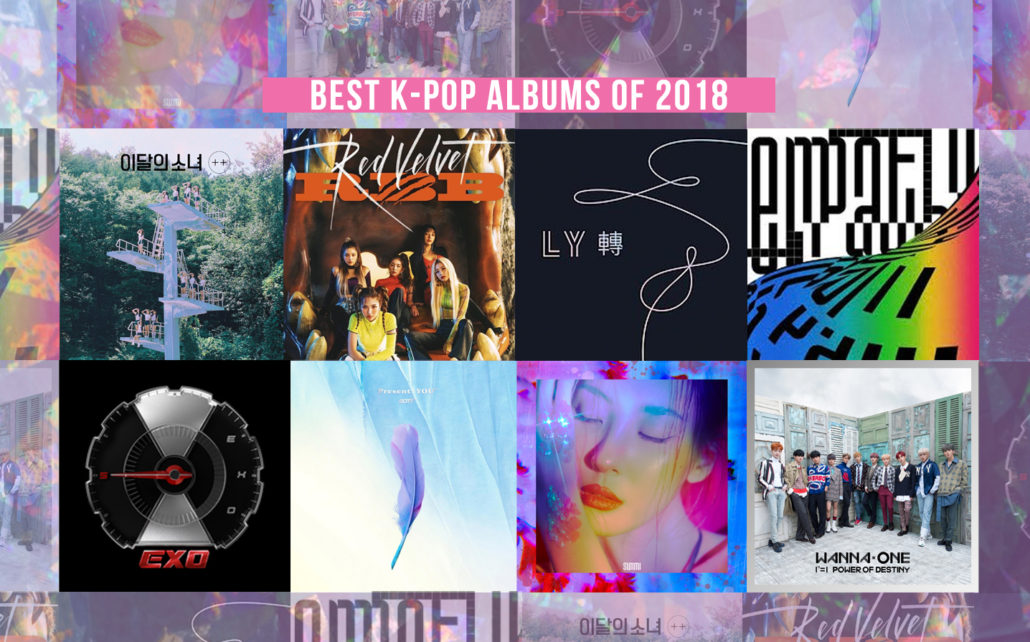 Every year, the world of K-pop gives us new sounds to enjoy and compacts them into pristinely packaged album. And then, the KultScene team puts them together into an easy-to-read list based on our personal tastes. The past 12 months were no different than usual, so we are excited to present our best albums of 2018 list. Unlike our vote-driven songs list, each blurb is based on each writer's individual feelings towards the album they wrote about and are listed in no particular order. Whether they were albums from brand new acts or ones from the biggest names in the industry, these were what the KultScene loved in 2018.
Love Yourself: Tear by BTS
Even if it wasn't for its historic achievements (first million certified album by the Korea Music Content Association, debut at number one on Billboard 200, and a Grammy nomination), Love Yourself: Tear would deserve an honourable mention amidst BTS discography anyway. From the opening track, "Singularity" (a solo moment for member V, whose distinctive voice and style make him the perfect vocalist to match the deep, elegant tone of the song), until the last, "Outro: Tear" (BTS rap line's best collective effort since 2014's "Cypher pt. 3"), Love Yourself: Tear contains some of the group's best lyrics ever. It's also definitely their most experimental album so far. It ranges from hip-hop, soul, R&B, to pop, EDM, and even incursions on rock ("Fake Love"), jazz/bossa nova ("134340"), and latin rhythms ("Airplane pt. 2"). It's all packed in a way that makes sense for the album's aim to explore darker and more practical themes than its predecessor, Love Yourself: Her. With tracks like "Paradise" and "Anpanman," Love Yourself: Tear solidifies BTS's purpose to be spokespeople for today's youth, while also cements the group's rich musicality.
—Ana Clara
Warning by Sunmi
Her first body of music since 2014's Full Moon, Warning portrays Sunmi at her most mature and dominant. The mini-album begins with the bombastic self-written intro "Addict," her first and only completely English-language song. One of Korea's most prominent and often most criticized female soloists, Sunmi tells her critics that they're "already addicted" to her. She asks the repeated question "Who's running the show?" throughout the song as if to reference haters' questions about whether she has control of her music and career. Confidently, she answers, "Me," as the song ends.
Following "Addict," Warning quickly moves into lead single "Siren," a pulsing electropop number that scored 30th on KultScene's 50 Best K-Pop Songs of 2018. Between "Siren" and previously promoted singles "Gashina" and "Heroine" lie "Curve," a pop track telling a lover to be careful with her, and another album standout "Black Pearl," a funky R&B-influenced track contemplating her self-image. The tracks reach back to Full Moon Sunmi, who was a bit more sultry than the one who sings "Heroine" or "Siren," but just as confident and in-control of her sexuality as she is now.
The mini as a whole, which ends with soft rock outro "Secret Tape," not only explores the different sides of Sunmi we know and love, but also reveals new sides we have never before seen. Most of all, the album stands as a "warning" for those doubting Sunmi's versatility and skill as a performer and artist. The world is Sunmi's show, and we're all just living in it.
—Kushal
Present: YOU & ME by GOT7
Present: You & Me is the GOT7 album we've have been waiting for. The repackaged album consists of all the songs that was previously released on Present: You, along with with 12 other "new" tracks. The repackage includes new songs like their Christmas track "Miracle," the sweet ballad "Take Me To You," and, of course a classic GOT7 feel good dance track, "Come On."
What's most exciting about this repackaged album is that it consists of a few fan favorites that the members have performed during their first and second world tour. Some of the subunits were rather to be expected such as JB and Youngjae's "1:31AM," Jackson, Bambam, and Yugyeom's "WOLO" and "I Love It." Whereas Mark and Jinyoung's "Higher," Mark, JB, and Youngjae's "Think About It," Jackson and Yugyeom's "Hunger," and Jinyoung and BamBam's "King" units came as a pleasant surprise. Yugyeom's "From Now" and Jackson's "Phoenix" solo tracks highlighted of the two's strengths; Yugyeom's being heavily danced influenced and Jackson's addictive raspy rapping.
Present: You & ME had a fusion of both mellow and high spirited tunes. These songs were examples that exudes the member's individuality and different styles in music. At this point, is it even considered a repackaged album considering how most of these songs were never released before? Wow, GOT7 really loves their fans.
—Tam
RBB by Red Velvet
You can always count on Red Velvet to deliver a solid album and/or EP, and RBB was no different. The quintet's discography may already have an EP they christened Perfect Velvet, but with RBB and its five songs and the English version of the single, it's by far the superior one. Falling on the Velvet side of their concept spectrum, the EP is a more fun and mature follow up to last year's The Perfect Velvet. The EP is a mix of the fun, electropop side of Red paired with the smoother '90s R&B-tinged tracks that define Velvet. Though the single "RBB" and "Butterflies" represent a more palatable Red Velvet sound, it's "Sassy Me," "So Good," and "Taste" that join the group's repertoire of amazing sultry deep cuts. Velvet Red Velvet is the girl group the people deserve, and though RBB didn't get as much love in Korea as Summer Magic, it further proves that Red Velvet is currently the most versatile and musically interesting female K-pop ensemble.
—Alexis
Shoot Me: Youth Part 1 by DAY6
DAY6 recently said during an interview that when they work on each song, they regard it as the title track of the album and give it their all. Shoot Me: Youth Part 1 definitely shows this, and this is the only album so far with tracks that I never wanted to skip. The tracks are so different, instrumentation and genre-wise, but they all contain DAY6's unique colour and signature style. More importantly, they are all musically complex in their own ways and highly enjoyable to listen to. This album saw the welcome return of Jae's rapping in "Talking To" and brought one of DAY6's strongest ballads to date, "Still". Ever since their debut, but especially in the past two years, DAY6 has consistently been churning out good music and I'm looking forward to how they will continue to evolve in the future.
—Anna
---
---
The Story of Light: Epilogue by SHINee
Listening to The Story of Light is an altogether Too Much experience. Too much emotions, too much sounds. It begins with aplomb, the bombastic electro pop of "All Day, All Night" bursts with desperate love. It runs into the double singles of "Countless" and "Good Evening." On that quick flip the passion of the opener is replaced with a confused melancholy. "Oh my god, the melodies ring out" is forgotten in favour of "The cozy darkness." The deep house of "Good Evening" and tropical flavours of "Countless" betray their original happiness. Of course the context in which The Story of Light was created explains this. A year of comebacks following the death of Jonghyun led to a whole hour of new material for which SHINee to remember him while not forgetting themselves.
Taemin, having once had to try fill the impossible shoes of Jonghyun on "Why So Serious?", tries again to step up to the mantle. He is more than capable, and yet, one can't help but hear the old Taemin in everything he does. A child when SHINee first debuted in 2008, the future of K-pop was clear in his bright eyes. He retains that sense of wonder with his more modern self turning up on the absolute delight of synth pop that is "Undercover" and smashes it. Amidst the unpredictable piano of ballad "I Say," even the utterance of just the words "right now" from Onew could make you cry. No one in his position should have the courage to use such defiant language. But he did and no one could possibly think he's faking it. Minho's rap, once a handicap for the group becomes a crutch. His deep voice a warm reliable sound that reminds one of the past, reminds one of a SHINee that has not quite disappeared yet. His work on the jazzy "Retro," is mightily assured as he remembers a lover, and how easy it was to love them. Key is as exuberant as ever. The mood maker of the group, he can wrap his voice around any sound thrown his way. Key carries on as anyone would so hope he would. He races, wailing and crooning, across the more upbeat housey vibes of "Jump." His falsetto lights it up and braces SHINee for the end of this story. As the long hour of The Story of Light comes to an end it's hard, despite the many ideas within, not to see only one thing in its entirety. Every word from the throats of the members, every inflection of sound from all sources, every song on this album is about Kim Jonghyun.
—Joe
Blooming Days by EXO-CBX
One of the greatest things about K-pop is its love affair with highly conceptualized musical experiences, so it's kind of baffling that it's taken a while for any of the biggest acts in the industry to create a seven-track EP that coincide with the days of the week. Luckily, 2018 saw EXO-CBX release Blooming Days and give us a sweet soundtrack for any week. The trio spend the entirety of the album serving up funky, harmonizing-heavy pop tunes, beginning from the mellow vibes of "Monday Blues" and ending with the groovy chill of the Sunday-oriented finale in "Lazy." While each song comes into its own, there's an overlying warm, almost intimate feel throughout the album as the EXO's trio of vocalists mellifluously — Chen, Baekhyun, and Xiumin — guide the listeners through their exploration of lush, retro-tinged pop.
—Tamar
Breathe by MRSHLL
MRSHLL's Breathe is a R&B EP with hints of house music, soul peppered across tracks, and ingenious collaborations ranging from ph-1 to Lydia Paek. The EP kicks off with "Come Over," a track featuring trendy tropical beats and light hip hop swagger. While "Come Over" presents an upbeat aura, MRSHLL secures his footing as his own artist by diving into the complexity of emotions and acceptance through the remainder of the album. His raspier vocals express the vulnerability and desperation in tackling loneliness, depression through tracks like "OK" and "Nohanza."
Everything comes full circle with "Pose," an ode to the LGBTQ community, which taps into house music and exudes a new found confidence that was lacked in previous tracks. The catchy "Get your life and pose" is a mood we call take with us into the new year. Breathe is a reassurance in going through our struggles, expressing our emotions and reaching the freedom that comes with true ownership of who we are.
—Nnehkai
The Connect: Dejavu by Monsta X
Space, time, and entanglement —Monsta X continues to explore these concepts and more in The Connect: Dejavu, an extension of their The Code album released last year. Fronted by lead single "Jealousy," the EP actually does most of the conceptual grunt work with the second track "Destroyer," a nu metal song flecked with chilling raps, amplified vocals, and dense electric guitars. Behind every utterance, every inflection, there is an honest determination to conquer against time and fate in the name of reconnecting with a loved one. All things considered, there's due cause why "Destroyer" was previewed in the time-looping, time-manipulating music film leading up to the album's release over "Jealousy."
But neither "Jealousy" nor "Destroyer" can hold a candle to what's to come next. Coming in third on the tracklist is fan favorite "Fallin,'" whose EDM and deep house influences makes this one that was meant to be enjoyed in a concert hall than through wires and headphones. Only Monsta X can pull braid together such tasteful use of autotune, electrifying synths, and processed vocals while still feeling human. There's always an order within the lawless nature of the song, something that the final song "Special" seem to try to replicate with its hip-hop leanings but falls slightly short of.
The rest of the album is filled out with delicate, iridescent melodies in "If Only" and softcore pop beats in "Crazy in Love." "Lost in the Dream" manages to find middle ground between this and the earlier tracks; despite the fervid raps and throbbing percussions, vocal line comes in with a dreamy lilt that saves the song from edgy territory. Clocking in at a little over 26 minutes, The Connect: Dejavu showcases Monsta X's fluidity as artists and could possibly be their most experimental one yet.
—Shelley
Hyehwa by Jeong Eun Ji
Jeong Eun Ji's voice is a sweet delicacy for our ears, and in Hyehwa, we not only get delighted by her crystalline vocals, but also get the pleasure to know a bit of her soul. The third solo album from Apink's main vocalist reflects her musical talents (she was involved in the writing and composition of the whole album, and co-produced three out of eight tracks,) and her stories, as the lyrics address themes such as longings, childhood memories, and personal hardships with discovering and building identity. The stripped-down production, that swings from guitar to piano-focused songs, highlights "Hyehwa" as a candid, almost therapeutic experience in which the feelings conveyed by Eun Ji are the star of the show —with few exceptions when the instrumentals shine just as much as the singer, like in "The Box," a folk-pop song cleverly built to involve the listener in the lyrics's persona attempt to break free from limitations.
—Ana Clara
Something New by Taeyeon
In her 11th year as a K-pop idol (and a damn good one, at that), Taeyeon is blunt and unapologetic on her fourth mini-album Something New. Released with no promotion, the album is centered on its title track as the lead single. "Something New" is a funk and R&B-influenced song about breaking the mold of everyday life and searching for a new way of doing things. The song seems personal to Taeyeon, who has openly discussed struggling with mental health issues and acclimating to the celebrity lifestyle in the past. In lyrics, instrumentals, and vocal performance, the song is a notable divergence from previous releases.
The album jumps through different genres as the songs progresses. "All Night Long" and "One Day" are love songs—the former with reggae influences, and the latter with vocal pop delivery reminiscent of some of Girls' Generation's earlier albums. "BaramX3" on the other hand, is an angry breakup song, cleverly using the Korean word baram (바람) to refer to both the wind and a cheating lover. An album standout, "Circus" is a piano ballad about the dizzying, sensory overload of new love.
Through and through, the album is open-hearted and introspective about love and self-discovery. Something New tells us that Taeyeon is still exploring the genres, trying to figure out who she is a solo artist separate from her girl group. Going deeper, it also shows us that she's exploring herself, trying to find who she is as a person after so many years in the spotlight. Her soul-searching demonstrates she is perhaps K-pop's most versatile artist, but simultaneously one of its most enigmatic as a solo.
—Kushal
Sun and Moon by Sam Kim
With an elegant and soothing voice as Sam Kim, it's crazy to think that Sun and Moon is only his first full album. His latest album shows influences of pop, R&B, soul, jazz, and folk, all under one roof, which can really set one's feelings on one hell of rollercoaster ride. A couple of songs had a charming and playful element to it, such as title track "It's You" featuring Zico, "Make Up" featuring Crush, and "The One." Meanwhile, others like "Sun and Moon," "Sunny Days, Summer Night," "If," "The Weight," and English track "Would You Believe" were slow and somber, very much tugging at my heartstrings.
This mesmerizing of an album makes for the perfect playlist for a road trip. There's something about that soulful voice of Sam that just speaks to all my feelings. Each song on Sun and Moon had its own obsessive flow; pure, beautiful, art. This album is truly genius, completely worth the long two and a half year wait.
—Tam
---
---
Eau de VIXX by VIXX
Other than their eye-catching, signature concept singles, VIXX goes largely unnoticed every year when in fact they consistently put out quality and musically interesting albums and EPs. Following last year's "Shangri La," it seems like the group have finally outgrown the concept crutch they've always leaned on and embraced the eccentricity that has always made them stand out but channel it into experimental music. And with the genre-diverse Eau de VIXX, the male outfit delivered their most solid piece. The album shifts between the moody deep house and electrifying electro pop tracks ("Scientist," "Silence," "Trigger") to the uber sensual ("Odd Sense," "My Valentine") to the disco-ey, groovy tunes ("Good Day," "Navy & Shining Gold"). In Eau de VIXX, VIXX packaged exactly what makes them VIXX: sensuality, weirdness, and a damn good time.
—Alexis
1¹¹=1 (Power of Destiny) by Wanna One
This final release of Wanna One is a bittersweet one, aside from the fact that the songs on this album fit the season and tend towards the ballad genre, it is a sad reminder that a group this musically talented will cease to be together in the coming year. I've always loved how the different talents and personalities of the members come together so perfectly to create quality music, and this album is no exception. From nostalgic remakes such as "Beautiful (Part 2)" to more experimental tracks like "Awake," the album features a diversity of tracks and gives room for each member to shine (for a group of 11 members, this is really a feat). Title track "Spring Breeze" was definitely the most comforting but heart wrenching song of the lot, but it's wonderful to see Wanna One end their stint on such a high.
—Anna
++ by LOONA
The reveal of LOONA as a 12 member group covered three years, three sub-units, and many more songs. Waiting for them was easy, thanks to this mass of work, actually dealing with the reality of them was more difficult. They came in the form of a mini album, ++, a title that lingers in their pre-debut (LOONA ⅓ + ODD EYE CIRCLE + LOONA yyxy). It is a fast, tight mini that contains a focused but varied number of sounds and styles. Lead single "Hi High" follows the hasty bubblegum pop of songs like "Girl Front" with a smattering of high paced vocals and synths. A perfect and safe opening to LOONA that highlighted their energy over their more unique qualities. They were left to the rest of the album. The pair of "Favorite" and "Yeolgi" have big destructive beats formed around opposing productions. "Favorite" basks in it, working as a pure dance track made to show LOONA's skills. "Yeolgi" fights back against it, their voices are softer, and along with booming brass and a siren, they call to "reach higher." It leads nicely into the playful, dainty R&B of "Perfect Love." Along with "Perfect Love," the sleek electro pop track "Stylish" closes the short 18 minutes of ++ in predictably good style. The synth hook is sharp and unique. The girls also do the best harmonizing of their short career so far over it. Not one of them is left out of a stunning cap to what is a brilliant debut album.
—Joe
NCT 2018 Empathy by NCT
As overwhelming as some people find the concept of SM Entertainment's boy band brand NCT, this year's Empathy showed exactly how the company's loosely-oriented teams are the perfect way to delve deep into the type of experimental electro-pop that the company has thrived on for years. With each song, from the trippy chants of "INTRO: Neo Got My Back" to the climactic "OUTRO: Vision" and all that is in between, NCT, and SM, use the platform of Empathy to put the emphasis not on the alleged unity of the act but instead on highlighting its diversity.
No two songs have similar styles or structures, and even the obvious choices, like an experimental dance track for NCT 127 and bright retro-infused pop song for NCT Dream, were turned on their head. Instead, we were served up with the Dreamies getting more dramatic than ever before on their anthemic "Go" and NCT 127 going full-on sweet with their sleek, R&B-infused euphoria of "Touch," and the varied NCT U songs going everywhere from the philosophical alt hip-hop of "Yestoday" to the rhythmic sensuality of "Baby Don't Stop." "Boss" and "Black on Black," the only other two new songs released on the album, were each professions of NCT's prowess, but the former offered a sleek, thumping sound guided by the group's aggressive raps and soaring vocals while the latter was all about the performance aspect of it and fittingly oriented on how certain members could capture the animalistic, hard-hitting nature of the bombastic song. The rest of the album features songs fans were already familiar with, like the stand out "7th Sense" and Ten's captivating "Dream In A Dream," but are nevertheless as important in showcasing the importance of NCT's fluidity and potential to consistently reorganize its groups. It may be a bit new for K-pop —organizing artists around songs rather than songs to fit the act but it's a fascinating attempt at changing things up and Empathy revels in the opportunity its given, offering up a buffet of a soundscape to fit every listener's sonic palette.
—Tamar
Gemini 2 by Yoonmirae
Growth, love, and joy are at the center of Yoonmirae's second studio album Gemini 2. The album comes after successfully overcoming the struggles and hardships recounted in Gemini. Yoonmirae still boasts a bravado that reassures listeners she's still the baddest to ever do it and maintains her signature swagger with tracks "Rap Queen" and "Kawibawibo." In contrast, songs like "Thin Line," "Peach," and "Cookie" give insight to her live as a wife, lover, and mother and the adoration she has for playing multiple roles in her life. "You and Me" is definitely a standout and most commercial of the tracks. The Junoflo collaboration is flirty, coy filled with synth-pop overtones making for a light-hearted vibe suitable for any listener. Gemini 2 is a chill, bright aura reflecting Yoonmirae's current chapter in life, but she still boasts strong lyrics and an impeccable ability to transition between vocals and rapping.
—Nnehkai
Don't Mess Up My Tempo by EXO
Don't Mess Up My Tempo is EXO's first studio album in well over a year and their first release to feature Chinese member Lay since For Life (2016), but these are not the only reasons why the EP should be celebrated. Several moments feel like blatant pastiches of the group's earlier works, with "Sign," an electropop track featuring the group's signature timbre and dynamic vocals, standing out against the rest. "Damage" is a close second, however, embracing an orchestral section from their heydays and never forgetting the youngest's penchant for spelling out the group's name. Perhaps this is also why title track, "Tempo," is so interesting, technique-wise. It's not the voice mods or the up-tempo hooks that gives the single its je ne sais quoi, but the acapella-style harmonies — especially prominent during the bridge — done in classic EXO. While the album alternates between everything from Latin pop ("Ooh La La La") to funk ("Gravity") to R&B ballads ("Smile On My Face"), there's never a break in continuity thanks to idiosyncrasies like these. Don't Mess Up My Tempo is the old friend we never knew we needed.
—Shelley
What were your favorite K-pop albums of 2018? Let us know your picks in the comment section below and be sure to subscribe to the site and follow us on Facebook, Twitter, Instagram, and Tumblr to keep up with all of our posts.
http://kultscene.com/wp-content/uploads/2018/12/BESTALBUMSOF2018.jpg
895
1436
KultScene
http://kultscene.com/wp-content/uploads/2018/02/KULTSCENE-LOGO-2018-TRANSPARENT-RED.png
KultScene
2019-01-01 00:07:25
2019-01-27 15:56:41
Best K-pop albums of 2018