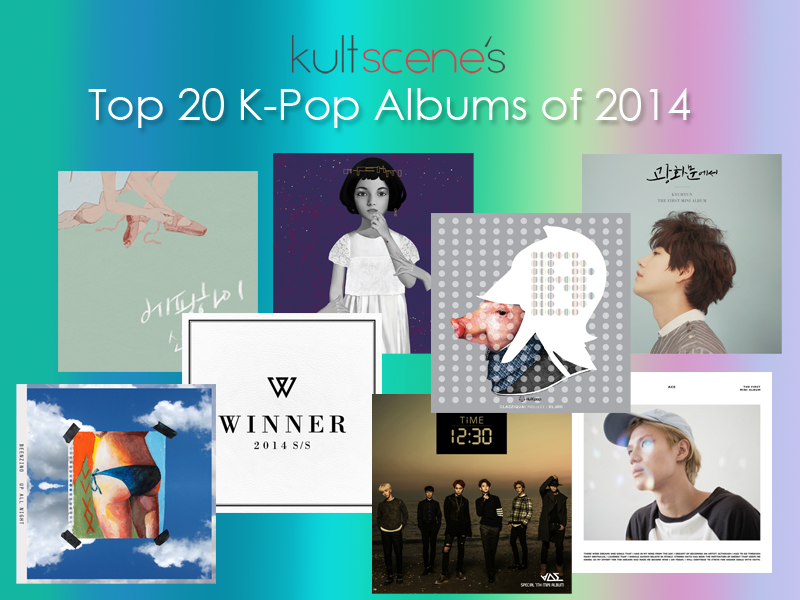 Wrapping up our series of year-end lists comes the top K-Pop albums of 2014. Every day in the business brings a new song, a new group, a new comeback, etc., and that's why not everything is always good or that different. But just as there's some bad releases, there are even more outstanding ones out there. Listed below, some of the best albums range from veteran artists, to up-and-coming rookies, to consistent top players. 2014 also proved to be YG Entertainment's, and that's news to no one who follows K-Pop. And since Hallyu has been broadening its horizons in the last couple of years, the top albums picked include typical K-Popers, rappers, and rockers. K-Pop delivered more than one sound in 2014, and that's what made this year great. The albums on this list were chosen by the KultScene staff merely based on our tastes and preferences.
20. g.o.d Chapter 8
An all around great album, the fifteenth anniversary album is really g.o.d's gift to their fans. As one of K-pop's most popular first generation acts, g.o.d doesn't disappoint. With an opening that sounds like something you'd hear at a musical or in the very beginning of a movie, which gradually turns into a more industrial tune, Chapter 8 builds up the anticipation for g.o.d's songs. The members introduce the album, and discuss being together for fifteen years together through music. The album's tracks are a combination of new songs and revamped versions of g.o.d's hits; Sky Blue Promise is an ode to g.o.d's fans based on one of the group's most famous songs, One Candle. Chapter 8 introduces new and old fans to the diverse styles of songs that g.o.d have performed over the year; the beautiful ballads, the upbeat dance songs (Saturday Night,) the iconic raps-Chapter 8 has them all.
19. Royal Pirates Toxic Love
Royal Pirates' mini album Love Toxic is short, sweet, and the perfect thing to sit down and take a listen to. Haru's soft melody draws the listeners in with its crooning before Royal Pirates springs the more upbeat Love Toxic on the audience. The final three songs are all great, but the English version of You is really the standout track. Royal Pirates bring together their rock sound with the synth sounds that have been prominent in K-pop in 2014 to create an addictive album.
18. Girls' Generation Mr.Mr
Mr.Mr really brings together everything that Girls' Generation has worked on for the
past seven years. The album has the Girls' singing dance tracks, ballads, and experimental songs with funk elements that they wouldn't have dreamt of including even three years ago. The title song is the epitome of Girls' Generation's chart-topping songs with powerful dances, while the other songs on the album, like Back Hug, Goodbye, Europa Soul have the Girls' showing off their vocal prowess through a variety of different musical styles. With a multitude of sounds and small moments you're likely to glance over, Mr.Mr demands to be listened to over and over again so that you don't miss a single element.
17. After School Dress to Kill
After Kahi's departure, After School looked like they were on the way down but with the incredible pole dancing choreography of First Love and this amazing Japanese album they are completely revitalized. The two singles taken from Dress to Kill, the disco smash Heaven and the 90's electro inspired Shh, are two of the best Japanese K-pop singles ever released and cemented After School's return to quality, if not sales. The album overall sounds more like a Japanese group than a Korean group and it's a sound that perfectly suits the girls' voices. The album kicks off especially with the title track, Miss Independent and Triangle having particulary J-Pop electro sounds, with Lizzy especially perfectly executing her parts on Triangle. There is not a bad track on the album and enough variation to keep it interesting all while sticking to the original sound. All the changes in the world to After School's line up won't matter if they keep making music like this.
16. Ga-In Truth or Dare
Ga-In's mini album Truth or Dare was one of the most underrated releases of the year. The unusual concepts (mockumentary music video) and controversy (cursing-dol!) failed to catch attention so K-Pop fans missed out on some great songs. Ga-In reunites with Lee Min Soo on lead single Truth or Dare which is a smooth R&B pop track that is an indirect fxxk you to the haters. Pre-release single Fxxk U is even better and really makes Ga-In stand out from other idols, like any Brown Eyed Girl member should. The song's plucking guitar, strange backing choir, and lyrics about a destructive relationship mesh together perfectly to create the highlight of the album. The rest of the album retains the quality and identity of Ga-In. It even has an interesting ballad featuring her former We Got Married faux husband, Jo-Kwon.
15. Kyuhyun At Gwanghwamun
Following two debuts from the Chinese members of Super Junior-M, SM Entertainment finally gave Kyuhyun his much deserved solo album this year, and boy was it everything we had hoped for and more. Being a gifted vocalist, Kyuhyun's strength lies with ballads, which mostly comprise At Gwanghwamun. Super Junior's maknae (youngest member) kept the music arrangement soft and simple, making his powerful yet warm voice take the spotlight. Songs like the title song, At Close, and My Thoughts, Your Memories soothe the listener's' senses and make them fall for Kyuhyun's charming little album.
14. WINNER 2014 S/S
YG Entertainment finally debuted their new and much anticipated boy band in 2014. After their appearance as Team A on WIN:WHO IS NEXT? and winning the competition, Team A gained the title of WINNER. Their debut album was modeled after a high fashion campaign, and was even named 2014 S/S like the spring/summer shows in fashion week. The album has many stand out tracks like their sad debut ballad Empty, Mino's solo song I'm Him, and the funny reggae-pop very reminiscent of fellow YG act 2NE1's sound, Don't Flirt. The full album was penned and produced by all the members of the WINNER, with arrangements by The Fliptones, Choice 37, and Teddy. WINNER changed the game for the new rookies to come and we can't wait to see what direction they take when they come back with new material.
12. GOT7 Identify
After a debut and a comeback, with their respective mini album, JYP Entertainment's latest boy group finally released their well-deserved full length album by the end of the year. With Identify, GOT7 properly showed how they're 2PM's second coming plus a futuristic Y2K millennium vibe. The album ranges from hip hop and futuristic hybrids like Gimme and Stop Stop It, but also showcases the vocalists' talent in She's a Monster and Moonlight. GOT7 proved with their first album that they're here to stay.
12. Taemin Ace
Taemin, SHINee's first member to go solo, proved with his mini album Ace that he was up to the challenge of releasing a solo album. Taemin's vocals have improved immensely since his debut and his dancing skills have only grown with him. Ace showcases the maknae's talents and is a great debut solo album for such a young veteran. Each song has a different feel and vibe, yet they all feel like Taemin. HIs confidence, stage presence, and overall knowledge of the music industry has no doubt helped him with this debut mini-album. It's a great album that showcases the young man's talents.
11. Seo Taiji Quiet Night
Heavy on the industrial-styled rock mixed with electropop, Seo Taiji's Quiet Night is like a dream brought to life via music. Sogyeokdong is like a daydream, the title song Christmalo.win is like a nightmare, The Fighter In the Forest is like a whimsical fantasy dream, Prison Break sounds like an adventure-filled dream where you have to battle adversaries, etc. All the random quirks in Seo Taiji's songs require multiple listens, but the retro-styled Quiet Night is a fantastical, experimental, pop-filled album that is clearly one of the best releases of 2014.
10. 2NE1 CRUSH
2014 saw the comeback of 2NE1 with their second album CRUSH. Bom, Dara, CL, and Minzy came back to the music scene crushing everyone else with their smashing single Come Back Home that mixes reggae, pop, and trap, and making an all kill in the music charts. CRUSH even saw international success and made it to the 61 spot on the Billboard 200 chart. 2NE1's second album came packed with amazing tracks like Gotta Be You, the tittle track Crush, CL's second solo song MTDB, the Korean version of their Japanese smash hit Scream, and powerful ballads like Good To You and Baby I Miss You. The album was produced by Choice 37, Teddy, Choi Pil Kang, Dee.P, while four songs were written by CL, one by Big Bang's G-Dragon, and the rest by Teddy. 2NE1 came back with a bang and they never cease to amaze us.
9. INFINITE Be Back
The repackage album can prove to be a blessing or curse depending on what exactly is getting repackaged. They can prove to be an incoherent mess or a fully realized album. Fortunately for INFINITE, fate landed them on the blessing side with Be Back. The idol group shows a growth in their capabilities with a great variety of songs. The singles Last Romeo and Back are two of the best boy group songs of the year and are a great return to form after two disappointing singles. They also showcase ballads, hip-hop and solo songs by Sunggyu and Woohyun along with songs by INFINITE's two subgroups, INFINITE H and INFINITE F. Be Back ensures INFINITE place as a top tier boy group.
8. Akdong Musician Play
Akdong Musician (AKMU) came into the K-Pop music industry like a breathe of fresh air. Their youthful and innocent album Play swept the Korean music charts and made non K-Pop fans interested in K-Pop just because of their album. AKMU felt more like an indie artist than the fabricated idols we are used to see in K-Pop. The siblings Lee Chanhyuk and Lee Suhyun gave us an album that makes us reflect in our past and think about the future in fresh new ways. The album was fully written and produced by Lee Chanhyuk, and we are expecting many great things to come from AKMU in the future.
7. Epik High Shoebox
There's a lot to say about Shoebox, but we'll just stick with the basics. A lot of people say they don't like Epik High's music now that they're at YG. Maybe being in a new environment with so many talented people has influenced their songwriting and producing. But isn't that the point of being a musician, continuing to grow in one's craft? Almost every song on the album has at least one featured artist, including their anthem to all of the haters, Born Hater. The songs in the beginning of the album are slower and more emotional, reminiscent of older Epik High songs, while the second half has a different, more fast-paced style, but each song has its own quality and aura. Shoebox as a whole is a great album.
6. Beast Time
Time is Beast's second mini album of 2014. The album showcases the guys' emotional and mature side compared to other releases. The songs are not as upbeat and dance worthy as Good Luck or We Up. But Time does boast jazz influences and the whole album really showcases the guys' vocal and rapping talents. The album tells a story of a man, and all the different stages of his breakup and the emotions that he goes through during that time. Rapper Junhyung has produced a beautiful album yet again that incorporates different musical genres quite well.
5. Super Junior Mamacita
For the past two years, Super Junior had gone into an unofficial hiatus following Leeteuk's enlistment to the army. The group focused on subunits and solo and duo projects while they waited for their leader. But with Mamacita, the kings of Hallyu came back with a bang. Or more like with an "ayayayayay." While the title song was signature adorkable and cheesy Super Junior, the rest of the album was legit. They kept the high energy with Too Many Beautiful Girls, Shirt, and Let's Dance, but also showcased their growth as artists and a more mature side with power ballads like Evanesce and This is Love. There's even a hint of sexiness with Midnight Blues, which only further proves the fact that Super Junior can do it all and do it well.
4. Beenzino Up All Night
Beenzino came out in 2014 with his second mini album Up All Night. The five track EP takes us on Beenzino's artistic journey that he started when he released Dali, Van, Picasso in 2013. Beenzino states once again his love for art, women, and fashion. With stand out tracks like the dance ready How Do I Look? and the break-up track Up All Night, Beenzino shows us once again his artistic sensibility and his amazing rapping skills. We know here at KultScene that he will be an artist to keep an eye on for 2015.
3. f(x) Red Light
f(x) were always going to have trouble bettering their last album Pink Tape, the best album of last year but they came close to equalling it with Red Light. It starts off incredibly strong with the title track and the wonderfully weird Milk and Butterfly. The highlight is the Will Simms produced Rainbow, which was the unknown song of the summer. The rest is an excellent bunch of heavy electro pop that can be grating at first listen but once you know it's coming it can be enjoyed to the max.
2. BEAST Good Luck
If there's a song that has consistently ranked high on KultScene's end of the year lists, it's BEAST's Good Luck. And not only is it a great song and a great music video, but it's a fantastic album. Unlike Time, Good Luck had its equal share of ballads and signature BEAST dance pop and R&B tracks, and then something in between. Such was the case of the album's title song by the same name and Sad Movie, which showcased their powerful performances vocally and dance wise. Slower tracks like History and No More felt more vulnerable given the lack of intrinsic beats. With the utter success of their two albums released this year, BEAST proved that 2014 was their year.
1. Clazziquai Project Blink
Clazziquai Project's 10th studio album is full of beautifully produced electro-pop tracks that all connect to each other, but each have their own, unique flair and flavor. Blink isn't as flashy as some K-Pop albums, but its a near perfect album that represents Clazziquai Project's many virtues. The instruments and style of music on Blink creates an album that explores the blending of different sounds and vocal styles. Alex's and Horan's vocals are, as always, on point and perfectly depict the emotions for each song. There's no question that Clazziquai Project has created an absolutely perfect album.
Track 7:
Come on and Go with Me
Track 8: Life etc.
What 2014 K-Pop albums where your favorites? Share your picks in the comment section below and be sure to subscribe to the site and follow us on Facebook, Twitter, Instagram, and Tumblr to keep up with all of our posts.
https://kultscene.com/wp-content/uploads/2014/12/Top20K-PopAlbumsof2014featured.png
600
800
KultScene
http://kultscene.com/wp-content/uploads/2018/02/KULTSCENE-LOGO-2018-TRANSPARENT-RED.png
KultScene
2014-12-29 19:22:27
2014-12-30 12:11:41
Top 20 K-Pop Albums of 2014