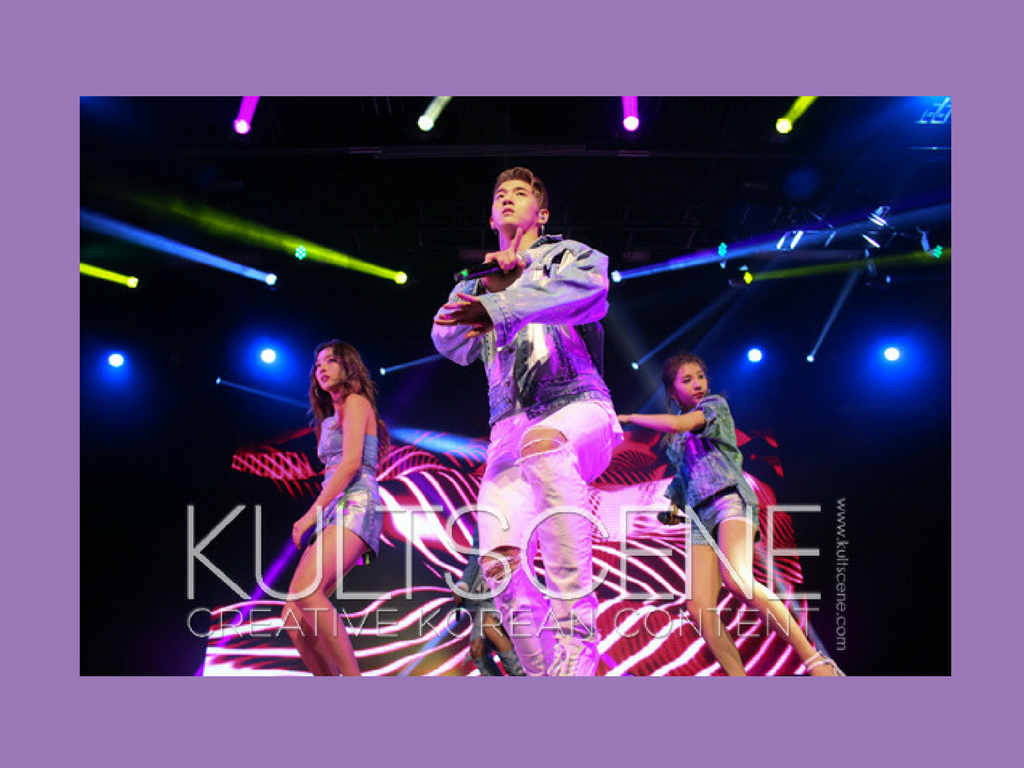 It seems like it was not so long ago that K.A.R.D was only just wrapping up the final leg of their Wild K.A.R.D Tour – the group's first fanmeet tour in America – and now they are already back with a part two. This time, the global quartet is scheduled to hit five major cities, including New York City where we were able to catch them at their show on September 20th at the Playstation Theater.
Between the expected start time of 8:00PM to when the lights finally dimmed half an hour later, fans eagerly awaited inside the venue to welcome the members who were (mostly) visiting the Big Apple for the first time. An introductory video was followed by momentary, awkward suspense that evoked laughter from audience members when the co-ed group was nowhere to be seen. When the group figured they had teased everyone long enough, however, their familiar silhouettes entered on stage from the side and stood, poised and ready for the English version of "Don't Recall." During this "hidden version" of the trop-house single, lead rapper BM proved that there was no such thing as too early to get excited on stage when he ardently went off in his raps. The same could also be said about the ladies of K.A.R.D, Jiwoo and Somin, who mastered the twerk on the subsequent dancehall track "Oh Nana" to much fanfare. Wild(in') K.A.R.D Tour was right.
Before K.A.R.D could go on with the rest of their setlist, the official MC and translator for the tour Danny Lim took the time to go through a round of fan-submitted questions and answers with the members. BM professed how he would like to be Superman since the hero is married to Wonder Woman (we will give him that one even though they're not) while another question prompted Jiwoo to admit how she would like to have main rapper J.Seph's sense of dark humor.
---
---
But aside from simply acquiring pieces of edifying trivia, this segment also enabled the members to show fans a #relatable side to themselves that would have otherwise have been absent at a traditional concert. J.Seph expressed that dark humor that Jiwoo so admired in his self-deprecatory remarks about how the others excluded him from eating Halal Guys together the day before. Then the innovator BM saved a dying trend and taught the crowd how to "mini-dab." Even the MC had to acknowledge how the intimate arrangement of the venue allowed for the meaningful interactions between the idols and fans. According to him, it was one that rivaled that of any other fanmeet that the group has done thus far on the tour, which surely pleased the New York crowd.
Once the Q&A was over, K.A.R.D took the stage yet again, this time to reveal a range of covers and unit stages. Of course, considering how the act was touring with only a mini album under their belt, this was expected. Starting from their rendition of Rihanna and Eminem's "Monster," where Somin's impeccable vocals and Jiwoo's swag really propelled the song, to Jay Z and Alicia Keys's classic East Coast anthem "Empire State of Mind," the group obviously selected songs that would best fit the kinds of vocal colors that a co-ed group demands. Another charm of being co-ed is that they also have more opportunities to play up performances, as was the case when J.Seph and BM tag-teamed for an original, hip-hop styled number "Right Now" or when Jiwoo and Somin united in Bruno Mars's baby-making slow jam "Versace on the Floor." And with their dub-stepped reimagination of "I Can't Stop," a song originally released by DSP Entertainment's early 90's co-ed group ZAM, and a rendering of Ariana Grande's "Side to Side," the group performed an impressive six songs back to back. With a much needed rest, the group gathered for the highlight of every fanmeet – game time.
Four preselected fans were called onto the stage to participate in a corner called "Roll Your Wish," a giant dice game with a simple objective. For every number that these fans rolled, the genie-like members would grant the request corresponding to it. There was nothing competitive about it, and in fact if anyone had thought that this "game" was only implemented as an excuse to conjure finger-curling fanservice, they would not be wrong. One of the fans voiced how it was her birthday, and after everyone in attendance sang her "Happy Birthday," her fave J.Seph had the final honor in serenading her with a heart-fluttering verse from Crush's "Crush on You." As for the others who all happened to roll the number they wanted (thanks to the MC's divine intervention), they too were spoiled with prizes that included Polaroid photos, selfies, and personalized wake-up calls. The revelry eventually came to a close though, with a hilarious photo session that had Jiwoo play contortionist in a variety of high fashion model poses and BM bringing back his "mini-dab."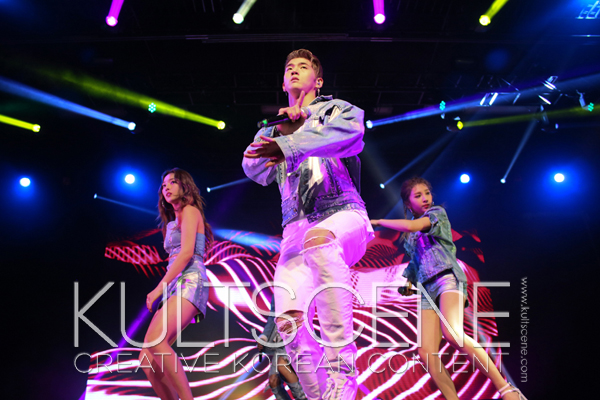 As the fanmeet neared its inevitable end, K.A.R.D thanked fans for coming and made sure to give their final words of appreciation before moving on to the last couple of songs left. Jiwoo pointed out how her brother was also present that evening, cueing the spotlight to cast its beam on her family hanging out in the reserved seating. After, the foursome rounded out the show with the reggaeton-influenced "Rumor" and their official debut single "Hola Hola." It's amazing how the entirety of summer can be sonically reified in a few tropical house beats, and it was with these good vibes that the group decided to conclude their set with.
---
---
At this point, the members trivially went through the motions of departing the stage only to be reinvited by the love calls of the fans chanting encore. No surprise there. K.A.R.D would return with the Korean version of "Don't Recall" and their special "thanks to" track "Living Good," especially since the two were the only remaining songs left on their debut extended play. Dressed in casual tees, the members appeared the most comfortable they had been that night, delivering organic performances even if it meant performing without an in-ear (cough, J.seph, cough). The atmosphere felt magnetic, percolating with a kind of unrestrained youthful energy that you would only find at a karaoke party on a Wednesday night in with friends.
Ultimately, the music did wind down, and the members had to bid farewell to the many earnest faces that they just spent the past hour and a half with. Although the setlist was not much different from the first part of the tour, the dynamic between the members and fans did more than make up for it. Not many rookie groups who had just made their debut can boast of an international tour and dedicated overseas fanbase, but K.A.R.D has just that. Hopefully in a few albums time the group will be able to come back with a full concert experience, blessing New York City once again with big stages and even bigger talents.
Did you go to or will you be going to WILD K.A.R.D 2017 The First Tour in America Pt.2? Let us know in the comment section below and be sure to subscribe to the site and follow us on Facebook, Twitter, Instagram, and Tumblr to keep up with all of our posts.
https://kultscene.com/wp-content/uploads/2017/09/IMG_4218edit-copy.jpg
400
600
Shelley Foo
http://kultscene.com/wp-content/uploads/2018/02/KULTSCENE-LOGO-2018-TRANSPARENT-RED.png
Shelley Foo
2017-09-27 14:12:33
2017-09-27 14:16:36
NYC Goes 'Wild' Over K.A.R.D in Part 2 of Their First American Tour