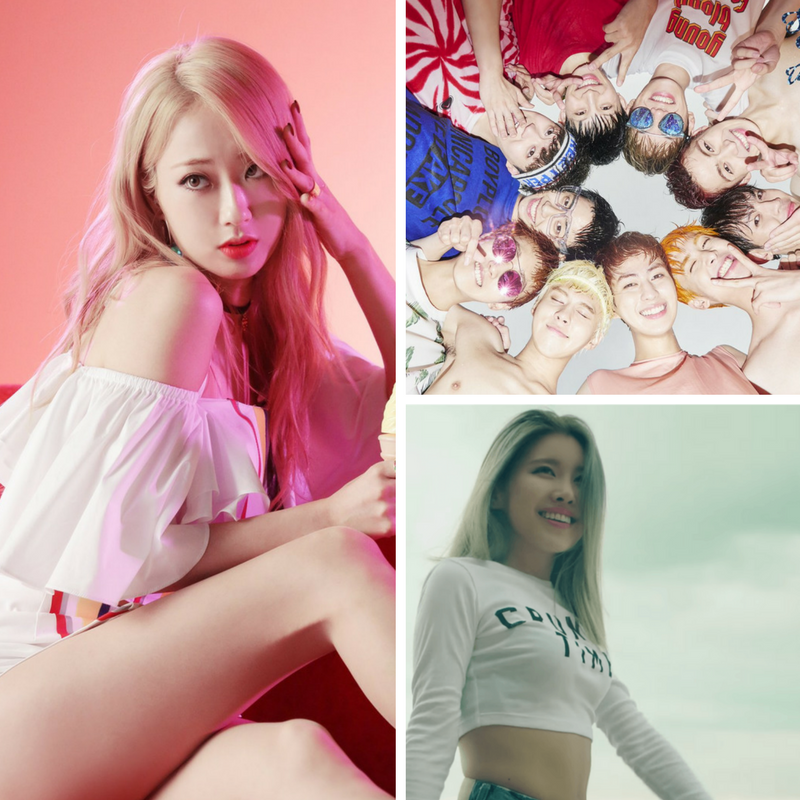 The month of August got off to a blistering start for the K-pop world. Heavyweights like Hyuna, Taemin, and Girls' Generation have comeback in some form alongside burgeoning rookie groups Oh My Girl and Monsta X. However, there have already been much more to see and we want to highlight some of the quality music that new and old groups are putting out. Tracks range from the hot tropical sound of the moment to exciting new sub units to tough boys trying (and taking ownership of) cutesy concepts.
"Paradise Go" by Suran
Indie soloist, Suran is probably best known for her work with Primary and Beenzino up to now. She has been carving out a career for herself though with some excellent and distinct work (check out the abstract R&B in "I Feel"). This time she's going for something a little more summer friendly with tropical track "Paradise Go".
Producer ca$hville captures the essence of the trending tropical house/chillwave sound, which the description in the Youtube video of "Paradise Go" shoves down our throats. Its bobbing synths, electronic drums, and Suran's laidback vocals create the relaxed atmosphere perfect for summer. The song takes its time moving from moment to moment, hard to be sure if we have entered the chorus or if it just happened already. While I like how this fits with the mood of the song it does nothing to the genre. It feels like just another entry in the already full trop-house when someone like Suran could have done something interesting to reinvigorate it. There are snippets of new ideas, like the auto-tune before the chorus, which threatens for a moment to upend what we know about songs like this but in the end all we get is a well produced but uninspired song.
---
---
"Lip 2 Lip" by Nine Muses A
Star Empire have probably been feeling Nine Muses' popularity slip for a long time. Now that they lost another two members it really seems like they're on the way out. So it makes sense for them to try something a little different with sub-unit Nine Muses A. Their single "Lip 2 Lip" doesn't go for any new concepts opposing the original Nine Muses. But what we do get is some classic pop.
"Lip 2 Lip" isn't particularly catching at first listen. It's a relatively safe song choice with little surprises. It is well produced by Star Empire regular Jeong Changuk, with bursts of synths and backing band. The sounds work best on the song when either of these are taken leaving only one, especially for Sojin's rap which just has the guitar, bass, and drums. It lets her bring her whisper up to a confident breathy tone. Transitioning directly into Kyungri and Keumjo's duel verse also works really well. Both their voices combine for the most satisfying part of "Lip 2 Lip." I also like how it escalates before slowing down for the bridge. Postponing the valley for a moment makes it work all the better as it winds down for a great conclusion.
Lyrically it's fun too with the girls professing their love for a boy that's not exactly typical. This is best articulated with Keumjo's simile, "You're like a rugby ball" (as she holds an American football in the video). Sojin's mentions of black and white holes also conjure interesting images.
---
---
"Tonight" by Up10tion
Of all the rookie boy groups out there in the past two years, Up10tion are one of the few that have caught my eye. Their debut "So Dangerous" was okay and their follow up "Attention" was great but both times they showed invention in their choreography. With their latest track, "Tonight," they have gone the cutesy boy route, similar to fellow rookies Astro and A.Cian. This concept is one that I can rarely get into. I can't seem to ever put my gender bias to the side with tracks like this as they always feel awkward and a bit sad to be honest. There are times when a group can get past thatthrough sheer energy and fun. This is one of those times.
"Tonight" is an attack of bright brass and strings. It shines at every moment from the extended intro to the raps, which even with the deeper voices don't sound out of place. It's cheesy and energetic, exactly what a song like this should be like. It's a testament to their talent that they can deliver a song like this so well despite their tough guy origins and not fall into embarrassing territory. It's something few others have transitioned to as well. While not at the level of Seventeen yet, Up10tion are one of the only lesser known groups threatening more popular acts with quality rather than just a rabid fanbase.
Which of these songs do you like best, "Paradise Go" by Suran, "Lip 2 Lip" by Nine Muses A, or "Tonight" by Up10tion? Share your thoughts in the comment section below and be sure to subscribe to the site and follow us on Facebook, Twitter, Instagram, and Tumblr to keep up with all of our posts.
https://kultscene.com/wp-content/uploads/2016/08/Untitled-design-12.png
800
800
Joe Palmer
http://kultscene.com/wp-content/uploads/2018/02/KULTSCENE-LOGO-2018-TRANSPARENT-RED.png
Joe Palmer
2016-08-08 14:23:16
2016-08-08 14:23:16
Suran, Nine Muses A, & Up10tion: Single Roundup Review