K-Pop artists and their music video ensembles make the greatest Halloween costumes because of their creative fashion. There's everything from high fashion to concept costumes to the WTF looks. But if K-Pop music video and artists' styling have one thing in common is that they're always created with that eye-candy factor in mind while still being innovative.
And since going on Youtube means opening a pandora box of overwhelming choices, here's our picks of great costume ideas that will make you stand out at a party or event:
1. G-Dragon
Despite G-Dragon's personal style being high fashion and avant garde, for the regular public, his music video and everyday ensembles make the perfect costumes. He's widely known for his innovative and out-of-this-world showstopping fashion, so focusing on only one look would be ludicrous.
Whether it's black and white or full-on technicolor, GD has done it all. So if you want to be BIGBANG's leader for Halloween, here are a few iconic ensembles. In Michi GO!, he wore a huge afro and a harness in the bathroom scene, while in Knock Out he sat on a war tank dressed in a studded leather jacket and knee high yellow socks. But if you want a more colorful look, Crayon's laidback look with the Wonder Woman robe or Bad Boy's iconic jacket with fur on the back are the winners.
Dressing as GD is all about being the center of attention, and these outfits will definitely have people looking.
2. Red Light Witches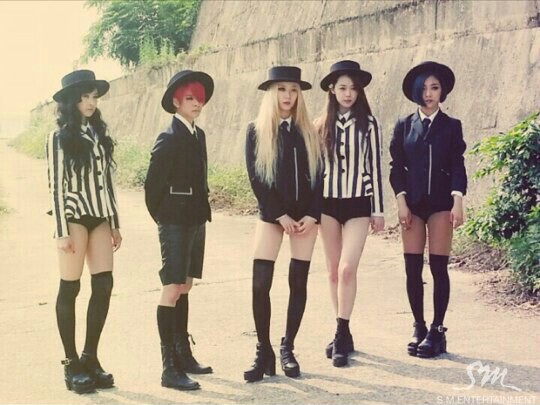 This was the first time SM Entertainment's experimental girl group took on a dark concept, making it the best (and newest) option for Halloween costumes. To tell you the truth, every look on f(x)'s Red Light music video could be a great costume (revolutionist? yes please!) But the most striking and memorable one is definitely the all black witch-like ensembles à la American Horror Story: Coven. Why be a sexy witch when you can be an editorial-yet-easy-to-wear one?
It doesn't get more dramatic than the one eye lined, the eye-patch, or the porkpie hat. And bonus points if you include a burned book!
3. Orange Caramel Sushi Pieces
Orange Caramel is a group known for their quirky-weird overly-cutesy costumes, so the choices for Halloween are endless. However, "Orange Caramel on X video" is very expected. So how about Orange Caramel as sushi pieces, seen in Catallena?
The looks are very DIY friendly, given that they use print dresses to simulate the shrimp, mackerel, and salmon. The rice piece could easily be a pillow with smaller ones attached to it. And if you want to take it to the next level, be Catallena herself as an octopus.
These costume picks are innovative, and the accessories give the ensemble a Harajuku-like vibe. Even if your friends don't know you're doing an Orange Caramel costume, they'll definitely get the sushi reference.
4. Girls' Generation as Flight Attendants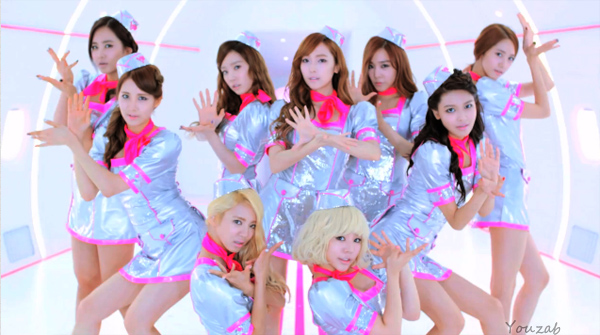 Girls' Generation are among the girl groups with the most iconic costumes. Sightings of fans cosplaying their Genie, Run Devil Run, or Mr. Taxi music videos are very common at K-Pop events. But one that is definitely pushes to the back burner (maybe because it's a Japanese single?) are their flight attendant costumes for Flower Power.
Channel your inner Barbie with these futuristic stewardess costumes. Because if you're going to wear a metallic dress, might as well be on Halloween. But other than the dress, everything else about this costume would be toned down. The girls' styling is very minimal while still being their signature feminine chic selves.
So if you're going to be SNSD for Halloween, go for the less tried options.
5. HyunA's Golden Playboy Bunny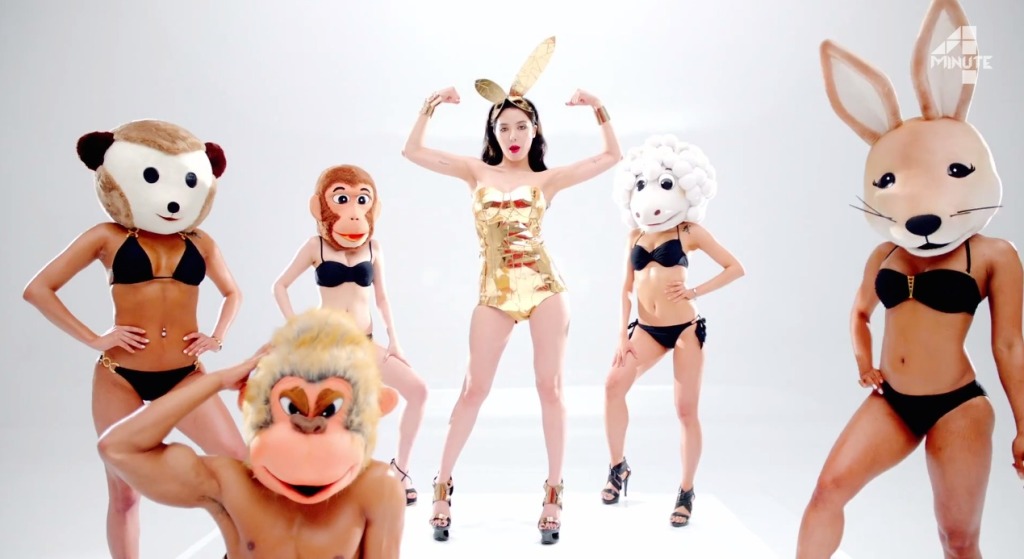 The playmate costume is anything but original. And yet, HyunA's stylist found a way to give it a new spin on Red. HyunA dons a gold metallic suit with matching bunny ears, statement shoes, and superhero bracelets rather than your typical store bought costume.
For obvious reasons, this look is for someone who's confident about herself (or himself? No judgement!) and her body. The key to pulling off this look, just like HyunA, is all about confidence rather than a rocking body, although having the latter helps.
6. Reply 1997 Students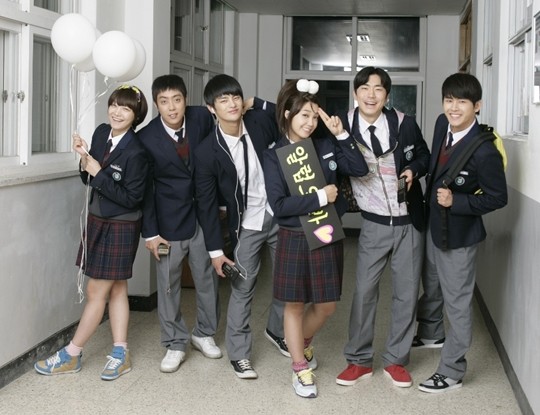 The sexy schoolgirl is also one of those standard, prepackaged, ready-to-buy costumes. But just as people have reinvented it to fit their desired theme (Hogwarts student sans robes, Britney's Baby One More Time), this can also happen with your favorite K-Drama.
Reply 1997 was ahead of the game when they foreshadowed the '90s revival trend. And since regular student uniforms won't be as meaningful by themselves, add the '90s pieces that made the drama's poster stand out, such as Shi Won's puffy hair pieces or the guy's hair parted down the middle or any H.O.T memorabilia as accessories.
7. B1A4's Pizza Delivery Boy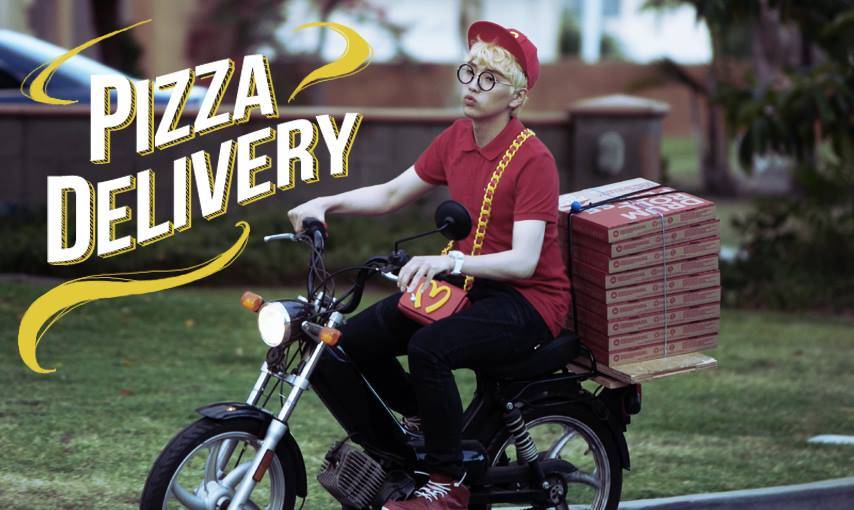 Just as Orange Caramel, B1A4 is also known for it's kooky music videos. Consequently, their looks also follow down the path of the quirky cute. Take for example their music video for Solo Day.
If you have an eye for fashion, the Moschino bag he casually sports caught your attention almost immediately. But you don't have to break the bank to buy this purse in order to recreate Sandeul's pizza delivery boy. The outfit itself and accessories are pretty doable, while the purse and pizza boxes are a cool DIY craft waiting to happen. Also, if Halloween isn't really your thing but you feel the pressure to dress up, this pick suits you given that it's very easy to recreate. Plus, you get to eat pizza in the name of your costume.
Here's an example of Sandeul's Solo Day outfit done at KCON 2014 by a cosplayer.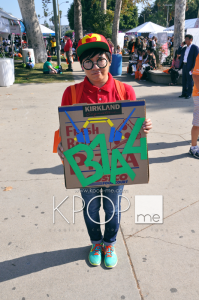 Are you wearing a K-Pop themed Halloween costume? Let us know your pick! Also, be sure to subscribe to the site and follow us on Facebook, Twitter, Instagram, Tumblr, and Bloglovin' so you can keep up with all our posts.
https://kultscene.com/wp-content/uploads/2014/10/7-K-Pop-Halloween-Costume-Ideas-copy.png
600
800
Alexis Hodoyan-Gastelum
http://kultscene.com/wp-content/uploads/2018/02/KULTSCENE-LOGO-2018-TRANSPARENT-RED.png
Alexis Hodoyan-Gastelum
2014-10-08 17:55:37
2014-10-08 22:47:35
7 K-Pop Halloween Costume Ideas