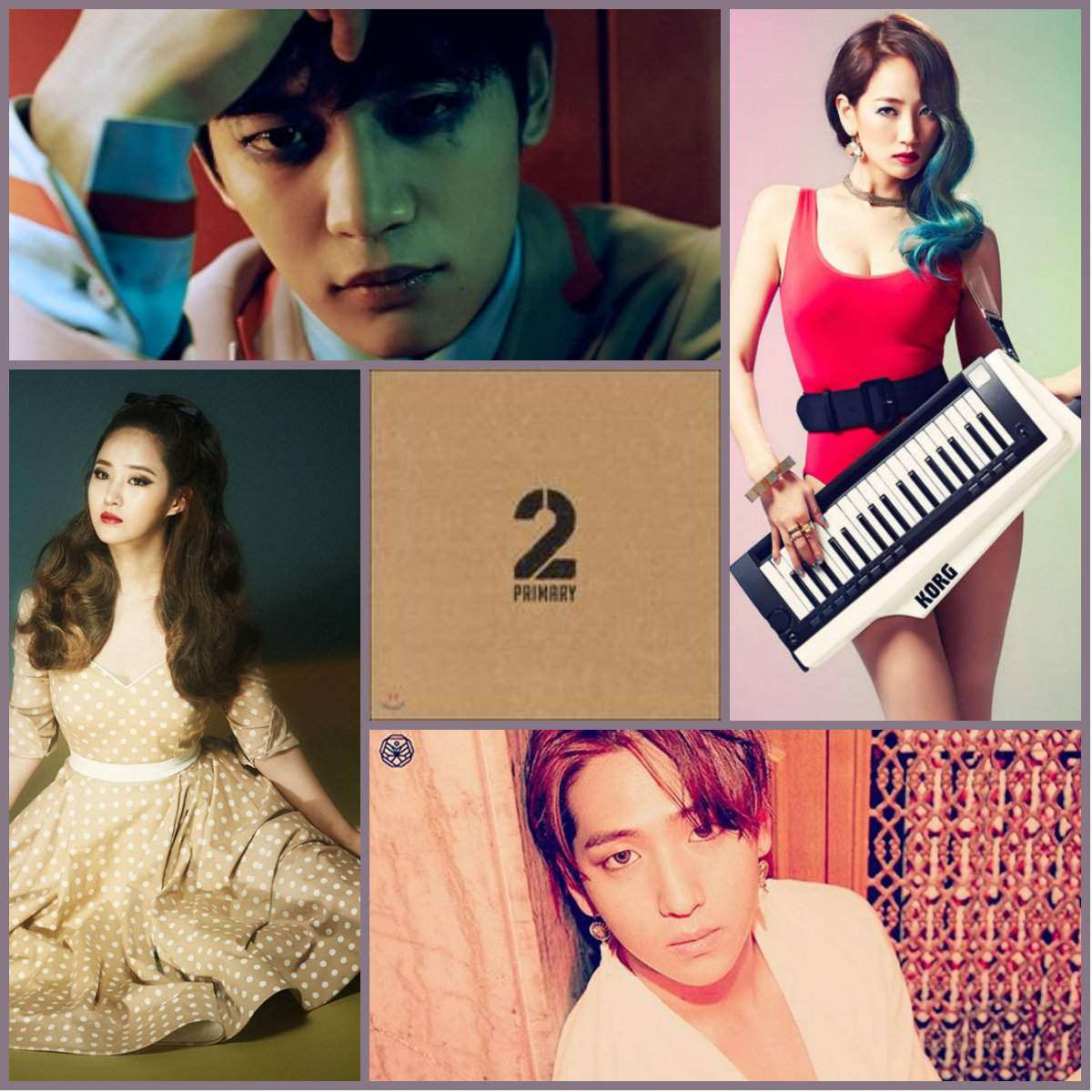 As another month comes to an end we can safely clock August as another great month for K-pop. To celebrate I'm going to look back at some b-sides that might have unfortunately gone unnoticed. With another slew of high profile releases there's plenty to discover. This month we have lots of retro goodness, with influences coming from all over the world giving a new lease of life to K-pop.
Primary feat Sunwoo Jung-A and Gaeko "Paranoia"
If there is one artist continually releasing great work this year it is Primary. He's had songs out nearly every month since the start of the year and there has always been something interesting amongst them. These have culminated in the fantastic album "2" and my favourite from it "Paranoia".
"Paranoia" is a wonderfully slow and restrained piece of trip hop. Primary has never been afraid to show off his parade of influences within the genres he has worked in. He invigorates these with a new modern life while never forgetting what made them special in the first place. This time he takes on that very British style of trip hop. The echoey drums recall Portishead and give the song its gloomy feeling. What really makes it though is Sunwoo Jung-A's mournful voice and Gaeko's energetic rap.They seem to be directly referencing the British artists of that time like Thom Yorke of Radiohead and rapper Tricky. It lends an authenticity but mostly makes the song work totally.
---
---
B1A4 "You Are A Girl, I Am A Boy"
More 90s alternative influenced music here with B1A4's "You Are A Girl, I Am A Boy".
Okay that may be a bit of a stretch this time but it was the first thing that came into my head when I listened to this track. The reverb laden guitars immediately brought Sonic Youth to mind. This thought was quickly dispelled but that doesn't lessen the effect of the guitar. It's an entirely new sound to be found within K-pop and is why this song is on the list. This use of the live band sounds are what set apart B1A4 for me. Amongst many samey hip-hop influenced boy groups they stand out thanks to this and their distinctive voices.
SHINee "Chocolate"
Retro was certainly a major theme for august. SHINee as always delivered an amazing throwback with the whole of the "Married to the Music" album. Jonghyun's effortlessly sexy "Chocolate" stands out.
"Chocolate" goes for retro synths in a big way. They sound almost 8-bit and hit with a strong but smooth force. There's layers to them that feel almost physically tangible. The verses that change tempo and general intricacies of the song make it something more than your average album cut. It's clinically sexy yet has delicate touches that elevate it above other sexy sounding songs.
---
---
Wonder Girls "One Black Night"
Speaking of retro, I don't think any K-pop group has ever pulled it off as well as Wonder Girls have with "Reboot". With that "Reboot" and "I Feel You" they have released probably the best album and song of the year all while also learning and playing instruments for it.
With an album this good it's hard to pick just one b-side. So I'm just going with my mood right now which means "One Black Night". Ever since I first listened to "Reboot" I felt like it was a soundtrack album to some amazing 80s movie that never existed. If so then "One Black Night" would play when the main character is at their lowest point so they go out to get totally wasted for one black night.
The song starts off slow with a plodding piano and stripped back drum beat. It recalls member Yenny's solo work as HA:TFELT, mixing solemn piano melodies in the verse with crashing electronic sounds in the chorus. The emotions are also similar, ones of pent up angst finally being released in cathartic acts. In this case drinking and embracing.
Girls' Generation "Bump It"
Girls' Generation came back again before the summer officially ended with their album "Lion Heart" and there's a lot to get stuck into. Most may have assumed that with a double single release there wouldn't be much left of interest. They would be wrong.
Album closer "Bump It" is the highlight as it cleverly walks the line between the Girls' Generation we know and love and the Girls' Generation many want to exist. By that I mean it starts off like a fairly standard sweet ballad before turning urban pop at Tiffany's request. With the singles being a great signifier of what Girls' Generation can be, this is the perfect song to close out the album.
What it does really well is using both styles within the song. Once the ballad part at the start ends it would have been easy to leave out but the piano remains and reinvigorates the song at the chorus. Similarly towards the end when Taeyeon is about to begin her crooning, Sooyoung cuts in with a rap to make sure one style does not win over the other. Girls' Generation are at their best whee unpredictable like this.
Is there any other August K-pop B-sides you loved? Share your picks in the comment section below and be sure to subscribe to the site and follow us on Facebook, Twitter, Instagram, and Tumblr to keep up with all of our posts.
https://kultscene.com/wp-content/uploads/2015/08/collage-bsides.jpg
1200
1200
Joe Palmer
http://kultscene.com/wp-content/uploads/2018/02/KULTSCENE-LOGO-2018-TRANSPARENT-RED.png
Joe Palmer
2015-08-24 11:18:35
2015-08-24 11:31:59
August's Best K-Pop B-Sides