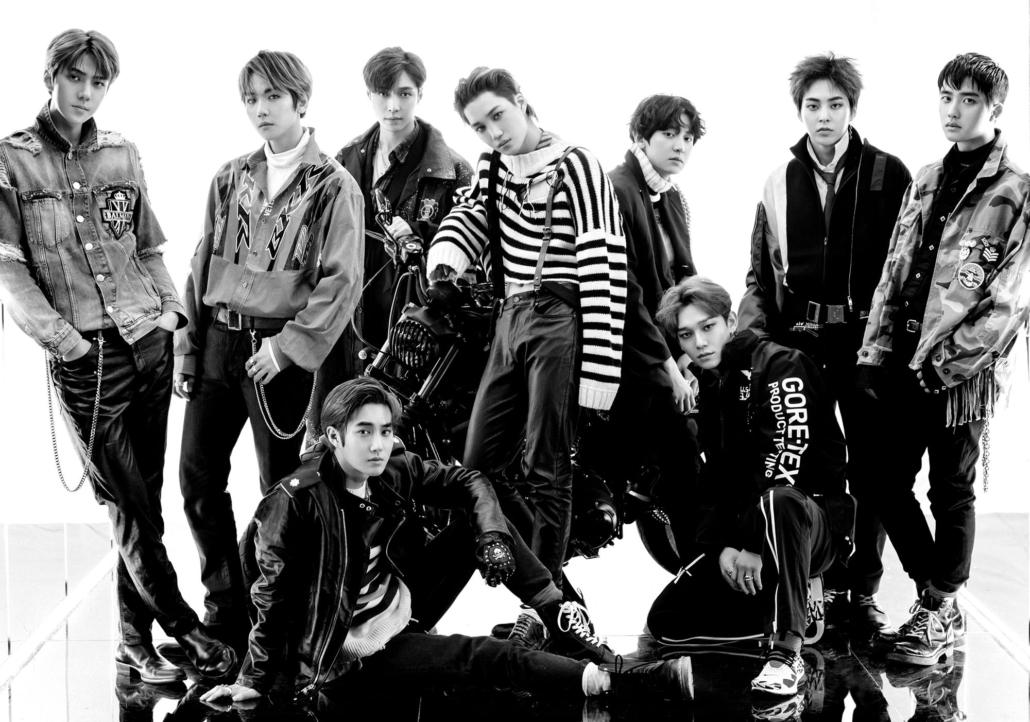 By Chyenne Tatum
As a group, EXO's built quite the resume over the last nine years: they're known to be an incredible powerhouse group from their vocal prowess to their catchy pop hits and their elaborate concert performances. But as a mainstay in K-pop, the group has ventured out to multiple fields beyond idol music. They've also conquered the fashion world by partnering with high-end brands such as Gucci and have been invited to fashion shows for others like Tommy Hilfiger and Louis Vuitton. Many of the members have also acquired critical acclaim through acting in films, dramas, and musicals. And if that weren't impressive enough, they've become a quintuple million-selling group starting from 2013's Growl up until 2018's Don't Mess Up My Tempo.
Like many other acts under SM Entertainment, EXO had an experimental concept that worked in a lot of ways and didn't go quite as planned in others. Regardless of the setbacks they faced, each year since their 2012 debut brought new successes and greater opportunities to explore deeper sides of themselves as a group. So when fans' inevitable questions came up regarding potential solo opportunities, it was never a question of "if" they could, but "when" and exactly "what" would that sound like?
Now that they're nearly a decade into their careers, we finally have answers to those questions. Through the lens of each member, we're able to get a better glimpse of the person underneath the "EXO image" and embrace his creativity — although, for some, it's one and the same. This is a guide, recap, and overall celebration of how EXO's soloists (with full albums or EPs) have taken the reigns in their careers and sculpted a distinct sound and image to suit their tastes.
Baekhyun: The R&B Connoisseur
Starting with the member who's arguably garnered the most prominent solo praise in South Korea with nearly two million albums sold, Baekhyun currently has four EPs: three sung in Korean and one in Japanese. His debut with City Lights in 2019 marked a departure from the 28-year-old's comical personality, and instead opted for a darker R&B and electro-pop showcase with just the slightest hint of his usual playfulness ("Betcha"). Baekhyun's unforgivable lungs of steel allow him to experiment with different tones in his voice and a range of emotions, from sugar-coated singles like "Candy" to the dripping sensuality of his newest release, "Bambi."
Truthfully, Baekhyun's solo career could've been a toss-up considering how well-versed he is in various styles — he could've taken a more pop route or maybe even soft ballads. However, his sound is almost entirely rooted in R&B, hip-hop, and the occasional coffee shop tune, cementing himself as an all-around, fully recognized entertainer, and even channeling his inner MJ and Maxwell along the way. It's the reason why he's now known as the "Genius Idol" among industry peers who respect him and his craft. Every inflection in his voice, cheeky smile at the camera, and smooth dance step is all by design, so if R&B and jazz are your vibes, Baekhyun's discography will surely be your haven.
---
---
Chen: Korea's Ballad Dream
If there are two things that best define Chen's artistry, it's breathtaking high notes and soothing ballads. Whereas Baekhyun's voice is full of character and depth, Chen's is even more agile and refined, carefully tip-toeing the line of power and delicacy. 

As EXO's second soloist, Chen favored the more subdued route for his debut with "Beautiful Goodbye" and its accompanying EP, April and a Flower, in 2019. The album in its entirety is poetic at best and focuses on stories of heartache, as songs like "Portrait Of You" and "I'll Be There" start with a soft piano and gradually build to a soaring crescendo with Chen's captivating belts leading the way. His second installment — Dear My Dear — on the other hand, highlights all the best parts of falling in love in a dazed and nostalgic way but still maintains that dove-like softness in his touch. Even casual listeners have been enamored by Chen's ability to bend the sonic atmosphere at his will and command attention with a single note.
Although many fans had hoped for a rock album from the loud and boisterous artist, it's not hard to see why ballads were his genre of choice. As energetic as he can be, Chen is also a soft-spoken and private person who cares deeply for the people around him and shows his gratitude in small gestures. He uses his falsettos and vocal riffs with conviction to tell the story of two loved ones as if he were there and it's a chilling experience with every listen.
Suho: Quiet Indie-Rock Artist
EXO's selfless leader is the essence of grace and comfort personified, always willing to place his team's needs and fans before himself. This is especially apparent in his first solo EP, Self-Portrait, a six-track journey of the mellow indie-rock variety — with a touch of pop — in which he co-wrote all of them. In its lead single, "Let's Love," Suho lives up to the meaning of his name ("guardian") in every facet, dedicating the title to his group's timeless cheer before they go out on stage.
Throughout the steady drums of "Self-Portrait" and the piercing sorrow of "Starry Night," Suho unlocks yet another side of himself and the things he's capable of as a soloist that many people outside of EXO-L may not have known. In an interview with Billboard, he revealed that he purposefully listened to soft-rock and band music only to draw inspiration for his album. There are certain easter eggs hidden for fans to find and connect to familiar themes within EXO, but musically, it's quite the opposite of everything he's done within the group.
There's a level of growth that Suho's experienced over the last nine years. He's carried himself with a maturity that's beyond his years, and we see it here as he expresses himself and continues to show his undying gratitude to the ones who helped him get to this point in the first place. "Made In You" is that exact love letter to EXO-L with every ounce of appreciation worn on his sleeve.
Kai: Serving Ethereal R&B
One positive aspect of EXO's group activities being put on pause, at least for now, is the flexibility and time it gives the artists to step out of their comfort zone and do the unexpected. The emphasis placed on Kai's role within the group was always to be the main dancer, main center, and the overall face of EXO. Regardless of not having as many opportunities to showcase his vocals, he's still one of the most recognizable among the general public and gained notoriety through his advanced dance skills and strong stage presence. So when fans realized Kai would debut as a soloist, there were far fewer clues pointing to what that would look or sound like compared to other members.
Thankfully, the answer was well worth the anticipation as Kai delivered one of the most stunning EPs of 2020 titled KAI (开). What's so fascinating about the dark and sultry soundtrack is the way it pushes the "EXO R&B" agenda even further yet successfully sets itself apart from what Baekhyun is currently doing and what EXO has been known to do. Each song protrudes the same seductive energy as Kai himself and acts as an extension of his stage persona. "Ride Or Die" portrays the slick, '80s version of himself with the most gorgeous retro synths playing behind him. And the breathiness of his voice in "Mmmh" is probably the most sinful thing you'll ever hear, but it's part of what makes him, well, him.
As confident as he is on-stage, there's always been this shy and reserved part of him that will constantly doubt whether or not he's good enough. However, it seems like all of those thoughts were thrown by the wayside when it came down to perfecting his sound and doing something he could be proud of. Kai can sing, and if you didn't know before, he's letting you know now.
---
---
Lay: A Melting Pot of Genres
As the first member to go solo in 2016, Lay's become an artist that's hard to pin down when it comes to trying to define his catalog within a certain genre, but maybe that's the point. He's deeply intrigued by the different cultures and always seems eager to learn more about the world around him, which is why his music is a mirror image of himself. He covered R&B with his first EP, Lose Control, hip-hop and EDM with Sheep, tropical dance-pop for Namanana, hip-hop and R&B again in Honey, and finally, traditional Chinese music for Lit and PRODUCER. More importantly, though, he's learned to combine and blend all these different nuances under one Mando-pop genre and make it work for him.
It's become a running joke within the fandom that he eats, sleeps, and breathes music. Lay is heavily involved with every aspect of his work, which is a probably stark contrast to what he experienced working in Korea. But, that very drive is what led him to found his entertainment company, Chromosome Entertainment Group in 2020 — paying it forward to other artists and songwriters who aspire to be in his position.
It's been a very strange transition for longtime EXO-L to see Lay suddenly so far removed from the group as he started promoting more in China and less in Korea. But with every con, there's also a pro, and the level of consistency in Lay's music is one of the most rewarding pros yet. While he's been building a literal empire in the Chinese music industry over the last five years, he's adamant in reminding everyone that EXO still means the world to him.
Putting Together the Puzzle Pieces
Understanding EXO as individuals helps better understand EXO as a unit and vice versa. With each soloist, you take away something new that you've learned about them and hopefully even relate to them a little better. Although Chanyeol, Sehun, D.O., and Xiumin have yet to release solo albums of their own, we're still able to get a sense of their identities in other ventures through EXO-SC, EXO-CBX, and the many SM Station projects they've participated in so far. It was revealed earlier this year that D.O. is working on a solo project to release at some point, so it'll be interesting to see if he takes up R&B, as fans are predicting, or will he be another wild-card?
With a group that's covered such a wide spectrum of music and continuously exceeds expectations, it's hard to believe that there's anything left for them to overcome. But, with nine years and a slew of awards already under their belt, sales and charts are no longer a priority for them. EXO's gone from young, hungry rookies hoping to leave their mark on the industry to confident, highly respected performers who solely make music for their enjoyment, just as it should be.
What's your favorite EXO song? Let us know in the comment section below and be sure to subscribe to the site and follow us on Facebook, Twitter, Instagram, and Tumblr to keep up with all of our posts.
KultScene is a writer-driven website dedicated to creating a platform where diverse voices' takes on K-pop can be heard. If you like this post and would like to see more by helping support KultScene's writers fund, please email us for more details.
https://kultscene.com/wp-content/uploads/2021/04/OTgznU4.jpeg
1402
2000
KultScene
http://kultscene.com/wp-content/uploads/2018/02/KULTSCENE-LOGO-2018-TRANSPARENT-RED.png
KultScene
2021-04-09 10:51:41
2021-04-09 10:51:48
Guide to EXO as soloists: celebrating 9 years together