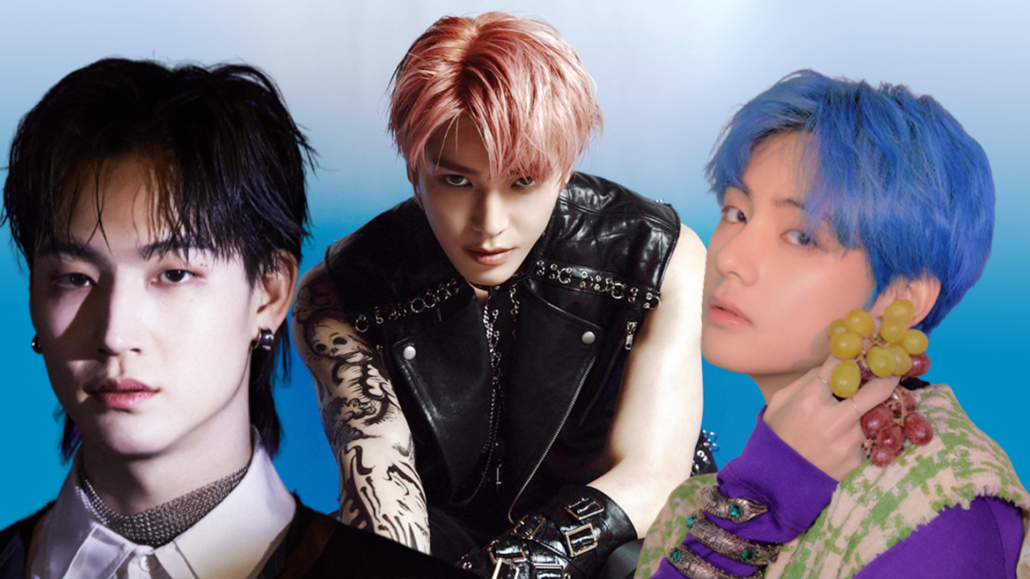 By Rachel Collucci
K-pop idols, such as Taeyong, Jay B, and V, are all creatives. However, within their groups, their personal sense of creativity can't always thrive. The most dedicated fans are already aware of this side of these idols, but it is a side that the general public often does not see. Enter SoundCloud. 
Since its launch in 2008, SoundCloud has gained a reputation as one of the biggest music sharing platforms on the internet. The site allows artists, both big and small, to share their music on a global scale and has even given some of the biggest artists popular today their start and especially since there are great legit SoundCloud promotion services, where artists are now getting an amazing boost to start their careers and be seen globally. Plus for K-pop fans, SoundCloud holds a world of treasures. 
Although idols creating SoundCloud accounts is nothing new, it has become a more prevalent part of certain idols' identities in recent years. SoundCloud has become a safe haven, a place to express and experiment with music in a way they don't always have the chance to with their respective groups. 
For the aforementioned members of prominent K-pop groups like BTS, GOT7, and NCT, SoundCloud has proven to be a space for them to share with the world their own style. Though they're far from the only K-pop stars, or even members of their own groups to use the site, these three exemplify the trend as they use SoundCloud to share musical aspects of themselves not typically revealed through their respective band's musicality.  
Taeyong From NCT, NCT 127, & SuperM
Recently, an idol's SoundCloud that has been gaining attention is NCT and SuperM's Taeyong. After teasing unreleased songs during his livestreams on the app V Live, Taeyong created his account and released these songs for fans to enjoy. His latest release, "Swimming Pool," may be the most emotional song on his account since, gaining over 1.32 million streams to date.
Although Taeyong has had a song officially released through SM, "Long Flight," his choice to upload his songs one by one on SoundCloud rather than through the company or on a compiled mixtape is an intriguing choice. When he released said track back in 2019 through SM Station, the song received promotions and even a music video. However, Taeyong's SoundCloud has remained off of NCT's official accounts, with only the artist himself announcing his new tracks, usually through Instagram. The only indication of his SoundCloud on any official SM account is from a recent vlog uploaded onto NCT's YouTube channel, where Taeyong gives a behind-the-scenes look at developing the concept for his recent track "Rose (feat. Seulgi)."
Songs featured on Taeyong's SoundCloud are filled with raw emotion, both in their lyrics and in his ability to capture his feelings vocally. Taeyong has earned writer's credits on a few NCT songs, including the love songs "Baby Don't Like It" and "Whiplash." However, Taeyong's SoundCloud is almost the opposite, where most of his songs are discussing himself. He explores themes of expressing one's emotions and the need to let them out, such as in his song "Blue." On "Dark Clouds," he sings, "In between the black clouds/The whales that sprout out light/All the planktons inside it are born from the stars to shine on you," painting an image of suffering from dark times, but having bits of positivity peaking through. In a recent V Live, Taeyong shared that "Swimming Pool" was about how he felt at the beginning of the year, of being trapped in a dark, unsure headspace, emphasizing how his recent releases directly relay his own thoughts and feelings.
With SoundCloud, Taeyong is honest about his mindset. More specifically, how he has been struggling with his mental health and life in general. He is giving listeners a peak into his mind. While he is open about his struggles, he still offers comfort by letting them know that these feelings are okay to have and should be expressed. On this platform, Taeyong has not only taken on the role of songwriter,  producer, and composer, but also marketer, art director, and seemingly everything that comes with releasing a song. Unlike his official releases with NCT, Taeyong is now in total control. Listeners get to see a side of Taeyong that has existed all along but now can flourish with very little holding him back. 
Taeyong's personal voice on his SoundCloud account is more vulnerable than the voice we hear with NCT. While NCT have their fair share of emotional songs in their discography, the general public knows them more so for their upbeat hype songs. With little to no worries of the burdens associated with promoting an official release, Taeyong's SoundCloud is all about the music and his vision. The lack of promotions means that Taeyong can focus on the music – music that is created for himself and his fanbase. Most of the English translations for his songs have been provided by fans, which gives fans the opportunity to interpret Taeyong's in a way that relates to them. 
---
---
Jay B From GOT7
Like Taeyong's SoundCloud, Jay B, whose SoundCloud is dubbed Def, has used his account in the past to share music different from most GOT7 official tracks. Songs such as "Sunrise" and his sub-unit work on Jus2 and JJ Project have been some of the few official releases more similar to what fans would find on his account. ​​Many of GOT7's tracks have heavy instrumentals, leaning towards a sound that is a mix of pop, hip-hop, R&B, and EDM. Sure, the group's sound has matured, from their debut track "Girls, Girls, Girls" to their most recent release "Last Piece," but it has consistently remained in the realm of the pop forward genre. As the leader of GOT7, Jay B would ultimately have a hand in the songs that GOT7 would release, but not the final say. 
For example, through V Live, Jay B has shared instances where his demos were drastically changed by JYP Entertainment, the group's former label. His demo for what would become GOT7's lead track "Eclipse" went through many changes before becoming the song included on their mini-album Spinning Top. From changes to lyrics and instrumentals, the vibes of the two versions are starkly different. Jay B's version is more laid back in comparison, and built more around R&B and alternative-pop elements. Like in the original demo, Jay B's productions focus on the vocals rather than being performance-oriented instrumentals, which is the forefront of most of GOT7's title tracks. 
Now that GOT7 has left JYPE, it has allowed the members to explore solo projects. Signing with H1GHR MUSIC, Jay B has begun the transition from idol to pop-R&B artist, releasing official music that rings similar to what he has produced and shown on his SoundCloud. His first single, "Switch It Up," gives a taste of the music listeners can expect from Jay B in the future. But having his SoundCloud as a reference, this transition is no surprise. SoundCloud allowed Jay B to explore his own style while still being a part of GOT7. Now, Jay B is able to further explore this style, and bring this aspect of himself to center stage, rather than keeping it on the side. 
"Switch It Up" fits in with tracks like "Be With You" and "Come Back To Me." All of Jay B's SoundCloud tracks are similar in genre, heavy with lo-fi beats and soulful vocals. Much of the subject matter for Jay B's songs have to do with relationships, but take a deeper look at the emotional aspects that come with love and sex. While Jay B's lyrics in songs such as "Sunrise" and "Come Back To Me" are similar, they carry their messages differently. "Sunrise" discusses a great love, with lyrics such as "My forever sunrise/Sunshine above my head/An angel for me/Hold my hand and leave," while "Come Back To Me" is more somber in its tone and carries the message of yearning for a lost love. We see this in the lyrics, "So much time has passed but/I want to stop giving up/Come back to me now/I still need you." Jay B's SoundCloud tracks carry more nuance in its emotions, in both their lyrical and instrumental compositions. We also hear this emotion in his vocals – it's more raw, less fine-tuned, and a bit more blunt in their message than that we would hear in official releases. 
SoundCloud has provided a space for Jay B to showcase his original, unaltered work and tap into subject matters that can be deemed risqué for idol music, which is more representative of him as an authentic artist. His SoundCloud allows him to explore these subjects with only his hands touching them. 
---
---
V From BTS
While BTS have often been credited as a self-produced group for their songwriting and producing of their formal releases, their SoundCloud account has become an outlet for members to explore other sides that fans often do not see through the group's work. BTS' SoundCloud is home to many covers and special releases for fans – namely gifts during their annual FESTA, a celebration marking the anniversary of their debut. While all the members of BTS have uploaded their individual songs onto the account, even before the band's debut in 2013, V has been able to tap into a side of himself that is, in a word, beautiful. 
While his songwriting has been credited to official group works ("Blue & Grey" from BE), their SoundCloud account holds a vulnerable side of V that many may not be aware of. 
"Blue & Grey" is a song about feelings of sadness and depression, particularly during 2020 and the pandemic. It is a deep subject matter, carried out by a guitar, to give fans a beautiful pop ballad. The instrumental and vocal harmonies from the members only amplify the serious meaning of the song, creating a song that is chill inducing. 
On BTS' SoundCloud, though V's songs have similar instrumentals and tone as "Blue & Grey," their subject matters are vastly different. His songs, "Scenery" and "Winter Bear," are not only a testament to his songwriting ability, but tie in other creative sides to him. "Scenery" plays on V's love for photography and how he uses the song to capture a moment to remember, but as he does with his pictures. The music video for "Winter Bear" also taps into his role as director (as stated in the music video's credits) and further showcases this creativity, by featuring footage taken by V himself. While "Blue & Grey" is a universal song for everyone to relate to with a darker subject matter, the songs by V on SoundCloud are personal, and a great introduction to who he is exactly. 
These are aspects of V that the public may not see at first glance, but one that posting his songs on SoundCloud has allowed him to express and show. V is known for his baritone vocals, being more on the quiet side during interviews, but letting his quirky personality shine when he does speak. To the general public, they may not realize that past the surface lies a creative soul. SoundCloud has provided fans the chance to get to know V more, and for V to embrace these sides of himself. BTS' songs show who V is, while SoundCloud shows us Taehyung. 
A New Era
Going forward, we could expect more K-pop idols to use SoundCloud as a way of personal expression. It has already proven to be a powerful outlet for Taeyong, Jay B, and V, who allow the walls put up by idoldom to come down – or at least chip on them. SoundCloud has provided them a creative outlet that allows them unprecedented freedom in their careers, and these three artists have shown that it could very well be an essential part of idol life. Sonically, K-pop is the mix of many genres and concepts, but with companies having their hands dipped in their group's music, the creativity peak that some idols could achieve is curtailed. 
Jay B, Taeyong, and V each showcase how SoundCloud can be a tool for idols' true personas to co-exist with their personas on stage. It allows for the chance to explore new sounds and themes in their music, without the worry of needing to please a certain audience. While many of their accounts are accessed by fans, the music posted is ultimately for the artists themselves more than anyone else. It could very well inspire other idols to do the same and start a new era of creativity and self expression in the K-pop industry that has not been seen before. SoundCloud allows for more creative growth, and in turn more creative freedom. 
SoundCloud has allowed for not only the artists to be their true selves, but for fans to get to know who these K-pop idols truly are. It opens the door for a deeper understanding of not only who these idols are, but where they stand creatively. With there being no pressure that comes from an official release, K-pop idols have free range in terms of the music and the message they want their fans to hear – if they choose to share their accounts. Those who have, are already thriving from them, and with the warm reception that they have received from fans, we can either expect more idols to post their SoundClouds, or the bridging of the music posted on these accounts to become official releases in the future. It's music on their own terms.
Don't forget to subscribe to the site and follow us on Facebook, Twitter, Instagram, and Tumblr to keep up with all of our articles.
KultScene is a writer-driven website dedicated to creating a platform where diverse voices' takes on K-pop can be heard. If you like this post and would like to see more, please consider contributing to KultScene's writers fund. KultScene's writers are compensated for their work, time, and insight. Email us for more details.
https://kultscene.com/wp-content/uploads/2021/08/TRES.jpg
1080
1920
KultScene
http://kultscene.com/wp-content/uploads/2018/02/KULTSCENE-LOGO-2018-TRANSPARENT-RED.png
KultScene
2021-08-02 17:11:19
2021-08-02 17:11:42
K-pop & SoundCloud: An idol's safe haven