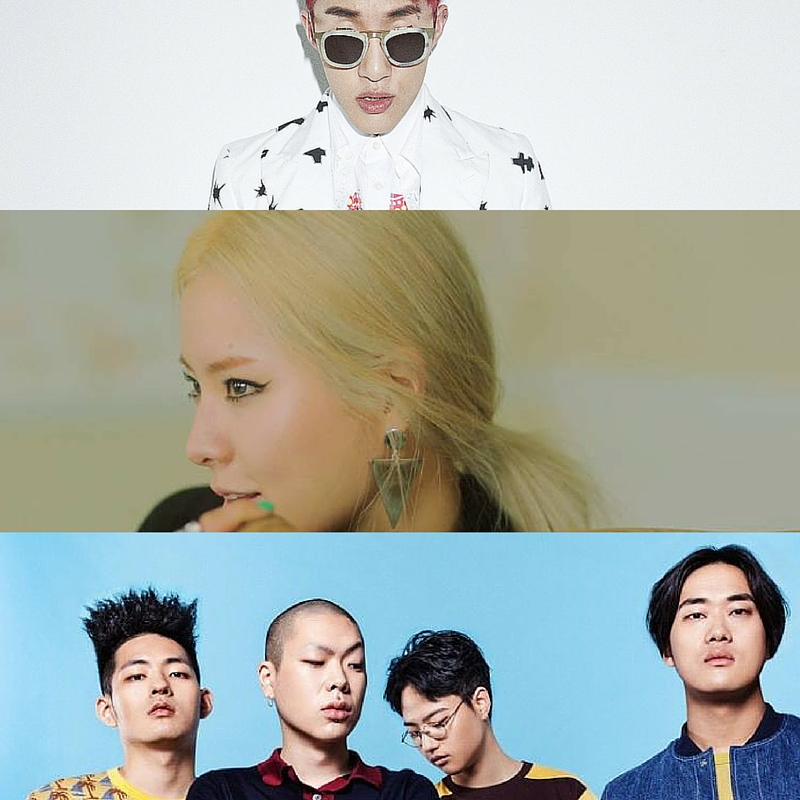 With guyliner to spare and an abundance of autotune, one would think that all South Korea has to offer the music world is K-pop's girl groups and boy bands. But calling everything that Korea has to offer "K-pop" is doing the world a disservice, and moving past the K-pop title opens up a whole new variety of music. So let's take a look at what Korea also listened to in 2015.
Thriving on ingenuity and high production values, music coming out of South Korea is some of the most innovative in the world today. But between Psy and K-pop girl groups and boy bands, it is easy to overlook what else the country is producing. K-pop is phenomena, but despite its popularity K-pop isn't necessarily what the average Korean is going to listen to day in and day out. Defining what K-pop exactly is isn't the easiest thing, but when you see it, you know it and its not innately bad. It's primarily dance-pop music produced by entertainment agencies, typically sung by teenagers and twenty-somethings who have trained for years to become pop stars. It's enjoyable. And what is left is the music that we should all take notice of.
With an ample amount of soft rock, romantic ballads, retro pop, R&B, and rap thrown in for good measure, mainstream Korean music is all over the place, in part because Korean culture thrives on the new and experimental. The top tracks in Korea nowadays offer something fresh and familiar all at once. Many of the most popular songs are more mature, mellower alternatives to the feverishness of K-pop dance tracks. Indie music, which is so mainstream in other countries, struggles, but has made leaps and bounds in the past few years with songs by bands like Busker Busker and Hyukoh rising from the dust like little indie demons ready to slay acts put out by the large music companies that dominate South Korea.
---
---
Meanwhile, the most popular genre of Korean music in 2015, aside from K-pop, is Korea's take on hip hop. Hardly any singles are released nowadays without a featured rapper adding some spit to the track. Even K-pop acts incorporate hip hop, with just about every group having at least one designated rapper. Korea has been playing with hip hop for years, and prominent acts like MFBTY (Drunken Tiger) and Epik High still remain relevant amidst the onslaught of pop acts. But it was only a few years ago that hip hop gained true relevancy in South Korea's music scene, and 2015 has seen an onslaught of hip hop releases. Rather than being anti-establishment, radio friendly hip hop songs in South Korea are largely related to the struggles of daily life and society.
With unexpected elements and a bit of something for everyone, mainstream Korean music comes off as less mainstream and more experimental. This year alone has seen great variety from both K-pop and non K-pop artists. Duets are still popular, but Korean music is able to retain its favoritism towards duet and ballads while transmuting the music to fit more modern tastes. The two worlds often collide, since K-pop is king in South Korea, but the variety and depth of music that Korean artists are putting out is something worth taking more than a cursory glance at.
[Disclaimer: It would be impossible to cover all non-K-pop songs, so I picked some of the most popular songs from Korea's Gaon chart. Excluded from the list were songs by K-pop idol groups, although artists who explored beyond the boundaries of K-pop are featured here.]
"Fire" – Mad Clown feat. Jinsil of Mad Soul Child
One of Korea's up and coming rappers, Mad Clown released the retro-inspired "Fire" earlier this year, straight off of his EP "Piece of Mine." Despite only joining the mainstream Korean music scene in 2013, Mad Clown has became a mainstay with his smooth hip hop style, and "Fire" is one of his best songs to date. "Fire" tells a story of a man unable to get out of a relationship with a woman who is driving him insane with her actions. Mad Clown's rapid, high-toned rap contrasts with Jinsil's sultry taunts, while a big brass band provides the song's throwback elements.
"W-ing W-ing" Hyukoh
The most surprising musical act of 2015 in South Korea is certainly the soft rock indie band Hyukoh. The shoegaze-esque music produced by the band launched Hyukoh to fame this summer, and "Comes and Goes" became one of their most popular songs overnight. "Comes and Goes," like all of Hyukoh's songs, are about the daily struggles that young people face in their daily lives. The lyrics revolve around growing up and finding that your parents spent their entire lives worrying, and that childhood and time in general re fleeting. The gentle strumming introand lead singer Oh Hyuk's washed out vocals helps the song retain qualities that we're more used to hearing from 90's indie bands, but Hyukoh's the biggest thing to hit Korea in recent years.
"Eat"- Zion. T
Soft spoken hip hop crooners are trendy in Korea nowadays, and 2015 has been a Zion. T's breakout year, with multiple hit songs including the latest, "Eat." "Take out this song, enjoy it like a piece of chocolate cake," Zion.T says, equating his music to comfort food, offering the soft R&B tune to the listeners like a decadent sweet that will help cheer us up. The track keeps things basic, with piano and snapping sounds and not much more for the majority of the song. "Eat" is musical simplicity at its best, but as far as possible from the flash and flare that's garnered Korean music much of its popularity overseas. Also check out his "Just" collaborative song with Crush.
"Lean On Me"- Soyou of Sistar & Kwon Jeong Yeol of 10cm
Indie and K-pop come together in this romantic duet, with Kwon of the indie duo 10cm joining with Soyou, a popular K-pop balladeer. The soft melody is an acoustic-based song meant to urge people to not give up hope in the face of today's economy, which is the reported cause of many Koreans giving up on romantic and familial relationship and instead focusing on work. "So many numbers saved on your phone, but you can't dial a single one up," they sing, references Korea's plugged-in culture, urging one another to "Lean On Me." The Korean-ness of the song is what made it a surefire hit in South Korea: The sweet, melodious duet performed by talented, popular singers, the synth undertones, and the urging to find strength in community are all common themes in Korean music.
"Love Mash" – MC Mong feat. Chancellor of the Channels
MC Mong is arguably one of the most controversial musicians in South Korea after he attempted to get out of mandatory military service. But the radio-friendly pop-rap hybrid "Love Mash" released earlier this year could be less loved. With a light upbeat rhythm, "Love Mash" is a foot-tapping tune that never takes itself too seriously while trying to win back an ex. The humorous take on Korean rap, like where MC Mong describes himself as "smelling like a loser," is old hat for Korean rap making its way around the world- Psy's "Gangnam Style" is just one of many instances where South Korean rappers use their music to make fun of themselves and their culture.
---
---
"Awoo" Lim Kim
Lim Kim, also known as Kim Ye Rim of the indie duo Togeworl, released the playful track early in the year, and gained attention for its multi-elemental style, meshing R&B, pop, and electronic elements. The song is a modern anthem on flirting, combining Lim Kim's husky voice with her whimsicalness to create a modern take on crushes that compares seduction to being a cat on the prowl, leading to the song's "Awoo" moments. EDM thumping and scratching distortion makes the song a bit eerie that adds to the song's mischievousness in a way that keeps it lighthearted but with a twist. The quirky song is a bit off to the left field even for mainstream Korea, but it's undeniably one of the best production of the year.
"Shouldn't Have" Baek A Yeon feat. Young K of DAY6
Baek A Yeon's whimsical "Shouldn't Have" is everything that Korean music aims to be. A bit of folk, a bit of pop, and extraordinary vocal control kept "Shouldn't Have" from disappearing into mediocrity, despite Baek A Yeon being relatively unknown in South Korea. The self-composed track is a heartfelt about the regrets and "shouldn't haves" of a woman. Despite the meaning, the mid-tempo song is something that listeners could tap their feet or bob their head to while singing along. While the song is firmly encompassed in the pop-ballad category, Korea doesn't go without its raps, so there's a bit of that thrown in for good measure.
"Leon" –IU & Park Myung Soo
If Taylor Swift and Jimmy Fallon released a song for a late night show skit in Korean, this would be that song. One of the most popular music festivals in South Korea isn't even organized by musicians, but part of the popular variety show, "Infinite Challenge." During the span of a few episodes, prominent Korean musicians work with the show's cast to produce tracks for the festival, including this jazzy song created by Korea's most Korea's most darling startle IU and the variety show host Park Myung Soo. The song is based on the 1994 French film, "Leon: The Professional," about a hitman and the young woman, and the Parisian influences of "Leon" are audible through the delicate instrumental sections, while the song remains firmly rooted in Korean musical theory, with the rap and back and forth between the pair.
"Don't Be Shy" –Primary feat. ChoA of AOA & Iron
Primary is the man behind the box in South Korea, a producer who has the vision to put together whatever he wants and do well while hiding his face from the public. His latest hit, sung by the captivating K-pop vocalist ChoA and underground rapper Iron, is a tropical, sleepy reggae tune with echoing acid house overtones. Repetition and ChoA's suggestive words take the song over into the gray zone rarely heard in Korean mainstream music, and the lyrics themselves question what she's singing about. "That risky line, should I cross it or not?" ChoA wonders as her breathiness carries over the drumbeats. Iron's rap takes the song down a few notches, his sleepy rhymes offering a moment of relative clarity in an otherwise hypnotic tune.
"I" – Taeyeon feat. Verbal Jint
Kim Taeyeon is the lead vocalist of Girls' Generation, the most K-pop girl group of all, but her first EP as a soloist came out in October and solidified her place as one of Korea's most intriguing artists. " Bringing the intensity of K-pop production while exploring other genres, "I" is one of the K-pop hybrid songs that are making waves in South Korea today. Her self-declarative tune is an ambient soft rock song that wouldn't be out of place from a movie soundtrack. With a few quirks- starting the song off with the chorus and quickly bringing in the featured artist- "I" exploits Taeyeon's vocals in the best way possible, layering her vocals at times while allowing the crisp sound to fly free during other moments.
"Love Again" – Lim Chang Jung
This emotional song could do no wrong in 2015. With Lim's crisp vocals over simple piano melodies, the song starts off simply before building into a soaring, heartfelt ballad. "Love Again" is the quintessential Korean ballad of 2015, with its bare minimum musical elements and focusing primarily on Lim Chung Jang's strong, sincere voice. Strings and a heavy beat provide a background for the majority of the song, which is all about second-chances in love, a common theme in South Korean songs.
"Boys and Girls" –Zico feat. Babylon
If Taeyeon was the K-pop singer who broke through to everyone's heartstrings in 2015 with her solo, Block B's Zico just can't be ignored. His tropical, synth-y take on K-hop-hop song in "Boys and Girls" was one of the most popular songs at last year's end. Compared to Zico's more in your face songs (like "Tough Cookie,") "Boys and Girls" appealed to the Korean public's taste with its lighthearted, yet technically impressive fun-filled rap. At the end of the year, as South Koreans prepared for a cold winter and new year, Zico's song made people smile and ensured that hip hop would still be a trend in 2016.
What do you think of what South Korea was listening to in 2015? Does our list cover all of your favorite songs? Let us know in the comments section below. Share your thoughts on the drama in the comment section below and be sure to subscribe to the site and follow us on
Facebook
,
Twitter
,
Instagram
, and
Tumblr
to keep up with all of our posts.
https://kultscene.com/wp-content/uploads/2016/01/Untitled-design-5.jpg
800
800
Tamar Herman
http://kultscene.com/wp-content/uploads/2018/02/KULTSCENE-LOGO-2018-TRANSPARENT-RED.png
Tamar Herman
2016-01-04 13:11:45
2016-01-04 13:33:18
K-Pop's Competition: What Korea Also Listened To In 2015