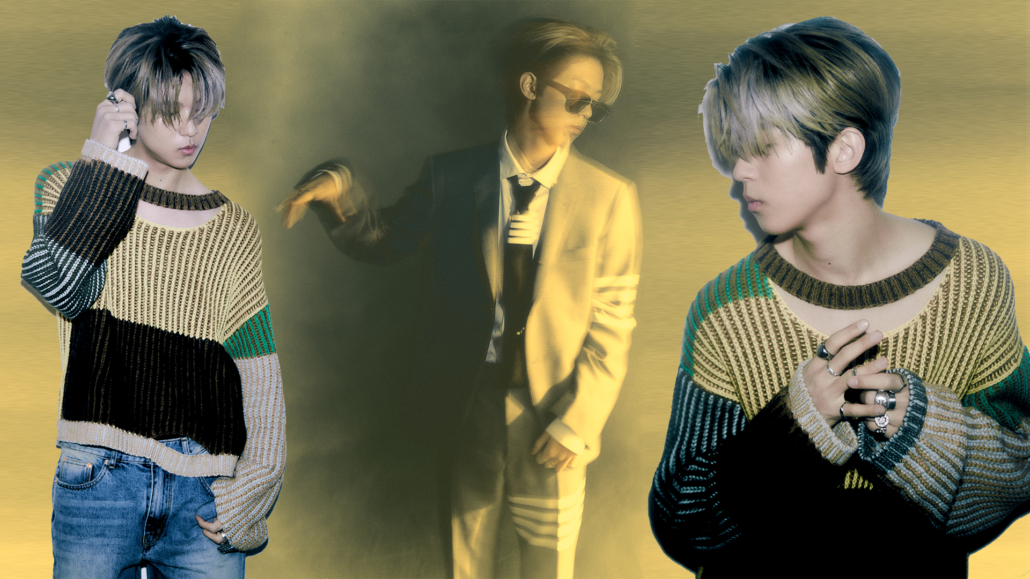 Since his time on the popular rap survival TV show Show Me the Money, BIG Naughty has flexed his prowess as a leader in South Korea's upcoming class of hip-hop. His repertoire includes collaborations with heavyweights such as Beenzino, Verbal Jint, Simon Dominic, Jay Park, Loco, and more.
With only three years in the game, the 17-year-old has been deemed a prodigy in his generation — a title that would be intimidating for many, but BIG Naughty manages to hold it with grace. His ability to effortlessly adapt to various genres while maintaining his authenticity has landed him on the radar of global audiences. With over 300,000 monthly listeners on Spotify, the rapper is proving to be a top player in South Korea's music scene. And though recent disagreements between South Korean distributor Kakao M and Spotify resulted in a majority of his discography being removed from the latter, BIG Naughty shows no signs of slowing down. (The dispute has since been resolved and the music is back on the platform).
His new EP Bucket List, released under H1GHR MUSIC, navigates the woes of youth, love, and regret. It also features some of the most exciting, big names in Korean music, like Jamie, GSoul, Gray, and DPR Cream. From beginning to end, BIG Naughty takes listeners through a crash course on youth accompanied by various genres from R&B and jazz, to lo-fi.
KultScene had the opportunity to catch up with BIG Naughty and talk about "Bucket List, his inspirations, and creativity.
KultScene: First things first: How are you doing?
BIG Naughty: Feeling damn good.
This pandemic has been crazy. What was it like preparing Bucket List during these unprecedented times?
Actually, I didn't hang out a lot before the COVID so it was even better for me to finish the album lol.
What was the inspiration behind it?
From everywhere, my friends, love, and maybe you? lol.
---
---
How does it feel to be releasing your EP?
I feel proud of myself and also I feel so blessed that I can actually release an album. That's craaazy.
You've been considered a prodigy, did that perception of you make you feel any extra pressure in preparing this EP?
Actually I felt a lot of pressure cause I got so many things in a short term so I thought I had to fully prove by this album.
You've collaborated with your peers at H1GHR MUSIC. Did you feel any difference in preparing for Bucket List compared to previous collaborations and releases?
That it feels a little retro?
What was your favorite part of creating this project?
Everything from beginning to end. Especially the artwork that I got to collaborate with Seongsu Museum. And the music video as well…
Each track shows a different side of you, but which one do you think represents you the most?
I can't choose one. It's all me, the rebellious side of me in "Brand New World," a warm-hearted side of me from "Bravo," and heart-broken side of me from "Frank Ocean."
Bucket List offers everything from blues to grunge and lo-fi to neosoul. What genre do you enjoy the most, and is there a specific genre you would like to try?
Jazz definitely feels like a genre that will forever last. And it's romantic~
"Frank Ocean" seems to be one of the most experimental tracks on Bucket List. What inspired it?
It was the time when my first love told me about the artist Frank Ocean, she went off to study abroad, and I missed my chance of telling her how I feel. There are some meanings here and there in the song that only I would know.
Is there a song on the album that you are particularly excited for fans to hear?
"Joker!" I tried out just pure R&B, hope you guys like it!
Throughout the album, it's evident you're playing by your own rules. Have you always done your own thing regardless of what the people around you may think?
No not at all. (Actually I do, inside…)
---
---
What are some things on your bucket list? If you don't mind sharing.
That's a secret haha.
Since your time on Show Me the Money, you've accomplished a lot as an artist. What's been one of the most significant moments for you? Why?
The day my EP was released, I was so proud of myself.
What do you want your fans to take away from Bucket List and your journey so far?
Dreams! Courage! Don't lose your dreams and courage going through these hard times!
You'll feel better after listening to the track "Bucket List"
Is there anything else you would like to add?
Thank you always for all the overwhelming support and love!! Stay safe!
What's your favorite song on Bucket List? Let us know in the comment section below and be sure to subscribe to the site and follow us on Facebook, Twitter, Instagram, and Tumblr to keep up with all of our posts.
KultScene is a writer-driven website dedicated to creating a platform where diverse voices' takes on K-pop can be heard. If you like this post and would like to see more by helping support KultScene's writers fund, please email us for more details.
https://kultscene.com/wp-content/uploads/2021/03/bn.jpg
1080
1920
Nnehkai Agbor
http://kultscene.com/wp-content/uploads/2018/02/KULTSCENE-LOGO-2018-TRANSPARENT-RED.png
Nnehkai Agbor
2021-03-17 09:43:25
2021-05-12 14:14:20
BIG Naughty talks 'Bucket List' & being a Korean rap prodigy [interview]